What kind of recreational activities will everyone choose in the hot summer? If it were not for this new crown epidemic, I think many friends would choose to travel abroad with their family or friends, enjoy the sun and the beach. However, when you live in the city center or the surrounding villa area, you can make friends with friends this summer and start a passionate music party in your small outdoor courtyard. Of course, at this time, you have to think about what kind of outdoor speakers can meet the requirements of holding a high-quality outdoor music party.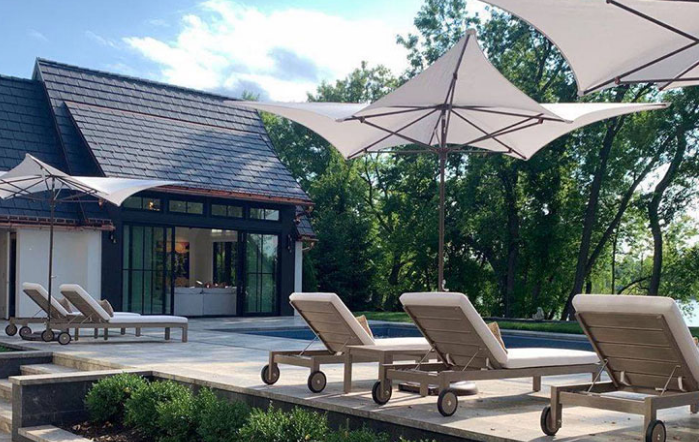 Sonance OMNI-6T: What is Sonance?
Sonance
is a top brand in the field of custom-installed speakers in the United States founded in 1983. Its founder Scott Srrufhers is the winner of the Lifetime Achievement Award of the American CEDIA Association, and Sonance has won the CEPro In- Leading brands in the wall/In-ceiling Speakers and Outdoor Audio fields rank first, and are favored by high-end audio-visual enthusiasts.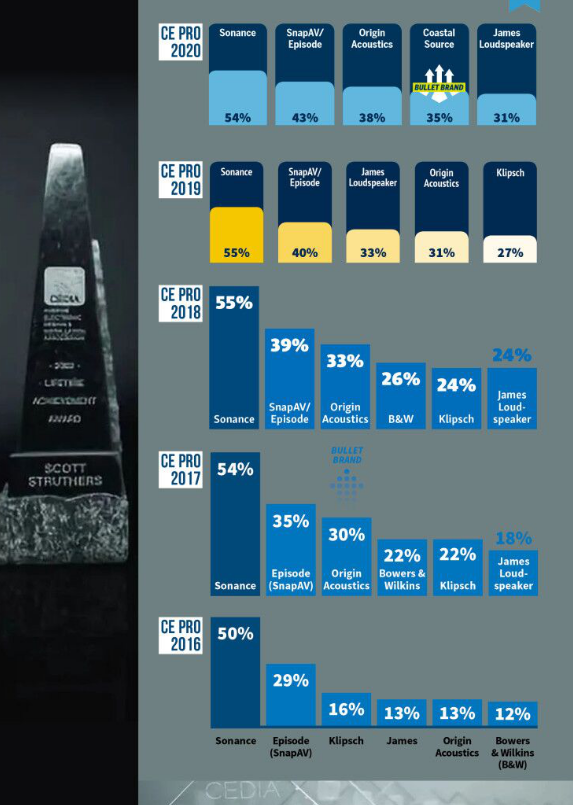 Sonance OMNI-6T: Features



Sonance OMNI-6T

is Sonance's new generation of omnidirectional all-weather outdoor speakers, with 360-degree sound field coverage and wide sound and audio performance, allowing users to achieve a highly concealed hidden installation layout, fully presenting Sonance's "Designed to Disappear" "The concept that speakers should be integrated with space design, so that listening is no longer limited by space. Therefore, OMNI-6T is undoubtedly an excellent choice for us to create a courtyard music party.

Designed to Disappear

From the perspective of application, the outdoor courtyard audio system is quite similar to the high-end custom home theater system. It is hoped that users can focus on the picture and sound, and try to experience the good times brought by movies and music, and do not want the audio system to show up. Try to hide in the entire use environment. Sonance OMNI-6T considers this aspect very carefully and provides users with detailed installation instructions.

In terms of installation, Sonance OMNI-6T can be partially buried in the ground, or installed on a hard landscape surface . Sonance OMNI-6T is designed with a small textured brown finish, which can be closely integrated with the surrounding landscape. If you don't pay special attention to it, the OMNI-6T is just like a piece of "mud" or "rock".

All-weather design

From the perspective of the applied environmental conditions, the outdoor courtyard audio system is much more stringent than the customized home theater system. It is exposed to the outdoors for a long time and can deal with all kinds of harsh weather, high temperature exposure, low temperature and heavy snow, rain and hail. The "physical quality" of the general home audio system is difficult to sustain. The Sonance OMNI-6T adopts an all-weather design. Its sturdy structure and high-grade materials, coupled with the IP66 waterproof rating, make the OMNI-6T not afraid of various outdoor terrain and weather environments, and meet the needs of long-term stable use.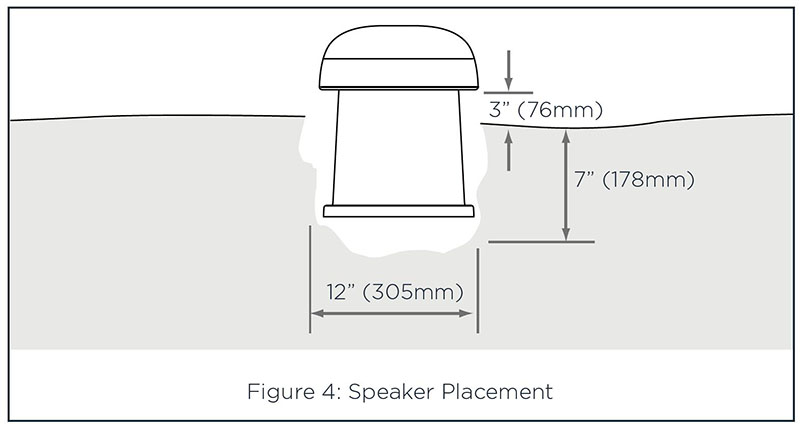 360-degree high sound quality can better reflect the concept
For courtyard sound systems, one of the most effective ways to better hide in the environment is to use a single speaker as much as possible to complete the task. In this way, it is generally difficult to detect the presence of speakers, but this places high requirements on the sound coverage of speakers. From the perspective of speaker design, OMNI-6T is an omnidirectional sounding outdoor speaker. It has a 360-degree horizontal and 160-degree vertical sound diffusion angle, which is enough to meet the music playback needs of a small courtyard with a small area.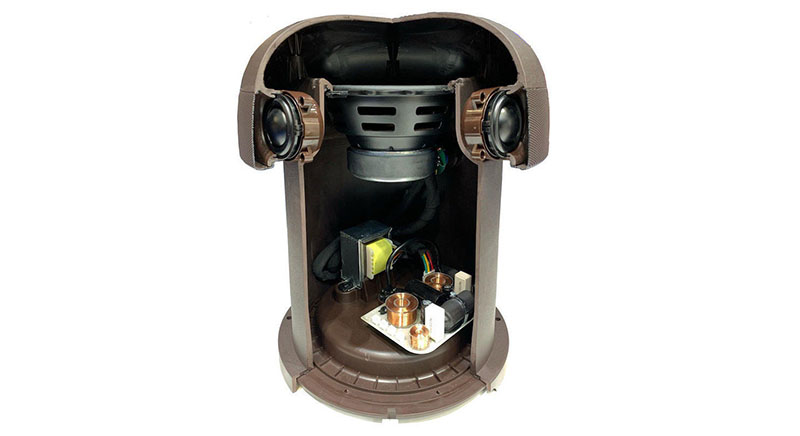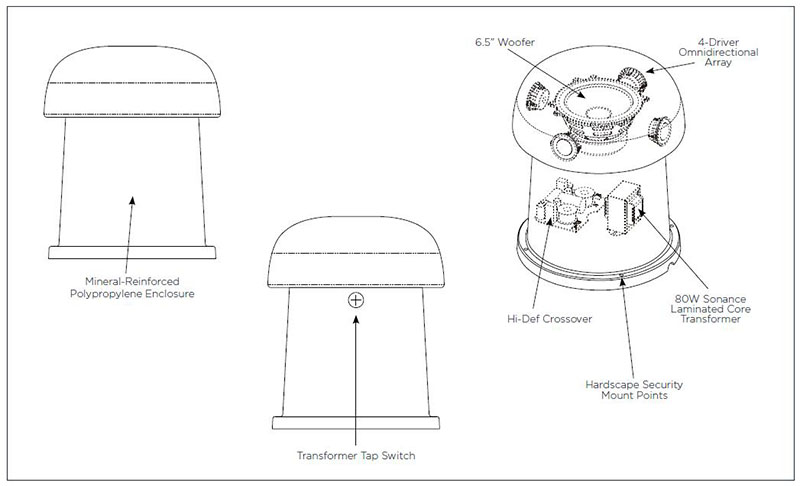 So, from the internal structure of the speaker, how does OMNI-6T achieve such a wide sound coverage? The OMNI-6T uses four 1.25-inch wide-band mid- and tweeters pointing in different directions inside the cabinet to form an omnidirectional sound radiation unit array, plus a 6.5-inch woofer that emits upwards to achieve 60Hz-20kHz (- 3dB) wide frequency response and high fidelity sound output. This is the core of the technical secret of OMNI-6T as an omnidirectional outdoor speaker. Some friends may have questions. If my courtyard is relatively large and a single OMNI-6T cannot meet the situation, is there any way? Of course there is a way. According to Sonance's official data, the ideal sound of a single OMNI-6T The coverage area is about 3-4 meters. If you exceed this range, you can choose to install two or more OMNI-6Ts, so as to achieve a seamless sound coverage connection in a larger space, and fully reproduce Sonance's "Designed" to Disappear" concept.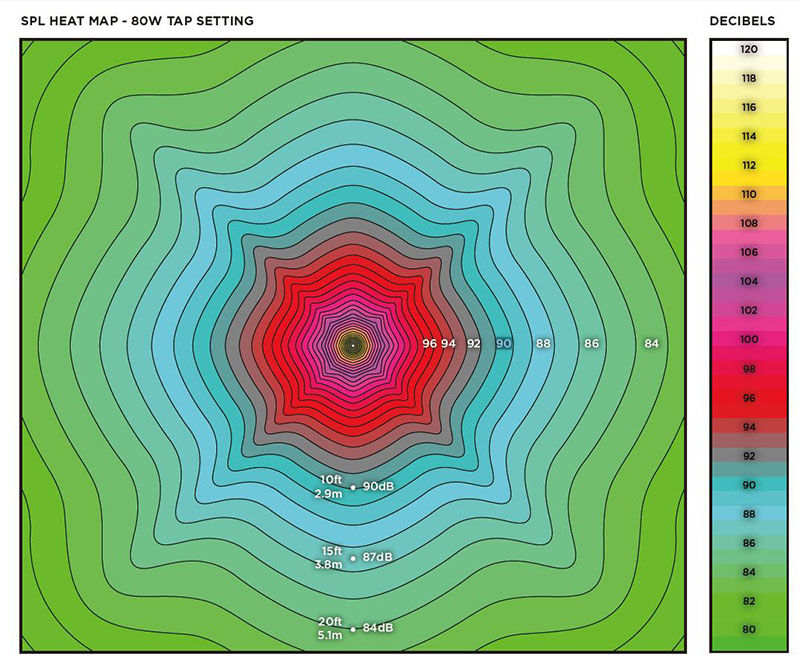 Constant pressure and resistance design, suitable for different installation environments
When laying out an outdoor audio system in a courtyard, we will inevitably use long-distance speaker cables. Generally, home speakers with a fixed-impedance design are likely to experience excessive signal transmission loss, and the sound pressure of each speaker is inconsistent under different transmission distances. And so on, you need to use a speaker with a constant pressure design. OMNI-6T is an outdoor speaker with a very flexible design. It provides dual functions of constant voltage and constant resistance.
It is equipped with an 80W 70V Sonance laminated core transformer, which allows users to choose 70-100V constant voltage and 8Ω bypass mode to achieve more Flexible system configuration and output, without fear of ultra-long-distance transmission between amplifiers and speakers, to meet the connection and system layout of multiple speaker systems in outdoor large courtyards, allowing users to create the courtyard music system they want.