Sony launched four Crystal LED black color crystal products, including BH series with high brightness and rich colors: ZRD-BH12D and ZRD-BH15D, and CH series with immersive experience: ZRD-CH12D and ZRD-CH15D. It is specially designed for environments that require high image quality, such as corporate, high-end retail and showrooms.
These two new series of Crystal LED black color crystals will provide two pixel pitches of P1.2mm and P1.5mm, with excellent picture quality and accurate color, flexible installation and low power consumption.
What are the Differences between the BH and CH series?​
Sony BH series provides high brightness and wide color gamut, while CH series provides excellent black performance, which can provide customers with flexible choices and can be tailored according to customer needs, usage scenarios and budgets.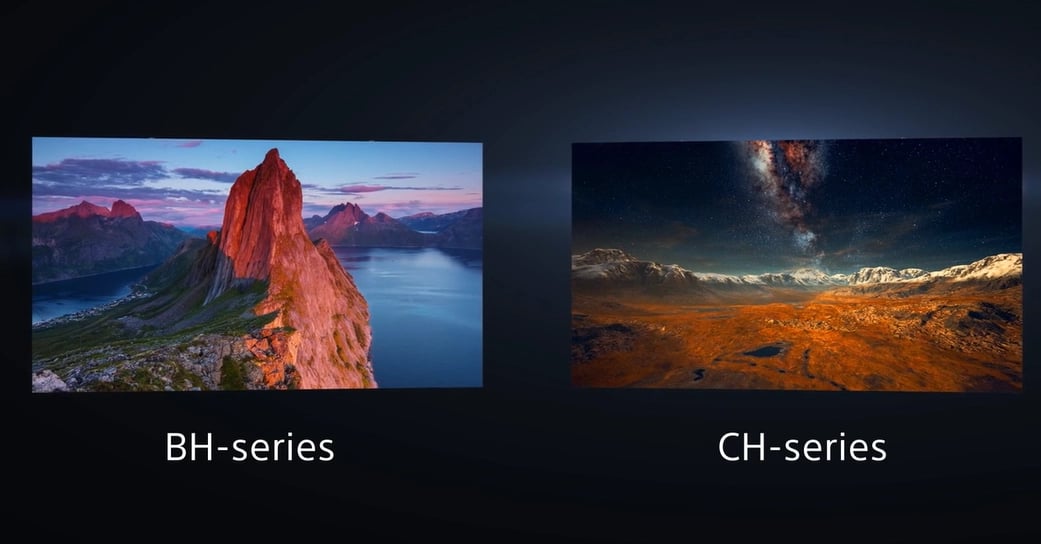 Sony's Crystal LED display products combine fine-sized LED chips with Sony's self-developed coating technology to achieve high-quality images.
The BH series features a high brightness of 1700cd/m² and an SCE value of less than 5.0, ensuring clear image quality in bright environments while reducing the impact of ambient light reflections.
The CH series can provide 1300cd/m² brightness, with Sony Black Coating technology, the SCE value is lower than 0.5, achieving a high contrast ratio of 1,000,000:1, providing an immersive visual experience.
What is the feature of the Sony Crystal LED?​
Sony Crystal LED black color crystal is equipped with X1 high-quality processing chip, which can enhance the authenticity of picture content, ensure smooth picture, clear and accurate pictures, rich layers and no motion blur. This is the result of the processor's 22Bit super bit mapping technology, real authoring and built-in functions such as Motionflow.
As a modular solution, customers can choose the size and resolution of the display. The BH and CH series use fine-sized LED chips with Sony's self-developed coating technology to achieve wide viewing angles without unnatural color shift.
New models come pre-assembled and calibrated at the factory to ensure seamless splicing on site. After future firmware upgrades, the automatic color correction function can be enabled with the Sony Alpha camera. After replacing the module on site, the consistency of the display can be easily and quickly adjusted to achieve unified color management.
The new product focuses on installation flexibility, and the body is about 10% lighter and thinner than existing models, making it easier for system integration installation. In addition, the new model continues to use the ZRCT-300 display controller.
Fewer parts need to be assembled on site, reducing installation time by 20% compared to existing models. At the same time, due to the use of LED chips with high luminous efficiency, the power consumption is reduced by about 25%. In addition, the display unit adopts a front maintenance structure, which is convenient and quick, and meets various installation environments.
The new BH and CH series are scheduled to be available in April 2023.