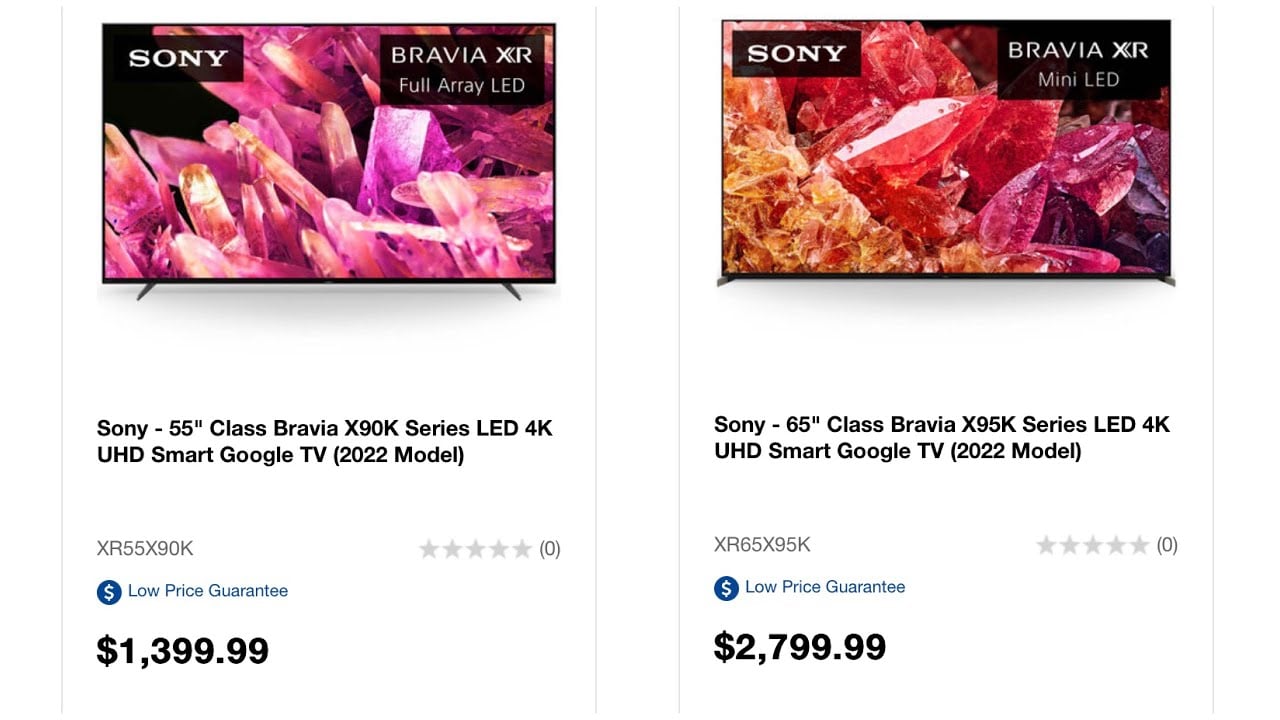 Sony has revamped their 90 series of TVs with the release of the X90k and X95k. The major difference between the two models is that X95K has a thicker design, making it look better and attractive but slightly less compatible for corner installations.
The PS4 Pro, Xbox One S, and older models also have HDR compatibility features which work with both TVs. However, if you are looking for a TV that supports Dolby Vision or HLG-HDR formats, your choices are limited to these two models from Sony.
SONY X90K Vs. X95K: Overview
Sony X95K has a greater series number than Sony X90K, which tells us that Sony X95K is the newer model. The Sony X95K is positioned higher in comparison. Before examining the differences, let's sneak peek into the two models.
Sony X90K

Sony X90K, the successor of Sony X90J, has been unveiled. In Sony's 2022 TV range, Sony X90K sits between the X95K and X85K models. In addition to the Full-Array LED lighting, the Sony X90K also has local dimming. The contrast between the bright and dark areas of the Sony X90K screen is vivid thanks to Full Array Local Dimming technology. Aside from this, the Sony X90K has other contrast-enhancing features such as XR HDR remastering and Dynamic Contrast Enhancer.
Sony X95K

The Sony X95K is Sony's most expensive 4K LED TV series for 2022. The Sony X95J is Sony's 2021 TV lineup's successor to the X95J. Local dimming is included in the Sony X95K's LED backlight, which has a Full Array Mini LED backlight. The Sony X95K screen has exceptional contrast and brightness thanks to the device's mini-LED backlight, which is also equipped with local dimming. Contrast is additionally improved by XR Contrast Booster, HDR Remaster, Dynamic Contrast Enhancer, and XR Backlight Master Drive.
SONY X90K Vs. X95K: Differences
​
There aren't many distinctions when comparing the Sony X95K with X90K. Let's go into the nitty-gritty of those distinctions.
The Use of Backlighting
There are two distinct lighting technologies in Sony X95K and X90K. Both the Sony X95K and the Sony X90K have backlights that use LEDs. The Sony X95K screen has a better contrast and vibrancy thanks to Mini-LED backlighting, which is more sophisticated than Full-Array LED.
The Output of Speakers in Watts
Sony X95K and X90K both include a built-in speaker system; however, their speaker power outputs are different. Sony X95K has 10 W + 10 W + 10 W + 10 W + 10 W + 10 W, but Sony X90K has 10 W + 10 W + 5 W + 5 W audio power outputs. Sony X95K has a total of 60 W audio power output, compared to Sony X90 30 W. audio output.
XR Backlight Master Drive
Sony X95K includes an XR Backlight Master Drive; however, X90K does not. The Sony X95Mini-LED K's backlight can be precisely controlled by the XR Backlight Master Drive, resulting in an improved contrast ratio, increased peak brightness, and deeper blacks.
The Cost
Prices for Sony X95K are often greater than those of the similar-sized Sony X90K since the series is truly more prominent. How much of a difference is there in the price? Before determining the most recent price difference between the Sony X95K and X90K, we must first verify their current prices. To verify their current prices, it's advisable to check via amazon or on Sony's official website.
Other Specification Comparisons
Model Name

Sony X90K

Sony X95K
Model Year
2022
2022
Display Type
LCD
LCD
Special features
Bravia Core Calibrated Mode
PS5 features
Ambient Optimization Pro
IMAX Enhanced
XR Backlight Master Drive
Bravia Core Calibrated Mode
X-Wide Angle
X-Anti Reflection
PS5 features
Ambient Optimization Pro
IMAX Enhanced
Backlight
FALD
miniLED FALD
Resolution
4K
4K
Video processor
Cognitive Processor XR
Cognitive Processor XR
HDMI
4 (2x HDMI 2.1)
4 (2x HDMI 2.1)
USB
2
3
HDR10
YES
YES
HDR10+
NO
NO
HLG
YES
YES
Dolby Vision
YES
YES
Voice assistants
Google Assistant, Alexa
Google Assistant, Alexa
Speakers
10 W + 10 W + 5 W + 5 W Acoustic Multi-Audio
10 W + 10 W + 10 W + 10 W + 10 W + 10 W Acoustic Multi-Audio
TV Platform
Google TV
Google TV
HDMI VRR
YES
YES
ALLM
YES
YES
Last edited: