Sony X95K and Samsung QN95B are two high-end TV models released in 2022. Sony X95K brings a wealth of useful features in terms of smart TV, sound quality, picture quality and design. However, Samsung QN95B is often the winner in TV comparisons: it comes with four HDMI 2.1 ports for 4K, up to 144 fps or 120 fps as well as VRR and AMD FreeSync Premium Pro making it the most promising configuration in the TV market.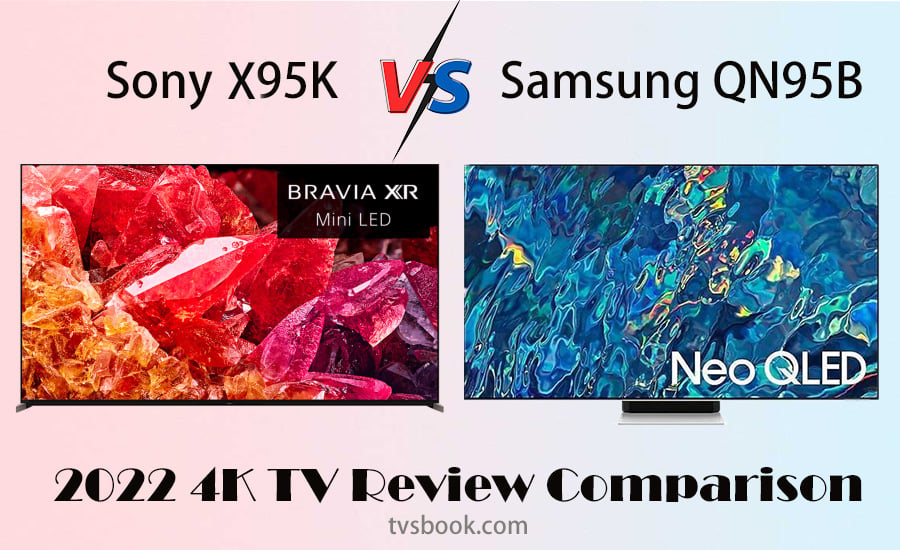 Sony X95K vs Samsung QN95B Review: Which is better?​
When Sony X95K vs Samsung QN95B, who is the winner for the best 4K TV in 2022? In brief verdict, neither TV disappoints, but the Samsung QN95B is a bit better than the Sony X95K. The QN95B TV has a more perfect picture performance and is better for gaming. While the original price of the Samsung QN95B is more expensive, the price difference between the Samsung QN95B and Sony A95K is not very noticeable as time passes and discounts are available for different platforms.
Product Name
Sony X95K TV
Samsung QN95B TV
Model Year
2022
2022
Price and Size
65'': $2799.99/1999.99
75'': $3799.99/2999.99
85'': $5499.99/3999.99
55'': $1499.99/999.99
65'': $3299.99/2399.99
75'': $4299.99/2999.99
85'': $5999.99/3499.99
98'': $14999.99
TV Type
OLED
Neo QLED
Refresh Rate
120Hz
120Hz (Up to 144Hz)
Resolution
3,840 x 2,160
3,840 x 2,160
Processor
Cognitive Processor XR
Neural Quantum Processor 4K
Smart Platform
Android TV™/Google TV™
Samsung Tizen™
Picture
XR Dynamic Contrast Enhancer
XR 4K Upscaling Dual database processing
Color enhancement
HDR10, HLG, Dolby Vision
XR Motion Clarity, Auto mode
NETFLIX CALIBRATED MODE
Cognitive Processor XR Picture processor
Quantum Matrix Technology
100% Colour Volume with Quantum Dot
Ultimate UHD Dimming Pro
Ambient Mode+
HDR10+ Adaptive & HDR10+ GAMING
Dynamic Black EQ
Anti-Glare
EyeComfort Mode
Ultra Viewing Angle
Sound
DTS Digital Surround, Dolby™ Audio, Dolby™ Atmos
Audio Power Output:10W+10W+10W+10 W+10W+10W
Speaker: Mid Range x 2, Tweeter x 2, Subwoofer x 2
Dolby Atmos
Sound Output (RMS):70W
OTS+ Sound
Active Voice Amplifier
Gaming
Auto Low Latency Mode (ALLM)
Variable Refresh Rate (VRR)
Perfect for PlayStation®5
BRAVIA XR screens
Auto HDR Tone Mapping
HDMI 2.1 Variable Refresh Rate 4K/120fps
Gaming Hub
Auto Low Latency Mode (ALLM)
Game Motion Plus
Super Ultra Wide Game View
Motion Xcelerator Turbo Pro
Game bar 2.0
HDMI High Frame Rate 4K 144Hz for HDMI 1/2/3/4
Connectivity
4 HDMI, HDMI2.1 Features: 4K120/eARC/ARC/VRR/ALLM
USB ports 1 (Side)/1 (Bottom)
Ethernet input
RF (Terrestrial/Cable) Connection Input(s)
RS-232C Input(s)
Bluetooth 4.2
Work with Alexa/Google Assistant
Wi-Fi Certified 802.11a/b/g/n/ac
4 HDMI,eARC/HDMI Quick Switch/High Frame Rate 4K 144Hz
3 USB
RF In
Ethernet input
RS-232C
Bluetooth 5.2
Work with Alexa/Google Assistant
WiFi5
Other Features
BRAVIA CAM(Option) Camera
360 Camera
Video Calls with Google Duo
AI Upscale
One Connect Box
Sony X95K 4K TV Pros and Cons​
Pros
Local dimming helps it display deep blacks
HDMI 2.1 bandwidth and VRR support
Makes highlights pop
Cons
Blooming around bright objects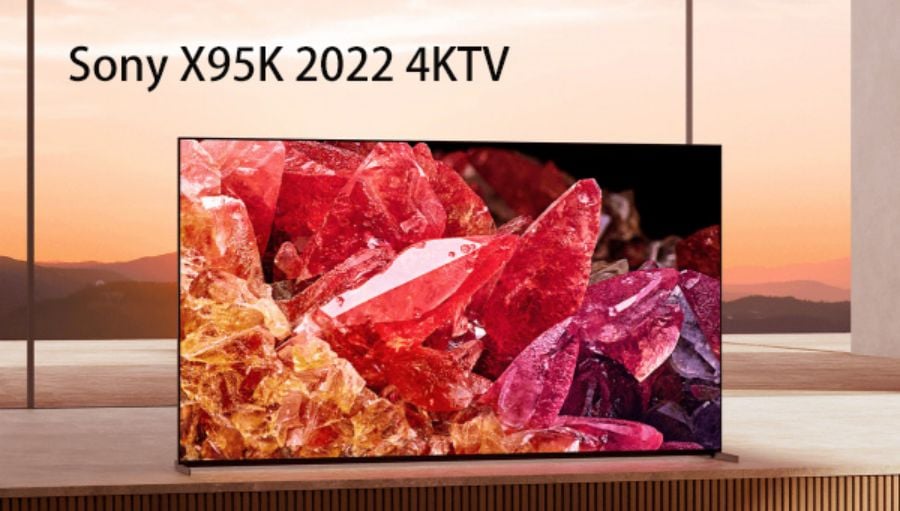 Samsung QN95B 4K TV Pros and Cons​
Pros
Superb peak brightness and excellent reflection handling
Decent viewing angle
Easy-to-use smart interface with a great selection of apps
Cons
Some noticeable stutter in slow-panning shots
Sony X95K vs Samsung QN95B Appearance Design​
Both the Sony X95K and Samsung QN95B TVs feature an extremely thin exterior design and their metallic sheen will give you a real sense of quality.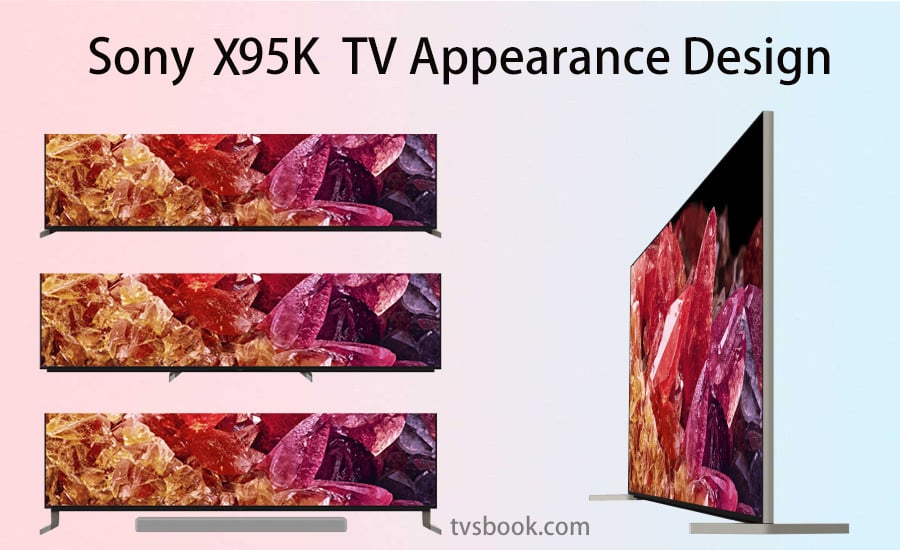 The Sony X95K and Samsung QN95B have different support methods. Sony A95K has an adjustable stand with metal feet. It holds the TV well, and it can be adjusted to three different positions and perfectly placed for bar speakers without blocking the view. The Samsung QN95B has a central stand that takes up less space, and the stand provides enough space between the table and the screen to hold soundbars.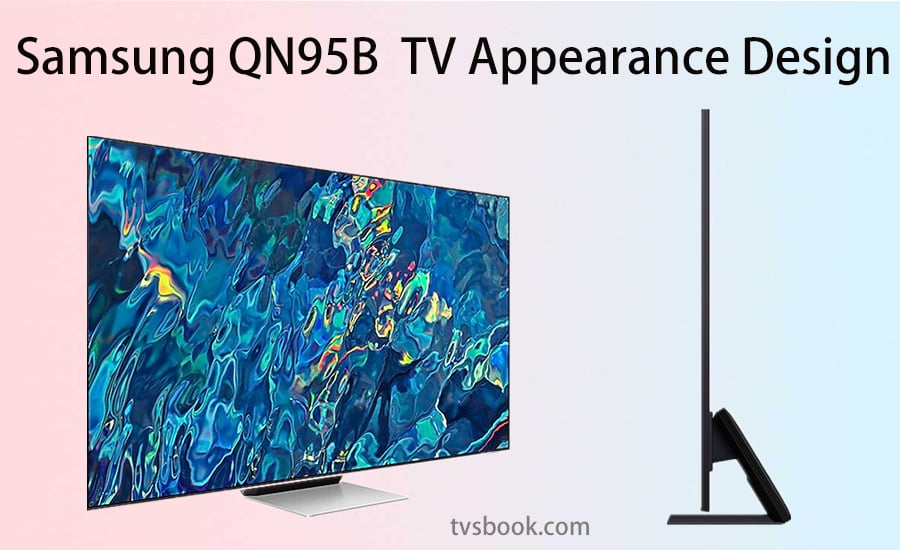 On the back of the TV, Sony X95K features a checkerboard design and has a cover to help manage cables. Its input ports are set on the side and underneath. If the TV is placed on a table, the plastic cover hides the cables to make the space neater.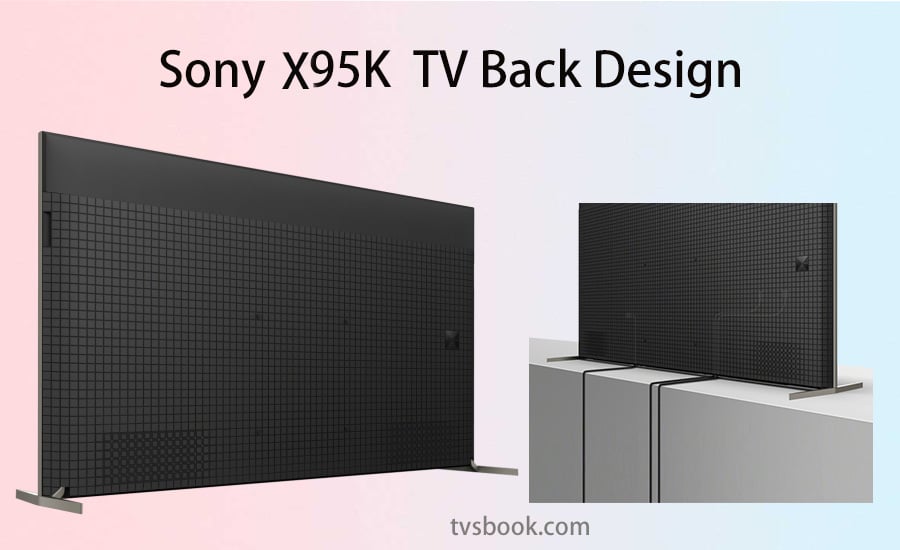 The back of the Samsung QN95B is very neat, with only four speakers and a herringbone textured finish visible. Its inputs are located on the side of the included One Connect box, not on the back of the TV, and the One Connect box can be mounted on a stand or on the wall and connected to the TV via a cable. It seems a little tricky that it doesn't have cable management.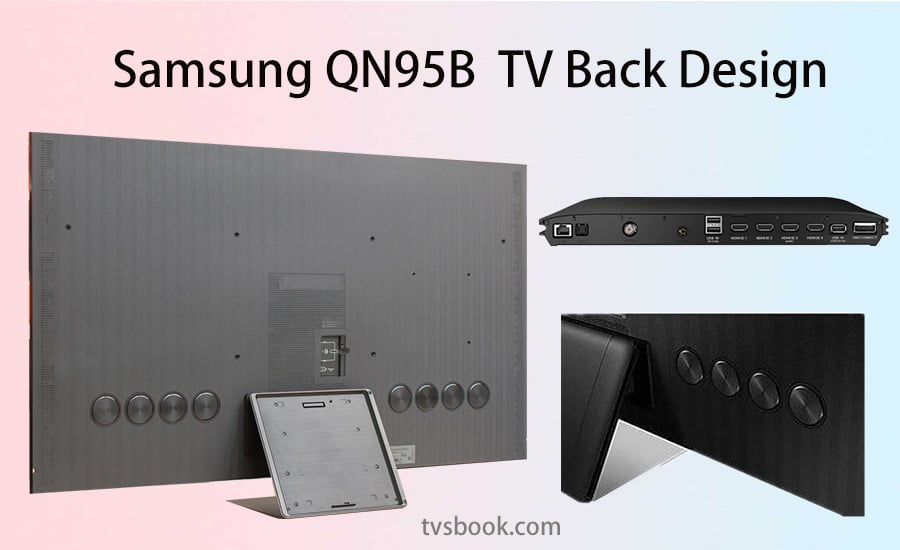 Sony X95K vs Samsung QN95B Display Performance​
Both the Sony X95K and Samsung QN95B 4K TVs offer amazing picture quality and peak brightness, but Sony X95K is not as good as the Samsung QN95B when it comes to contrast ratio.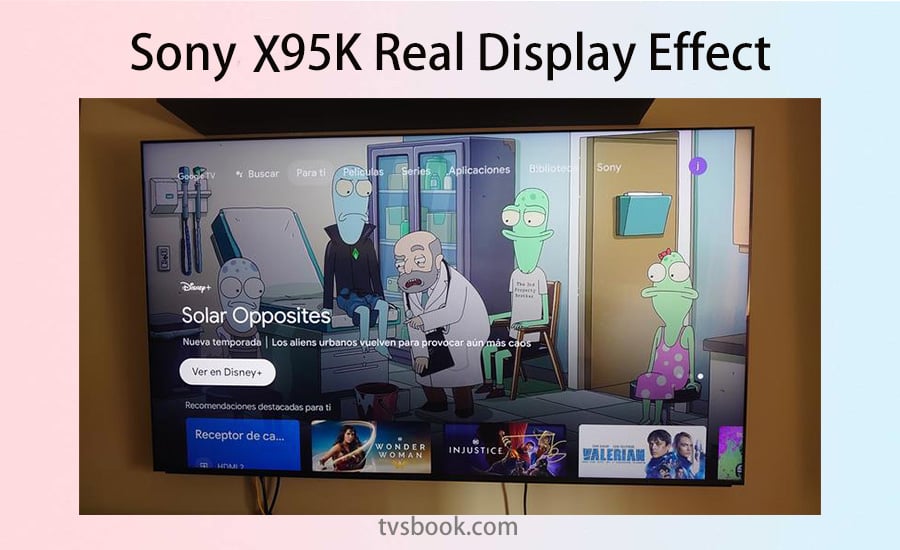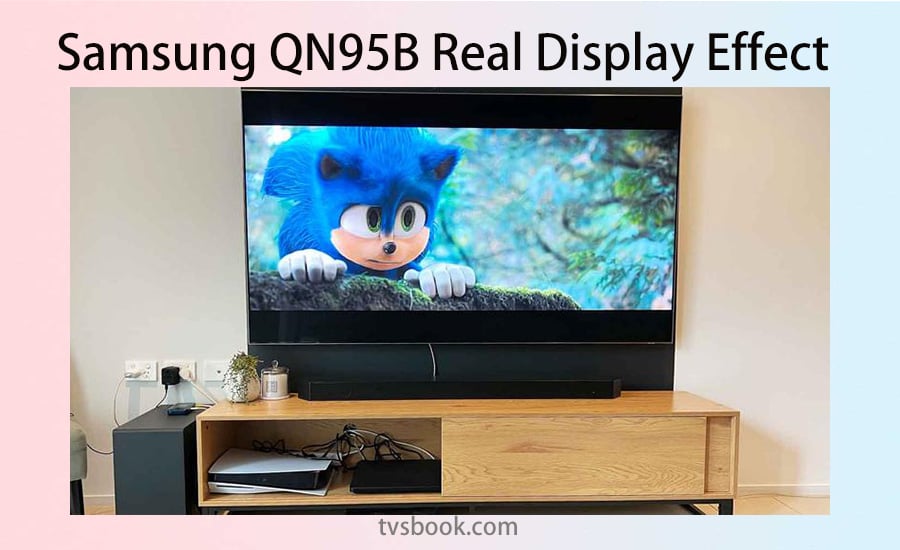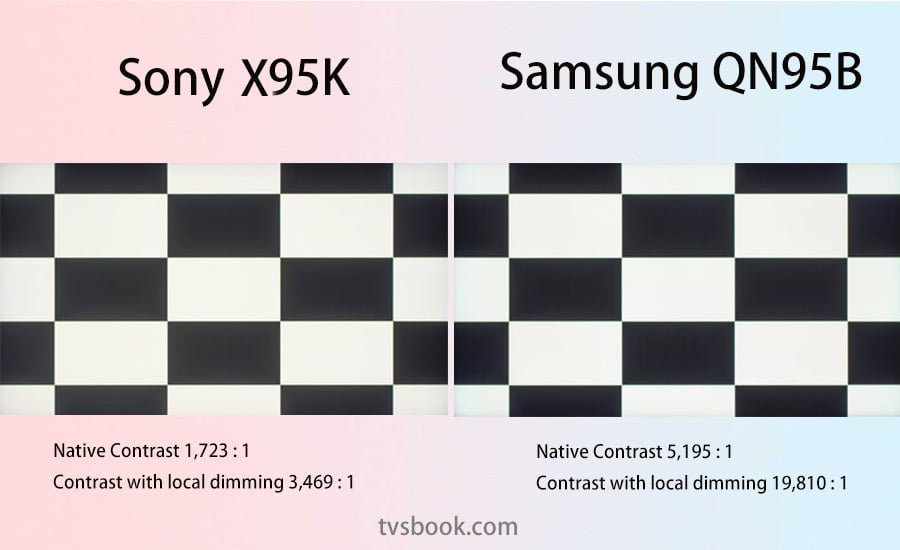 The blacks on the Sony X95K look closer to gray due to the X-Wide Angle layer while local dimming is disabled. The Samsung QN95B, on the other hand, has a much better contrast ratio, and its local dimming feature allows the TV to produce deep blacks and prominent bright highlights even in dark scenes.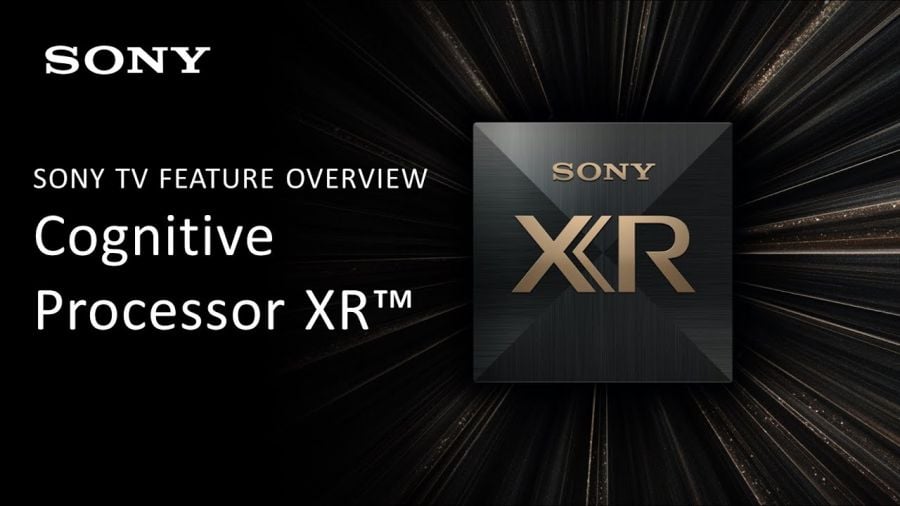 As you can see in the Sony X95K vs Samsung QN95B picture comparison, these two TVs have their own picture processing technology and different features. Sony X95K is the world's first TV with Cognitive Processor XR picture processing technology. It takes vision and sound to a new level, bringing the TV picture closer to real life and colors as perceived by the human eye.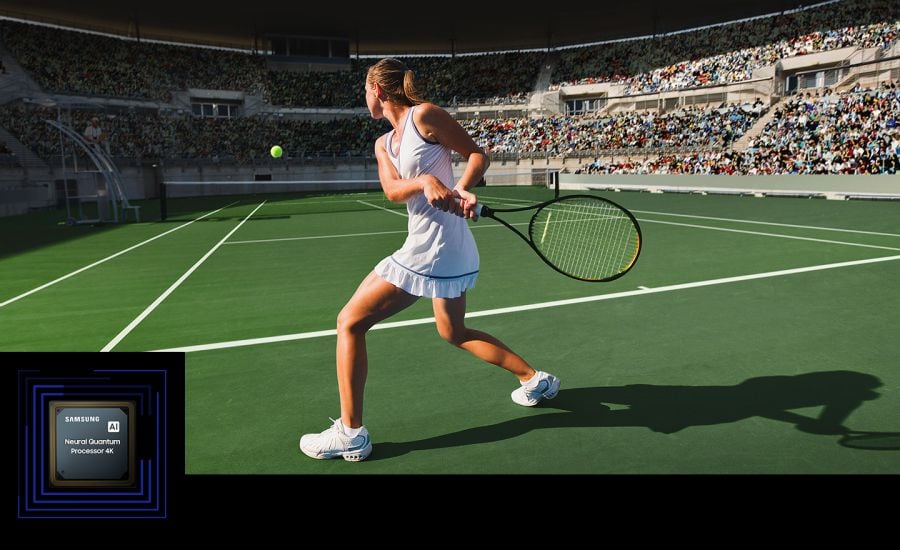 The Samsung QN95B features the Neural Quantum Processor with 4K Upscaling, which upgrades TV content to 4K resolution based on the AI formula and offers a wide range of vibrant colors.
Sony X95K vs Samsung QN95B Audio Effect​
In terms of sound, I think the actual feeling of Sony X95K and Samsung QN95B is not very obvious, but Samsung QN95B has more output power, but does not support Dolby Audio. Sony X95K with the addition of Cognitive Processor XR, the sound does not leave people disappointed. However, many families who buy high-end TVs, usually use them together with a soundbar to achieve a better audio effect.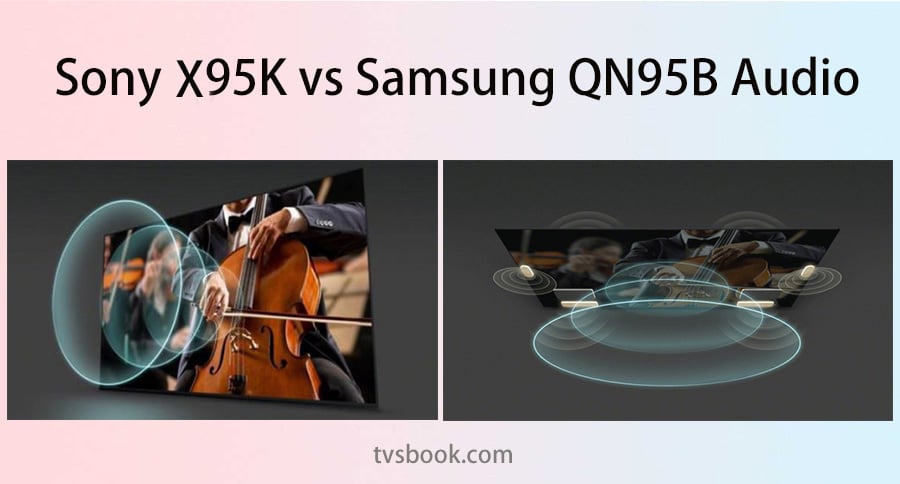 Sony X95K vs Samsung QN95B Game Experience​
If you are a devoted user of big-screen gaming on TV, then you can have a very good gaming experience whether you choose Sony X95K or Samsung QN95B. Both the Sony X95K and Samsung QN95B are great for HDR gaming with gaming features like HDMI 2.1 and VRR that reduce screen tearing, and they both have very fast response times and low input lag, so you get a very responsive gaming feel even on a large TV screen.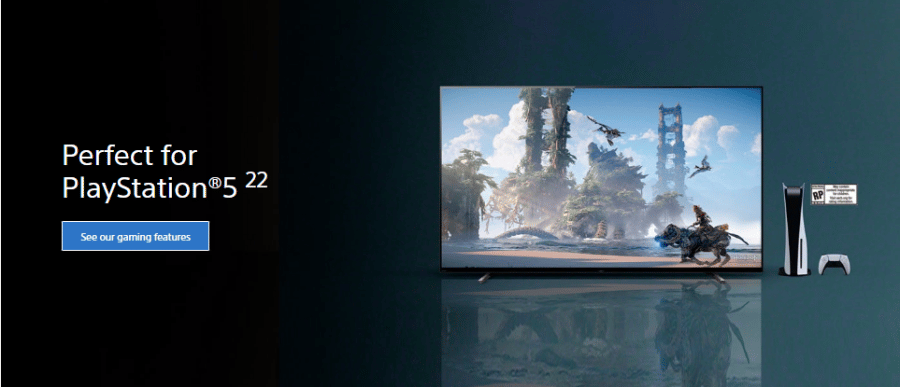 The Sony X95K supports Dolby Vision for 4k games, but only up to 60 fps. the Samsung QN95B supports FreeSync variable refresh rate technology and can reach 144 Hz native refresh rate with three VRR modes. Especially, Samsung QN95B is the first TV brand to stream Xbox games with Gaming Hub where games come together.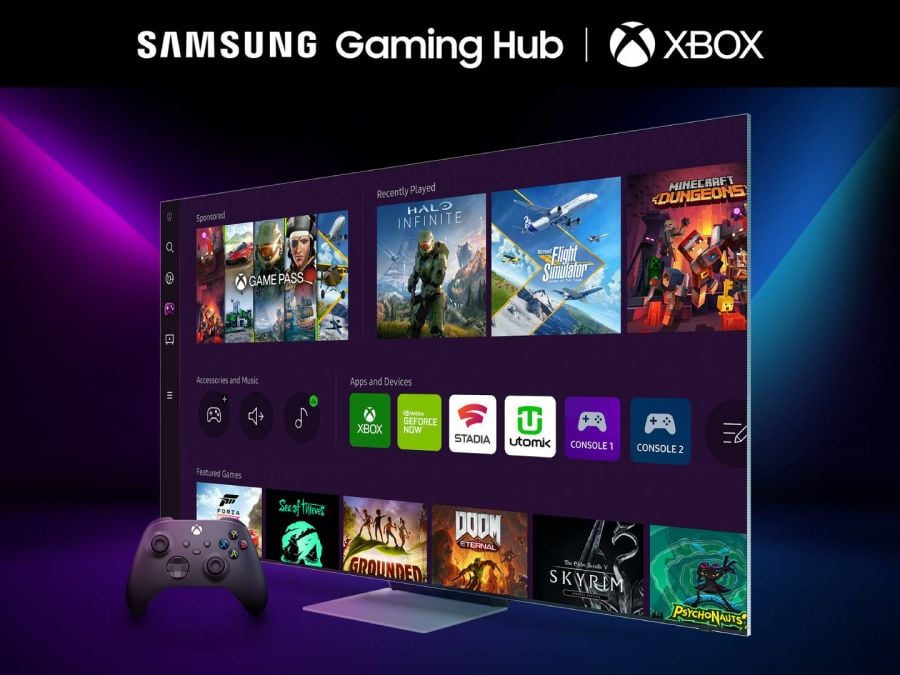 Sony X95K vs Samsung QN95B Connectivity​
In terms of connectivity, the Sony X95K has four HDMI ports, two of which support HDMI 2.1, and one USB 3.0 port. In addition, Samsung QN95B is equipped with a more advanced Bluetooth 5.2 transmission than Sony X95K.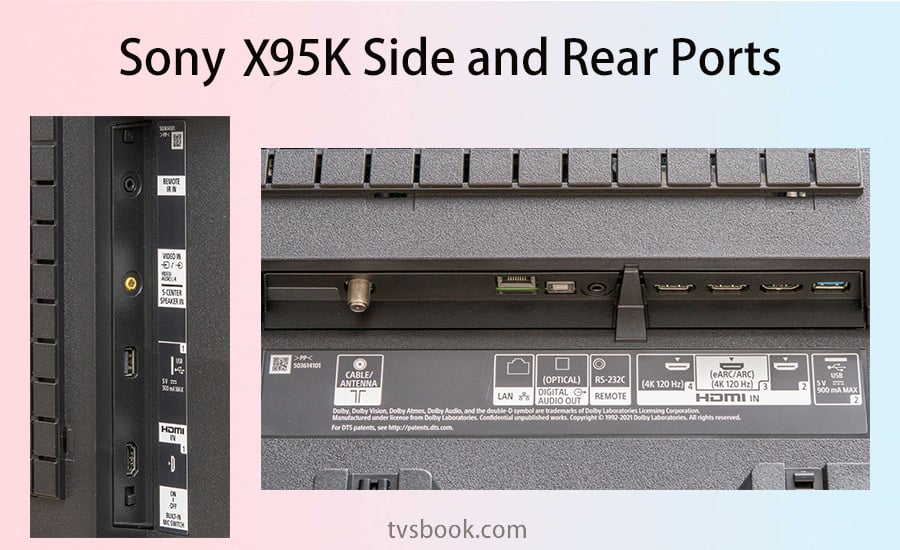 Most importantly, the Sony X95K and Samsung QN95B use different interface placements. As we mentioned, the Sony X95K's ports are placed on the back of the TV and have a wire manager, which makes the home space look neater. The Samsung QN95B comes with the One Connect Box to connect all the ports, which is a separate unit from the TV.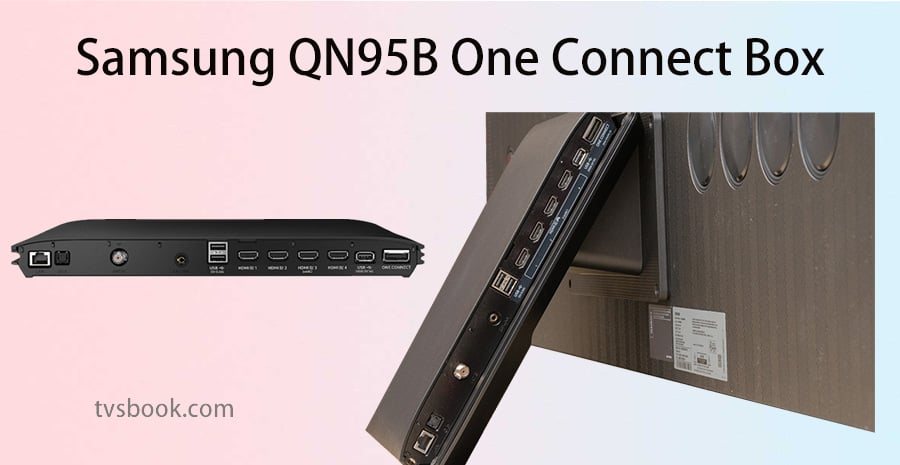 Sony X95K vs Samsung QN95B Conclusion​
In general, we can see from the Sony X95K vs Samsung QN95B comparison that both 4K TVs have their own characteristics, but the Samsung QN95B is a bit better. In terms of image display, Sony X95K and Samsung QN95B have their own technology and features. The Samsung QN95B is better in contrast and the Sony X95K is more realistic in portrait display.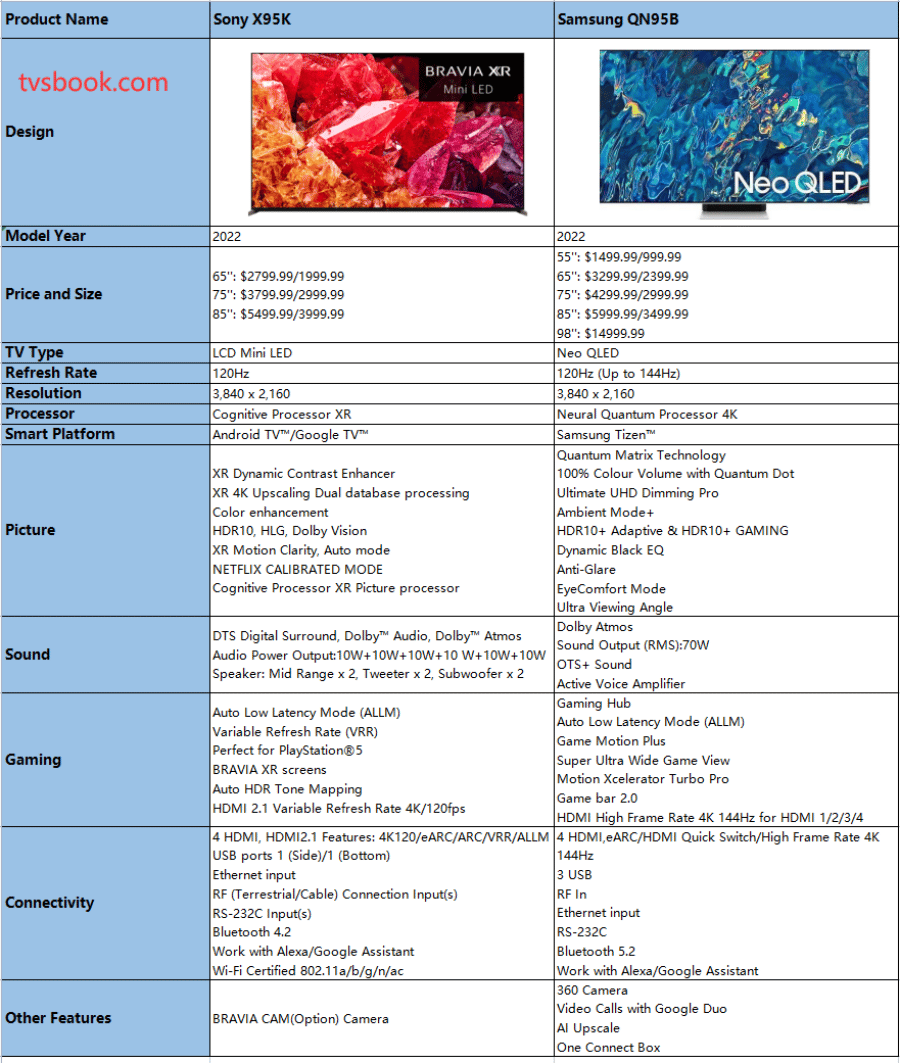 As for sound and gaming performance, both the Sony X95K and Samsung QN95B are excellent. Sony X95K is the perfect companion for the PlayStation, and the Samsung QN95B has a unique Gaming Hub and less screen tearing with the addition of VRR.
The Sony X95K vs Samsung QN95B has now slipped in price, and you can get the Sony X95K in three models 65, 75, and 85 inches for $2000-$4000. Or, get the Samsung QN95B for $1000-3500 for four models 55-85. Also, the 98-inch Samsung QN95B super large-screen TV costs up to $15,000, which seems too expensive. All in all, you'll find that the Samsung QN95B offers a more attractive option if at a discount.
Last edited: