Sony's sets run Google's smart TV system, and it beats the homebrew solutions from Samsung and LG (if not Roku TV) in one important area: app coverage. It's also better, pretty much every way, than Vizio's SmartCast system.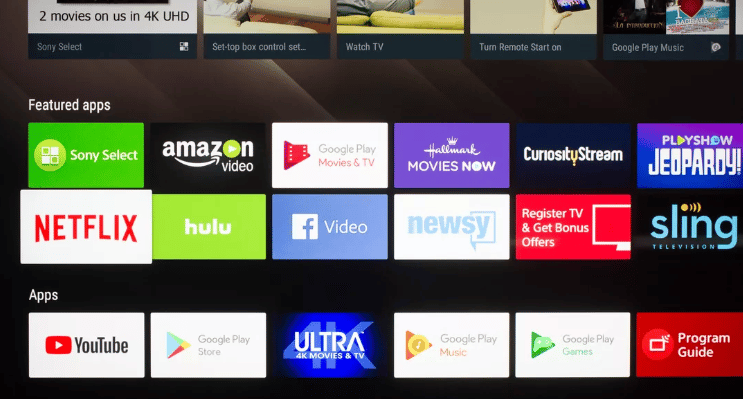 ​
As I saw on the X900E last year, however the responsiveness of Sony's Android TV system wasn't as quick as many of its competitors, including LG, Samsung and Roku. At times the home page would take forever to load. Within apps like Netflix and YouTube, moving around, loading thumbnails and other actions wasn't quite as zippy. And the system lagged when I hit the "Action Menu" key during streaming to call up a picture adjustments. Methinks Sony could invest more in processor speed on this TV.

That said, it was still tolerable to use for the most part, and app coverage and features are top-notch. The X900F's Amazon, Netflix and Vudu apps all support both 4K and HDR, as does Sony's own Ultra app, exclusive to Sony TVs, which carries Sony Pictures movies only on a purchase-only basis (typically $18-$20 each). Apps that support 4K but not HDR include YouTube and Google Play Movies and TV -- both a bit surprising since they're Google properties and YouTube supports HDR on Roku.

With the notable exception of Hulu, which still has the old interface (and which may actually be preferable to some viewers) and doesn't support live TV, Sony's Android TV system has nicely updated apps and broad support. It offers YouTube TV, Sling TV, PlayStation Vue, DirecTV Now, MLB AtBat, PlutoTV, Facebook video, Twitch and numerous other apps along with games are available via the Google Play Store (don't get too excited; it's specific to Android TV and much less extensive than the one on your phone). Speaking of phones, many more apps can be cast to the Sony via its built-in Google Cast functionality, which works just like a Chromecast.
Last edited: