The World Cup has kicked off, the most anticipated sporting event in the world XI. 64 matches will be broadcast in English drinking Spanish on multiple platforms across the country. You can watch the 2022 World Cup on Fox Sports, Telemundo, fuboTV, Telemundo Deportes En Vivo, Peacock, Youtube and more.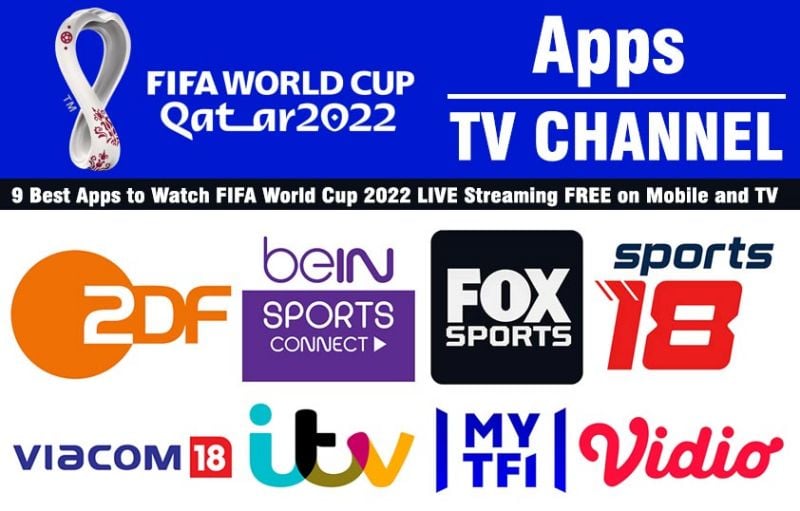 How to watch World Cup 2022 in USA Free?​
If you want to watch the World Cup for free, you can use fuboTV new subscribers to watch the 2022 World Cup privilege. In addition, all matches can be watched on Peacock TV+.
FOX has the English-language broadcast rights to the 2022 World Cup, which means the entire event will be broadcast under the Fox Sports brand. But Fox Sports includes FOX, FS1 and more. So, in the U.S., the World Cup can be watched on Fox or FS1 for all 64 matches. To watch it live in Spanish, Telemundo, NBC Universo and NBCSN are required.
These two channels are available on almost all major streaming services in the US. Channel Finder: Verizon Fios, Comcast Xfinity, Spectrum/Charter, Optimum/Altice, Cox, DIRECTV, Dish, Hulu, fuboTV, Sling .
And the distribution is even, with Fox having 35 games and FS1 having 29 games.
Recommended TV platforms to watch the World Cup:​
Hulu With Live TV: Fox live; FS1 offered as part of the only plan.
YouTube TV: Fox live; FS1 is offered as part of the only plan.
Sling TV: Fox live; FS1 is offered as part of the Sling Blue plan.
DirecTV Stream: Fox Direct; FS1 available on all plans.
FuboTV: Fox live; FS1 is available on both plans.
How do I watch fuboTV?​
If you don't have a cable package, then fuboTV (Spanish language explanations only) is another option. fuboTV is the perfect platform to watch live sports TV: quality service, zero latency, coverage of almost all international sporting events, and especially a soccer fan's paradise!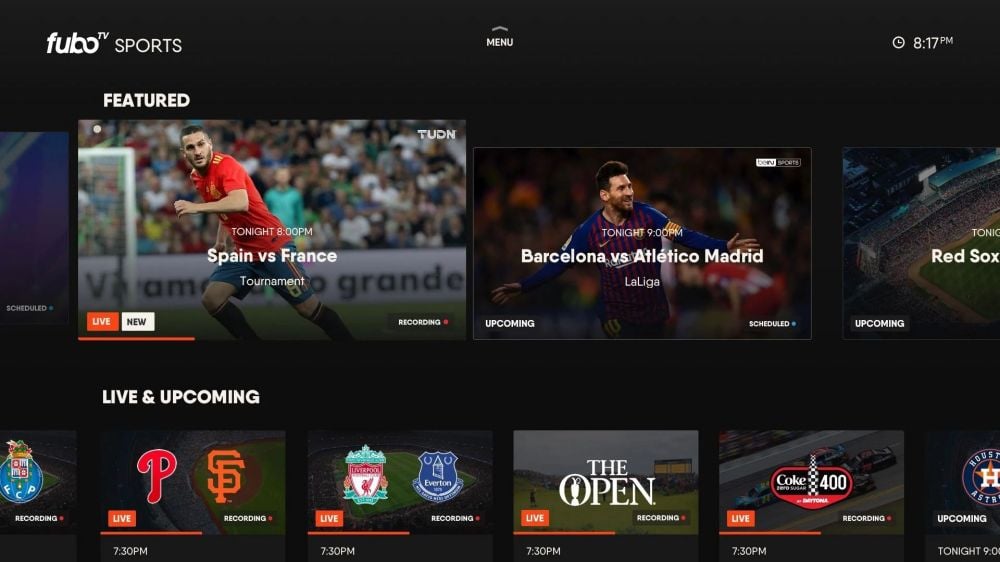 FuboTV has two main plans.
Basic Plan: over 115 channels for $64.99 per month.
Elite Plan: more than 162 channels for $79.99 per month.
New subscribers to fuboTV can try the service for free. This competition season it carries all the Univision family of channels: Univision, TUDN, UniMas, Galavision and TUDNxtra. it also includes CBS local channels, among others.
In addition, Univision airs select games on its ad-supported free platform, PrendeTV, which is available for free on mobile and TV devices, Amazon Fire TV, Apple (iOS and tvOS), Google (Android phones and TV), Roku, and the web.
Can I watch World Cup with Projectors?​
World Cup matches can be watched on TV, cell phones, projectors, computers and other devices. Of course, our most recommended way is to watch on TV and projector because the picture is bigger and clearer. One of the large-size TVs is unconventional, and if you buy a projector, you can enjoy a screen as big as 300 inches. But the premise is, please choose a high brightness, the good configuration of the home smart projector. For example, Dangbei Mars Pro, it is a
smart home 4K laser projector
with 3200 ANSI lumens brightness. Just turn on the projector and connect it to the internet to watch the World Cup matches on streaming media without the need to connect other devices, which is very convenient.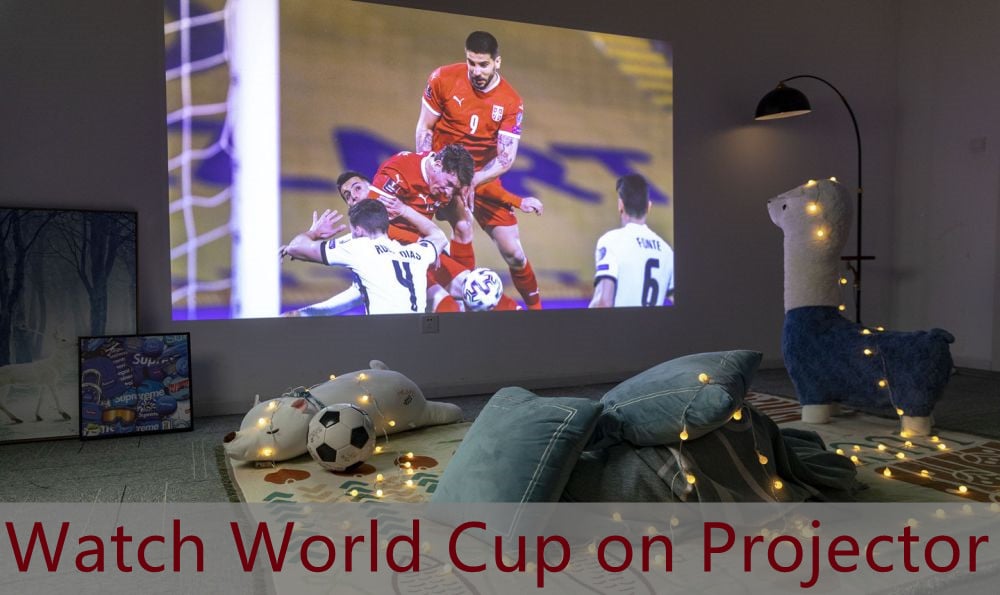 Streaming and TV for watching World Cup 2022 in USA Free​
| | | | | | |
| --- | --- | --- | --- | --- | --- |
| Group Stage | | | | | |
| Round 1 fixtures | | | | | |
| Date | Time (ET) | Group | Match | TV | Streaming |
| Sun, Nov. 20 | 11:00 a.m. | Group A | Qatar vs. Ecuador | FOX, Telemundo | fuboTV, Fox Sports app, Telemundo Deportes En Vivo, Peacock |
| Mon, Nov. 21 | 8:00 a.m. | Group B | England vs. Iran | FS1, Telemundo | fuboTV, Fox Sports app, Telemundo Deportes En Vivo, Peacock |
| Mon, Nov. 21 | 11:00 a.m. | Group A | Senegal vs. Netherlands | FOX, Telemundo | fuboTV, Fox Sports app, Telemundo Deportes En Vivo, Peacock |
| Mon, Nov. 21 | 2:00 p.m. | Group B | USA vs. Wales | FOX, Telemundo | fuboTV, Fox Sports app, Telemundo Deportes En Vivo, Peacock |
| Tue, Nov. 22 | 5:00 a.m. | Group C | Argentina vs. Saudi Arabia | FS1, Telemundo | fuboTV, Fox Sports app, Telemundo Deportes En Vivo, Peacock |
| Tue, Nov. 22 | 8:00 a.m. | Group D | Denmark vs. Tunisia | FS1, Telemundo | fuboTV, Fox Sports app, Telemundo Deportes En Vivo, Peacock |
| Tue, Nov. 22 | 11:00 a.m. | Group C | Mexico vs. Poland | FOX, Telemundo | fuboTV, Fox Sports app, Telemundo Deportes En Vivo, Peacock |
| Tue, Nov. 22 | 2:00 p.m. | Group D | France vs. Australia | FOX, Telemundo | fuboTV, Fox Sports app, Telemundo Deportes En Vivo, Peacock |
| Wed, Nov. 23 | 5:00 a.m. | Group F | Morocco vs. Croatia | FS1, Telemundo | fuboTV, Fox Sports app, Telemundo Deportes En Vivo, Peacock |
| Wed, Nov. 23 | 8:00 a.m. | Group E | Germany vs. Japan | FS1, Telemundo | fuboTV, Fox Sports app, Telemundo Deportes En Vivo, Peacock |
| Wed, Nov. 23 | 11:00 a.m. | Group E | Spain vs. Costa Rica | FOX, Telemundo | fuboTV, Fox Sports app, Telemundo Deportes En Vivo, Peacock |
| Wed, Nov 23 | 2:00 p.m. | Group F | Belgium vs. Canada | FOX, Telemundo | fuboTV, Fox Sports app, Telemundo Deportes En Vivo, Peacock |
| Thu, Nov. 24 | 5:00 a.m. | Group G | Switzerland vs. Cameroon | FS1, Telemundo | fuboTV, Fox Sports app, Telemundo Deportes En Vivo, Peacock Premium |
| Thu, Nov. 24 | 8:00 a.m. | Group H | Uruguay vs. South Korea | FS1, Telemundo | fuboTV, Fox Sports app, Telemundo Deportes En Vivo, Peacock Premium |
| Thu, Nov. 24 | 11:00 a.m. | Group H | Portugal vs. Ghana | FOX, Telemundo | fuboTV, Fox Sports app, Telemundo Deportes En Vivo, Peacock Premium |
| Thu, Nov. 24 | 2:00 p.m. | Group G | Brazil vs. Serbia | FOX, Telemundo | fuboTV, Fox Sports app, Telemundo Deportes En Vivo, Peacock Premium |