TCL released new bars in 2022, the C935U and P733W, including the flagship 5.1.2 channel Dolby Atmos bar.
5.1.2 Channel TCL C935U Soundbar​
TCL's new Red Dot Design Award-winning TCL C935U bar is a flagship 5.1.2 Dolby Atmos bar speaker. Equipped with a wireless subwoofer, it features RAY-DANZ technology that rivals the Dolby Vision picture quality of TCL TVs.
More than that, the TCL C935U bar features a unique rear-tilting speaker that directs sound waves to a curved acoustic reflector unit, and exclusive award-winning RAY-DANZ technology creates a wider, more uniform sound field without any digital processing and without compromising audio quality, clarity or accuracy.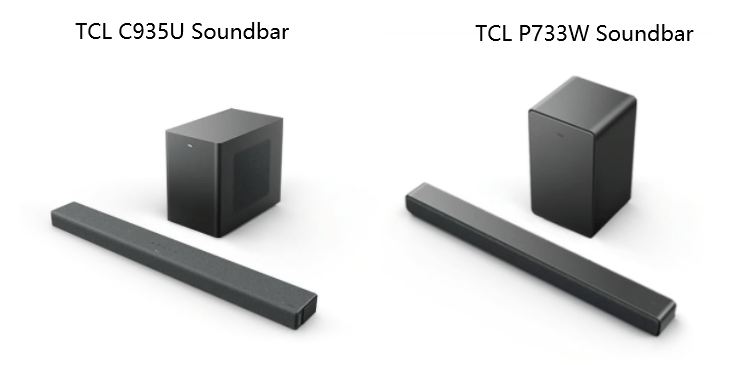 3.1 Channel TCL P733W Soundbar​
Powered by DTS Virtual X, the TCL P733W bar speaker with wireless subwoofer delivers 3D surround sound that lets you hear every detail and transform any movie, TV show or playlist into an immersive, multi-dimensional audio experience.
At the same time, Dolby Audio delivers rich, clear, and stunning sound at home. With the Bass Boost feature, they can also feel an instant boost in bass with the simple push of a button. The bar is powered by Bluetooth 5.2 + Sound Sync (TCL TV) for easy wireless connection to your TV with low latency.