During the Spanish Civil War, a man was fleeing because he was involved in the civil war. He hid downstairs and witnessed the death of two companions. He fled home and was hidden in a hole dug by his wife who had not been married for long. Under Franco's rule, he was afraid that he would be treated as a war criminal in the civil war, so he could not panic all day long in the cave. But over time, this man lost his ability to face a normal life. He spent thirty years in the cave at home without leaving home ... Until the end of the civil war, thirty years of national amnesty, he still dare not walk out of the house, lamenting Unfortunately, the angry son confronted his father who had never grown up with him, and resolutely left the house ... until his wife could not bear it, and abandoned him ...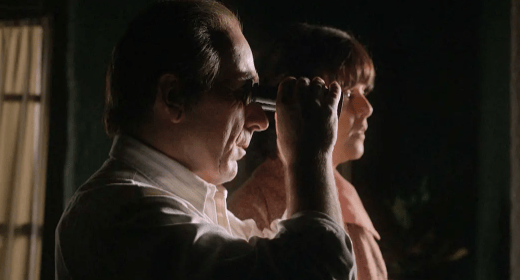 Suddenly realizing that the man who could not live without his wife and children's help, he finally found the courage to walk out of the house. All the peace in the town is still the same, no one regards him as a heresy, he found a circle of wives who didn't get his wish, and he came home with regret, his wife was at the door ... and finally couldn't let go. The man finally ended the life of the "mole". For thirty years, he lost many normal life time. What is striking is that after the Spanish Civil War, there are not many people like him who evaded the government in this way. The trauma and fragmentation brought by the turmoil to the family and society are still being staged in every corner of the planet today.
The length of this film is two and a half hours, and most of the time is an indoor drama. Except for a few scenes that are a bit dull, the narrative is quite smooth, and it does not seem monotonous because the story occurs in a confined space. The film also played a meaningful role in the relationship between the two who seemed simple but actually complicated, and many plots were intriguing. For example, if the two discussed how to deal with the child, then the male host suspected that the child was not his. The film has a more in-depth discussion on topics such as human nature, the trauma caused by social unrest, and the feelings for couples.