TV products smoothly transition from analog to digital (digital TV), in which HDMI multimedia digital interface plays an extremely critical role, with the continuous upgrading of TV specifications, the HDMI version has also been slowly upgraded from the initial version 1.0 to version 2.1. What exactly is HDMI 2.1 and how does it affect the viewing experience? This article will tell you the answer.
What is HDMI?​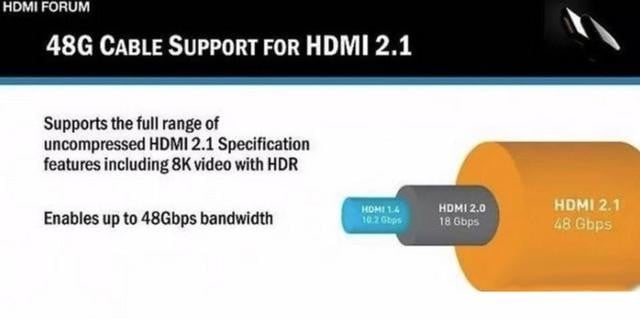 The full name of HDMI is "High Definition Multimedia Interface". HDMI has been the mainstream interface standard for display devices since the release of the HDMI standard, and version 1.0 was officially released on December 9, 2002. From 1.0 to 1.4 to 2.0, each update of the HDMI standard has brought higher definition video and audio signal transmission, thus driving all hardware updates and upgrades using HDMI interfaces such as cables, playback devices and display devices.
HDMI is a digital video and audio interface that transmits uncompressed high-definition video and multi-channel audio data in high quality without the need for digital-to-analog or analog-to-digital conversion. This uncompressed digital data transfer can effectively reduce signal interference and attenuation due to conversion. HDMI interface is of course also very widely used, we can see it on TVs, Blu-ray players, monitors, set-top boxes and other devices.
Compared to the old VGA and DVI interfaces, HDMI has a very clear advantage. It is a digital video and audio interface that transmits uncompressed HD video and multi-channel audio data in high quality without the need for digital/analog or analog/digital conversion prior to signal transmission, and this uncompressed digital data transmission effectively reduces signal interference and attenuation caused by the conversion.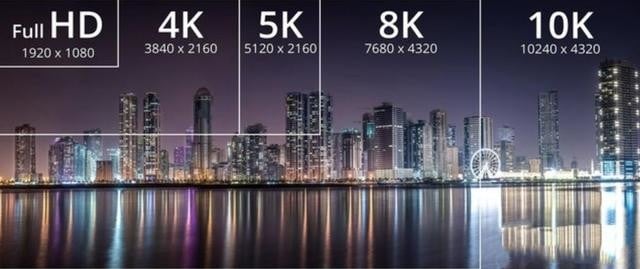 Although the HDMI 1.4 standard introduced in 2009 already supports 4K definition, but only to the lower specification of 30Hz support. The HDMI 2.0 standard, also known as "HDMI UHD", increases bandwidth from 10.2Gbps to 18Gbps, and also supports 4K/60Hz video images, and is compatible with the Rec. 2020 color gamut range, bringing richer color performance. However, HDMI 2.1 has made even more exciting upgrades compared to version 2.0.
The increase in video bandwidth is the most significant improvement in HDMI 2.1, from 18Gbps to a staggering 48Gbps. The increase in bandwidth also opens up the possibility of higher resolution images.
First of all, for 4K resolution, HDMI 2.1 standard can support 4K/120Hz pictures. 120Hz refresh rate at 4K resolution can not only bring smoother 4K movies, but also meet the requirements of popular 3D/VR and other devices, which are also ahead of competitors Display Port 1.4 in terms of specifications.
What are the other features of HDMI 2.1?​
Although the current 8K, 10K resolution is mainly used in the medical, industrial or advanced presentation field, may be far from the user, but the current mainstream 4K TV equipped with HDMI version 2.1 interface is also very meaningful, access to a great performance enhancement, especially for gamers.
HDMI 2.1 supports the latest Dual HDR (Dynamic HDR) technology, which is able to ensure that every scene, and even every frame, of a video is reformatted from the current HDMI 2.0 static HDR.
These continuous instructions are called dynamic metadata, and HDMI 2.1 provides a comprehensive mechanism for transmitting dynamic metadata so that each frame can display the ideal values of depth of field, detail, brightness, contrast, and a wider color gamut.
For users who love to play games, the HDMI 2.1 standard also improves the processing of gaming graphics. It will add support for Variable Update Rate (VRR) and Quick Frame Transfer (QFT), which can reduce or even eliminate graphics lag during gameplay. HDMI 2.1 includes Automatic Low Latency Mode (ALLM), which automatically sets the desired latency for the smoothest viewing experience.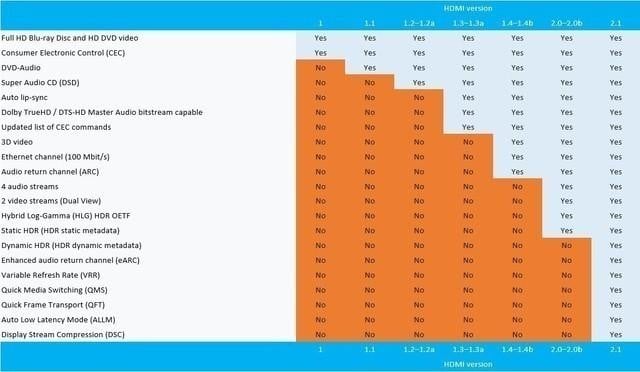 In terms of audio, HDMI 2.1 standard has also made a comprehensive upgrade. It supports the latest eARC technology, compared to the existing ARC (Audio Return Channel), which can return Dolby Atmos (Dolby Atmos).
In short, the current mainstream 4K TVs equipped with HDMI version 2.1 interface is very meaningful, the reason is that HDMI 2.1 not only achieves a huge increase in bandwidth and resolution support, but also adds several enhanced refresh rate technologies for video, movies and games.