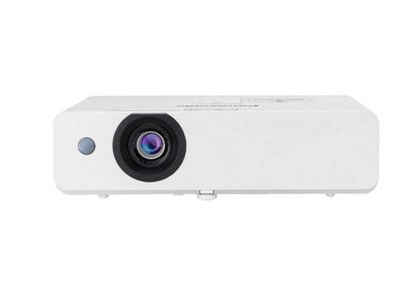 Panasonic PT-X426C is an energy saving and environmentally friendly projector with over 20,000 hours of bulb life. Its compact and lightweight body and 4,300 lumen central brightness make the projector more flexible and practical for presenting vivid images in offices and classrooms.
Panasonic PT-X426C product features
*1 Light bulb replacement cycle is about 20,000 hours in energy-saving mode and about 10,000 hours in normal/low noise mode. The use of the environment and conditions will affect the bulb replacement cycle.
*2 Optional wireless module et-wml100c shall be equipped.
Highlight and enjoy a bright, quiet, long-lasting portable projection. The compact and lightweight Panasonic PT-X426C projector delivers 4,300 lumens (center brightness)/4,100 lumens high brightness and 16,000:1 high contrast. You can enjoy clear, vivid, and brilliant images even in well-lit environments.
With the special light sensing function of panasonic, it USES the built-in light sensor to monitor the illumination degree of the environment in real time and adjust the brightness and tone of the projected image in real time, so that the details of dark areas that are difficult to see in the bright environment can be clearly reproduced. There is no need to deliberately lower the light in order to project a picture.
Low consumption, effective cost reduction, more energy conservation and environmental protection. Breakthrough technology has extended the light bulb replacement cycle to 20,000 hours. Longer bulb life cycle is achieved by reducing brightness attenuation and increasing cooling. While presenting excellent picture quality, it also realizes lower maintenance cost and shorter down maintenance time.
Panasonic PT-X426C projector has a low noise design as low as 30dB*3. A quiet environment allows your students, colleagues or clients to focus on the live presentation without interruption. The bulb can be replaced from the top of the projector, and the filter can be replaced from the side of the projector. Even if the projector is suspended from the ceiling, it can be maintained regularly without disassembly.
*3 When the light bulb mode is set to low noise mode.
Flexible application, flexible installation and application of office or classroom. When the axis deviates or is projected from an unconventional Angle, the quadrangular correction function can adjust each Angle of the projected image separately, and then adjust the vertical/horizontal trapezoid to obtain an ideal symmetrical picture. Can easily project curved screen, and effectively adjust the barrel and pillow deformation.
This product is equipped with a 1.2x zoom lens, supporting a wider range of installation distance, making the installation more flexible. Another wireless module, et-wml100c (optional), can be installed with free software Windows® laptop, iSO equipment *4 easily realize wireless projection.