Streaming 4K and HDR has always been a really convenient way to experience 4K fun, but the best performance in terms of image and audio quality will come from the 4K discs playing on 4K blu-ray players. One thing to say, though, is that unlike most technology sectors, the 4K blu-ray player market is still relatively small, so consumers will have to choose between a handful of big names.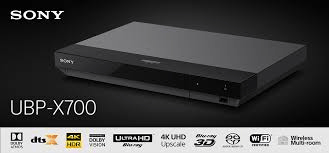 ​
In 2018, SONY officially unveiled its first blu-ray player, the ubp-x700, that
supports Dolby Vision technology
. According to SONY's official introduction, this SONY blu-ray player in sound quality, appearance design, interactive experience into a lot of
innovation and breakthrough
, is a new choice for audiophiles to enjoy the outstanding 4K HDR ultra hd film, but also SONY to expand the family of audiophile entertainment product lineup, demonstrates the product development initiative.
The biggest highlight of SONY's ubp-x700 blu-ray player is that it
supports both Dolby Vision and HDR 10 standards.
It is the first SONY 4K blu-ray player to support Dolby Vision. Of course, SONY also knows that the biggest problem facing blu-ray players is streaming media over the Internet, so they
built the ubp-x700 into a smart player
, with
apps like Netflix
built in to give users more options (in this case, wasu TV).
If SONY's X800 becomes a higher-end product, the SONY blu-ray player ubp-x700 will bring 4K down to a more affordable level. The SONY blu-ray player ubp-x700 retains many of the same features as its siblings, despite a lower build quality. It also supports Dolby Vision HDR for users with compatible TVS and 4K discs.
If you want to create a home theater audio-visual effect, this SONY blu-ray player ubp-x700 will be indispensable.