Nowadays, more and more people enjoy watching movies outdoors, such as family reunions in the yard, or camping with friends. A portable projector providing a big screen helps a lot on these wonderful occasions. So how to buy a projector right for you at a good value price? There is a comparison of two popular portable projectors on market now, WEMAX Dice and Emotn H1, let's see which one suits the family and which one is more worth buying.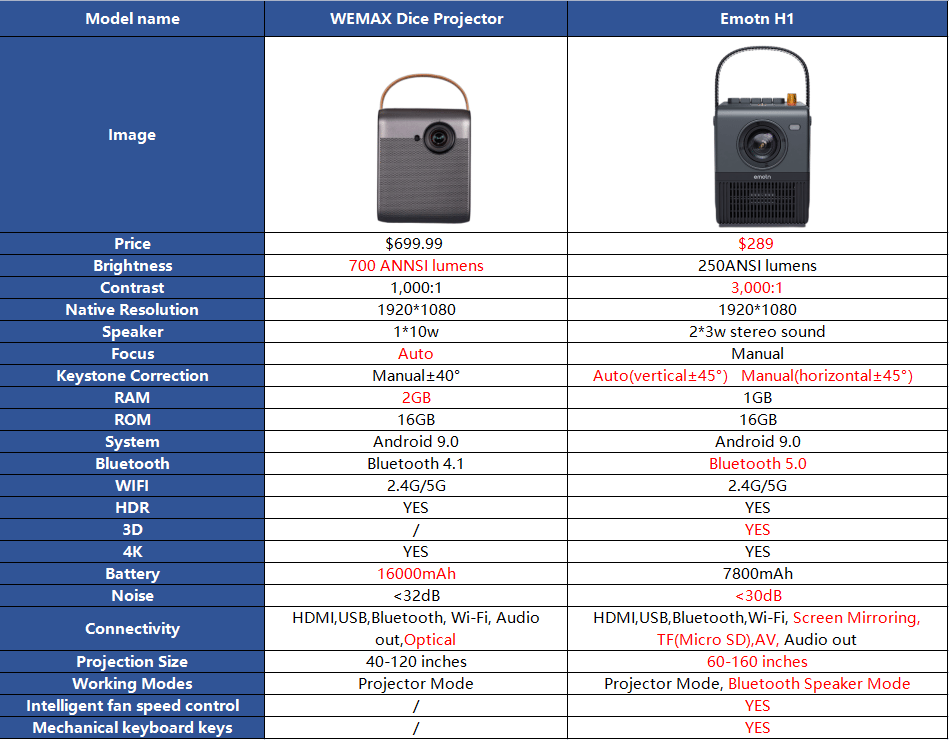 1. Appearance
WEMAX Dice projector and Emotn H1 projector are somewhat similar in appearance at the first sight, both of them are equipped with a belt for moving concern and in a similar color gamut of dark gray. But there are still many details differing from them.
As its name showing, WEMAX Dice looks like a dice in shape, which is a little smaller than Emotn H1. What's more, although they have adopted dark gray as the main color tone, WEMAX Dice has a warmer color tone, while Emotn H1 has a cooler color tone called dark slate blue. In addition, Emotn H1 features its mechanical keyboard keys, which won't get stuck like the ordinary key, which is an innovative design in the projector industry.
2. Image
Both WEMAX Dice projector and Emotn H1 have the same native resolution of 1080p. What is different is that WEMAX Dice has a brightness of 700 ANSI lumens and a contrast ratio of 1,000:1, while Emotn H1 has 250 ANSI lumens and a contrast ratio of 3,000:1. As for projection size, WEMAX Dice provides a sizing screen of 40-120 inches while Emotn H1 is more than that with a range of 60-160 inches. In general, the brightness of WEMAX Dice is higher than that of Emotn H1, but Emotn H1 is also very good in display details, especially in products of the same price。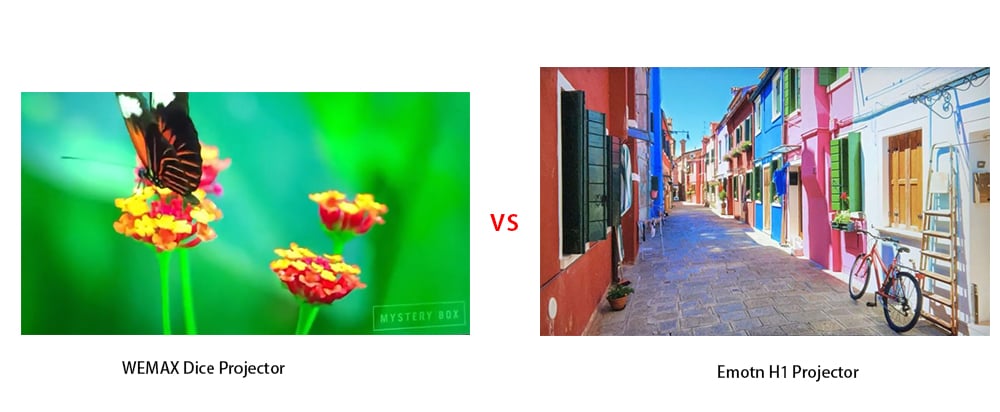 3. System and configuration
Although both WEMAX Dice projector and Emotn H1 have the same system Android 9.0, they are different in many aspects.
First, WEMAX Dice projector has a speaker of 10w while Emotn H1 has two speakers of 3w adopting the digital audio power amplifier chip with built-in DSP under Korea's top digital chip NF. What's more, Emotn H1 can switch to Bluetooth speaker mode. In the Bluetooth speaker mode, the screen and the machine fan are automatically turned off. With dual stereo surround sound HIFI live sound effects, you can enjoy the original sound quality. The battery life in music mode is about 15 to 30 hours. Therefore, the former has higher voice volume while the latter provides a stereo sound.

Second, WEMAX Dice supports autofocus and manual keystone correction of ±40° while the Emotn H1 supports manual focus and ±45° keystone correction, which is more flexible.
Third, WEMAX Dice features 2+16GB in storage while Emotn H1 with 1+16GB. The storage of both devices is sufficient to install various software. Although the running memory of Emotn H1 is relatively small, it is based on Android 9.0 self-developed and customized UI, which consumes fewer hardware resources and can provide a minimalist, efficient, easy-to-use, and smooth operating experience.
4.Connection
Both WEMAX Dice and Emotn H1 support connection of HDMI, USB, Bluetooth, Wi-Fi and Audio with their corresponding ports. What differs from them is that Emotn H1has a 5.0 Bluetooth that's superior to that of WEMAX Dice. What's more, Emotn H1 supports screen mirroring and TF/SD card transmission.

5. Conclusion
To sum up, WEMAX Dice and Emotn H1 are worth buying for their excellent performance. But the price of Emotn H1 is lower than WEMAX Dice, but it has a surprising performance. If you have a limited budget but want to experience the fun of mobile cinema, I recommend you to choose Emotn H1.