This article is to introduce you to Huawei processors.
Is Huawei Processor good?​
The Kirin chip used in Huawei phones is definitely the best in the chip world. And Huawei processors are not only Kirin series, there are many other series of chips that are very good chips. For example, the processor used in Huawei's Smart Screen is the Hongwan Wisdom series of chips.
Huawei has accumulated many years of technical precipitation in the field of display chips. In 2014, Huawei's first Heisi 4K TV chip was relaunched. From 2016 onwards, Huawei's Heisi chip has gradually been used in many high-end TV sets.
1. Honghu Smart Chip​
The Honghu chip is a chip developed by Huawei with independent property rights. The biggest advantage of self-research is that it is not limited and can consider the comprehensive design of the product from the perspective of the terminal-software-chip trinity. In other words, chips can be customized to improve the performance of software and terminals.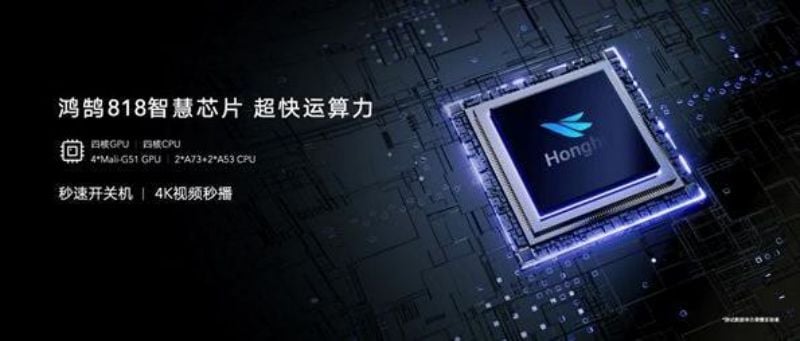 Honghu 818 smart chip is the flagship chip of Huawei HiSilicon. It has top-level technical optimization in terms of picture quality, which can bring users the ultimate picture quality performance.
Picture Quality Engine
The Honghu 818 smart chip uses a so-called magic image quality engine. It has partition light control (LD), noise reduction algorithm (NR), dynamic picture compensation (MEMC), super-resolution algorithm (SR), high dynamic range imaging (HDR), automatic color management (ACM, dynamic contrast enhancement (DCI)) ) and other 7 major image quality technologies, which can improve the color, contrast and clarity of the display from all angles.
Picture Processing
The 818 chip uses MEMC dynamic picture compensation technology. With a series of optimization processing, such as enhanced Halo to deal with noise and Deblur&Dejudder processing, it can calculate more reasonable supplementary frames in different complex motion pictures, so the picture will be smoother and more natural.
Decoding Capability
In terms of video decoding capability, Honghu 818 smart chip supports super
[email protected]
and
[email protected]
In terms of graphics decoding ability, it supports a powerful 64 million pixels, and the existing mobile phone camera pixels basically cannot reach this pixel. At the same time, the chip's multitasking memory access scheduling technology can make the effective utilization of bandwidth more than 50%. Therefore, it can ensure that the system responds quickly and runs smoothly.
Sound Tech
Not only that, the Honnghu 818 smart chip also does a lot of optimization in audio (Histen technology). It can create better sound quality effects by transient distortion correction, sound field expansion, intelligent bass, loudness adaption, dialogue enhancement and other optimization technologies. For example, the sound field expansion technology helps users experience surround sound. The Loudness Adaptive technology can smooth the volume jump so that the listening experience is not stuttering.
2. Huawei HiSilicon NPU Smart Chip​
Neural-network Processing Unit (NPU) adopts data-driven parallel computing technology, which has a strong advantage in processing massive multimedia data such as images and videos.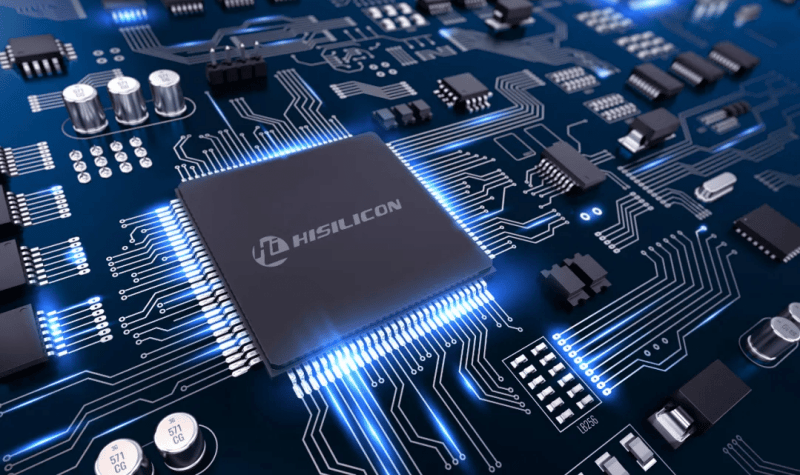 The HiSilicon NPU was initially positioned for use in Huawei mobile phones, but Huawei also uses this chip in smart screens. Its purpose is to make televisions as smart as mobile phones.
The lift-type AI camera used by Huawei's smart screen uses an NPU chip. The lift-type AI camera of Huawei Smart Screen uses the HiSilicon Hi3516DV300 NPU chip, which enables portrait tracking, face recognition, and posture detection.
3. Huawei Lingxiao Wifi Chip​
The Lingxiao WiFi-loT chip is mainly used to serve the IoT, and it is a chip that processes the network. It allows devices to perform better in terms of peak download rates, connectivity, wall penetration, stability, and more. Now, Huawei routers already use this chip. The purpose of Huawei's use of this chip on smart screens is to enhance the network processing capabilities of TV sets.