Harry once commented on Malfoy: Before he knew Malfoy,
he couldn't even imagine that he would hate someone more than his cousin Dudley.
Compared with Malfoy, Dudley was a good boy who was clever and sensible. So even if Harry took Malfoy's hand at the beginning, it might be because he didn't want to have a dispute on the train, but he had already learned from Hagrid that Slytherin was not good before, and he yearned for Gryffin many.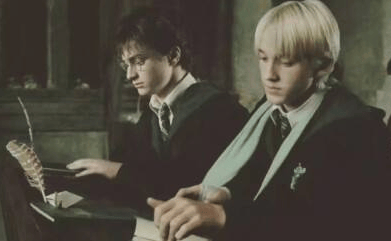 The sorting hat will not feel that Harry and Malfoy should go to Slytherin because they shook hands, so he will still be a member of Gryffindor, and will not change because of the hands held by Malfoy. Then slowly, he will still produce the above evaluation of Malfoy, and the relationship with him will still be very bad.There is no change in the probability.