Do you know IOS 13 supports the connection of Xbox one s controller and PS dualshock 4 game console? What is the experience of playing iPhone games with PS4?
First of all, the process of connecting the mobile phone and the handle is quite simple. Set the handle to the state to be connected (PS4 handle needs to press and hold PS key and share key for five seconds at the same time), then find the name of the handle in the Bluetooth setting menu of the mobile phone, and finally click Connect.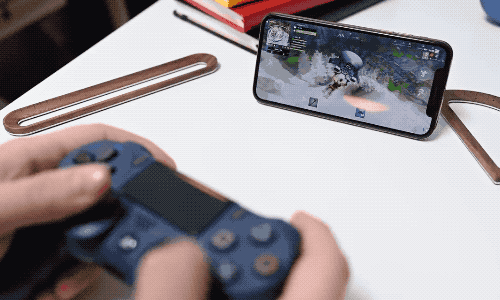 In addition, as with other Bluetooth devices, users can check the power of the handle in the battery plug-in with a negative screen after connecting the handle. It is worth noting that not all games can be controlled through the handle.
After connecting the handle, you can play game suck as the Fortnite. The default setting of key position is very similar to playing action shooting games on PS4: double rocker controls movement and vision, two "trigger keys" on the left and right are responsible for opening mirror and shooting, and cross, circle and square are corresponding to jump, switch game, close range attack and other actions.
As for the stability of the connection, there is basically no problem. There is almost no sense of delay when operating on the handle, and there will be no disconnection.
On the whole experience, it's obviously more comfortable to operate by hand than directly on the mobile phone, and the "competitiveness" that players pursue will also increase substantially. In fact, with the fire of all kinds of MoBa games and shooting games, there are many handle accessories on the market, including mechanical simulation and Bluetooth connection.
With the developement of 5G, Google and Microsoft have started to lay out cloud games, playing games with handle will be more efficient and exciting.