Tom Hanks is one of the most heralded American actors of the last half century. His career accolades include 2 Oscars, 8 Emmys and 4 Golden Globe awards. He is one of the highest grossing movie stars of all time yet is regarded as the quintessential "everyman". Tom Hanks simply has a universal appeal. According to Cinema Blend, "It's his ability to convey pathos and tragedy whilst remaining endlessly loveable that has allowed him to remain one of America's most beloved actors". Tom also has a tremendous aptitude for portraying real life figures.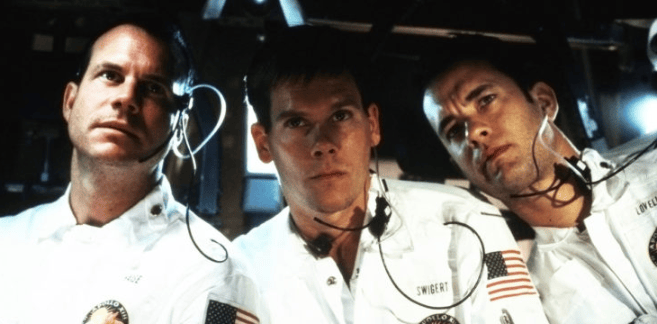 People see themselves in Hanks, even when he is playing people who are real. He is able to convey sincerity in a relatable way and with an authentic feel. In his 2019 Oscar nominated performance; Tom showed that by beautifully humanizing American icon Fred Rogers. It is however Hanks' portrayal of another American icon which often gets overlooked. In 1995's Apollo 13, Tom Hanks plays astronaut Jim Lovell. Tom not only captures the gravitas of a national hero, but he also exudes the NASA Commander's genuine poise in the midst of disaster. Lovell himself commended Hanks' "total sense of commitment". But for a myriad of reasons, Apollo 13 is routinely left out when discussing Tom's greatest roles.
For starters, the film features an extremely talented and dynamic ensemble. Ed Harris and Kathleen Quinlan were both nominated for Oscars for their roles. In addition, the cast also includes Bill Paxton, Gary Sinise and Kevin Bacon. However, Tom is the straw that stirs the drink. Of any cast member, Hanks gives one of the least vibrant performances. As Lovell, he resists the urge to be the ultimate macho take charge commander although he is clearly in charge. The genius of Tom's performance is that he is the calm in the storm. Critic Dave Kehr stated at the time that Hanks "has the great movie star's ability to be both a vivid presence and a transparent identification figure". Apollo 13 was a huge movie. Even amid its sprawling scope, Tom anchors the film as opposed to getting lost in it.
In 1996, Apollo 13 was nominated for 9 Academy Awards including Best Picture. The 9 nominations were second only to Braveheart with 10. It is not as if the space bio was not well received, however, the academy saw fit not to nominate Hanks for his third consecutive Oscar. Ironically, the role of Jim Lovell was supposedly first offered to fellow 2020 Oscar nominee Brad Pitt. After last year's nomination, Tom now has 6 lifetime Oscar nods compiling one of the most productive careers in the history of cinema.
Tom's turn as Commander Lovell is often lost in the shuffle. This is partly due to the sheer prolificacy of his amazing career. Apollo 13 was released in 1995 and that was not even the most popular Tom Hanks movie that year, Toy Story was. Additionally, Apollo 13 occurred directly in the middle of Tom's most productive period. The space drama was made during a span in which Hanks was nominated for Best Actor 4 times in 7 years. As the film came in between Forrest Gump and Saving Private Ryan, it's understandable that Tom's role in Apollo 13 be relatively underrated. His performance however is as good as any of his career.
​