Fight Club
is unquestionably Brad Pitt's best movie till date.
Fight Club
is a 1999 film based on
the 1996 novel by Chuck Palahniuk
. It was directed by David Fincher and stars
Brad Pitt, Edward Norton,
and
Helena Bonham Carter.
Norton plays the unnamed narrator, who is discontented with his white-collar job. He forms a "fight club" with soap salesman Tyler Durden (Pitt), and becomes embroiled in a relationship with him and a destitute woman, Marla Singer (Bonham Carter)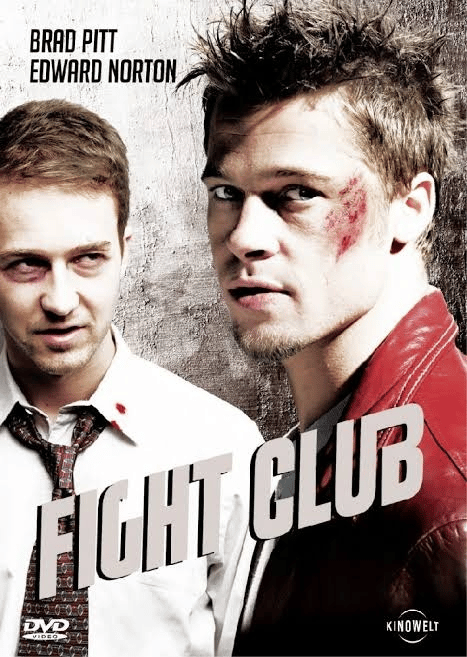 Since, the favorite is obvious, i'll take up a list of my favorites.
1. Fight Club
2. Snatch
3. Se7en
4. The curious case of Benjamin Button
5. Inglourious Basterds
6. Babel
(An underappreciated masterpiece from Inarritu)
7. Sleepers
(Robert De Niro, Dustin Hoffman, Brad Pitt, Kevin Bacon, Billy Crudum, Minnie Driver, such a brilliant cast)
8. The assasination of Jesse James by the coward Robert Ford
(It has that western feel to it, felt like a sort of precursor to True Grit)
9. Twelve Monkeys
(Electric performance from Brad Pitt, Bruce Willis was clearly outshone)
10. Burn After Reading
( Coen Brothers, do I need to say more!)
11. Moneyball
12. Legends Of the Fall
(Another movie with a weird feel to it, classy, in some ways)
13. Ocean's Eleven
(The greatest bromance in history)
14. Interview with the Vampire
(Brad Pitt, Tom Cruise, Antonio Banderas)
15. True Romance
(Short role; stoner, effective)
16. Seven Years In Tibet
(Made me feel kind of lost, slightly slow paced but don't let that throw you off)
17. Megamind
18. Kalifornia
(Brad Pitt can play villains, monstrous ones)
19. Troy
20. The Mexican
(funny, in parts and Gandolfini
)
The rest i've either not seen or aren't really worth watching. I haven't yet seen The tree of Life, so my analysis isn't very accurate. Hope to see it soon.