Many people may think that the private cinema at home is exclusive to local tyrants, and it is difficult for ordinary families like us to realize. But in fact, you only need the money of a smartphone to buy a home projector and easily enjoy the thrill of a private large-screen theater. Today's home projectors have developed to the present day. Not only do they look better and more refined, but they are no less practical than smart TVs. Now let 's take a look at which brand of home projector is better?
Dangbei Projector
Dangbei Projection is an emerging brand of home projectors in 2019. Currently, it has launched four projector products. They are flagship projection Dangbei projection F1, quality home projection Dangbei projection D1, portable projection Dangbei projection C1, and Dangbei projection F1C equipped with the new black technology.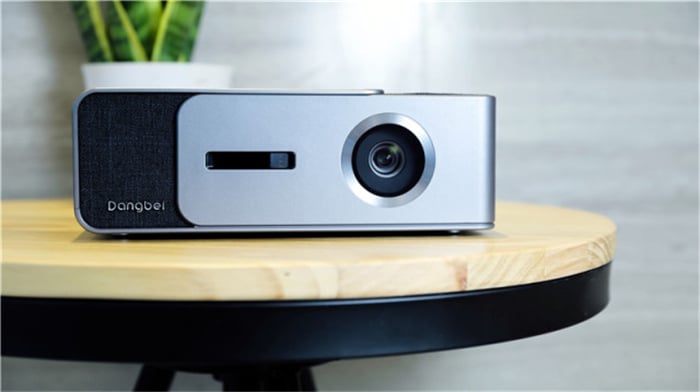 Dangbei projection F1C design is made of dark gray craft linen fabric and starry gray ABS material. The center of the fuselage is newly equipped with a dual TOF + CMOS camera module, which has excellent autofocus function.
It is worth noting that in terms of hardware configuration, when the projection F1C is full of materials, the flagship configuration 3 + 32G large memory, with Mstar6A938 high-performance processor; brightness is 1300ANSI lumens (light source brightness 3600 lumens), light source life 30,000 hours Above, the 1.2: 1 projection ratio can easily project a 100-inch large screen.
In terms of picture performance, Dangbei projection F1C has a built-in 4K color rendering engine Pro, which has picture effects such as jitter removal, noise reduction, advanced color processing, HDR10, MEMC motion compensation, etc., making the picture clearer and smoother, bright and moving. It supports global 3D playback, 2D to 3D functions, and active shutter-type 3D technology, making the stereo effect of 3D images more realistic, more shocking, and more stereo. You can also enjoy private 3D large-screen theaters at home.
In terms of operating system, Dangbei projection F1C is equipped with Dangbei OS 2.0 system independently developed for large screens, built-in massive video content and application software, popular videos are continuously updated daily; . At the same time, it also supports AI intelligent voice interaction, multi-round dialogue, remote control voice, Bluetooth remote control, multi-screen interaction and other functions. All you want to do is just one sentence.
Of even more concern is the unique black technology of Dangbei projection F1C, sensorless autofocus and sensorless keystone correction. When the Bay Projection F1C is equipped with a new camera assembly this time, the dual algorithm of dual TOF + CMOS cameras is used to make focusing faster and more accurate, which improves efficiency by more than 10 times. No need to wait, it is clear instantly, and it really achieves fast, accurate and non-sense focusing. And it is equipped with the third-generation intelligent non-sensing automatic keystone correction, which can quickly perform automatic keystone correction without any reference to the characteristic patterns.