The Masked Singer took a week off from its competition for what was supposed to be a fun sing-along episode and, under normal circumstances, it may have been a fun night to sing and remember some of the Fox series' standout performances of Season 3. Of course, things have changed in recent weeks, and when many fans realized they wouldn't be getting an elimination this week, they got pissed.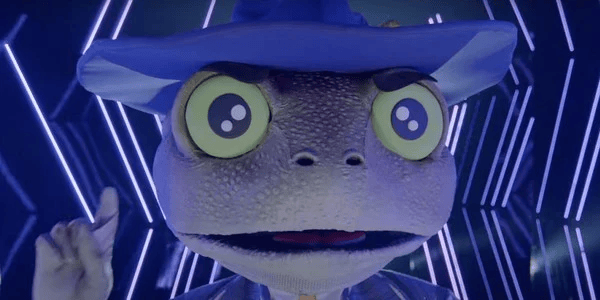 Twitter was on fire during The Masked Singer, but not because fans were sending their own sing-alongs to the show like the series requested. Instead the top tweets were a lot of disgruntled fans, dragging the show for thinking people wanted a recap episode with subtitles over the performances.
Sooo we don't get a real episode of #TheMaskedSinger tonight?! Who requested this sing-a-long?! pic.twitter.com/azgzsw2T0B
— Call Me Dr. Cokley (@BrilliantBlkGrl) April 16, 2020
The shade was real, and not even The Turtle's rendition of Seal's "Kiss From A Rose," could brighten the sour moods of many fans of The Masked Singer. Apparently, folks weren't that keen on singing along with the masked celebrities, and wanted to see someone actually get revealed.
It also didn't help that, despite the heads up this was coming, many viewers were blindsided by the sing-along episode. Many tuned in hoping to escape their current situations with a traditional episode, and instead left disappointed.
I live Wednesday to Wednesday for #TheMaskedSinger and they pull this crap on me?? In these PRESSING TIMES?
— rach coop (@rec__22) April 16, 2020
In The Masked Singer's defense, the episode did feature some new clues, though nothing of remarkable substance. Really it was all about the singing, which isn't necessarily inappropriate, given the show's title.
The Masked Singer is a show about singing, though it's no secret many watch for the mystery and guessing. Turns out that may be all that some watch for because they just didn't want anything to do with this sing-along episode once realizing there wasn't going to be an unmasking.
What the actual f**k is this sing-a-long bullshit that #TheMaskedSinger is airing?! I was ready to see some D-List star get voted off.
— Lauren Logsdon (@LaurenLogsdon) April 16, 2020
Anyone want to start taking bets on if The Masked Singer will bring back the sing-along special should the show return for Season 4? I smell some easy money that this won't be making a comeback in the future, although perhaps the ones who hated the episode are just a vocal minority sounding off on the web. We can only speculate, though I can honestly say this is the first time where it took a considerable amount of scrolling through tweets to see someone's actual guess on a contestant's identity.
Was The Masked Singer's sing-along episode really better than no episode at all, though, considering the present circumstances? It's possible that's exactly what many are saying, as the snarky tweets continue to roll in from across the internet.
Last edited: