Microsoft announced the Xbox Game Pass (Console + PC) new game lineup in July through the official website of Xbox, including games such as "Fallout 76: Wastelanders" and "Soul Callbur 6" Column.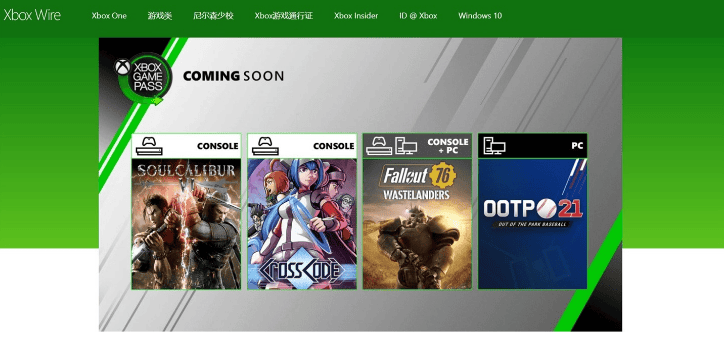 Xbox Game Pass new games in July:

"OOTP 21" , July 1, PC



"OOTP 21"

is a baseball sports sports game officially authorized by MLB, MiLB and MLBPA, and is the only game that has won two Metacritic PC Games annual awards.

"Soul Callbur 6" , July 1, Console



"Soul Callbur 6" ,

is a weapon-action fighting game produced and released by Bandai Namco. It was released on October 19, 2018. It is the sixth generation of works released on the 20th anniversary of the Soul Ability series. The background of the game took place at the end of the 16th century. Players will return to the original "Soul Ability" and discover a series of stories triggered by different characters around the artifact "sword soul".

"CrossCode" , July 9, Console

"CrossCode"

is a 2D action RPG game set in the future, the game has a red and white machine-style 16-bit color style and physical effects.

"Fallout 76: WasteLanders" , July 9, Console/PC

The story of Fallout 76 takes place at Refuge 76, the record of which is stored in the computer of Citadel, the headquarters of the Brotherhood of Steel, and is one of 17 controlled refuges. It can accommodate 500 people and is planned to open 20 years after the nuclear war. In addition, the shelter has a record of an alien kidnapping incident.

There are also some games that will be removed from XGP (host + PC) on July 15th, namely: "Hot Alloy", "Zombie Siege 4", "Metal Gear 5", "Time Controller", "Unavowed", "Under the Legend".