The Xbox Games Showcase Conference That Will Set On Fire. Microsoft will hold a big Xbox conference for the month of July. New Xbox Series X games will be announced for the occasion, and this particular event will be different from the Inside Xbox we were treated to last May. In all likelihood, this conference will be the big show of the year for Xbox and will come close to what one would expect from an E3 Xbox conference. Expect heavy this time around!
This article was updated on July 16 with new details as to the course and content of the conference. It is particularly a question of a conference of about an hour, without hardware, without price, and focused on only one thing: games.
Where and when to watch the July 2020 Xbox Games Showcase conference - the official date
The Xbox Games Showcase conference will be to be followed exclusively online. Following the cancellation of E3 2020, the show will be broadcast live here on Xboxygen. This conference is therefore called the Xbox Games Showcase, which shows that the focus will be on games.
When: July 23, 2020, official date
where to watch:

YouTube.com/Xbox for a 1080p/60fps livestream and 4K/60fps VoD immediately after
Twitch.tv/Xbox
Facebook.com/Xbox
Twitter.com/Xbox

How long: The conference will last approximately one hour
Discuss with the community in this thread!
The show will kick off at 8 a.m. PT with a preshow and move to the main event at 9 a.m. PT
. Xbox teams confirm announcements will be made within an hour of the event with previews. It is not known if these will be new games announced or something else, but we are looking more for a little aperitif with info on games that we already know. We could imagine information on Gears 5 optimizations on Xbox Series X, or on the next productions to be released this summer such as
Microsoft Flight Simulator 2020
or
Wasteland 3
.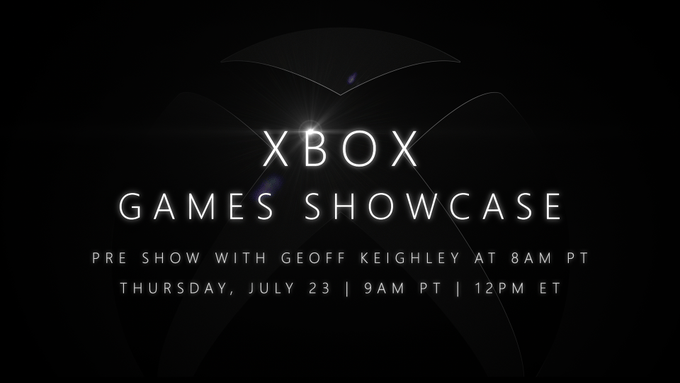 What games will be featured at the July Xbox Games Showcase?
Here is the list of what could be shown at the
Xbox Games Showcase
conference in July.
Halo Infinite

: The new Halo will be released at the end of the year with the Xbox Series X. We have seen nothing but a trailer that aired at E3 last year, and it will be an opportunity to postpone things up to date. The Halo Infinite video will certainly set the bar high when it comes to graphics rendering and should make the title the showcase for Xbox Series X. According to Jez Corden, the gameplay has already been recorded and should be pretty solid. Xbox teams have confirmed that we will be seeing the game's campaign.
Gears 5 : We suspect that the next Xbox Series X iterations will be pretty, but Microsoft has already talked about Gears 5 as an opus optimized for Xbox Series X to show that current games can also be better on the new Xbox: 4k , 60 fps, 120 fps (in multiplayer) and Ray tracing according to the reworked titles.
Senua's Saga: Hellblade 2 : Ninja Theory formalized its new baby at the end of last year with a very visually striking trailer and would certainly deserve to unveil the first phases of gameplay of the game, for example to demonstrate the capabilities of the Xbox Series X with Ray Tracing.
Fable 4 : developed by Playground Games if we are to believe the insistent hallways noise of recent years, this new Fable game would be an ideal candidate to be announced at a big event this summer if Microsoft wanted to give a little perspective on what will happen in the next few years.
Age of Empires IV : we must not forget that Xbox now has the ambition to release everything also on PC and that this platform must be highlighted during an Xbox conference. This would be the perfect moment to present the long-awaited game for strategy enthusiasts which already had a (too) short teaser last year.
Microsoft Flight Simulator 2020 : Still in the PC world, the July Xbox conference could announce the release date for the game's beta, but also show some jaw-dropping new gameplay. The game was recently confirmed for Xbox Series X and while we're not immune to a surprise, it's unlikely that the console version will be shown this time around. Remember that the game will arrive as soon as it is released in Xbox Game Pass.
Everwild : The next big production of Rare was treated to a nice trailer featuring its shimmering graphics and we are still waiting to learn more about its universe and its gameplay mechanics. Still a good candidate for an E3 type conference.
Forza Motorsport 8 : Turn10 took its time on this new opus and what would a new Xbox launch be without a new Forza? The studio has been working on the game for a long time and it would be a good opportunity to show us what is new in this episode which promises to be slightly different from what we are used to. The community would have been heavily involved in the development of this next-gen Forza Motorsport.
First game of The Initiative: the Santa Monica studio is young but Microsoft could choose this moment to give a vision of their first project, just to reassure Xbox players. For sure, it will be an ambitious game, and there are rumors of a certain Perfect Dark.
New Double Fine title: In addition to Psychonauts 2 due out this year, we know the studio is working on another game for Xbox, and that it will contain multiplayer. This kind of conference is always a good opportunity to announce new things.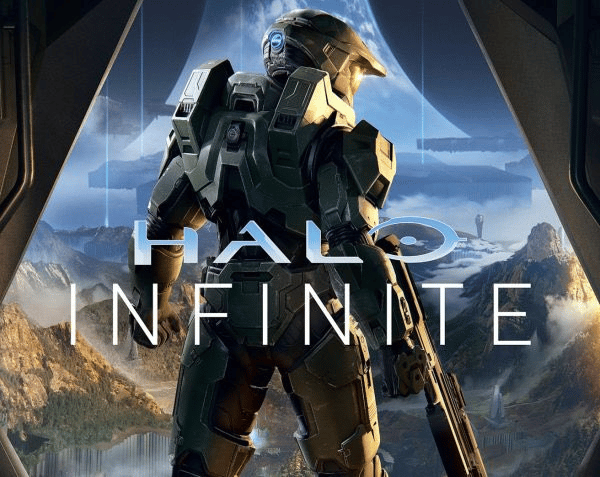 Here are some third party productions that could be featured.
Elden Ring : the new FromSoftware has not appeared for a long time ... this would be the perfect opportunity to correct the situation, especially since the name of the game had already been mentioned in rumors with Xbox ...

Cyberpunk 2077

: What would a big Xbox conference be without Cyberpunk 2077? The marketing deal between Xbox and CD Projekt goes a long way, as we have seen with the Xbox One X controller and pack. Even though the Polish studio will be holding its own event in June, it is not impossible that the game will be talking again. of him here.
Dying Light 2 : Repelled multiple times, the game has presented itself at events alongside Xbox several times. It would be an opportunity to show it in its best light.
Saints Row V : Volition has confirmed that the game will be unveiled in 2020 and "that it will be awesome."
Mass Effect Trilogy Remastered: Rumors of a remastered version of Mass Effect have been going around for some time and there are signs that an announcement could be made during this Xbox Games Showcase.
The Medium : announced last May, the game could well present itself with gameplay. The developer has indeed indicated that the Xbox Games Showcase would be to follow with interest.
Last edited: