In recent years, various kinds of video and audio products emerge in an endless stream. To stand out in the competitive market, it is natural to have a unique design that can attract the attention of consumers. "BINNIFA home theater heavy bass sound", its the design that gives priority to aesthetic feeling and practical can call the sitting room "front face is taken on".
As everybody life quality improves ceaselessly, pursuit acme quality and exalted enjoy, become a kind of life style that gets praise highly most gradually at present, this change is in household decorate in appear particularly apparent. "BINNIFA home theater bass sound" exhibition not only provides inspiration for "creative design", but also a way to enhance the "quality of life".
"
BINNIFA home theater bass soun
d" - a perfect combination of metal and wood, all wood sound, hifi-level acoustic architecture, 9 sound units, independent 3 frequency division. In the delicate chamber, the layout of so many speakers, imagine the difficulty, and we did it!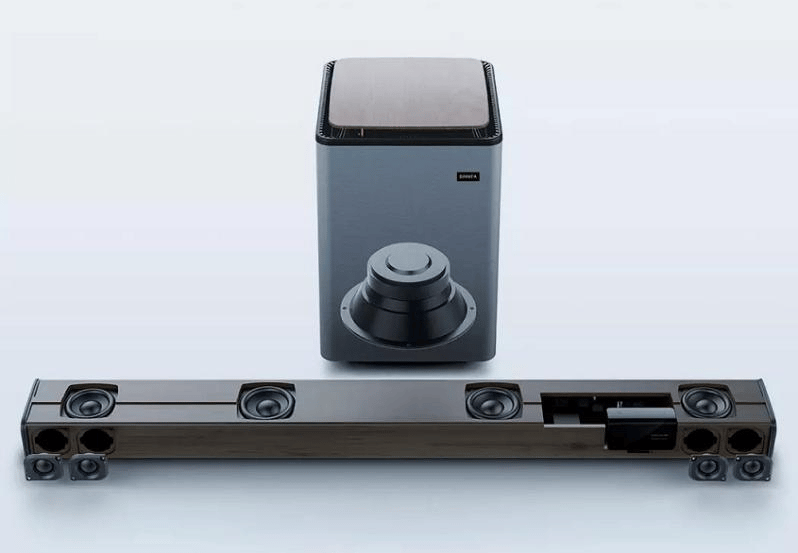 Good home theater cannot do without good bass, 6.5-inch 70W power bass, cavity turbo arrangement, pressure on the ground, make the air roll down, release super power, bass more surging and powerful, at home to watch the American blockbuster "transformers" or other movies, easy to enjoy the cinema effect.
This audio also has a rich interface, almost suitable for all TV sets on the market, connection is more convenient, just a line can be solved, echo wall and subwoofer between the
use of 5.8g wireless anti-interference connection
, can be placed at will,
virtual 5.1 surround sound
, let the sound from different directions, feel audio-visual feast.
In addition, in order to facilitate the remote control of users, we separately equipped with the audio remote control on the basis of touching the display screen, and the volume can be adjusted by lying on the sofa. Press the sound button of the remote control to adjust the sound field mode of the audio system, which includes cinema mode, music mode and news mode respectively. The sound quality of different modes is different: the cinema mode -- the background music is more prominent, the music mode -- the sound is balanced, and the news mode -- the voice is more prominent. In this way, we can choose the corresponding sound field mode according to their actual playback, the effect will be better.