The official Weibo of Xiaomi TV announced the new high-end products of the Xiaomi TV Master Series in China. They will meet with a live tasting at 2 pm on July 2. We found that the four characteristic eggs were also hidden in the poster.
This new product of Xiaomi TV Master Series supports OLED, 120Hz, Gaming, Dolby Atmos and so on.
Xiaomi TV official announced several important features of Xiaomi TV Master Series on Weibo yesterday. Lei Jun claimed that the OLED screen was amazing. The Master Series TV pursues brighter, richer colors, and higher contrast image quality requirements, and is more discerning in terms of audio and video. Picture adjustment technology allows users to choose different viewing modes.
Recently, the relevant person of the Xiaomi company Pan exposed the new features of this high-end OLED TV of Xiaomi on Weibo. Xiaomi TV Master Series supports HDMI 2.1, metal NFC remote control, Dolby Vision + Dobly Atoms, VVR (variable refresh rate) + ALLM (automatic low latency).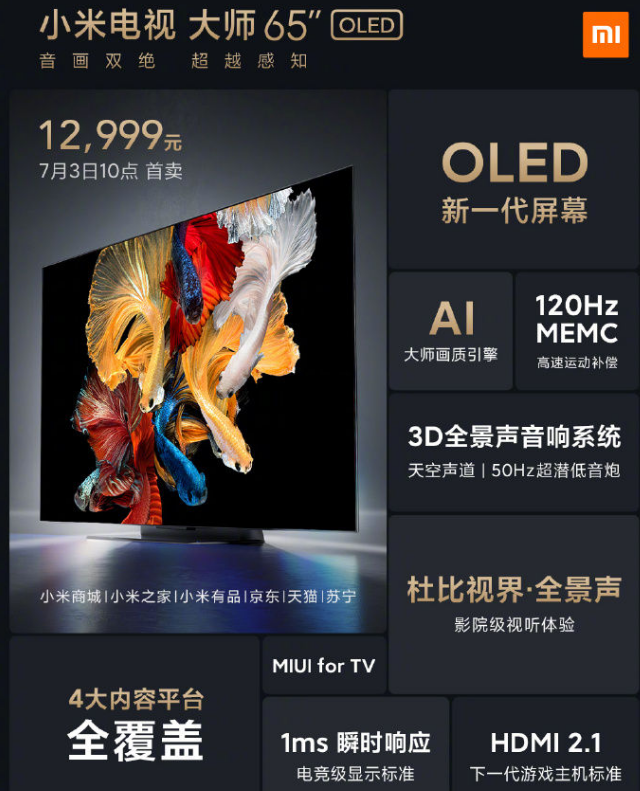 In addition,
Xiaomi TV Master Series
supports 4K 120Hz OLED panel, 4K 120Hz MEMC, 4K 120Hz VRR, 4K 120Hz signal input, and is equipped with a quad-core A73 architecture custom chip. Because the chip is relatively powerful, all HDR formats are fully supported! Emphasize 3 times: true HDR true HDR true HDR, but also all HDR formats.
Last edited: