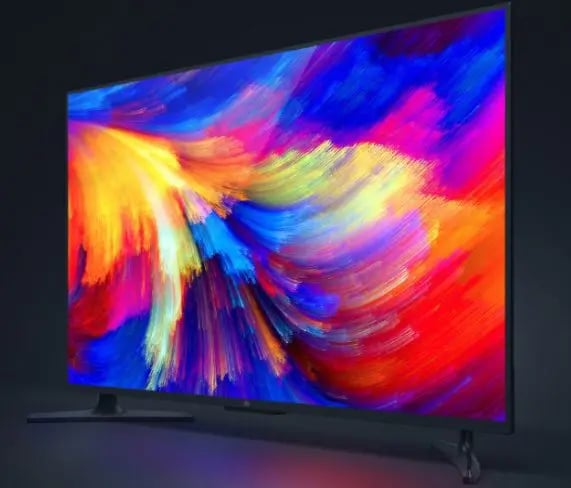 Mi TV 4A Information​
Compared with the almost all-metal design of the 48-inch Mi TV 3S, the 49-inch Mi TV 4A brought us this time still has to choose some metal accessories. The 49-inch Mi TV 4A still uses the original metal frame and back panel design, but the base of this product uses a plastic arched base. Since the base is plastic, the height of the base is slightly lower. The purpose of this is to lower the TV and stabilize the center of gravity.
Bass is still distributed to the left and right edges of the TV. The size of 49 inches is not small, and the span between the bases is not small. If you're considering buying this TV, choose a TV span or higher stereo cabinet.
The 43-inch Mi TV 4A has plastic bezels. If you take a closer look, the materials of the front panel frame and the body are different. The front panel frame adopts a bright surface injection molding process, and the back and sides are made of ordinary engineering plastics. Although it is not a metal frame, due to its small size, it uses a small screen. Black borders are a good choice. And, after all, the line of sight is harmonious.
We are familiar with this remote. Mi TVs and Mi Boxes have always been simple 11-button remotes. Runs on button batteries and emits infrared light. It is more rounded than the previous Xiaomi remote control, and the rounded chamfer design makes it more comfortable to hold.
【work】​
Mi TV 4A adopts LG/Samsung imported 4K ultra-high-definition screens, Amlogic T962 CortexA53 quad-core CPU, up to 1.5GHz, Mali-450MP5750MHz GPU, supports HDR, 2GB memory + 32GB flash memory, the latest Dolby audio-processing technology……
Mi TV 4A has very rich interfaces, 11 interfaces (HDMI2.0bx3 (including one ARC), AVx1, analog signal DTMBx1, USB2.0x2, Ethernetx1, S/PDIFX1). Enough for general household use or other purposes, convenient and convenient.
[System interface and operation]​
Xiaomi has an artificial intelligence system. PatchWall puzzle wall, intelligent recommendation + intelligent learning, can understand the user's usage habits in the later stage, and recommend more suitable content for users. The biggest feature this time is the "artificial intelligence voice". , smarter voice actions let you control viewing progress or ask for information about objects in a video.
Mi TV 4A has rich artificial voice functions, which are mainly divided into five functions: movie search, celebrity search, keyword, popularity ranking, and TV control. If the explanation is not clear or the network is bad, you will bounce from this page.
to know more information