According to DDay Italy, the European Commission has confirmed that its more stringent Energy Efficiency Index (EEI) will be implemented as planned in March 2023 without any changes. The new EEI will make it more challenging to sell 8K TVs in Europe in 2023.
None of the 8K TVs currently on the market meet the requirements.
Western Europe is the largest regional market for 8K TVs in 2021, surpassing China and North America, according to DSCC's Quarterly Premium TV Shipments and Forecasts report. As shown in the diagram here. In 2021, 8K TV shipments in the Western Europe region will total 114,000 units.
31% of the global total. As shown, shipments of 8K TVs surged to a peak in the fourth quarter of 2020 and have since stabilized at a lower level. 8K TV shipments will grow just 5% year-over-year through the third quarter of 2022, while shipments in Western Europe are down 3% as the high-end TV market is impacted by concerns over the Russia-Ukraine war and high inflation.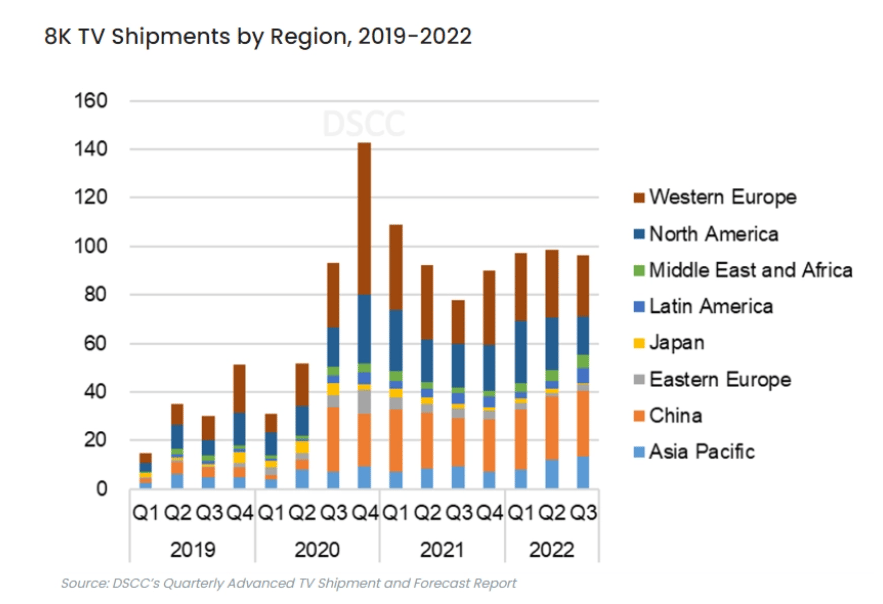 Under the new EEI regulations, starting in March 2023, 8K TVs will be required to meet the same requirements as 4K. This EEI requirement translates to approximately 116W for a 65-inch TV, 141W for a 75-inch TV, and 169W for an 85-inch TV.
The new EEI regulations don't ban 8K TVs, they only ban TVs that don't meet energy consumption requirements. TV makers have several options to bring current technology TVs into compliance, the easiest of which, as described by the 8K Association's Bob Raikes, may be to reduce the brightness of the TV's "out-of-the-box" setting. Sony TVs already use this approach, according to Raikes. Another approach would be to remove the TV tuner and sell the 8KTV as a display, but that approach is unlikely to be supported by retailers.
On a brand level, Samsung sold the vast majority of 8K TVs in Western Europe. While Western Europe includes some non-EU countries such as the UK and Switzerland, TV manufacturers generally tend to standardize their models for each region to reduce product complexity.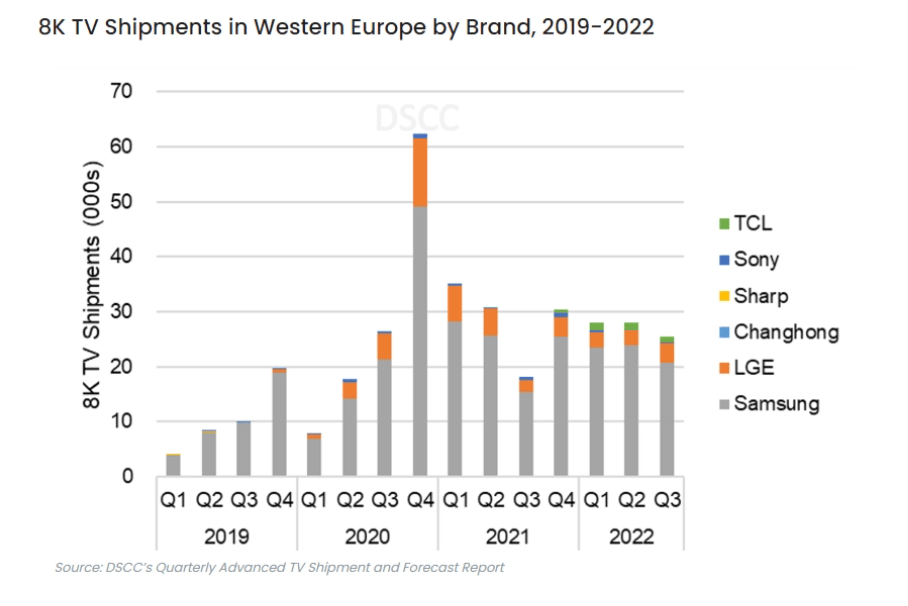 Samsung is a founding member of the 8K Association and has the best interest in making 8K TVs a success in Europe and globally. Samsung may, like Sony, choose to reduce the brightness of its 8K TVs in Europe to meet regulations, but it doesn't matter which route Samsung chooses. Due to these regulations, the 8K TV market may grow more slowly in 2023.