NEBULA projection can be seen clearly on the cardboard packaging box of the product.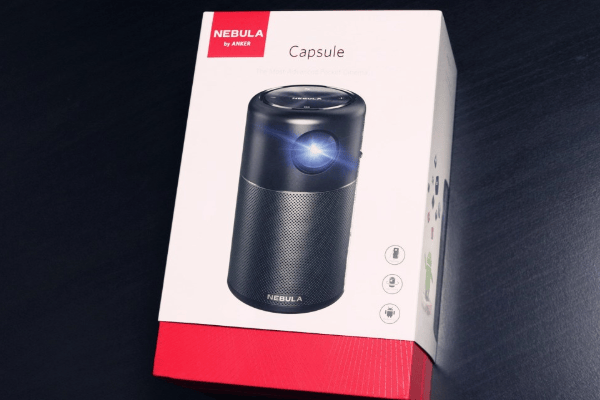 On the back and bottom of the product package, there is more information about the product, including the system, parameters, interface, production information, etc. We can basically understand the intelligent projection through the whole package.

The packaging box is made of
pull-out protective cover
. After the pull-out, the red color is very beautiful, the package is more simple, and the NEBULA LOGO is clearly visible.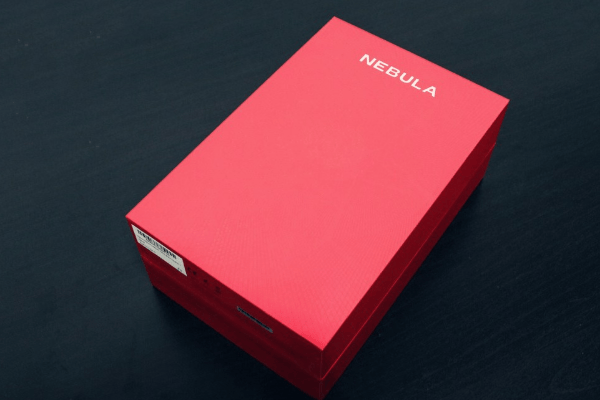 Pull up gently only, can open the packing, the NEBULA projection of a also appeared in sight, outer-package of overall and printed on the product design, because the projector are hockey products, ANKER have done well in this regard, the boxes
embedded grooves
, consistent with product size for all the items placed and induction, to prevent damage in transit.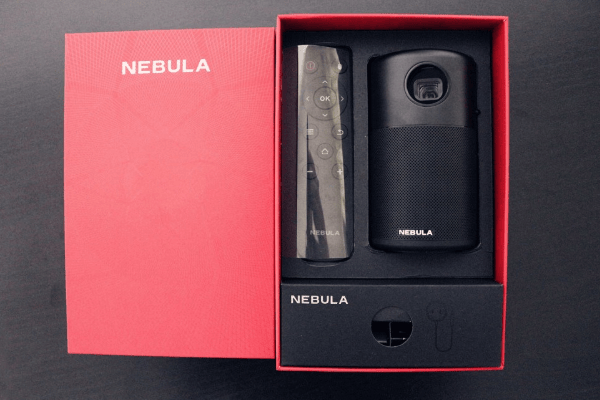 Average distribution, a total of four buttons at the top position in the circle of the four directions, switch machine, sound box +, volume - and believe that the three buttons don't need to do more introduced, projection/bluetooth speakers switch key - as a portable projector, NEBULA to add the function of bluetooth speakers, not only can as a projector, also can be used daily as a bluetooth speakers, boot the default projection model, when we want to use a bluetooth speakers, press the switch button, voice prompt switch bluetooth speaker mode, we open the bluetooth, you can search link, chang to listen to music.
NEBULA projector is
divided into two parts
, on the dorsal part contains a large amount of ventilation, an infrared receiver and the lower part of speakers, speaker export set to circle around, can improve the effect of the happening of the whole, by practical experience, it is nice, used as a bluetooth speakers, listen to music can reach dozens of hours.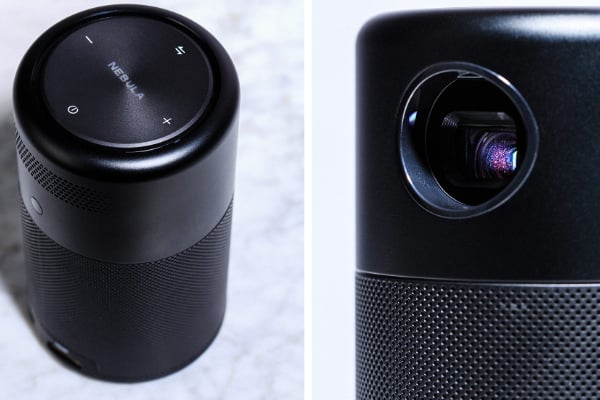 Dorsal position at the bottom of the standard for two common interface, a MICRO - USB (and charging interface), another for HDMI input interface, because the whole projector as a portable product, so as much as possible in the design of the sacrifice), MICRO - USB, though not as common as ordinary USB interface to transmit data, NEBULA within the standard of the product comes with a projector root OTG line, convenient to speak to MICRO - USB interface for USB interface, need of external power supply, can directly use the MICRO - USB, 2 for one, This is a very good idea that has been well thought out by the developers.
NEBULA projectors focus with manual knobs, which may not be as convenient as autofocus or electric remote control in our practical use, but there is much more to be done with such a small size, which is what this projector was designed for.