Many people want to buy a 4K
projector
to create a home theater, but
4K projectors
are usually not cheap. So you need to choose carefully before you buy. This article compares the
Anker Nebula Cosmos Max
projector and
Dangbei Mars Pro
projector to see which one is more worth buying.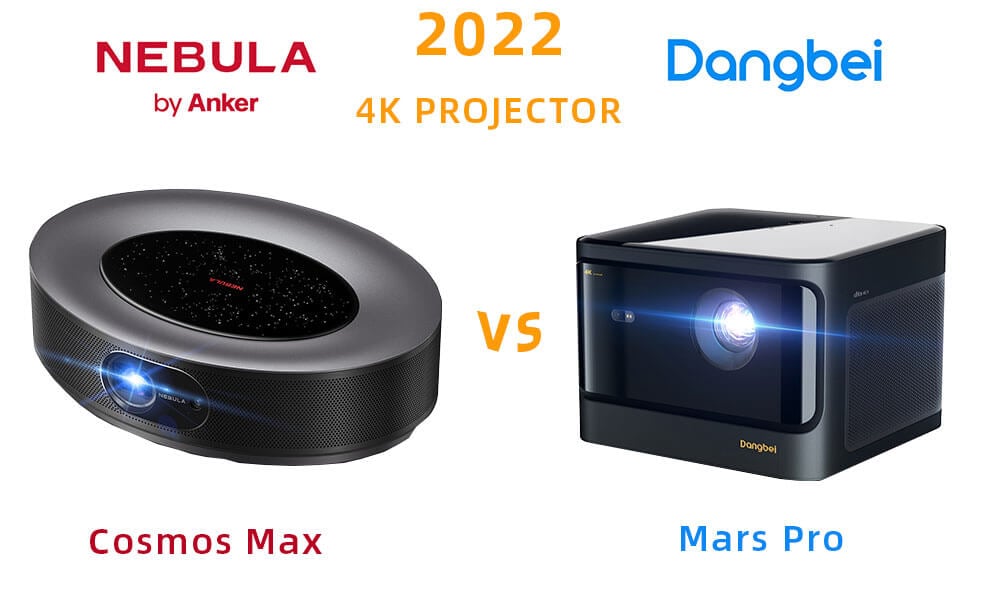 1. Appearance

​

Both projectors have their own distinctive features in terms of appearance. The Nebula Cosmos Max is oval in shape, with the lens directly in front, a 360-degree surround soundhole, and a small starry sky at the top of the machine when you turn on the projector. The Dangbei Mars Pro is a little more square in profile, with a black body and a very premium 2.5D nano-coated glass top, and an IML process for the front panel to make it shiny and non-scratchy. This projector also won an IF award and a Red Dot design award.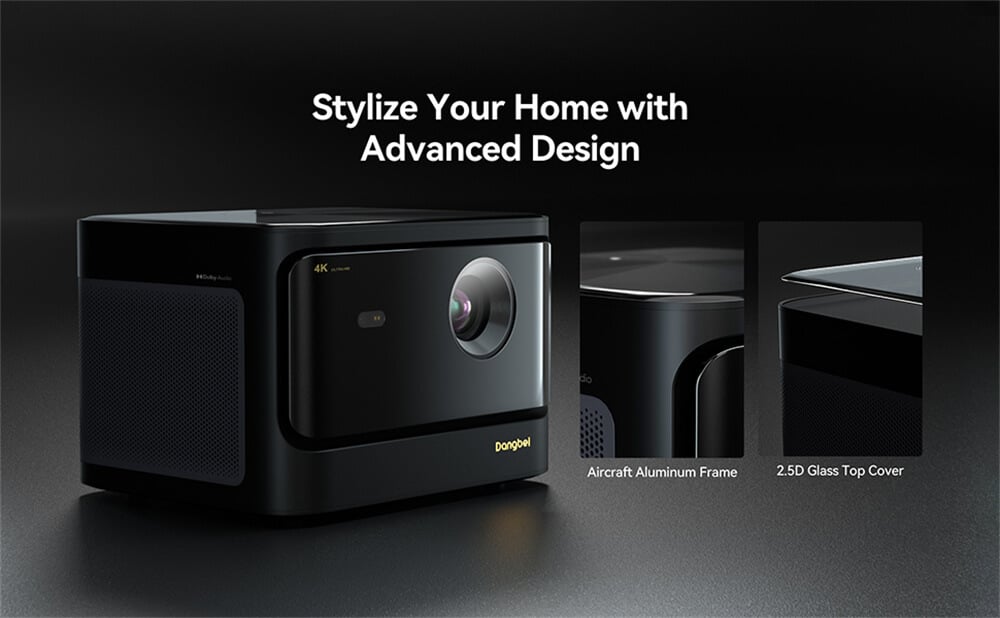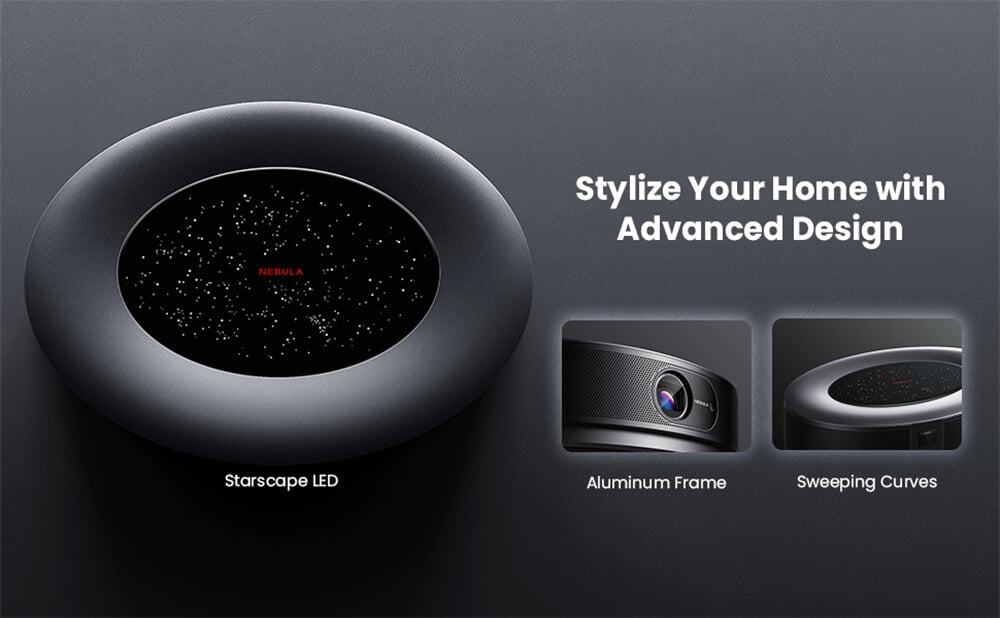 2. Picture and Sound

​

The 4K projector has 4 times higher definition than the 1080P projector, and the picture quality is clearer. Some reviews say that the native resolution of Nebula Cosmos Max is 1080P, using XPR technology to increase the resolution to 4K. On the other hand, Dangbei Mars pro has a

native resolution of 4K

to provide a clearer picture.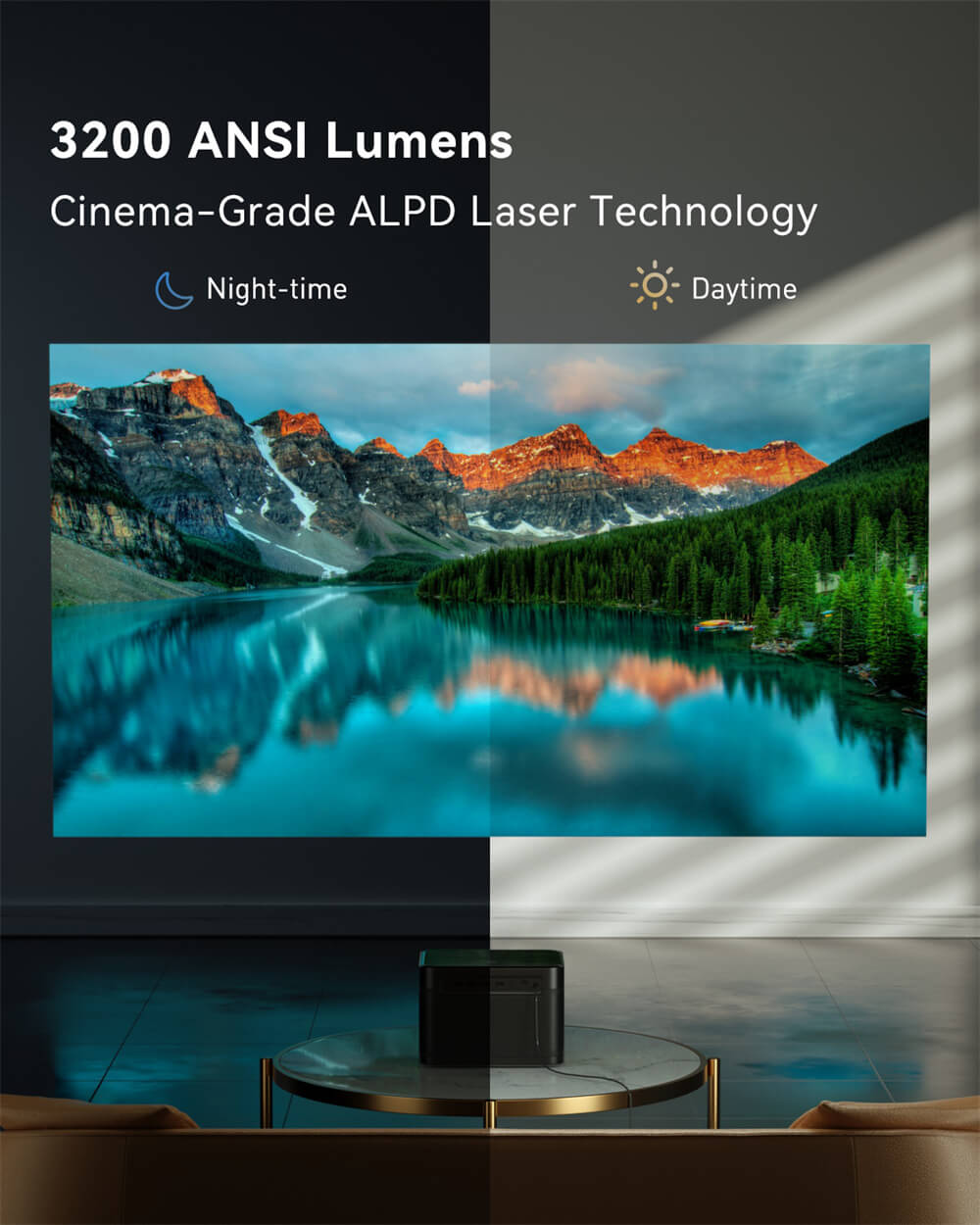 The Nebula Cosmos Max outputs
1500 ANSI lumens
, while the Dangbei Mars Pro completely wins in brightness, outputting
3200 ANSI lumens
, which is very rare in projectors at this price. The Dangbei Mars Pro is so bright because unlike the Nebula Cosmos Max and most other projectors that use
LED
s as the light source, it uses
ALPD laser fluorescent display technology,
which uses lasers as the light source. A projector that uses a laser as the light source will have richer colors and more realistic color reproduction than an LED projector and will last longer without the need to replace the lamp.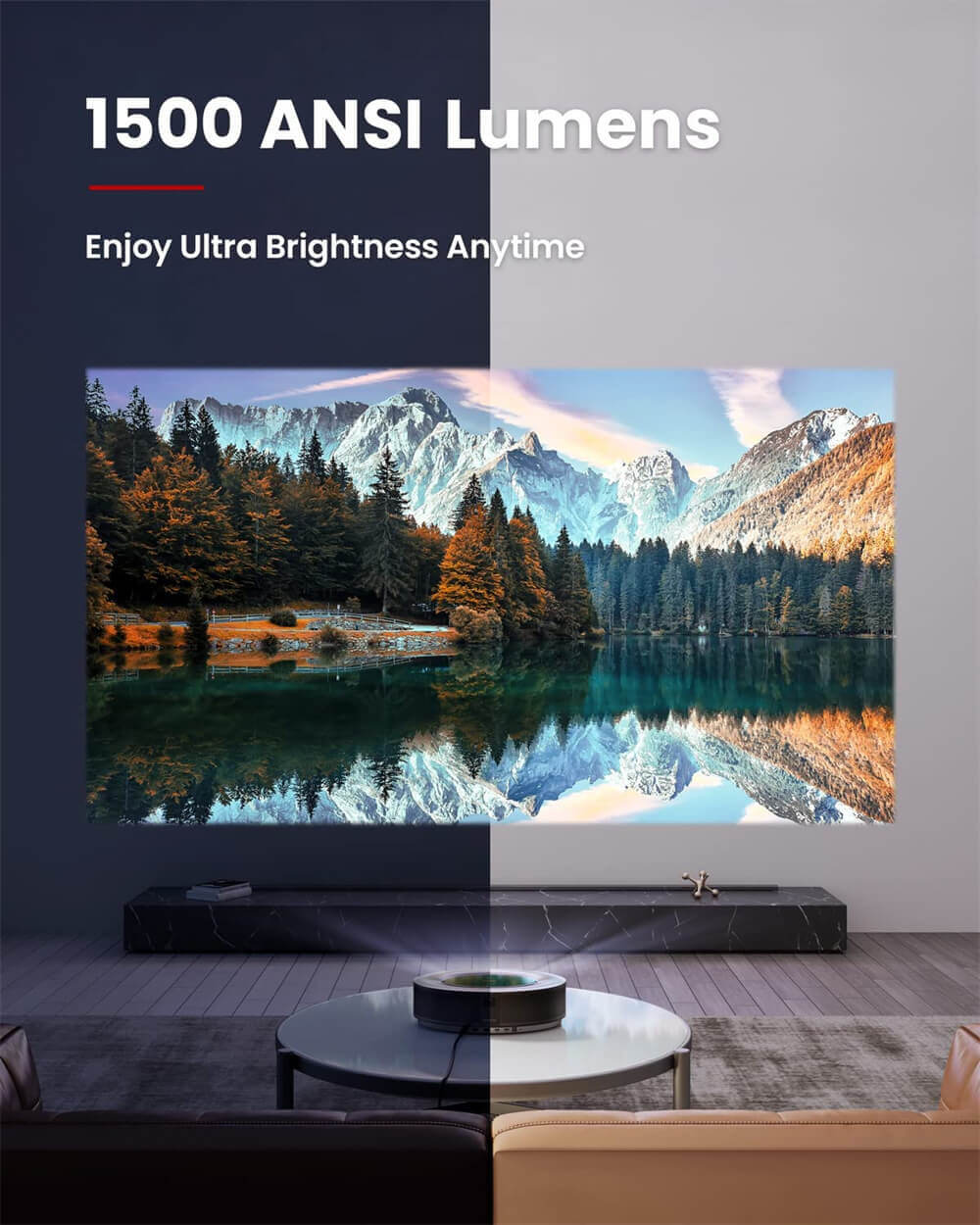 Nebula Cosmos Max projector has built-in 4 * 10W speakers and supports Dolby Audio. Dangbei Mars Pro built-in dual 10W full-range speakers, support Dolby Audio (653414-B), DTS HD (C296061) cinema-grade sound.
3. System and Technology

​

Both projectors are powered by Android 9.0. At Cosmos Max you can download the apps you need from Google Play, but Netflix doesn't work properly. On the other hand, Mars Pro provides a solution, you can use Netflix or other apps well on the projectors. The built-in Emotn OS in Dangbei Mars Pro does not require a login, allowing users to have more privacy.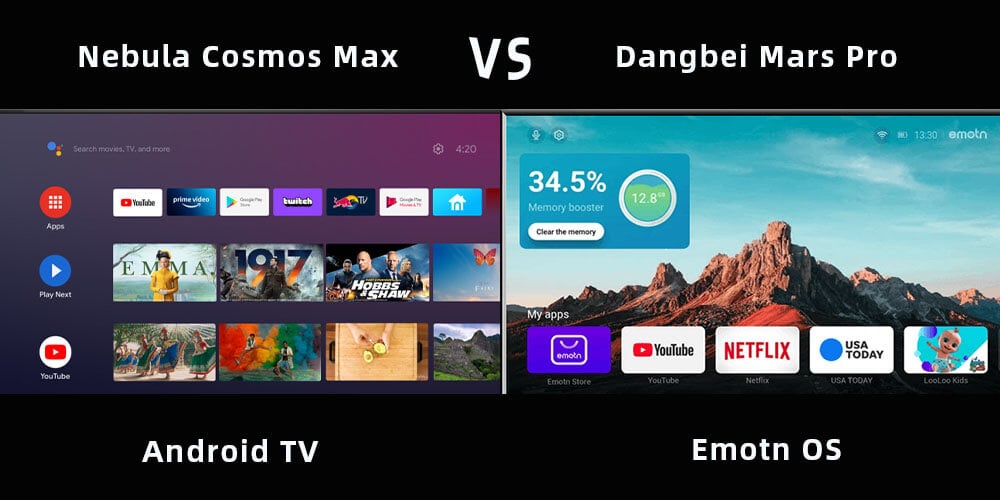 While the Nebula Cosmos Max has a conventional
RAM 2GB+ ROM 16GB
configuration, the Dangbei Mars Pro upgrades the configuration to provide users with a large
RAM 4GB+ ROM 128GB
. This allows users to download various files and applications without worrying about slowing down the system, satisfying more of their needs.
Both projectors support auto-focus and auto-keystone correction, allowing users to easily adjust to the perfect screen size. the Dangbei Mars Pro has auto-obstacle avoidance technology, which can identify obstacles to the screen and achieve the best-positioned screen. In addition, Mars Pro is certified by TÜV Rheinland for low blue light, which effectively protects the human eye.
4. Summary

​
Although Dangbei Mars Pro is only $200 higher than Anker Nebula Cosmos Max, the overall configuration is higher than Cosmos Max. Getting a native 4K projector with 3200 ANSI lumens at this price is very cost-effective.