The quadrennial World Cup is an essential battlefield for many companies in sports marketing, in this article, I will introduce you to the FIFA World Cup Qatar 2022 Chinese Sponsors.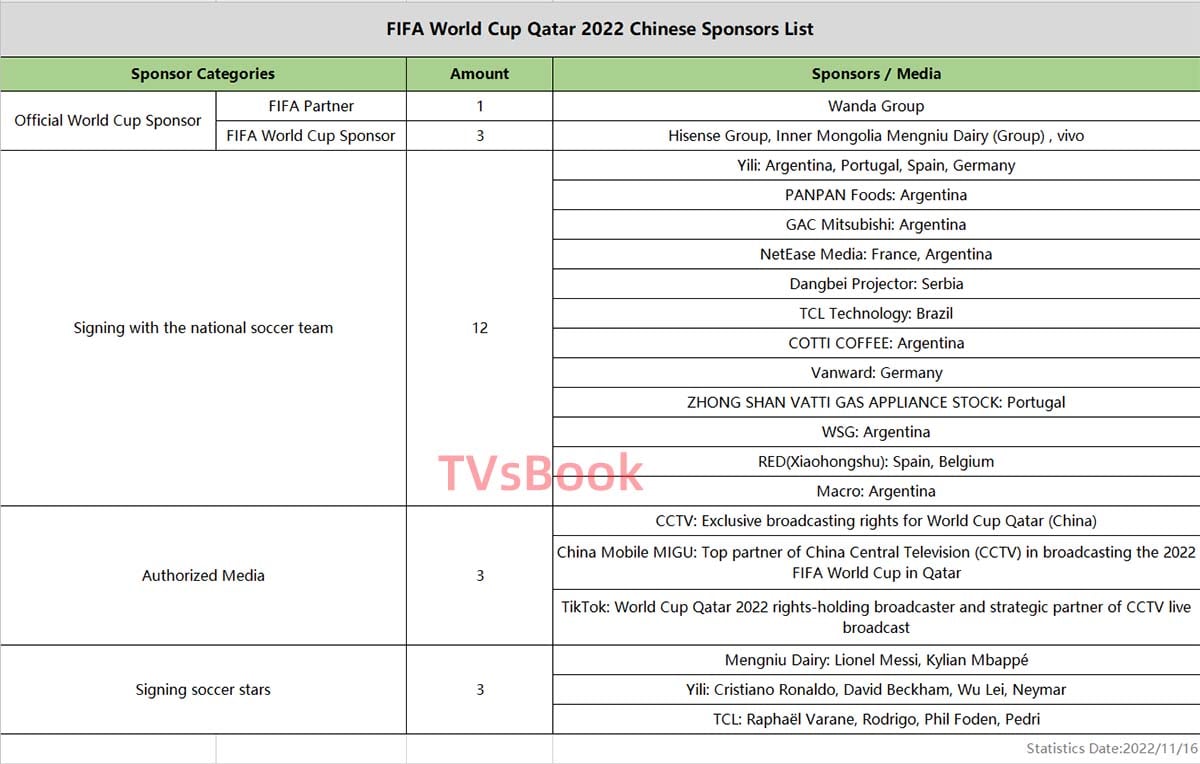 According to Global Data, Chinese companies became the largest sponsors of the 2022 World Cup in Qatar, spending a total of $1.395 billion, surpassing the $1.1 billion spent by U.S. companies. For reference, fewer than seven Chinese companies sponsored the 2018 World Cup, spending roughly $835 million, far more than U.S. and Russian companies. According to the analysis, the dominance of Chinese companies in the competition reflects the desire of Chinese brands to raise their overseas recognition to a level that matches their expanding scale and reach.
According to the statistics of TVsBook, there are 22 Chinese sponsors and cooperative media for this World Cup.
Among them, Wanda Group is the largest Chinese sponsor of the 2022 FIFA World Cup in Qatar and one of the seven official partners of FIFA, alongside Coca-Cola, Adidas, Hyundai, Qatar Airways, QatarEnergy, and Visa.
Wanda, Hisense, Vivo, and Mengniu 4 official sponsors of the World Cup are all Chinese companies participating in World Cup sponsorship for the second time after the 2018 World Cup in Russia.
Among the 22 partners, 12 Chinese companies have signed up with national soccer teams, including popular teams Argentina, France, Brazil, and Serbia.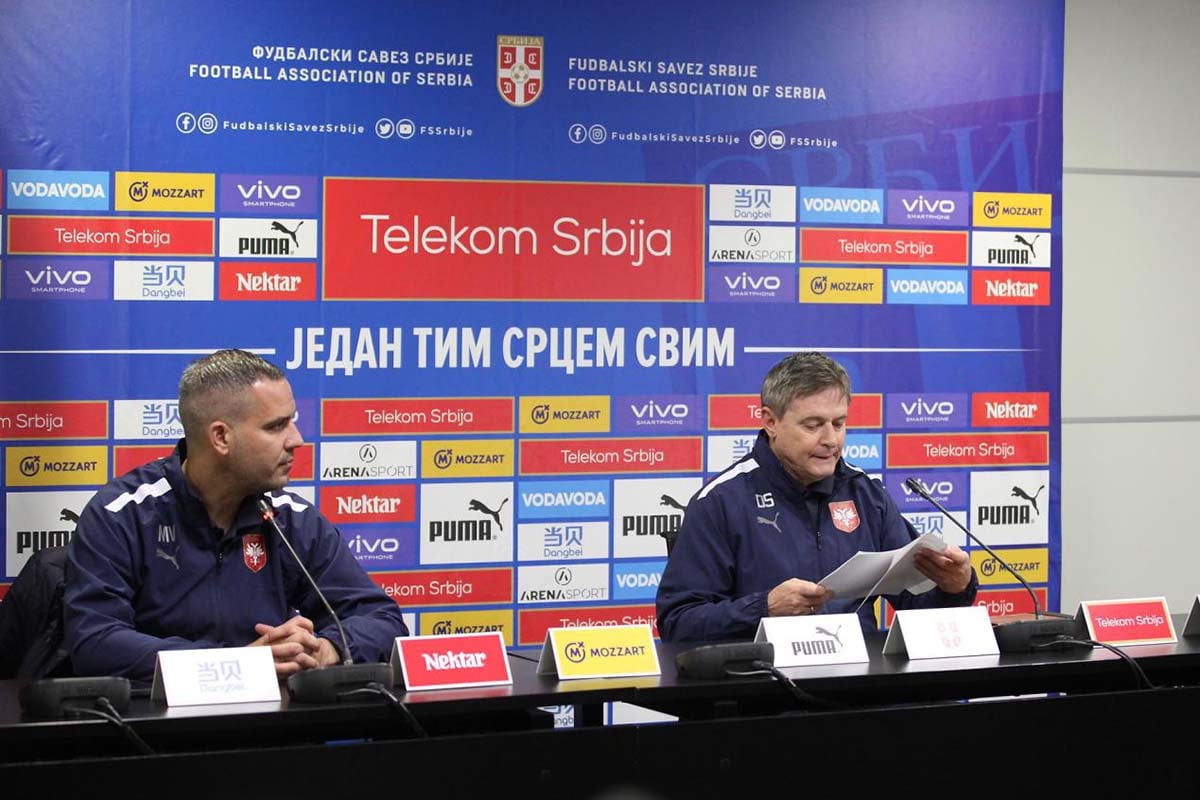 It is worth noting that, in addition to traditional enterprises such as Mengniu and Yili, there are also technology companies such as Dangbei, Vivo, and Hisense, as well as Internet companies such as TikTok, RED(Xiaohongshu), and NetEase among the Chinese sponsors of the 2022 World Cup.
In terms of media cooperation, China Media Group (CCTV) obtained exclusive broadcasting rights for the World Cup Qatar, and China Mobile Migu and TikTok also received media cooperation licenses.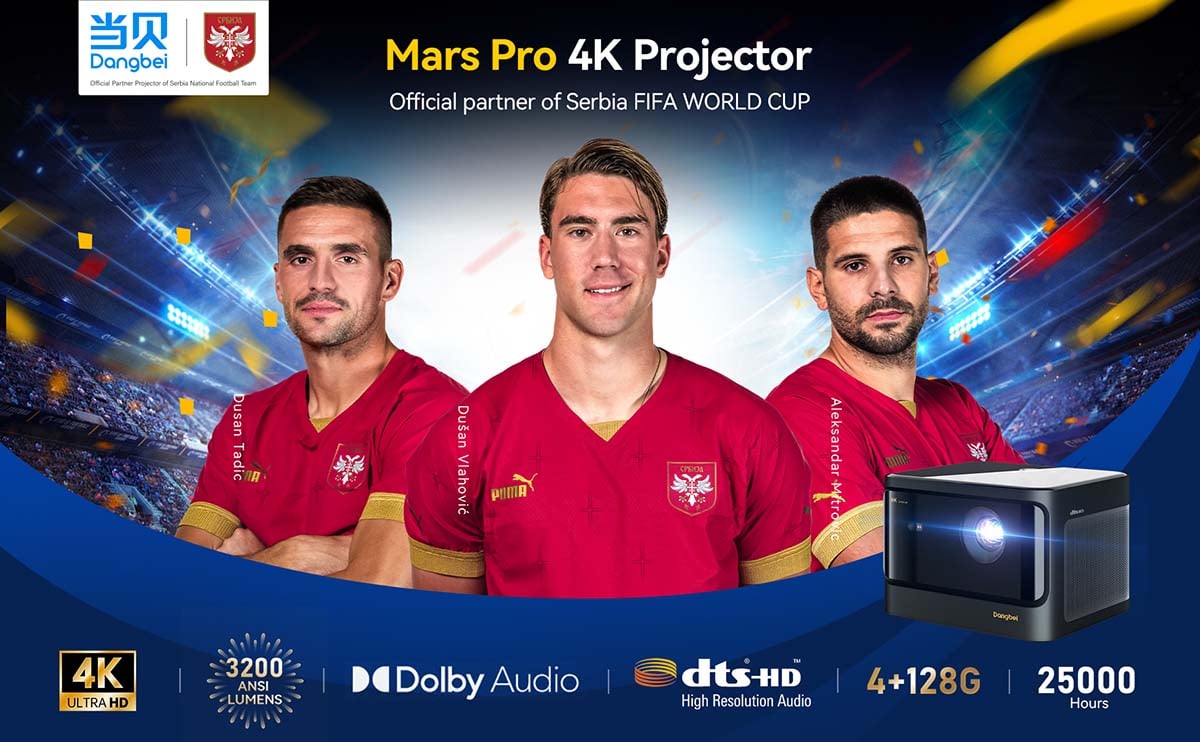 It is reported that CCTV will coordinate the arrangements of the China Media Group Mobile, CCTV NEWS, CNTV, CCTV.com, and other new media platforms, as well as CCTV-1, CCTV-2, CCTV-5, CCTV-5 +, CCTV-13, CCTV-16, and other TV channels and the CMG VOICE OF CHINA, CMG News Radio, CNR Business Radio(CNR-2), the Sound of Music, CMG Cross-Strait Radio, CMG Radio The Greater Bay and other radio frequencies, a comprehensive three-dimensional World Cup broadcast coverage.
CCTV-5, the main channel for World Cup broadcasts, will broadcast 56 matches, including 40 group matches and all 16 knockout matches. 8 matches of the third round of group matches will be broadcast live on CCTV-5+. In addition, CCTV-16 will carry out the first 4K UHD World Cup broadcast.