Fire TV Cube 3rd Gen VS Apple TV 4K: which is the better streaming TV box in 2022?​
There are two brand new TV streaming boxes coming in 2022, one is the brand new Fire TV Cube 3 which comes out on October 25th, and another is the Apple TV 4K 2022 version, which comes out on November 5th. In this article, we will compare these two TV streaming devices side by side and shake off any bias at one. Apple has struck us with a huge surprise here with this new Apple TV 4K 2022 that price point combined with power might actually blow away the competition. Let's check it.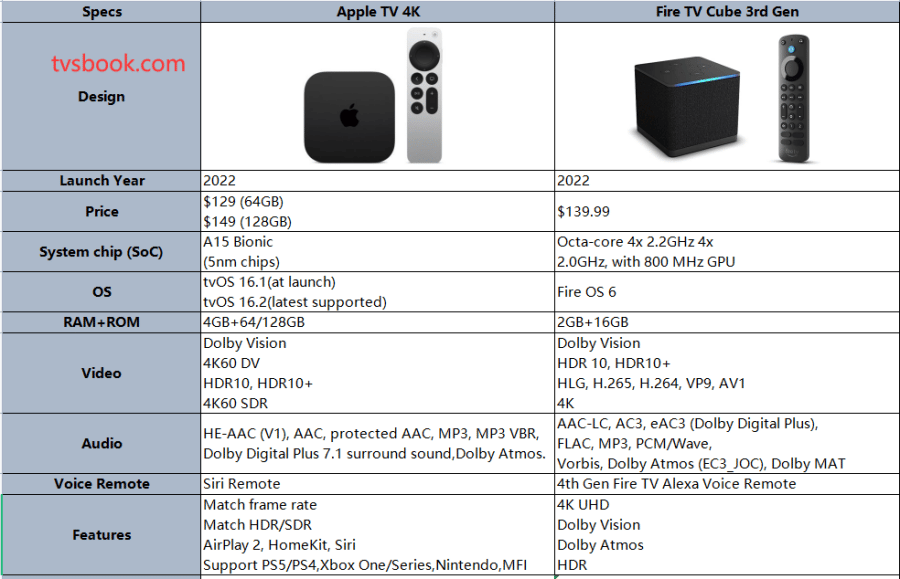 Fire TV Cube 3rd Gen VS Apple TV 4K: Design​
The Fire TV Cube 3rd Gen and Apple TV 4K are different in design, but you'll find both sleek and modern. the Apple TV 4K, like its predecessor, is a TV streaming box that is very minimalistic. the overall look of the Amazon Fire TV Cube is similar to its predecessor, but with a few changes. The biggest change is that the front side now has a fabric overlay similar to the Echo and Echo Dot, and it has slightly rounder corners. It still has a light bar on the top edge to indicate Alexa.
Fire TV Cube 3rd Gen VS Apple TV 4K: Price​
The first thing is the price point which is so important to customers. Apple TV boxes in the past have been expensive, they've been upwards of $200 for one of these closed systems with not-so-powerful devices. So to start off the Fire TV Cube 3rd is going to run you a hundred and forty dollars, it's seeing a slight increase in what the previous model had about ten dollars. Right now you can actually purchase the Fire TV Cube too pretty cheap. To be honest, as for the Apple TV, what do they do to their price point? Did they go up? Did they go down? They went down fast, so you can get their top model for $150, which is ten dollars more than Fire TV cube 3rd Gen. But if you only want the base model without an Ethernet port, it's 124.99. Therefore, it's actually $15 less essentially cutting the competition a little bit and you still get 4GB+64 GB of data, while the Fire TV Cube 3rd Gen is only 2GB+16GB for $140.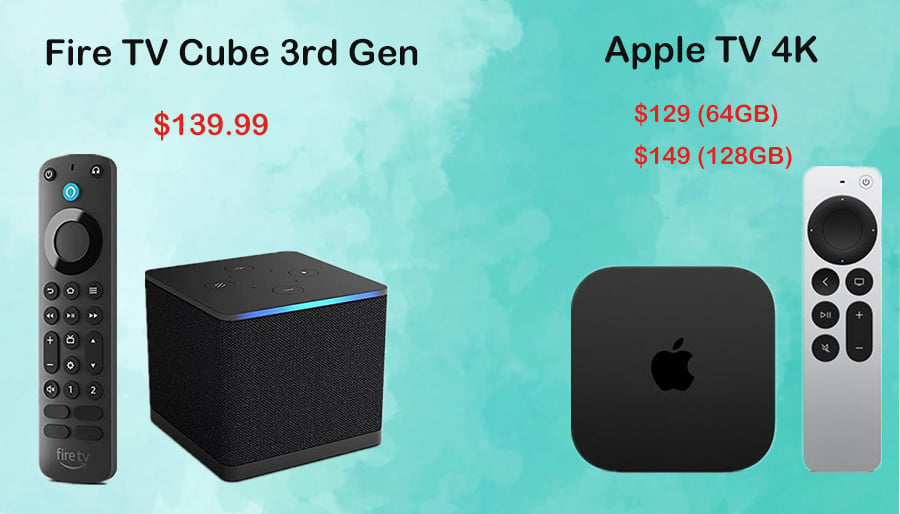 Fire TV Cube 3rd Gen VS Apple TV 4K: Accessories​
As for accessories that come with the different devices, the Apple TV device is coming with the Apple TV remote, which is actually a new style remote that has a USBC charging port on it. It is a rechargeable remote that has a little USB-C so they got rid of the lightning port, and you can charge it with any of your home Chargers. The Fire TV Cube 3rd Gen features hands-free Alexa with a built-in mic and speaker, so you can use your voice to control compatible TVs, soundbars, and receivers, even across the room.
Fire TV Cube 3rd Gen VS Apple TV 4K: Voice Remote​
Now if we go to the Fire TV Cube, I thought at first it was coming with the Alexa Voice Remote Pro, but I was wrong. They actually are only including the Fire TV remote, so they've changed it from the Fire TV stick remote to the Fire TV remote since it's a premium product. The Fire TV remote is a little cleaner, and you can upgrade to the Pro remote. However, this remote really no changes that come with it. It's just your classic Fire TV remote, and you have a few extra functionality buttons compared to the Apple remote. The Apple TV remote still has its features like Siri talk, whereas with the Fire TV you're going to be able to use Alexa. Check the
Alexa Voice Remote Pro Guide
.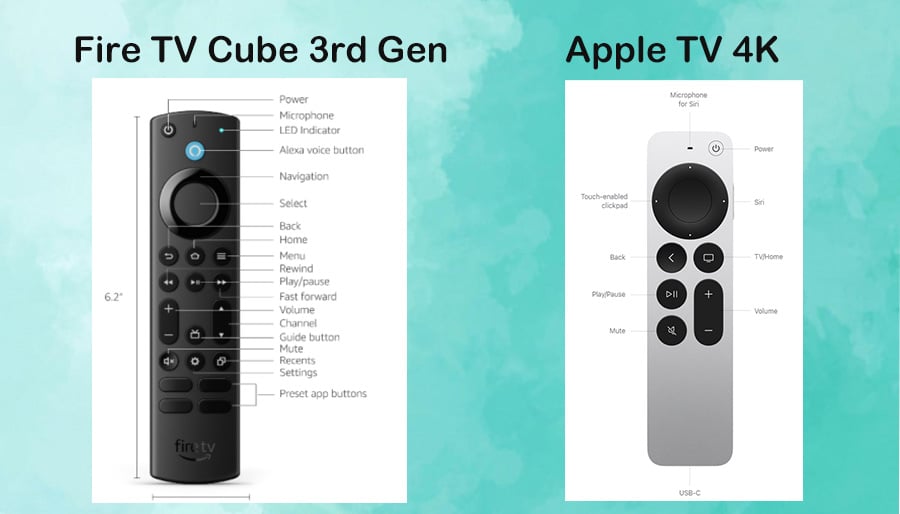 Fire TV Cube 3rd Gen VS Apple TV 4K: Processor​
The next I want to break down is the significant processor to see which is the more powerful device here. Although they're very similar, there are very small changes between the two in terms of processing ability. With the Fire TV Cube, you're seeing that they're adding two extra cores from the model before, and they're running slightly faster, so you are getting faster CPU speed with the Fire TV Cube. But although you have more cores, you still get a six-core CPU with the Apple TV box. The speeds here are astronomically higher with two of the cores.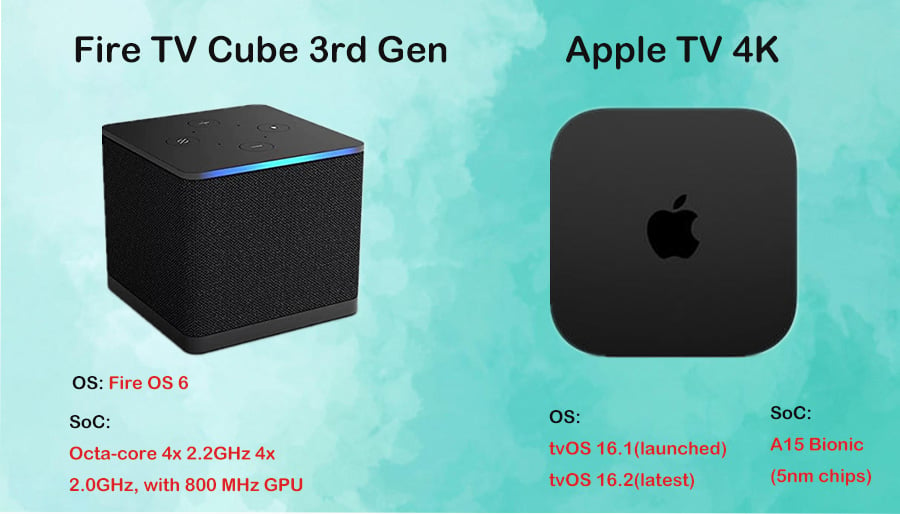 Honestly, probably, it is not going to matter because most people are using these for both of these are going to be able to handle any tasks. But Apple TV is going to run a little bit better with certain things. There is a fact that this Apple TV 4K a15 chip, which they moved up from the a12, is going to be a beast, so that was an interesting addition for them. The a15 has been five years, but great addition from Apple for doing that as well.
Fire TV Cube 3rd Gen VS Apple TV 4K: RAM+ROM​
When it comes to the RAM and ROM, there is an obvious difference between the Fire TV cube 3rd and the Apple TV 4K 2022 version. A few small specs we can go into the RAM for the Fire TV cube is 2GB, which as we know is going to run perfectly fine with most tasks. While there is 4GB RAM on the Apple TV box. The other main difference which is going to blow your mind is the amount of space that you get on the Apple TV 4K 2022 version. Compared to the Fire TV cube 3rd generation of 16GB, the Apple TV box with 64 GB and the Apple TV box top model with 128 GB that is an insane jump. I believe that you don't usually see streaming devices get this amount of storage.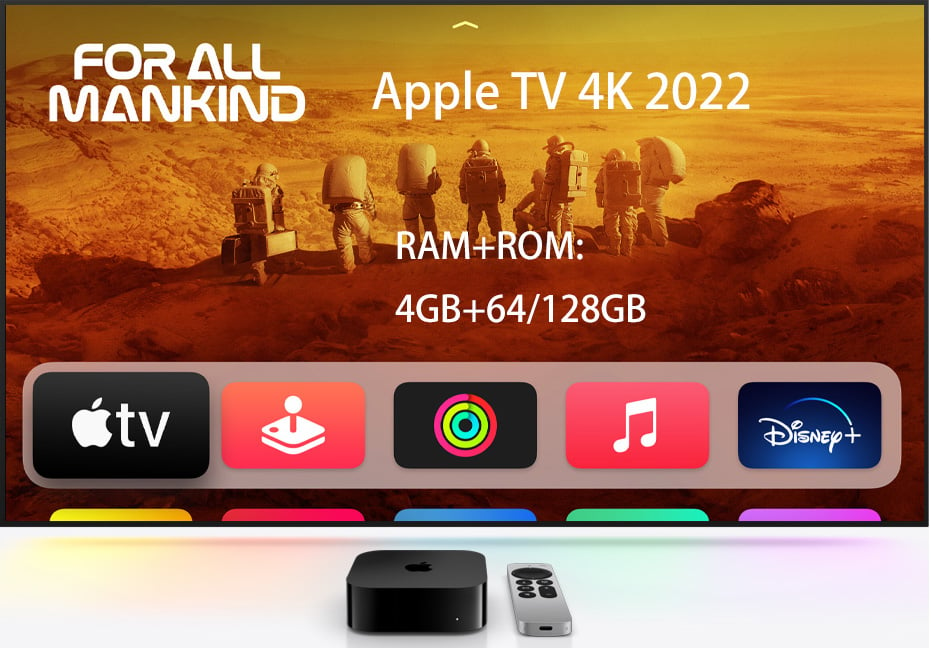 Fire TV Cube 3rd Gen VS Apple TV 4K: Connectivity​
One of the main interesting features of the Fire TV Cube was Wi-Fi 6E, which is going to help with your latency. If you get a compatible router now you don't have that with the Apple TV box but you're still getting that Wi-Fi 6.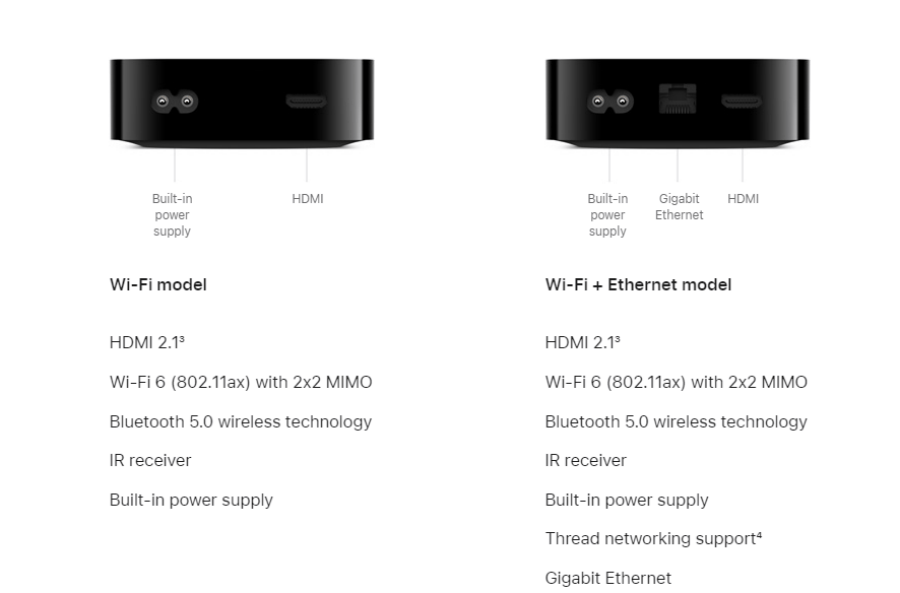 The major difference here is that the Ethernet port which for the Apple TV 4K we know was limited again to Mb/s(only128GB version). While both standards support 2.4 GHz and 5 GHz, Wi-Fi 6e does it even better. It is the only wireless standard that supports the new 6 GHz band. As a result, Wi-Fi 6e devices can operate within their exclusive zone, bypassing the other two overused frequency bands.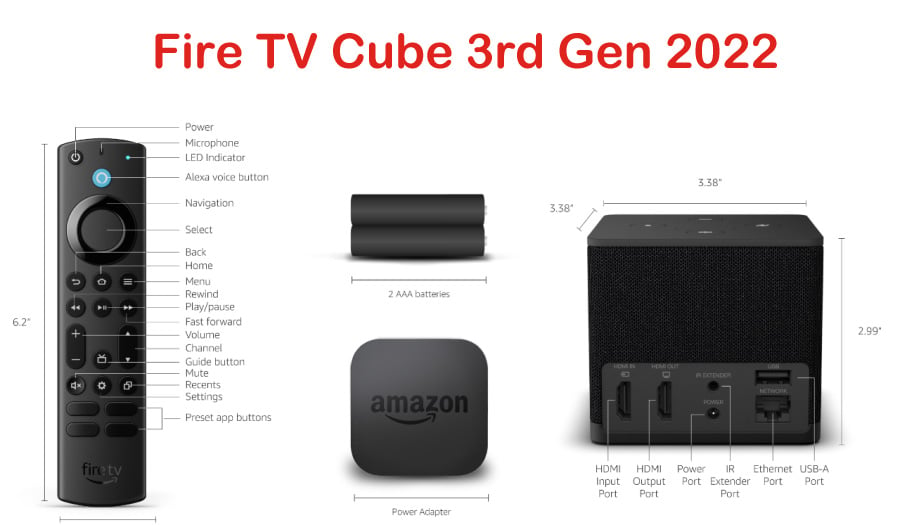 Fire TV Cube 3rd Gen VS Apple TV 4K Summary​
Specs
Apple TV 4K
Fire TV Cube 3rd Gen
Launch Year
2022
2022
Price
$129 (64GB)
$149 (128GB)
$139.99
System chip (SoC)
A15 Bionic
(5nm chips)
Octa-core 4x 2.2GHz 4x
2.0GHz, with 800 MHz GPU
OS
tvOS 16.1(at launch)
tvOS 16.2(latest supported)
Fire OS 6
RAM+ROM
4GB+64/128GB
2GB+16GB
Video
Dolby Vision
4K60 DV
HDR10, HDR10+
4K60 SDR
Dolby Vision
HDR 10, HDR10+
HLG, H.265, H.264, VP9, AV1
4K
Audio
HE-AAC (V1), AAC, protected AAC, MP3, MP3 VBR, Dolby Digital Plus 7.1 surround sound,Dolby Atmos.
AAC-LC, AC3, eAC3 (Dolby Digital Plus),
FLAC, MP3, PCM/Wave,
Vorbis, Dolby Atmos (EC3_JOC), Dolby MAT
Voice Remote
Siri Remote
4th Gen Fire TV Alexa Voice Remote
Features
Match frame rate
Match HDR/SDR
AirPlay 2, HomeKit, Siri
Support PS5/PS4,Xbox One/Series,Nintendo,MFI
4K UHD
Dolby Vision
Dolby Atmos
HDR
Connectivity
HDMI 2.1/eARC/ARC
Siri Remote 2022 USB-C port
TV control HDMI CEC + infrared
Ethernet1000 Mb/s(only128GB version)
WiFi 6 (ax) with 2x2 MIMO
Bluetooth 5.0
HDMI Input/Output
IR Extender
Power Port
USB-A Port
Ethernet port
Wi-Fi 6E, 802.11a/b/g/n/ac/ax
Bluetooth 5.0
When we compare Apple TV 4K 2022 vs Fire TV cube 2022 edition, both run at 60 FPS 4K, and both of them can have HDR 10+, Dolby Vision, and Dolby Atmos, which are very similar. Now if we kind of summarizes everything based on those specs, it looks like the Apple TV box added a lot more for what you're getting in the price. The Fire TV Cube 3 is going to be a solid device and I love the Fire TV operating system, but Apple has created something really interesting that really makes it compete in the streaming market. If you are interested in the Fire TV cube, you can check the comparison of
Fire TV Cube 3rd vs 2nd Gen
to see what's been upgraded.
Last edited: