Recently, Hisense officially released a new popular TV product - Hisense Game TV ace 2023, which is equipped with a U + super image quality engine independently developed by Hisense, equipped with dual 240Hz fast screens, and has the ability of ultra-high refresh, ultra-low delay, ultra wide viewing angle and deep adaptation of mainstream game platforms It refreshes the new standard of Game TV. It is a veritable large screen game display equipment, which brings a new experience for family viewing and entertainment.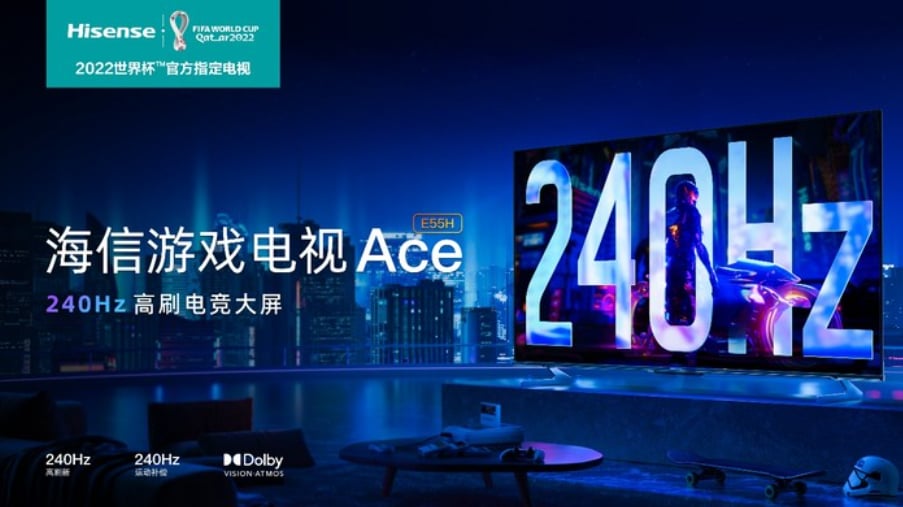 Stuning Picture Quality
In terms of image quality performance, ACE not only inherits the consistent ultra-high image quality level of Hisense TV, but also makes a new breakthrough in combination with the characteristics of Game TV. It is equipped with U + super image quality Engine 2.0. Through the color gamut secondary excitation technology developed by Hisense, it stimulates more than 1.07 billion colors, shows 90% dci-p3 professional display level color gamut, realizes △ e ≈ 1.5 * professional color standard, greatly improves the display performance and makes the picture more three-dimensional and vivid.
240Hz Reflesh Rate
It is noteworthy that the dual 240Hz ultra-high refresh fast screen of Hisense Game TV ace has become a highlight. Through the frequency doubling refresh technology, Hisense introduced the 240Hz ultra-high refresh rate previously used in professional E-sports displays into game TV products for the first time, which can present 240 frames per second, eliminating problems affecting the viewing experience such as picture dragging and tearing. At the same time, 240Hz MEMC motion image quality enhancement technology compensates the number of frames of the original low frame rate video, so as to make the motion picture smoother and the display clearer.
Amazing Sound Effect
Sound effect is an important element to enhance the sense of immersion in the game experience. Perfect sound effect can improve the sense of substitution of players to a greater extent. Hisense Game TV ace customized the sound according to Dolby panoramic sound standard. It cooperates with Hisense's self-developed hi sound Teana engine to realize a clearer and three-dimensional surround sound field through the industry's unique AI sound field technology.
Other Functions
Of course, ACE's E-sports hard core configuration is far more than that. It supports full blood hdmi2 1. Perfect for the latest generation of ps5, Xbox, etc. Wi-Fi 6, allm automatic low latency, VRR variable refresh rate and 4GB large operation storage can achieve a more smooth and stable game experience.
With its excellent audio-visual performance, hardware support ability of mainstream game platform and optimization ability of system level game platform, Hisense Game TV ACE has comprehensively refreshed the new standard of Game TV.