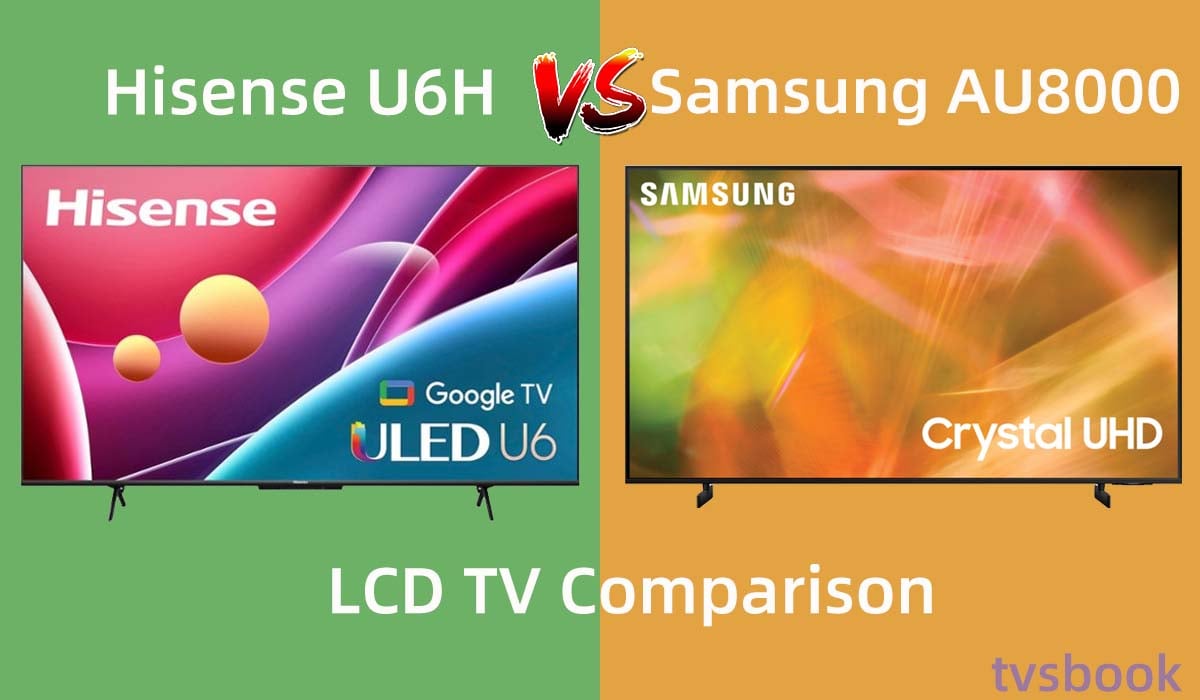 This article will compare two LCD TV Hisense U6H vs Samsung AU8000.
Hisense U6H is the budget model in Hisense's 2022 ULED lineup, and it offers a premium image at a cost-effective price, making it one of the best cheap TVs you can buy.
The Samsung AU8000 is the 4K TV model for 2021, and its low price and the great smart system should appeal to you, but it has limitations on peak brightness.
Overall, the Hisense U6H is better than the Samsung AU8000 and more affordable. Please refer to the following for a detailed comparison review.
Hisense U6H vs Samsung AU8000: Overall Comparison​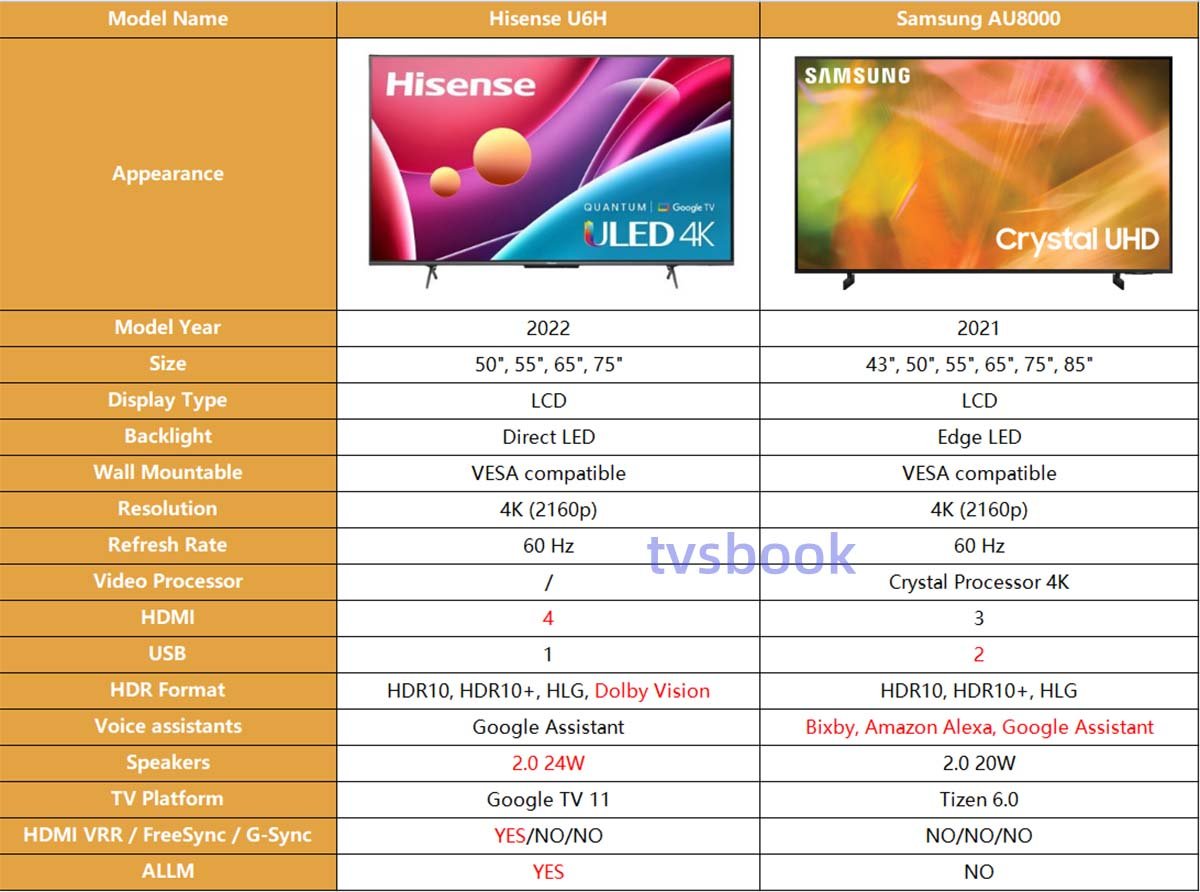 Hisense U6H TV Quick Review​
Hisense U6H is a low-cost 4K TV that deserves to perform well, and it's bright enough to resist the glare of a bright room. It has an excellent native contrast ratio and offers deep blacks and accurate image colors with its local dimming feature. So it's suitable for watching movies in bright or dark rooms. It also offers a variable refresh rate (VSR) and low input latency for gamers.
PROS
High Peak Brightness
Accurate color
High contrast ratio and excellent local dimming
Affordable price
CONS
Motion Blur
Narrow viewing angle
60Hz refresh rate
Samsung AU8000 TV Quick Review​
The Samsung AU8000 is one of the lower-priced 4K TV options, and it is offered in a variety of sizes. It has a decent native contrast ratio, but no local dimming. It also has good light resistance for watching movies in dark or bright rooms. However, it is not bright enough and has blurry motion. It has low input latency, but not much gaming functionality.
PROS
High Native Contrast Ratio
Smooth and intelligent system
Reflection processing capability
CONS
No local dimming
Lower brightness
Noticeable motion blur
Hisense U6H vs Samsung AU8000: Picture Quality​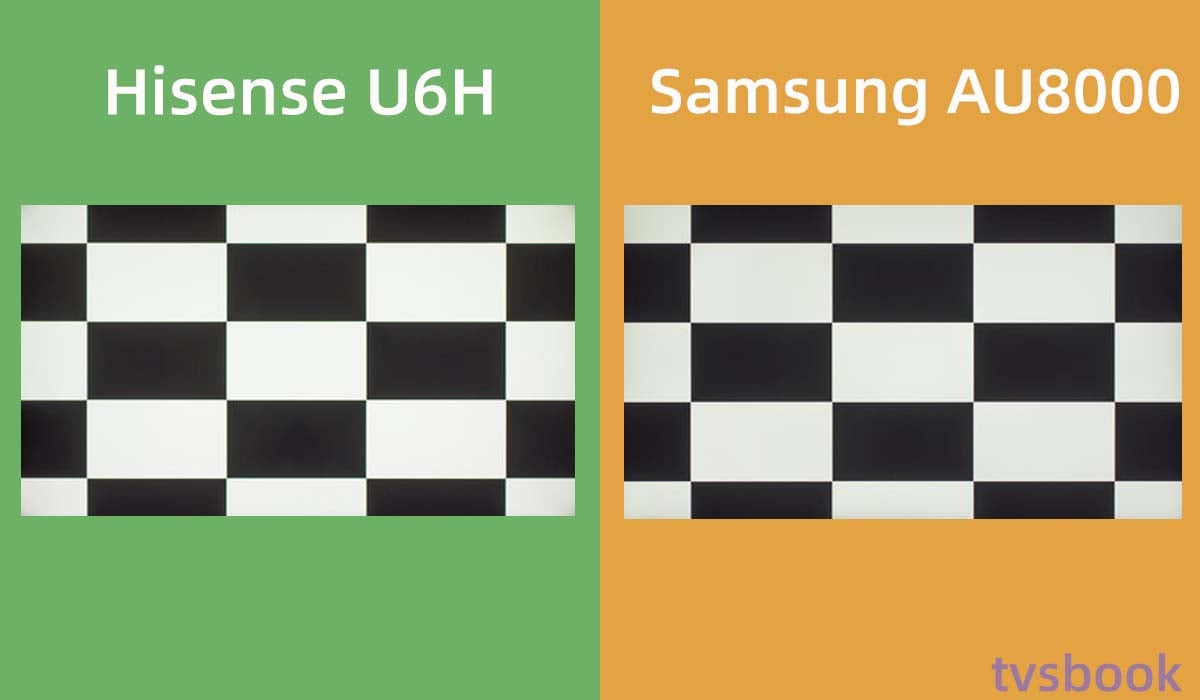 Hisense U6H TV has a good SDR peak brightness, enough to combat glare in bright rooms. Hisense's ULED technology combines quantum dots and full-array lighting to deliver unmissable brightness while enhancing contrast and color. It has decent HDR brightness, which is in line with my expectations for HDR performance for a TV of that price. It supports Dolby Vision, HDR10, HDR10+, and HLG, and can upgrade low-resolution content as well. So it's good for watching HDR movies or DVDs and Blu-rays.
The Samsung AU8000 TV has a good contrast ratio and is capable of producing deep blacks for viewing in the dark. However, it is not bright enough to accurately display HDR content, and HDR brightness performs even worse in game mode. It supports HDR10, HDR10+, and HLG formats, but not Dolby Vision. In addition, this model does not have local dimming, so it is difficult to distribute light evenly across the panel.
The common problem of both TVs is the narrower viewing angle, which is the inevitable drawback of VA panels. (The Hisense U6H 75-inch model uses an IPS panel for better viewing angles.) When you deviate from the center of the screen, you'll notice a significant downgrade in image color, accuracy, contrast, etc., making it unsuitable for wide seating arrangements.
Hisense U6H vs Samsung AU8000: Design​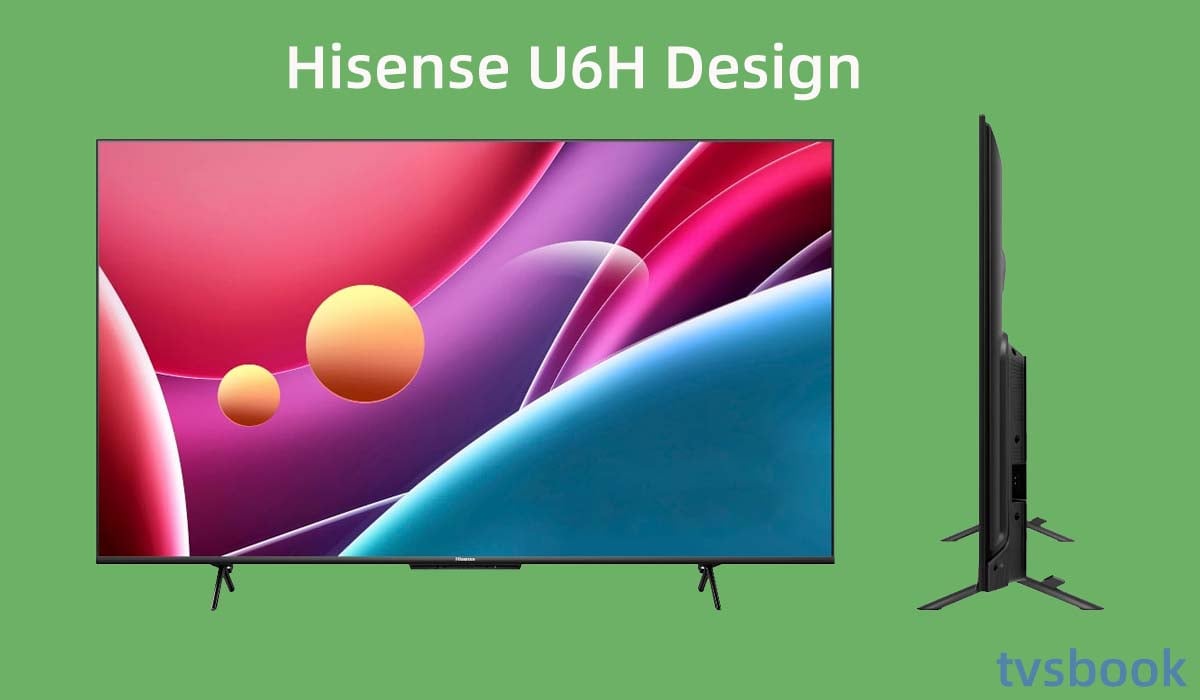 Hisense U6H has a minimalist design that meets the expectations of an inexpensive TV. It is available in four size options: 50", 55", 65", and 75". The TV screen features a slim black bezel on three sides that blends well into your environment. The bottom features a gray bezel that naturally meets the gray stand, and the V-shaped stand firmly supports the TV panel with some wobble when you shake the table. The metal stand raises the TV high enough to hold your soundbar in front of it.
The top of the back of the TV is made of metal, and the bottom input is made of checkerboard-style plastic. The stand is equipped with clips for cable management. The TV is not too thin and supports VESA 400x200 wall mounting.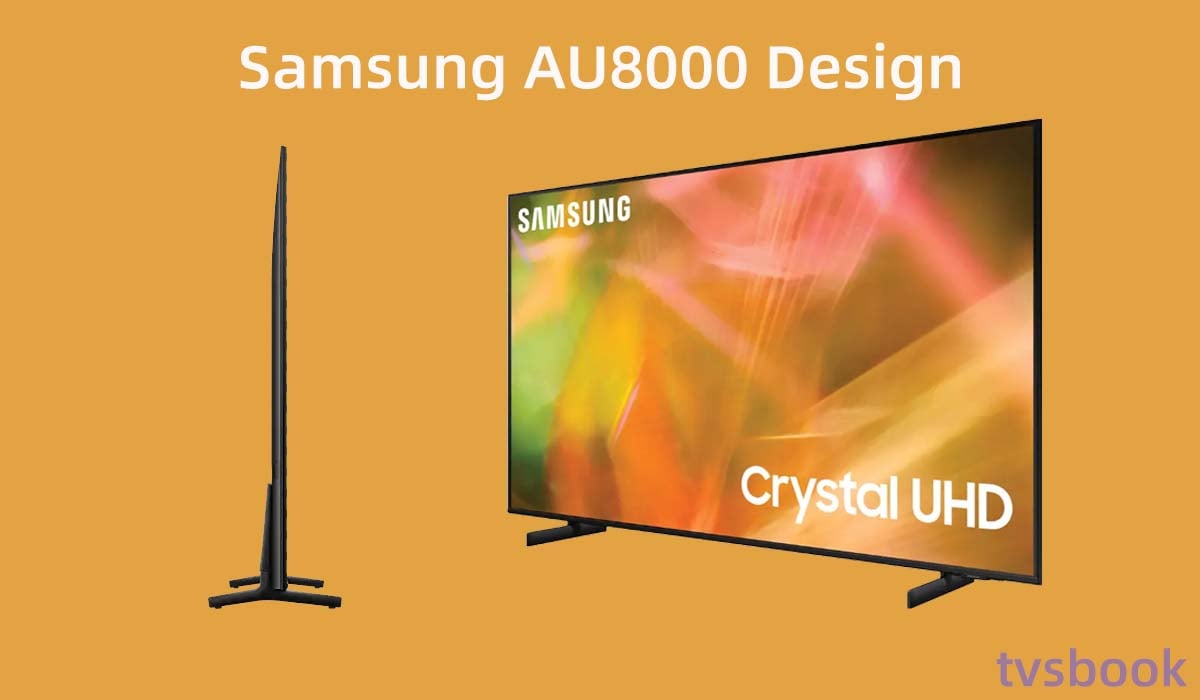 Despite being one of Samsung's cheapest 4K TVs, the Samsung AU8000's sleek design is eye-catching. It features an "AirSlim" design with very thin bezels and panels, making it ideal for wall mounting. Two thin plastic brackets hold the TV securely and can be customized for the high or low position, with the high position being convenient for the soundbar.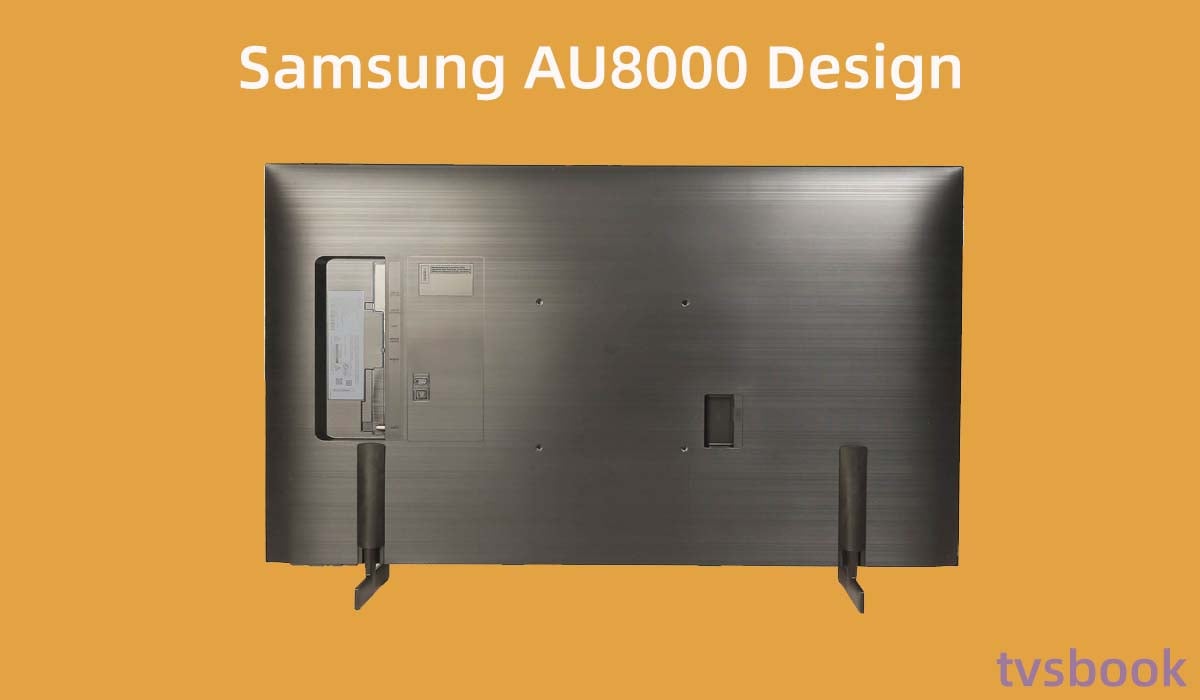 The back of the AU8000 is made of high-quality plastic, and with etched horizontal lines, the TV looks more advanced. Overall well made, the track at the back of the panel and clips at the bracket can be used to manage cables. The TV panel is very thin and does not bulge when hung on the wall, but it is difficult to access the inputs inside the cutout on the back when wall-mounted.
Hisense U6H vs Samsung AU8000: System & Smart Features​
Hisense U6H TV comes with the latest Google TV platform, which, as we mentioned before, is an upgraded system based on the Android TV platform. Google TV has a clean interface, runs smoothly, and offers more personalized content recommendations. You can download a large number of apps from the Google Play Store.
Samsung AU8000 is equipped with Samsung's exclusive Tizen smart system, which runs smoothly and is easy to use. However, it lacks features such as MultiView compared to other high-end Samsung models. You can download major streaming services or other apps from the Samsung App Store.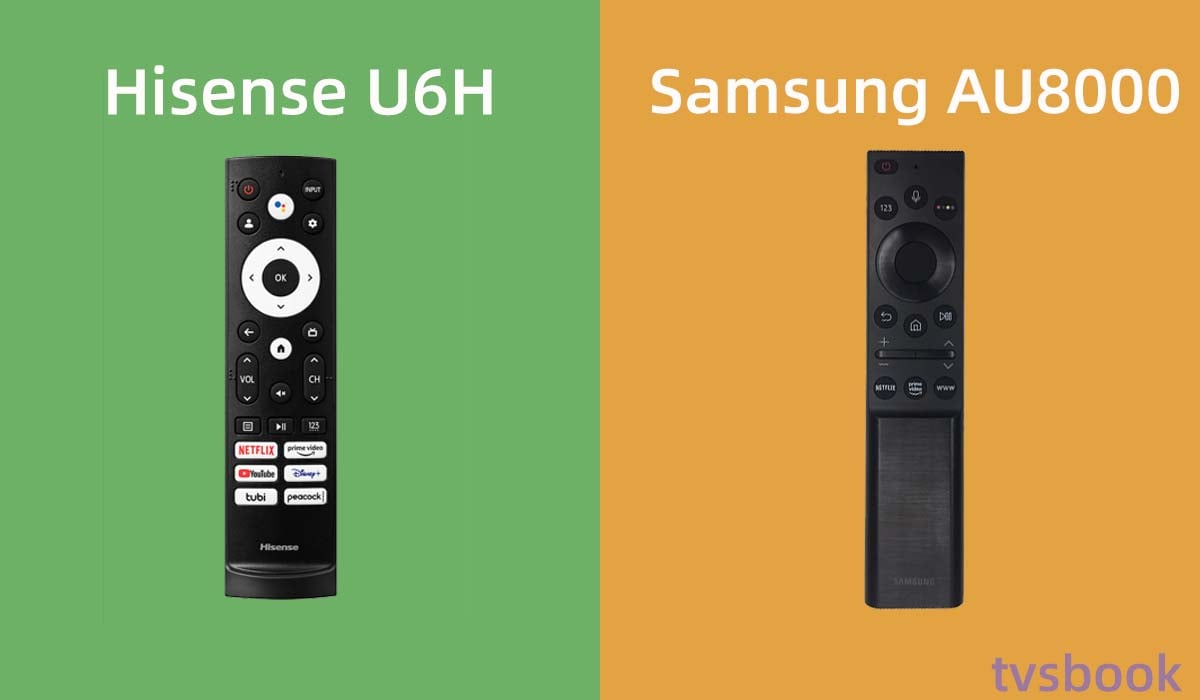 Hisense U6H comes with a redesigned remote control based on its predecessor's remote control, with a plastic remote control that is easy to grip. The remote control for the Samsung AU8000 looks more textured and smaller. Neither remote offers a numeric keypad but does offer shortcut access buttons for popular streaming devices.
Hisense U6H's voice control supports access to Google Assistant and Alexa, while the Samsung AU8000 supports Bixby, Alexa, and Google Assistant. you can switch inputs, open apps, and more with the microphone function.
Hisense U6H vs Samsung AU8000: Inputs​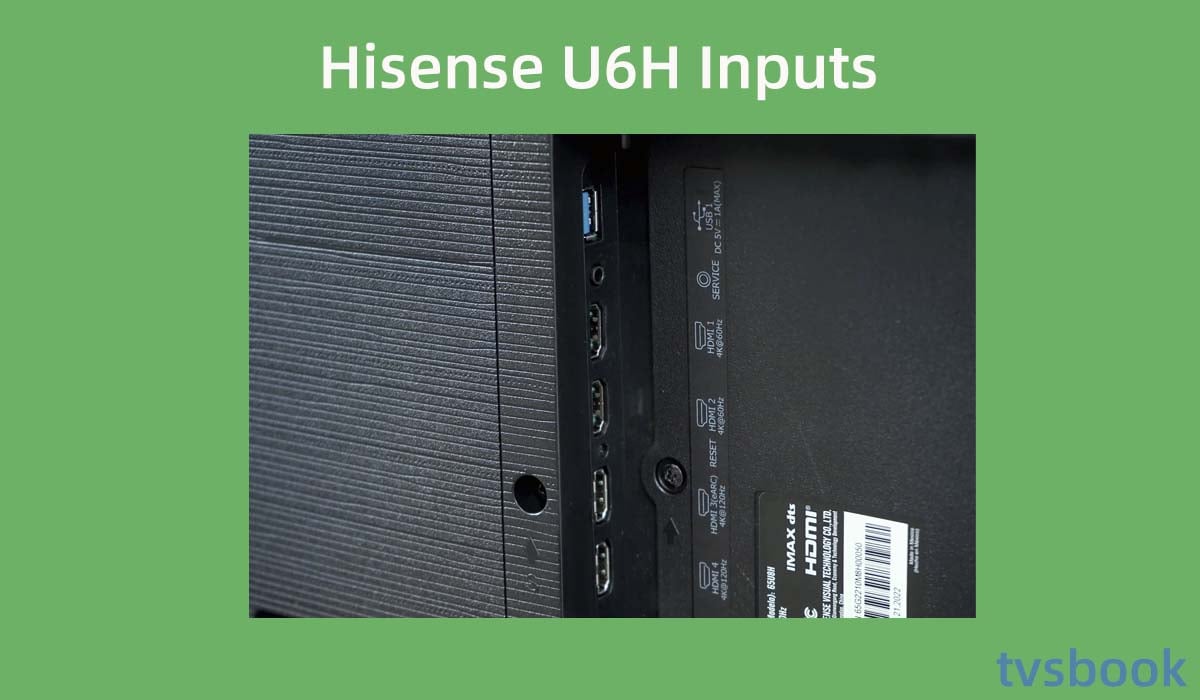 Hisense U6H supports up to 4k@60Hz, and despite claims of HDMI 2.1 bandwidth, it only supports HDMI 2.0 bandwidth. It is configured with four HDMI ports and supports variable refresh rates and low input latency, so it can provide a smooth gaming experience, but cannot fully take advantage of PS5 or Xbox.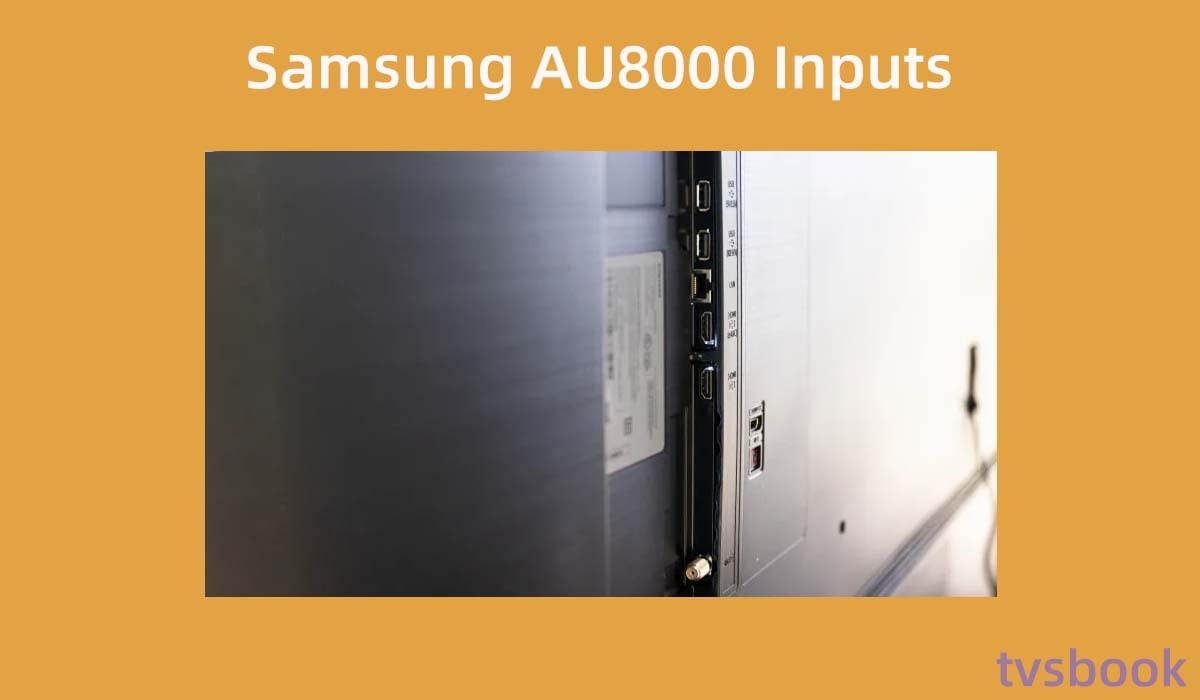 The Samsung AU8000 also supports up to 60Hz 4K but does not support variable refresh rates. It has an automatic low latency mode and the ability to automatically switch to gaming mode with Samsung's Motion Xcelerator technology to simulate faster refresh rates. The TV is equipped with three HDMI 2.0 ports, so if you want to experience the full experience of a next-generation gaming console, you should consider a higher configuration and a TV with gaming capabilities.
Hisense U6H vs Samsung AU8000: Summary​
Overall, Hisense U6H is better than Samsung AU8000 and more affordable. Both TVs are good choices for a mix of low-cost 4K TVs. Both Hisense U6H and Samsung AU8000 have high contrast ratio, but U6H has local dimming while AU8000 does not, so AU8000 will have problems with image uniformity.
In addition, the Hisense U6H is significantly brighter than the Samsung AU8000, which is more noticeable with HDR content.
Both TVs have low input latency to support the gaming experience, the difference being that the Samsung AU8000 does not support any variable refresh rate and the Hisense U6H supports VSR. However, neither model supports HDMI 2.1 bandwidth and only has a 60Hz refresh rate. This is sufficient for everyday use but may not satisfy gamers who demand a more demanding gaming experience. If you want the full next-gen console experience, you might consider the higher-end Hisense U8H. refer to
Hisense U6H vs U8H
.