Hisense has released the official TV of the FIFA World Cup 2022, the Hisense U7H TV.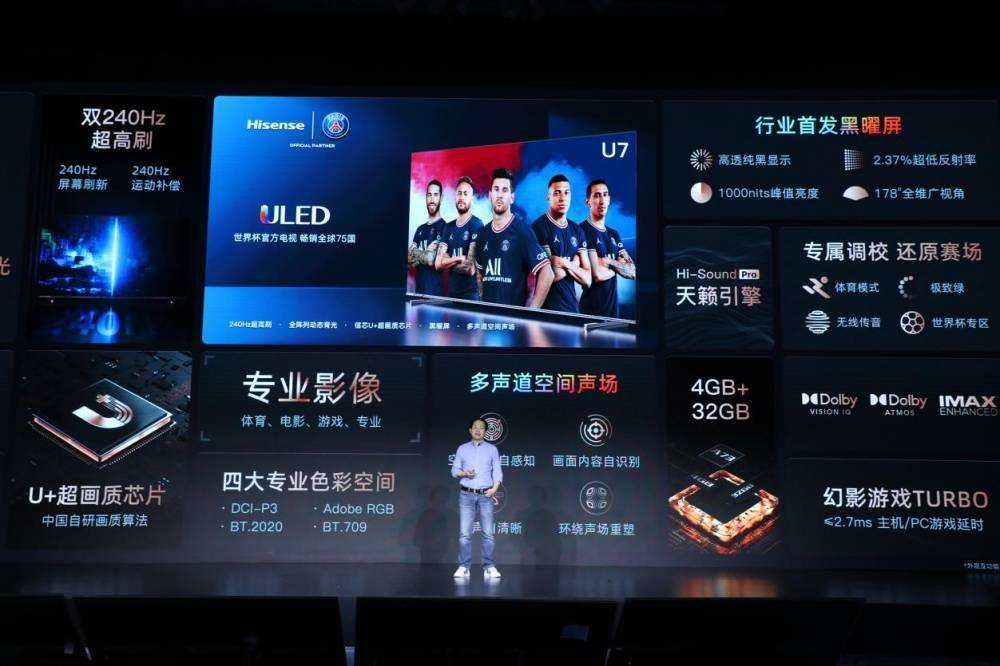 As we all know, VA screen with high contrast but small viewing angle, IPS screen with large viewing angle but low contrast, it is difficult to have the best of both worlds. Hisense U7H series adopts innovative panel architecture and introduces ULED TV exclusive custom obsidian screen with both 100,000:1 ultra-high contrast ratio and 178° full-dimensional wide viewing angle.
Any change in ambient light or viewing angle, the brightness, color, and level of the display will not change to achieve the best viewing experience from any perspective, which is also a major breakthrough in the LCD industry.
Hisense U7H TV supports 240Hz ultra-high refresh, and also has 240Hz MEMC and VRR variable refresh, which perfectly solves the problems of lagging and tearing in sports game scenes.
The TV is equipped with the new Hisense U+ Super Picture Quality chip, which ensures users get the smoothest experience no matter what content they are watching through AI object intelligence perception, real-time frame-filling, motion enhancement, noise reduction and other picture quality processing
In addition, combined with user scenarios, Hisense launched 4 modes of sports, movies, professionals and games to create a professional display level for a large-screen TV.
The U7H TV covers four size of 55, 65, 75 and 85 inches.