The TV market is readying itself for a huge influx of a new type of television. Or rather, a huge wave of smart TVs from well-known smartphone manufacturers. OnePlus is making one, there are rumours of Huawei joining in, and even Motorola has announced plans to launch a smart TV.
They certainly wouldn't be the first company to launch a smart TV who also make smartphones. After all, Sony, Samsung, LG and even Xiaomi are all established in the TV sphere. What makes these interesting, however is that they're not just designed to be TVs. Most of these companies want to offer a smart home hub of sorts, allowing you to control scenes within your home, as well as offering high end visuals - and all at affordable prices.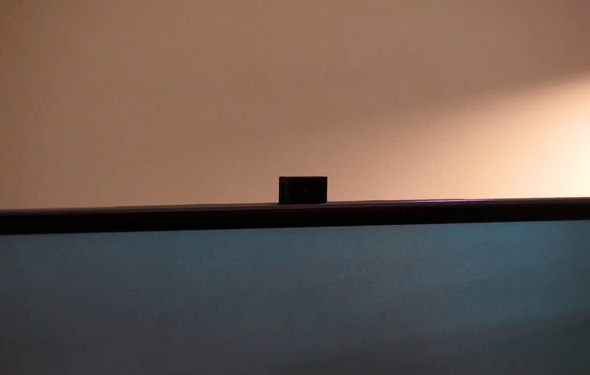 Pop-up and say hi
Pop-up camera
Slim bezel (94% screen to body)
Far field microphones
If anything in this TV visually represents the shift away from just media consumption to smarts and communication, it's the little pop-up camera on the top edge. It's not too dissimilar to the pop-up cameras we've seen on smartphones in recent years, and it serves a similar purpose: it lets you video chat with your friends and family.
The idea is that you can chat to any compatible device with a Huawei account. Essentially - this is Huawei or Honor's equivalent of FaceTime, powered by far field microphones and the camera.
For those worried about security, the default position of the camera is down, within the frame of the TV. It only pops up to record when you're using a function that requires it to be active. For those even more worried, there's a non-Pro model of the Honor Vision that doesn't have a pop-up camera, or the far field mics.
Otherwise it's a largely standard affair. The front is dominated by the 55-inch screen, and the skinny bezel is typical of the smart TV market, ensuring there's nothing except the content taking up 94 per cent of that front surface area. The only thing breaking up that pure black frame is the Honor brand logo, front and centre on the bottom edge.
On the back there's a relatively large triangular protrusion, this includes the vents and ports etc. We only saw the TV resting on its fairly basic feet, but we saw what looked like standard holes covered up on the back which seems to suggest that you should be able to mount it as well, should you choose to.
All that screen
55-inch 4K HDR LED display
400 nits brightness
Honghu 818 processor
If you could choose a default, or classic size and resolution for a brand new TV, chances are, that's going to be 55-inches and 4K UHD. That's exactly what Honor has gone for with the Honor Vision and that's the top selling size for TVs in the UK, at least.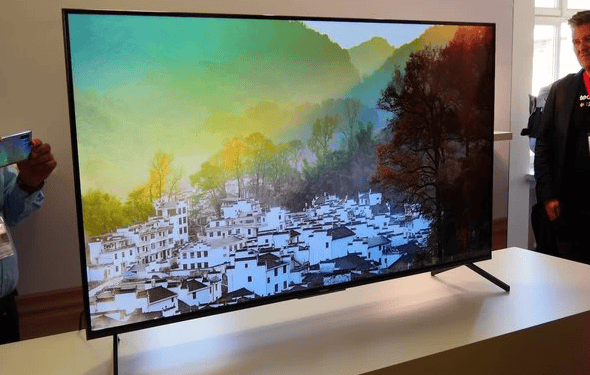 Honor claims 87 per cent NTSC colour, and up to 400nits of brightness, which actually doesn't sound all that impressive given how bright some really high end TVs get. But, this is designed to be a more affordable option, and so isn't entirely surprising.
The manufacturer also claims 178-degree viewing angles, meaning you'll be able to enjoy your content from pretty much anywhere in your lounge. Having looked at it briefly, and mainly from quite an obtuse angle, we can confirm that there's no real loss in clarity or colour when you're not looking at it head-on.
Of course, a big TV isn't a TV at all without a processor of some kind running the show. In this case, Honor's chip is called the Honghu 818 intelligent chipset, and it controls everything. It hosts the ISP for producing the images, decoding information and creating the sound profile.
Adding to the visuals is a six speaker system made up of six individual 10 watt speakers, all of which placed beneath the screen as - again - is standard for a modern TV. If you opt for the non-Pro model, you get four speakers.
Since we only got a few minutes to look at the telly in a busy briefing, we weren't able to get a real sense for how HDR videos might look on it, or how good the sound is in a living room setting. Hopefully, we'll get a closer look at it another time, so we can test those out properly.
HarmonyOS smarts
First HarmonyOS device
NFC linkup with Honor/Huawei smartphone
Control scenes in smart home
A lot has been made of
HarmonyOS
since it was revealed that Huawei had been working on its own in-house operating system, separate from Android. Honor Vision is the first consumer device to be running this custom software.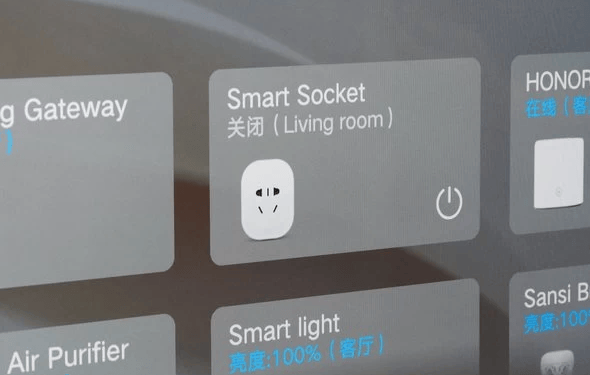 Its strengths play right into what Honor wants to do with its smart TV: having a reliable, consistent platform for controlling and connecting with other devices. HarmonyOS is designed to be super low latency, and quick, so any transmission between devices and communications between them is fluid and fast.
One of its purposes is to be used as a centre for controlling all of your smart home devices. Whether it be lights, switches, air purifiers or anything else connected and automated in your home. The idea being you can set up scenes, and activate them from the TV, or just switch on any individual device.
As a general user interface it's quite simple but attractive. It's a fairly clean and easy grid of rounded rectangles and squares, not too dissimilar to the shape and style of Apple TV user interface, although clearly not identical. The home screen gives you access to all of your apps, which include the aforementioned smart home control app, as well as Huawei's app gallery, photo gallery, clock, weather, calendar and other apps you'd find on a smartphone.
Using NFC, and a Huawei smartphone you can use your phone as a remote/controller, as well as mirror content from your phone to the screen.
First Impressions
The TV market already has plenty of affordable big, flatscreen 4K models, but Honor is trying to differentiate itself from the rest by also making it a hub for your digital and internet connected ecosystem. You can use the Honor Vision Pro to make video calls, control smart home devices, and connect easily to all your Huawei services that you have on your smartphone.
For now, the Honor Vision and Vision Pro are only available in China, and cost approximately £450 and £570, respectively. However, with the company having chosen to show off the smart TV set during IFA 2019, there's some hope that the telly will make its way to Europe.
There's a lot we don't know about the performance of this TV and how the OS really functions, but we're expecting to see a lot more of this sort of disrupter set coming through in the next few months.
Last edited: