To set additional picture options, you can get a picture effect that's more closing to your taste. Here is the guide.
1. Go to the home page of LG TV, and then follow this path to navigate to the Picture Option: SETTINGS>PICTURE>Picture Mode>Picture Option.
2. Then, you can adjust the detailed settings for images:
Noise Reduction: Eliminates noise in the picture.
MPEG Noise: Reduction Eliminates noise generated while creating digital picture signals.
Black Level: Adjusts the brightness and contrast of the screen to suit the black level.
Real Cinema: Optimizes the screen for movie viewing.
Motion Eye Care: Depending upon model, Saves power consumption by adjusting the brightness corresponding to the movement of the image on the screen.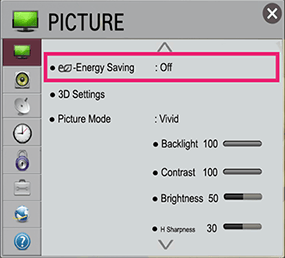 That's how to adjust the picture effect on your LG TV. Depending upon the input signal or other picture settings, the range of detailed items for adjustment may differ.