How To Uninstall Apps on Sony Smart TV?
1. Go to
Settings
by pressing the Settings button on the remote control( 2019 or later models) or the Home button( other models).
2. Choose Apps, some remote control provide an APPS button, you can get to the apps list quickly through the button.
3. Or you can find Apps on the Setting screen on the Sony TV.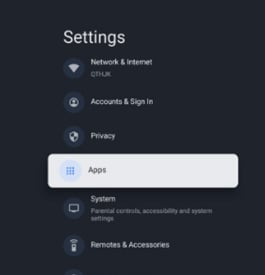 4. Uninstall the app(two ways depending on the TV model)
a. Select the app that you want to delete, Choose
Uninstall.
b. Select
See all apps
→
Select an app to be deleted
→
Uninstall
.