Counterpoint recently released its report on smart TV shipments in the Indian market in Q3 2022. Global brands lead the Indian smart TV market with a 40% share, followed by Chinese brands with 38% share. Indian brands show the fastest year-over-year growth, with a 22% share of shipments. Smart TVs in the Indian market are starting to offer better features such as Dolby Audio, higher refresh rates and stronger sound output at prices below INR 30,000 (~$400). During the quarter, smart TVs contributed to the highest-ever 93 percent of overall TV shipments. The online channel contributed 35% of overall shipments in the quarter.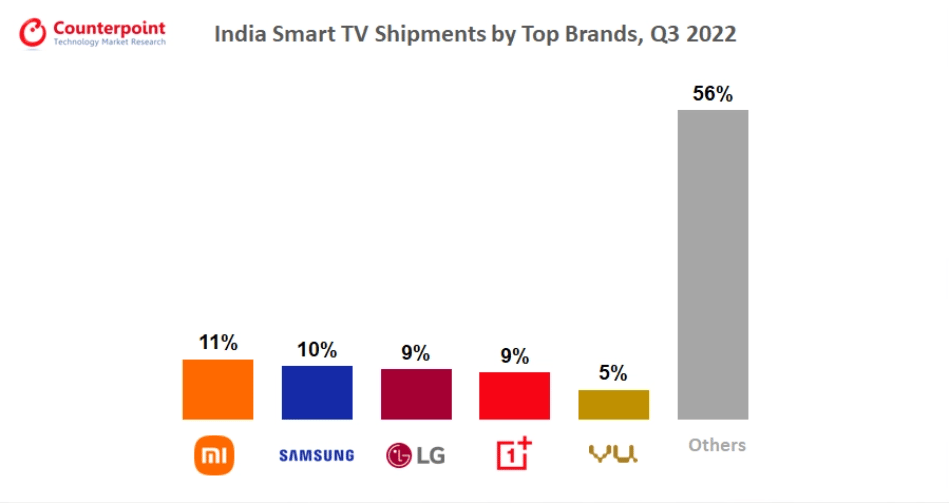 According to a new study by Counterpoint IoT Services, smart TV shipments in India grew 38% year-on-year in Q3 2022. The growth is mainly due to holiday availability to meet strong pent-up demand, multiple new product launches, discount campaigns and promotions.
The share of smaller TVs is increasing, with 32-inch-42-inch displays accounting for about half of the total shipments in the quarter. While LED displays are still the preferred choice, advanced technology displays such as OLED and QLED are gaining support. More models are being introduced with QLED displays. Dolby sound and better speakers are other features that more and more brands are offering.
Concerning market trends, research analysts say Dolby Atmos is becoming popular. Most new TV models support Dolby Atmos. 32 inches remains the most popular screen size because it caters to a wide range of consumers and is affordable, while 43 inches is gaining popularity in the mid-range market.
As for software, newer models are increasingly coming with Google TV, primarily in the >INR 25,000 (~$300) segment. the main benefit of Google TV is its user interface and content recommendations for content from various streaming apps, as well as YouTube, which is not available on Android TV.
When it comes to smart TV shipments by brand origin, analysts see global brands leading the market with a 40 percent share, followed by Chinese brands with a 38 percent share. The share of Indian brands doubled in Q3 2022 to 22% of overall shipments. Many new Indian brands are entering this highly competitive market.
OnePlus, Vu and TCL were the fastest growing brands in the smart TV segment in Q3 2022. Xiaomi leads the overall smart TV market with 11% share, followed by Samsung. LG again holds the third position due to the launch of new models, especially in the INR 20,000 - INR 30,000 ($250-400) price range. Other emerging brands in the top 10 include realme, Sony and Haier.