Are the LG UQ90 and LG UQ91 the same 4K TVs for 2022? This has confused many people. According to the search result on the official website, LG UQ90 and LG UQ91 are indeed different models. Here is a comparison of these two models for you, hope it will help you.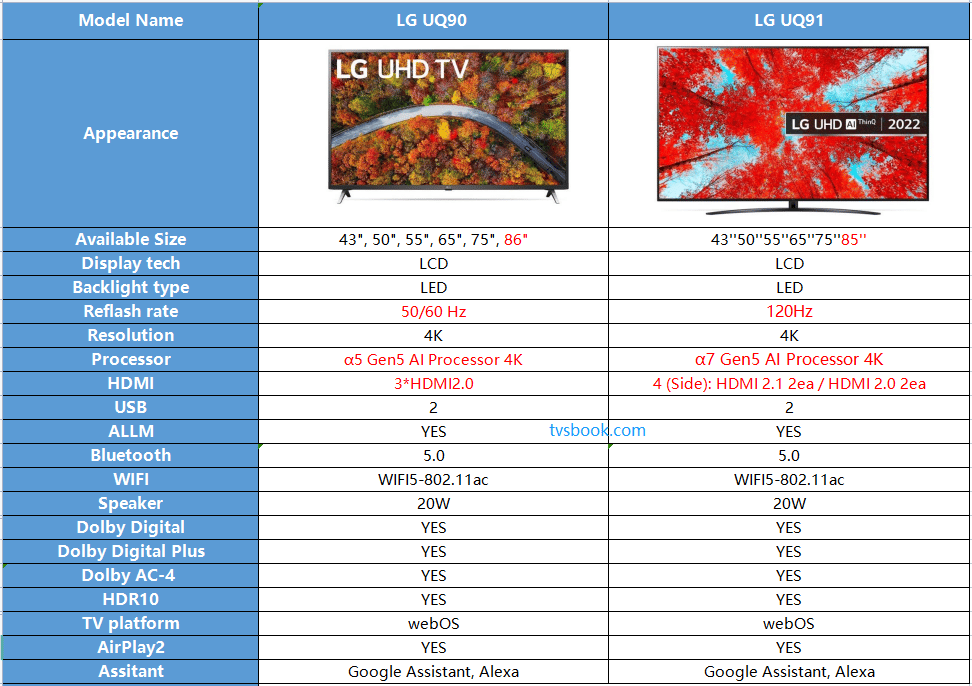 In fact, these two TVs have a lot of similarities as they belong to the same LG series. However, when it comes to the LG UQ90 vs LG UQ91, you will see that the UQ91 has some distinct advantages.
The LG UQ91 has a more advanced processor than the LG UQ90, which means the former has better processing power and performs better.
In addition, depending on the model, they seem to have different refresh rates. the LG UQ91 has twice the refresh rate of the LG UQ90, which is 120Hz. As a result, the LG UQ91 will have smoother video and graphics, especially in fast-moving video frames.
Also, when LG UQ90 vs LG UQ91 in ports, LG UQ91 has four HDMI ports, including two HDMI 2.1 ports, while LG UQ90 has only three HDMI ports and it doesn't have HDMI 2.1. See
the importance of HDMI2.1 for TV
.