​
Pendoo T95 Android 10.0 TV Box
Brand new for 2020, Pendoo's T95 TV Box makes the most of Android 10.0 OS. Outstanding compatibility with games, apps, and software combines with user-friendliness, making this TV box one that's sure to gain plenty of fans.
What to love: Pendoo has done a great job of eliminating some of the issues seen in earlier products – annoying problems with buffering and freezing are distant memories.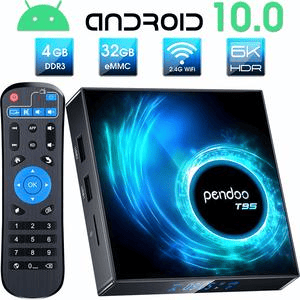 ​
This 10.0 Android TV box supports both 4K and 6K Ultra HD resolution, vastly improving picture quality. Whether you're gaming, watching a movie, or cheering on your favorite team, you'll notice tons of stunning details and richer colors than ever before.
Like many others that made it onto our list of the best Android TV boxes, this model offers convenient plug and play features so you can dive right into your next binge-watching session. The remote control features a button that takes you straight to apps, and setup is super simple.
What's missing: While Kodi fans will appreciate the fact that this box comes with the latest version of Kodi (v18.5) pre-installed, there are no pre-loaded addons. Don't hate Pendoo for this, though; they're only following regulations.
If Bluetooth compatibility is on your list of must-haves, we're sorry to report that this unit doesn't have it, meaning that it probably isn't the right TV box for you.
Last but not least, make sure you have some AAA batteries on hand if you decide to go for this model. You'll need to put two of them into the remote before you get started. On a happier note, an HDMI cable is supplied.
CHECKLIST:
4G RAM
32 GB Storage space
SD card slot and USB ports
Android 10.0
6K / 3D video
Last edited: