The 2023 China Household Appliance and Consumer Electronics Expo (AWE2023) opened at the Shanghai New International Expo Center today. Samsung has debuted its new 89-inch MICROLED product series for the first time globally.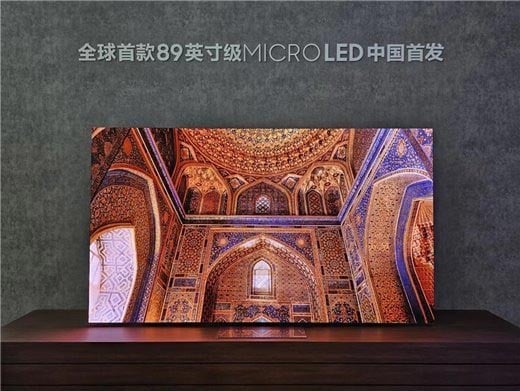 Samsung announced that the product series will launch in China at the end of May.
Here's a detailed introduction to the Samsung 89-inch MICRO LED TV:
Samsung's new MICROLED technology adopts inorganic self-luminous technology, which has advantages in terms of lifespan, efficiency, speed, and reliability. With advanced MicroAI processors, more than 20 million micro-LED chips are independently controlled, enabling precise control of light and color to achieve high brightness and high contrast, even for the same color, showing different levels of subtle expression. Samsung MICROLED also supports HDR10 and HDR10+ technologies, with a maximum brightness of 2000nit, conveying rich texture details, coupled with high-contrast screens and high dynamic light rendering technologies, displaying a wider range of gradients and more realistic picture textures.
In addition, Samsung MICROLED uses Dolby panoramic sound and is equipped with OTSPro sound and picture tracking technology. Dynamic sound effects enable full-motion tracking, conveying perceptual details of sound effects to every corner. The intelligent sound control AVA clarifies sound based on surrounding sound environments, and adaptive sound effects optimize sound performance by automatically analyzing scenes. The μ-Symphony function allows harmonious sound transmission between the TV and speakers, and with 6.2.2CH speakers and 100W audio, creates a surround sound field.
The Samsung MICROLED boasts an ultra-modern design, with a screen-to-body ratio of up to 99.99%, making the existence of borders almost imperceptible, achieving harmonious integration of content, screen, and wall.