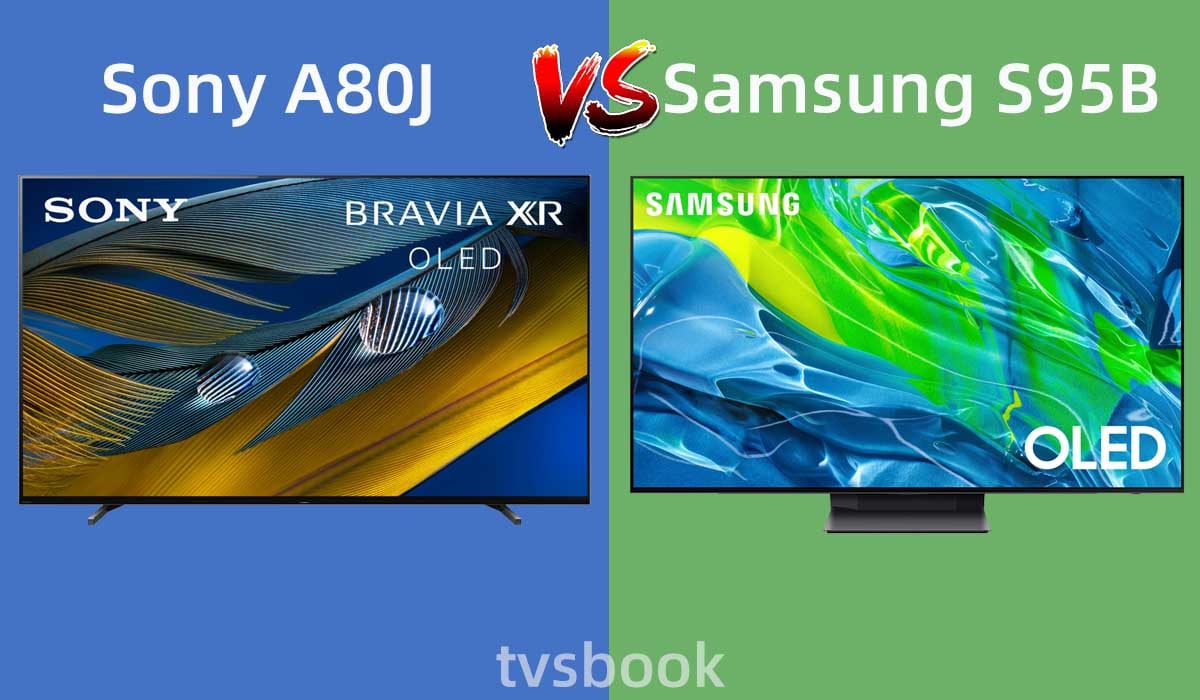 This article will compare Sony A80J vs Samsung S95B TVs. Sony A80J and Samsung S95B are the OLED TV models for 2021 and 2022, respectively. Overall, the Samsung S95B is a better TV because it uses QD OLED technology to provide brighter and more vivid colors.
Sony A80J vs Samsung S95B: Overall Comparison​
Sony A80J OLED TV Quick Review​
The Sony A80J is Sony's mid-range OLED TV for 2021, and it is equipped with the same Cognitive Processor XR chip as its higher-end model, the A90J. It has excellent picture quality with high contrast for crisp, deep blacks and bright highlights for watching movies in dark rooms. It is still bright but works better in the dark.
The TV supports HDMI 2.1 and numerous gaming features for a great gaming experience.
PROS
Perfect contrast
Premium image quality
Wide viewing angle
Low input latency
CONS
Only two HDMI 2.1 ports
Limited peak brightness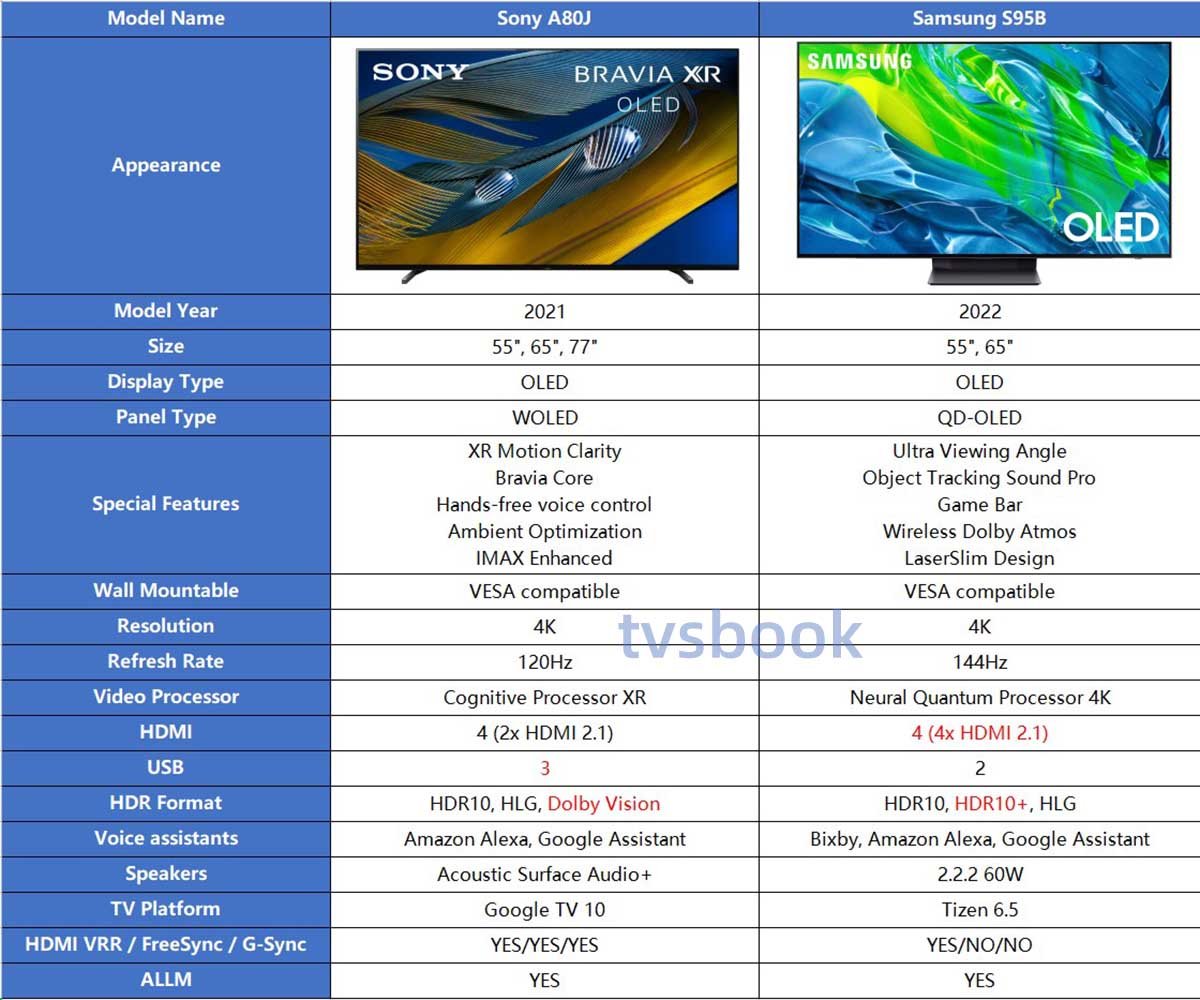 Samsung S95B QD OLED TV Quick Review​
The Samsung S95B is a brand new product brought by Samsung's return to the OLED market with the latest QD OLED technology, bringing us brighter highlights and richer colors.
The combination of quantum dots and LEDs delivers impressive brightness and contrast, and Neural Quantum Processor 4K further enhances image quality.
It offers four HDMI 2.1 ports with variable refresh rate support, which is also great for gaming.
PROS
Perfect contrast and deep blacks
Outstanding brightness
Excellent reflection handling
Vivid colors
CONS
Lack of Dolby Vision
Sony A80J vs Samsung S95B: Picture Quality​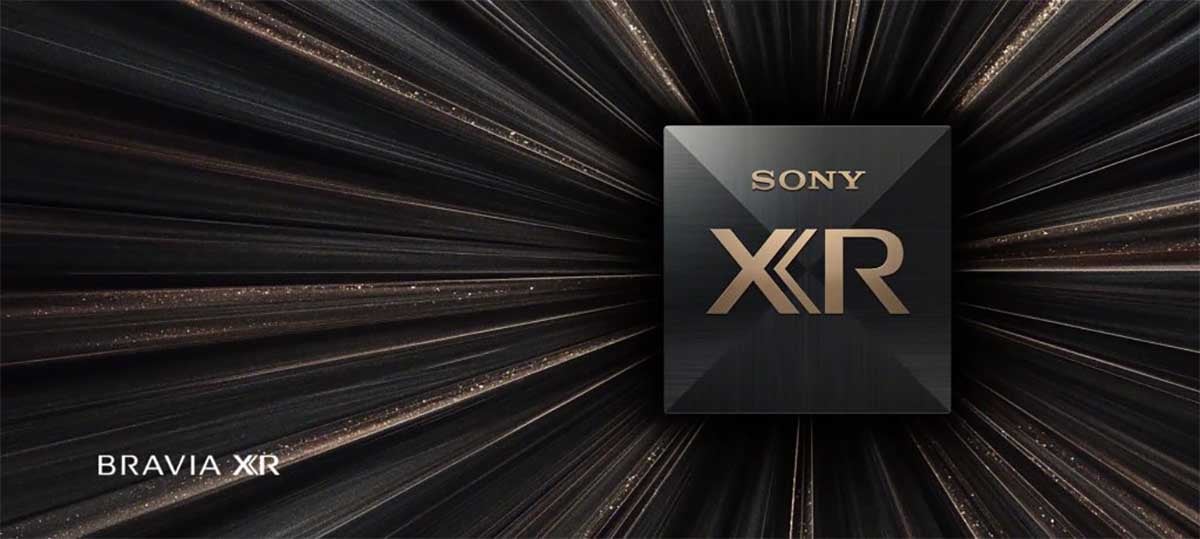 The Sony A80J delivers outstanding images, and Sony's Cognitive Processor XR chip perceives and enhances images with a more human perspective, providing a more realistic and vivid picture. Like other OLED TVs, it has a perfect contrast ratio, rendering crisp deep blacks in dark scenes and no halos around bright objects. It can provide a very good experience for movie lovers while offering a wide viewing angle.
Its brightness is OK, but being an OLED panel, it has limited peak brightness. The TV's automatic brightness limiter will reduce brightness in large bright scenes, which can sometimes distract you. It also works well in rooms with ambient light, but it's not bright enough to resist glare in very bright rooms.
The A80J has a good viewing angle and can maintain accurate images even when viewed from the side.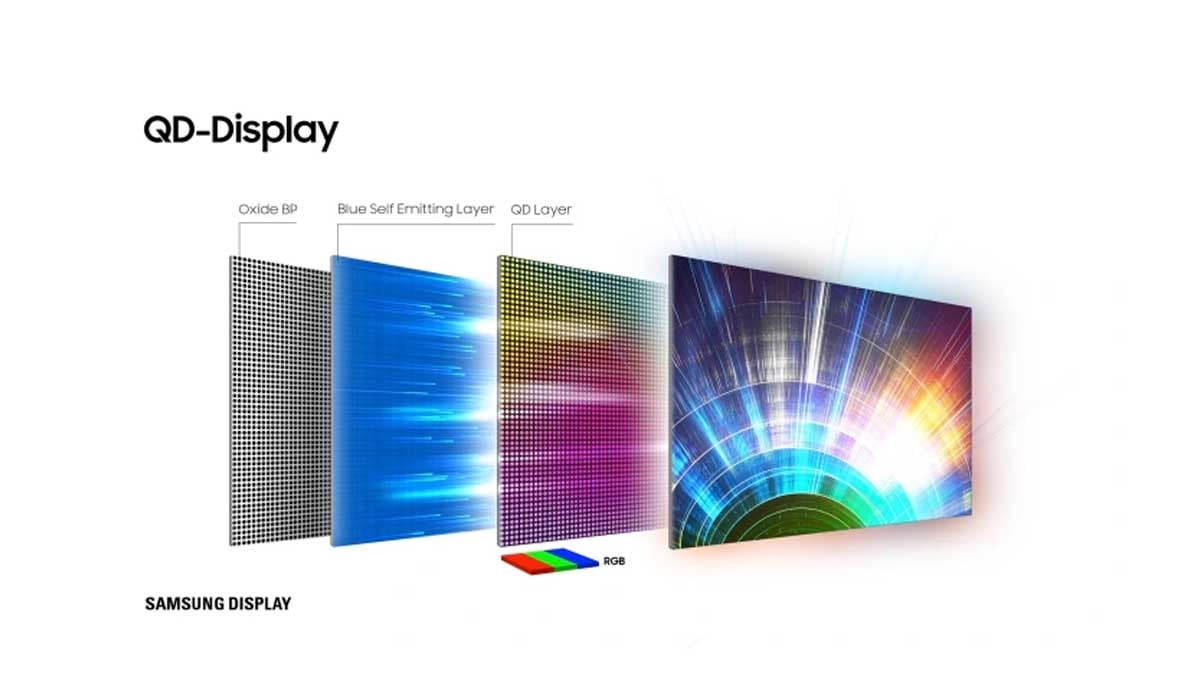 The Samsung S95B has the excellent image quality and its use of QD OLED technology is the beginning of a new era of high-end TVs that deliver brighter images. The self-emitting properties of OLED panels deliver perfect contrast, allowing precise control of black and bright pixel dots, rendering deep blacks without creating halos around the dots.
Its peak brightness is surprisingly bright, enough to resist glare in bright rooms. Its automatic brightness limiter also reduces the brightness of large bright scenes. The Samsung S95B has excellent HDR brightness, also in game mode, so it can provide a great HDR movie or gaming experience.
Sony A80J vs Samsung S95B: Design​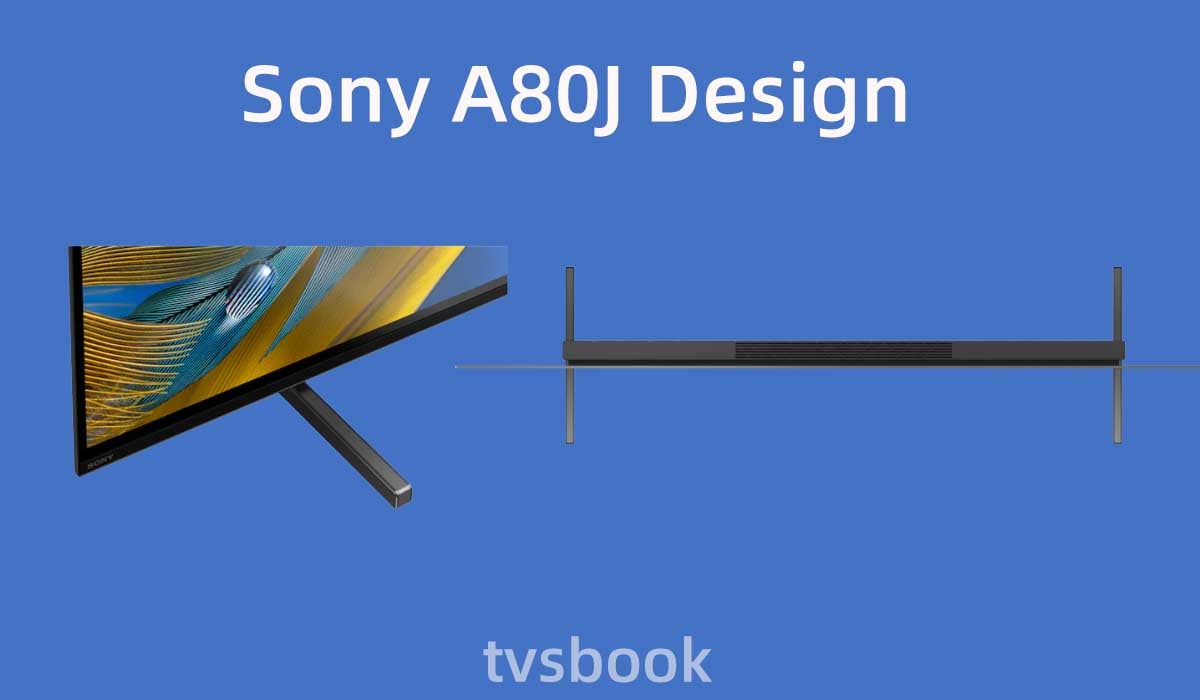 Designed with a modern aesthetic in mind, the Sony A80J OLED TV fulfills Sony's minimalism and blends well with its environment. The slim black bezel is not easily noticed and the metal stand supports the TV screen well. There are three different ways to mount the stand, the standard position is shorter, the narrow position fits smaller desktops, and you can also choose the soundbar position to raise the TV to reserve the soundbar.
The Sony A80J has a thin panel with all the inputs contained in a plastic case behind it. It is well suited for wall mounting but does not sit perfectly flush with the wall.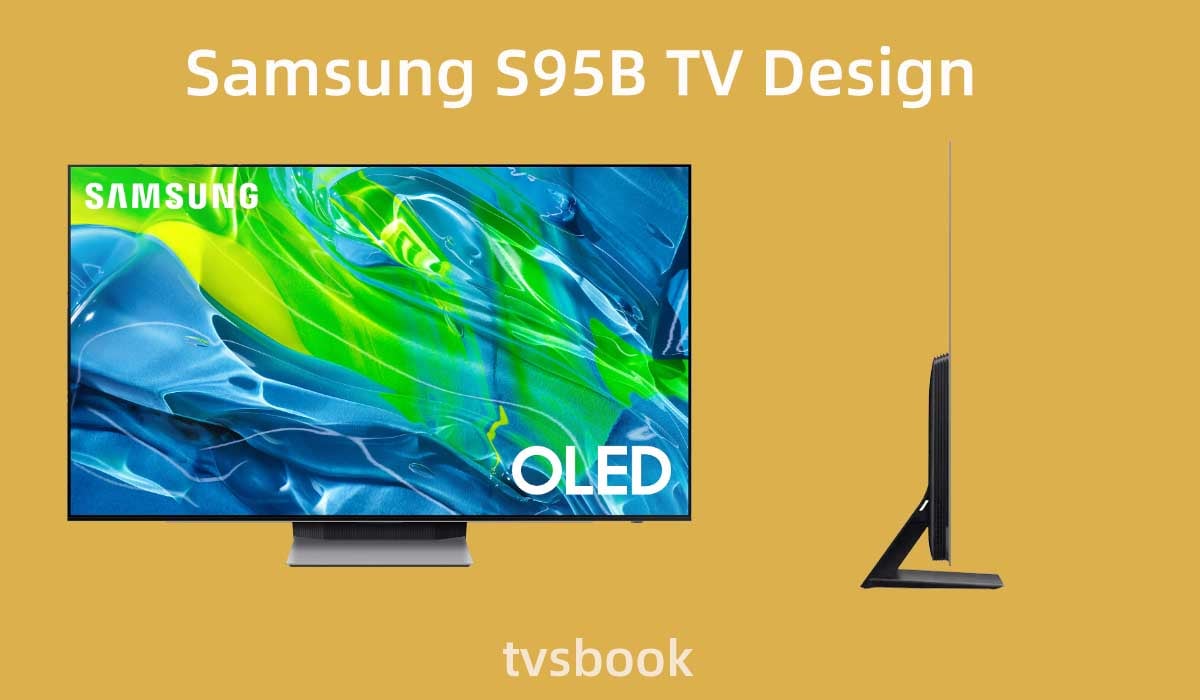 The Samsung S95B is elegantly designed with a slim bezel and panel suitable for placement in a variety of environments. The metal stand located in the center of the panel is small but heavy enough to securely support the panel without taking up too much space. The stand raises the TV so that most of the soundbar should fit in front of the TV without blocking the screen.
The back of the panel is simple and provides covers for cable management. The panel is very thin, so there is some bending as well, and it is well-suited for wall mounting on the wall.
Sony A80J vs Samsung S95B: System & Smart Features​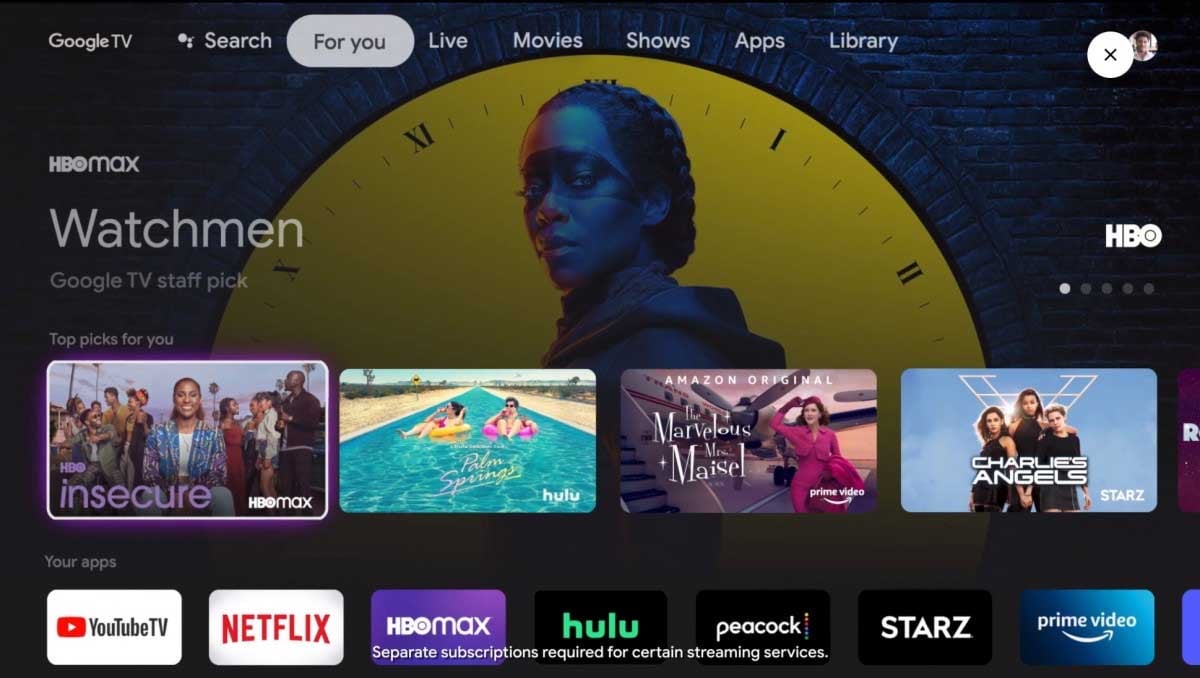 Sony A80J is equipped with Google TV Smart Platform, which is based on Android TV upgrades and that advanced. The new smart platform runs smoothly and is easy to operate. The homepage will recommend more personalized content, and you can also customize it according to your preferences.
Google Play Store offers a large number of apps and streaming services for download. The TV has built-in Google Assistant and Alexa voice assistant. It also supports Chromecast, AirPlay 2, and on HomeKit to meet the needs of various users.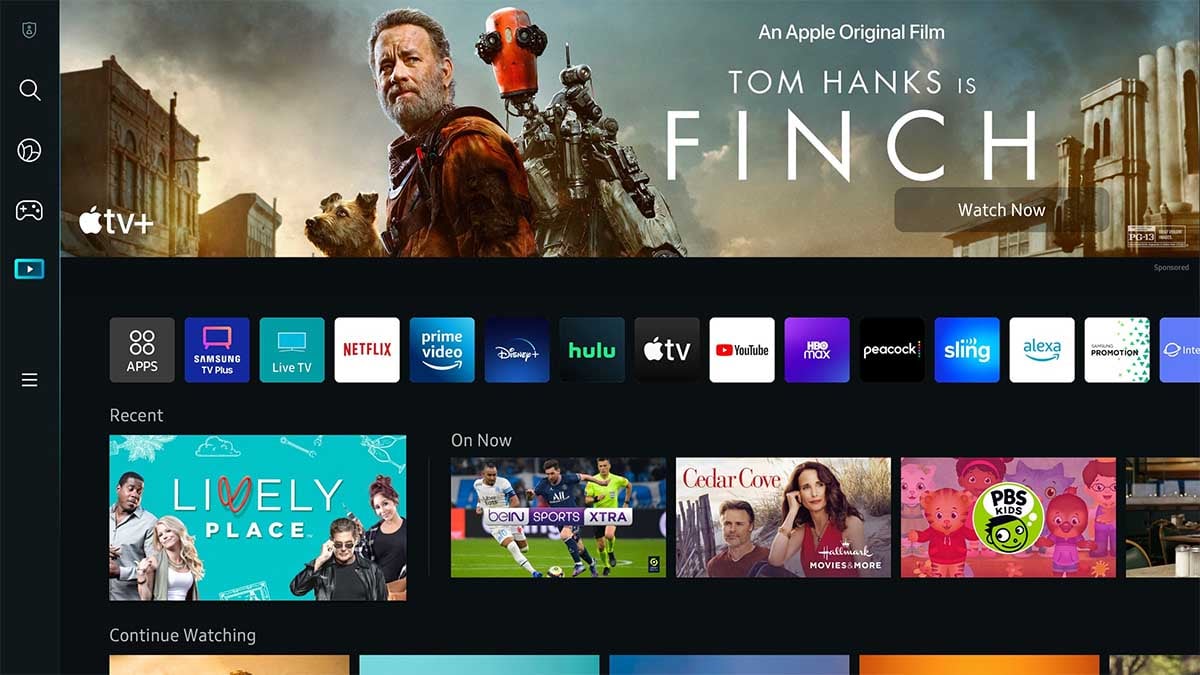 Samsung S95B runs the latest version of Tizen OS which has been redesigned with pages that fill the entire screen and you will get more content recommendations. It runs smoothly, comes preloaded with some of the most popular streaming services, and you can also download more apps from the Samsung App Store.
It supports SmartThings, as well as Bixby, Google Assistant, and Alexa voice assistant, making setup and operation easier.
Sony A80J vs Samsung S95B: Inputs​
The Sony A80J supports 4K 120Hz and has two HDMI 2.1 out of four HDMI ports, one of which is also an eARC port, which can be a bit frustrating for users with multiple high-bandwidth devices.
It supports VRR, FreeSync, G-Sync, and ALLM for a smooth and responsive gaming experience.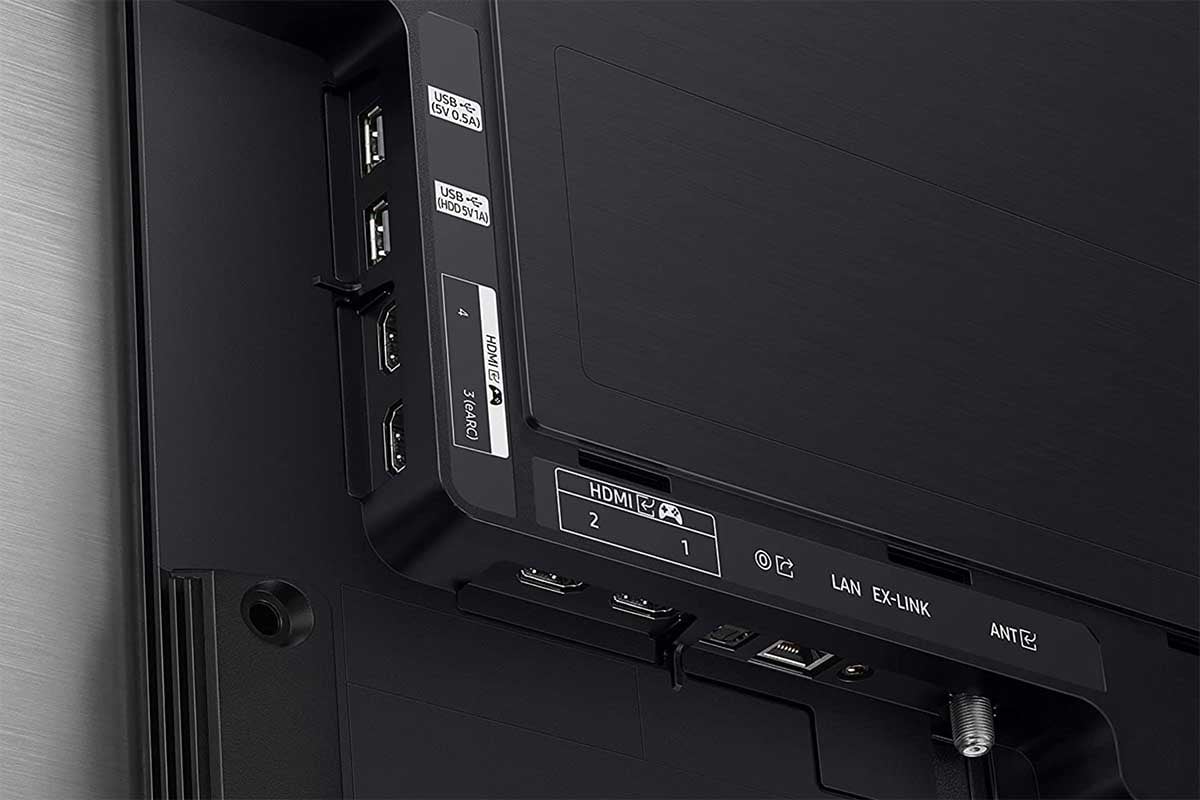 The Samsung S95B supports up to 4k @ 120Hz resolution and offers four HDMI 2.1 ports. You can connect multiple high-bandwidth devices at the same time. It comes with Samsung's Game Bar, which can be accessed automatically when the TV is connected to a gaming console.
With support for VRR, AMD Freesync, and Nvidia G-Sync, the S95B deliver a superior gaming experience.
Sony A80J vs Samsung S95B: Summary​
Overall, the Samsung S95B TV is better than the Sony A80J, featuring newer technology and also offering more gaming features. Of course, when it comes to OLED, many users are also very concerned about LG's products. You can refer to
Samsung S95B vs LG CX
, the latter being the once-popular model.