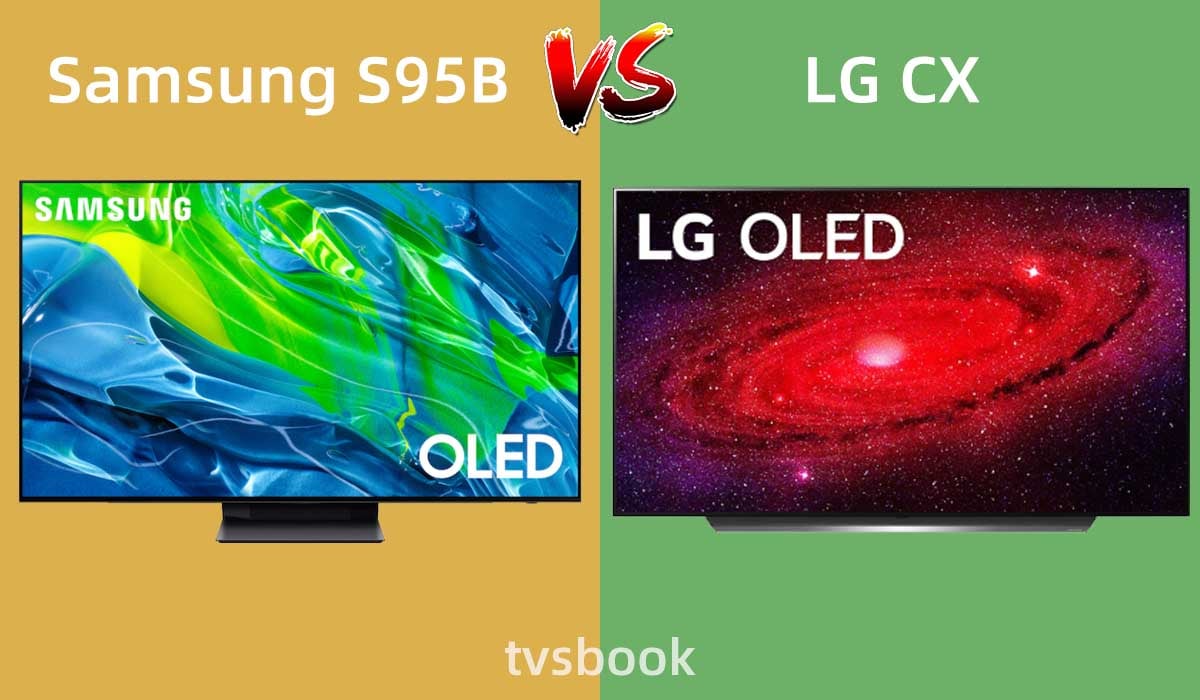 This article will compare Samsung S95B vs LG CX TVs. Samsung S95B and LG CX are both OLED TVs, the difference is that Samsung S95B is a 2022 product with the new QD-OLED technology, while LG CX is a 2020 model. For a specific comparison, please continue reading below.
Samsung S95B vs LG CX: Overall Comparison​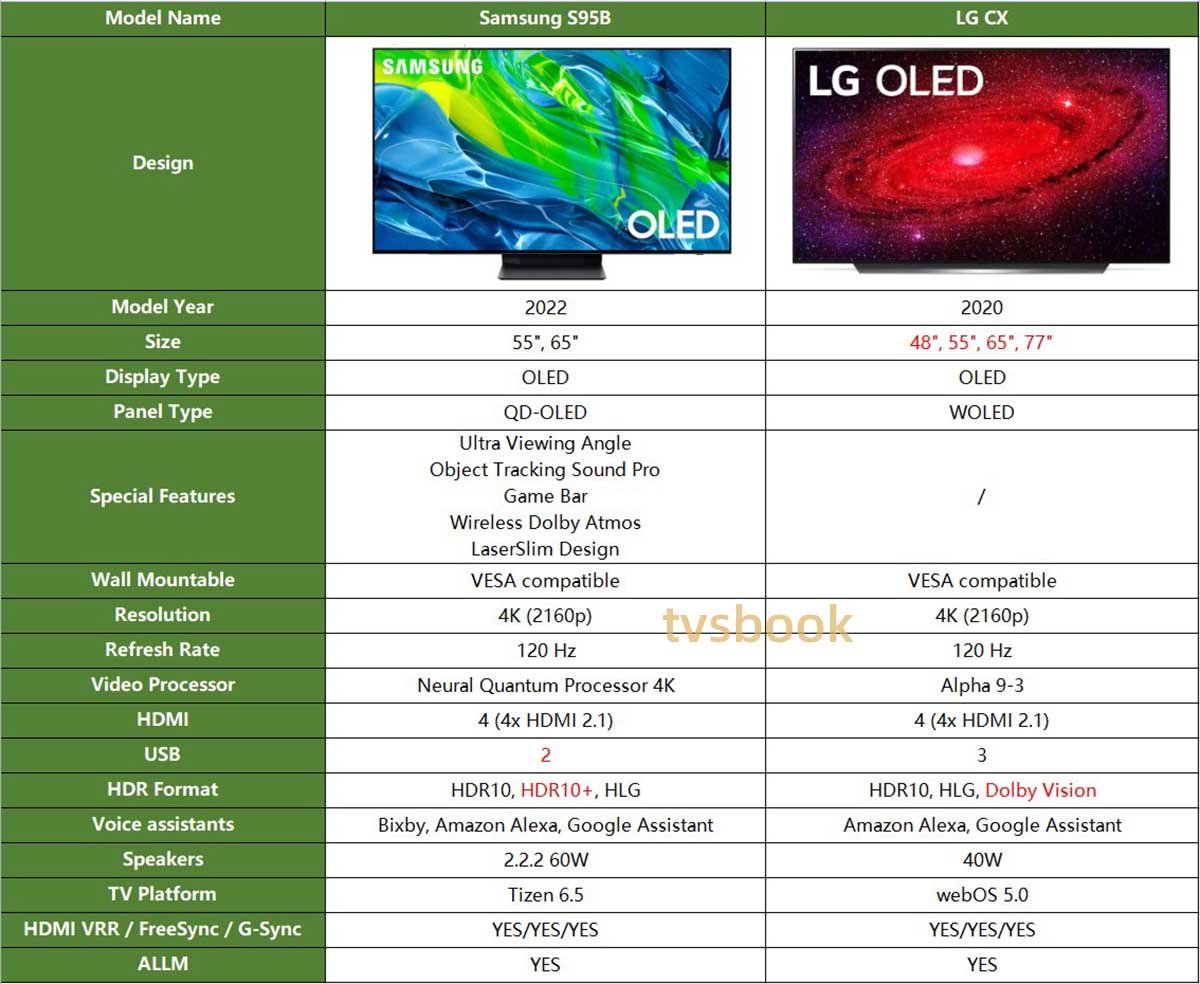 Samsung S95B QD-OLED TV Quick Review​
The Samsung S95B OLED TV is the first TV brought by Samsung's return to the OLED TV field, using a combination of quantum dot and OLED technology, combining the advantages of contrast, brightness, and color to provide better picture quality.
By all accounts, the Samsung S95B is an excellent TV. It offers perfect contrast while also showing a picture with high peak brightness, making it suitable for watching movies in dark or bright rooms.
It offers four HDMI 2.1 ports with excellent low input latency and other gaming features for a great gaming experience.
PROS
Perfect contrast and deep blacks
Outstanding high peak brightness
Excellent reflection handling
Rich gaming features
CONS
Lack of Dolby Vision
LG CX OLED TV Quick Review​
LG CX OLED was one of the best OLED TVs at the time when it exited in 2020. While it now has better successors, namely the LG C1 and the newer LG C2, it is still one of the great TVs to buy, especially when it comes down to an affordable price.
The LG CX is a comprehensive TV for multiple uses. Its perfect contrast ratio and uniform deep blacks make it perfect for watching movies in the dark. It also offers excellent gaming capabilities, providing four HDMI 2.1 ports. But as an OLED TV, it can't offer the high brightness of an LED TV.
PROS
Perfect contrast and deep blacks
Outstanding gaming features
Dolby Vision support
Display a wide color gamut
CONS
HDR10+ not supported
Average peak brightness
Samsung S95B vs LG CX: Picture Quality​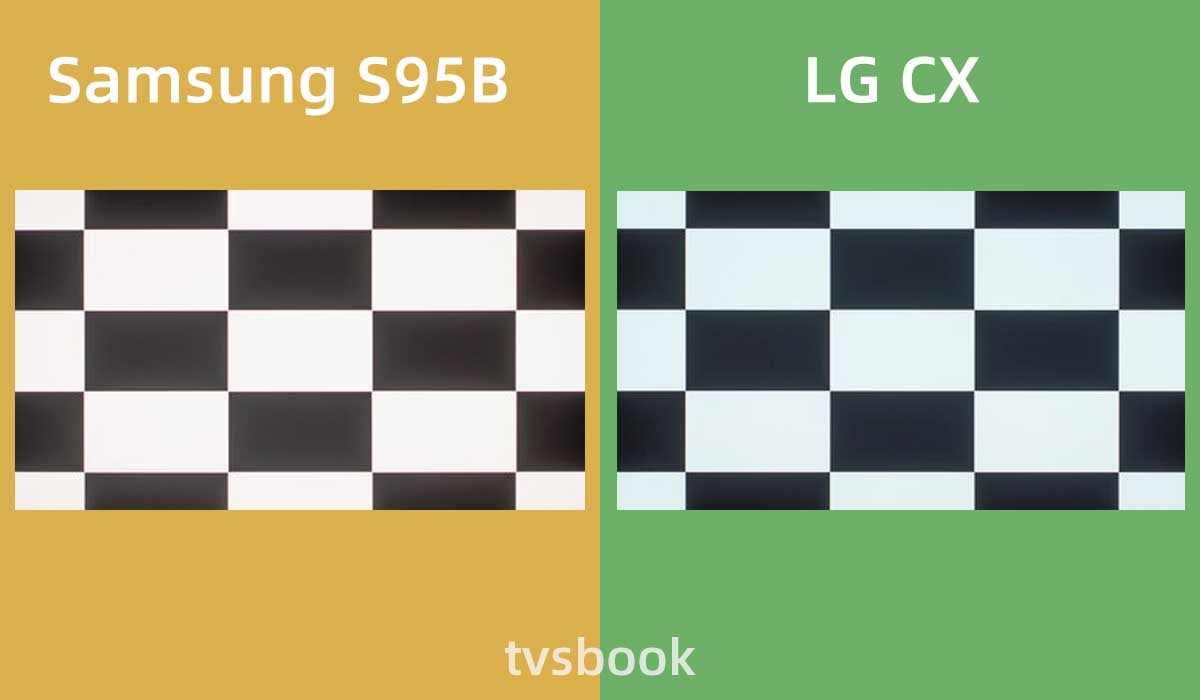 The images on the Samsung S95B TV are impressive. the self-emitting properties of the OLED panel deliver near-infinite contrast. It can precisely control the light from each pixel in dark scenes, resulting in distinct highlights and deep blacks.
Its Quantum Dot OLED display delivers a brighter picture and more accurate colors. Its peak brightness is enough to resist glare in bright rooms, but an automatic brightness limiter reduces the brightness of large bright scenes. Because it doesn't have the polarizing filter of traditional OLEDs, it has some black bumps when in a room with a little light.
Samsung S95B has good HDR peak brightness and supports HDR10, HDR10+, and HLG formats. It has excellent HDR performance, while the 4K Neural Quantum chipset helps render more image details and enhance the picture quality.

The LG CX also has the same perfect contrast ratio as other OLED TVs, further enhanced by LG's Alpha 9 Gen 3 processor and I ThinQ software for video processing.
It renders brilliantly in the dark and is able to reveal all kinds of details in your movies.
The CX has decent peak brightness, but it's not bright enough to resist glare in environments with lots of ambient light. It's also not as bright as the S95B in HDR. You can set Peak Brightness to High in the Image Settings option, which will boost the TV's brightness but at the expense of black levels.
Samsung S95B vs LG CX: Design​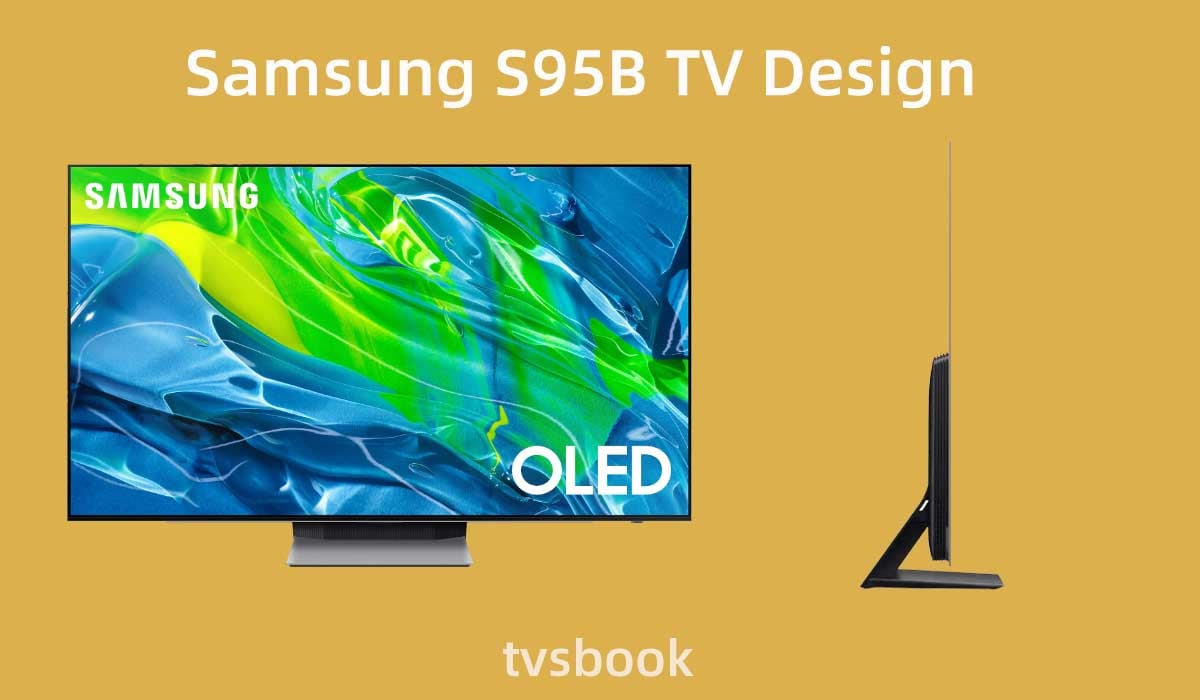 The Samsung S95B has a sleek, minimalist design and the TV has a very thin bezel and panel that blends well into your home environment. It offers two options of 55 inches and 65 inches, which is not a very wide range of options to choose from.
The centrally located stand that comes with the TV is heavy but takes up very little space and can be placed on narrower tables, but it can be a little wobbly. The stand raises the TV so you can place a soundbar of most sizes in front of the screen.
The back of the TV panel is made of smooth plastic, and instead of the one connect box, this TV is provided with a cover for cable management.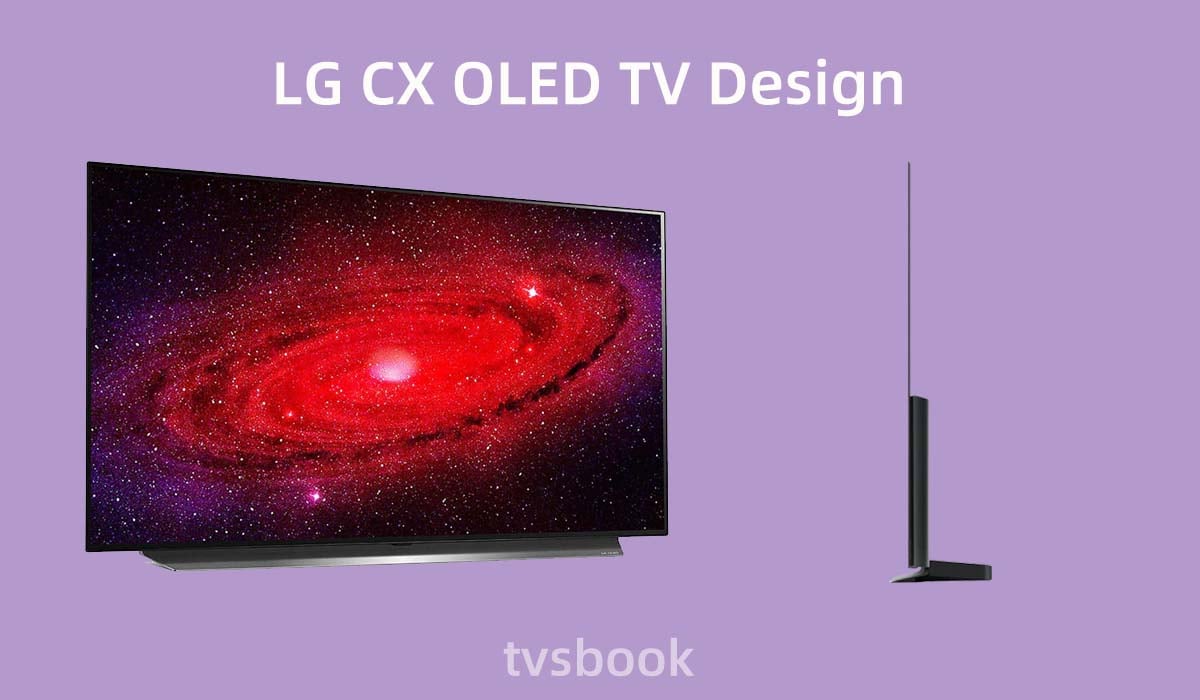 The LG CX is designed to fit the modern TV aesthetic, and like other OLED TVs, it is very slim. The screen is surrounded by a silver bezel that blends well with the silver base. The stand is wide enough to support the TV screen well, but it also requires a larger table to hold it. The height of the stand makes it difficult to place the soundbar in front of the TV, otherwise, it would block the screen.
You can wall mount the TV on the wall, but the TV will not fit perfectly flush with the wall because the lower input portion of the panel gets thicker.
Samsung S95B vs LG CX: System and Smart Features​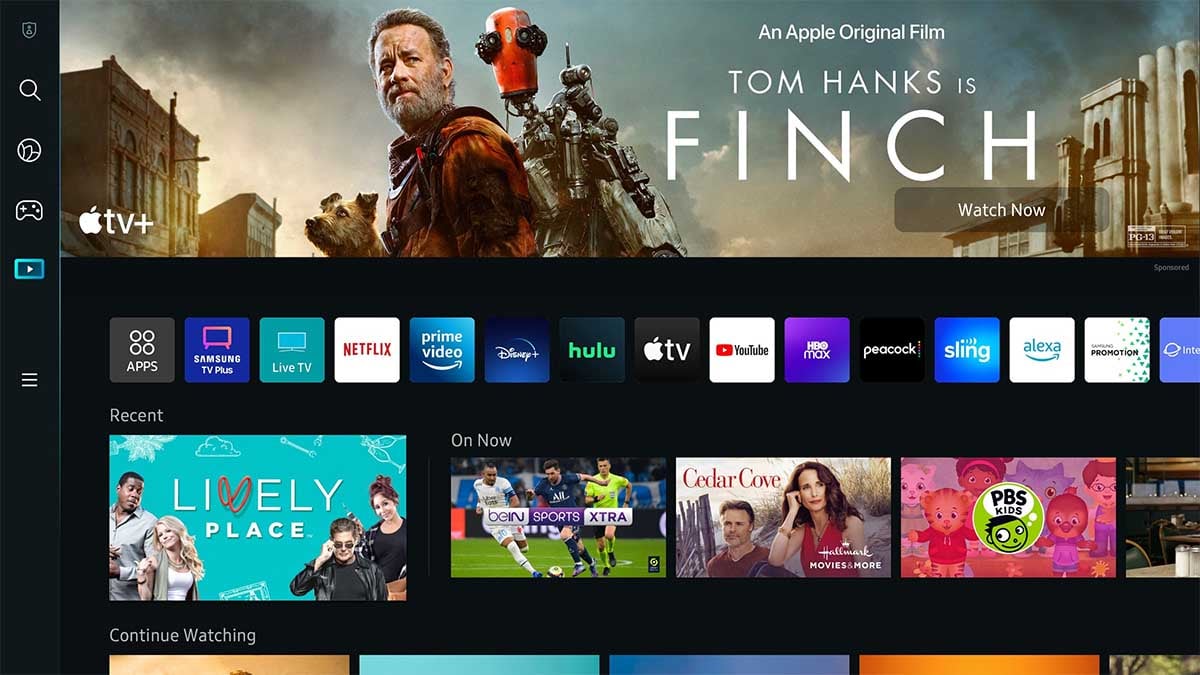 The Samsung S95B TV runs the latest version of Tizen OS in 2022, and the new version has a redesigned user interface with a full-screen homepage, which will offer more recommended content.
You can download the apps and streaming services you need from the Samsung App Store, and some mainstream streamers like Netflix, Prime Video, and Apple TV+ can be found. Bixby, Google Assistant, or Alexa voice assistant can provide you with voice control.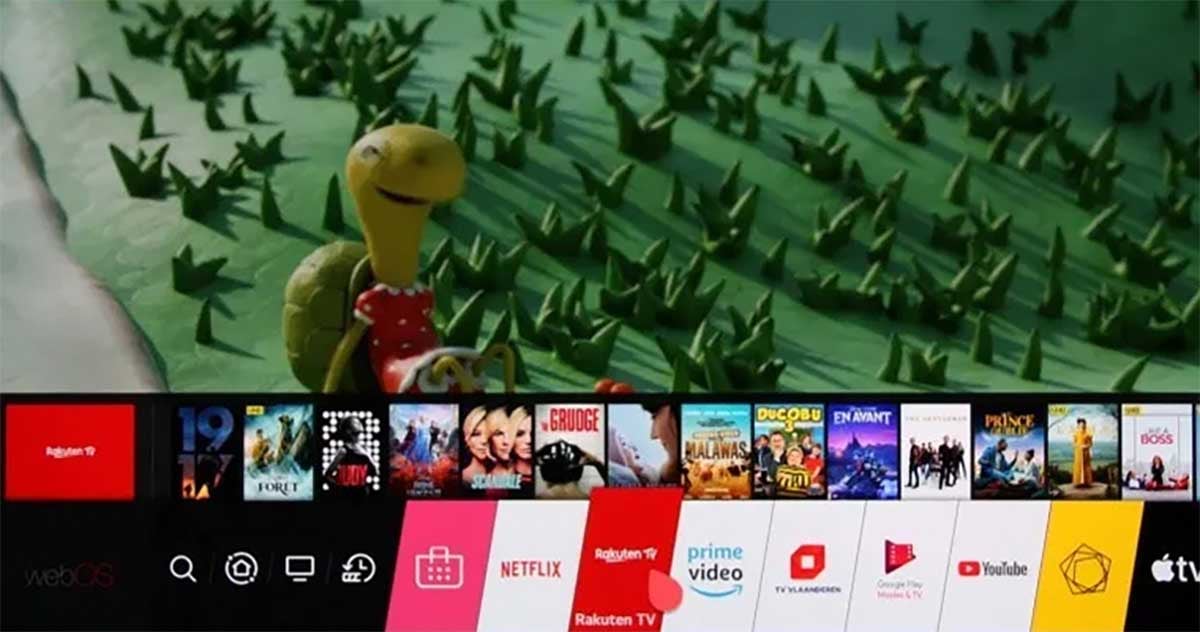 The LG CX comes with WebOS 5.0, an interface that runs smoothly and is easy to use. LG's app store offers a wide range of apps and streaming services, and you can also project content from your phone to your TV.
LG Magic Remote is easy and smooth to use, and also has a built-in voice assistant function.
Samsung S95B vs LG CX: Inputs​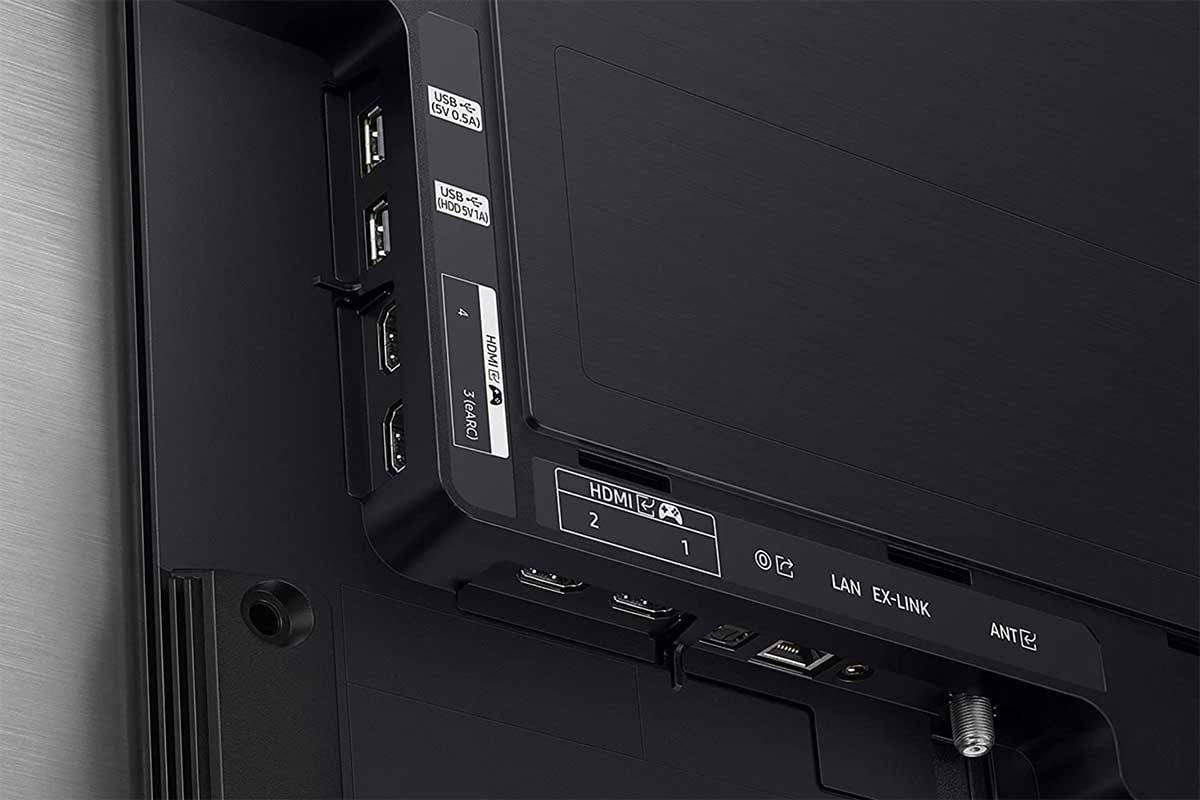 Both the LG CX and Samsung S95B offer four HDMI 2.1 ports, so you can connect multiple high-bandwidth devices simultaneously. Both TVs support 4K 120Hz and are capable of displaying crisp text. Also, they have very low input latency and support VRR, FreeSync, G-Sync, and ALLM gaming features.
Samsung S95B vs LG CX: Summary​
Overall, both TVs are excellent all-around performers. However, the Samsung S95B is better than the LG CX and has a newer model number. If you are interested, you can refer to
LG CX vs Sony A80K
to see another OLED TV in 2022.
The Samsung S95B delivers excellent contrast along with satisfying brightness. the wide viewing angle of the OLED TV is suitable for wide seating arrangements and does not degrade image quality by being off-center. It will also please you with its gaming performance and input connectivity.