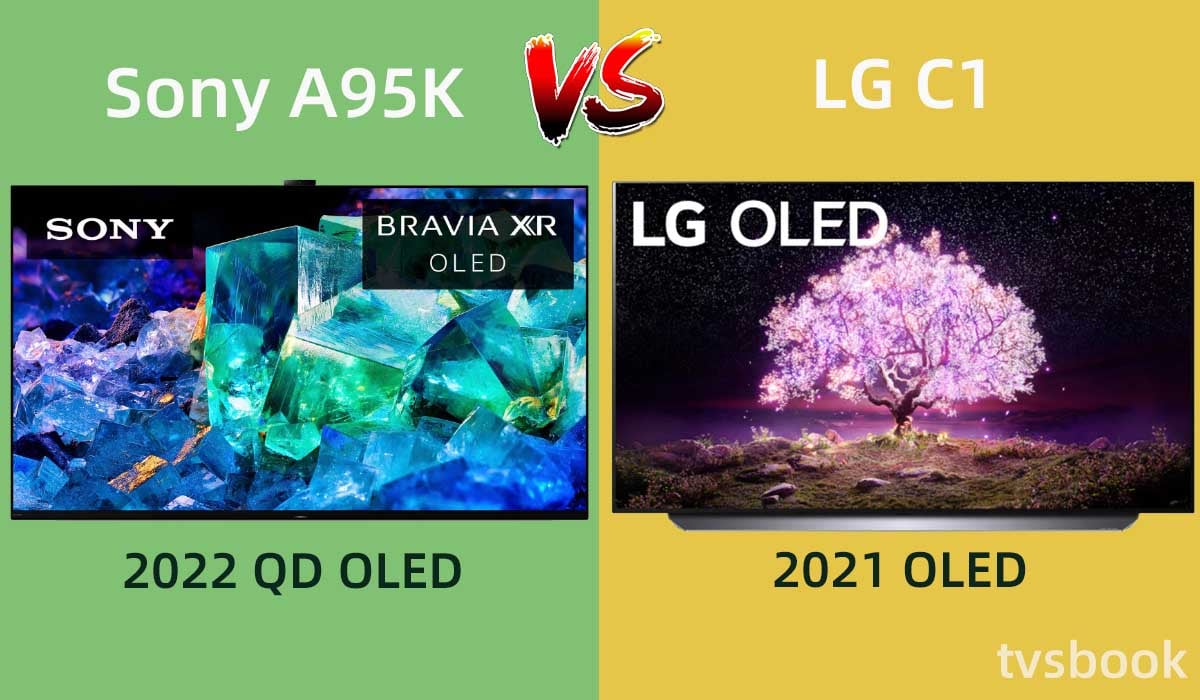 This article will compare Sony A95K and LG C1 TVs.
The Sony A95K and LG C1 are both surprisingly versatile smart TVs. As Sony's flagship 4K TV for 2022, the A95K offers incredible performance. It showcases the benefits of QD OLED technology, combining quantum dots and OLED panels to break through the current level of TV picture quality. The use of QD OLED has been greatly improved compared to the OLED panel in 2021, you can refer to the
Sony A95K vs A80J
comparison review.
And since its launch in 2021, the LG C1 has been one of the best premium TVs for the money and is a preferred choice for many users. It has impressed us with its picture quality, instant response time, and gaming capabilities.
Therefore, for those who want to buy a 4K OLED TV, this article will list the advantages and disadvantages of both TVs for you to choose from.
Sony A95K vs LG C1: Overall Comparison​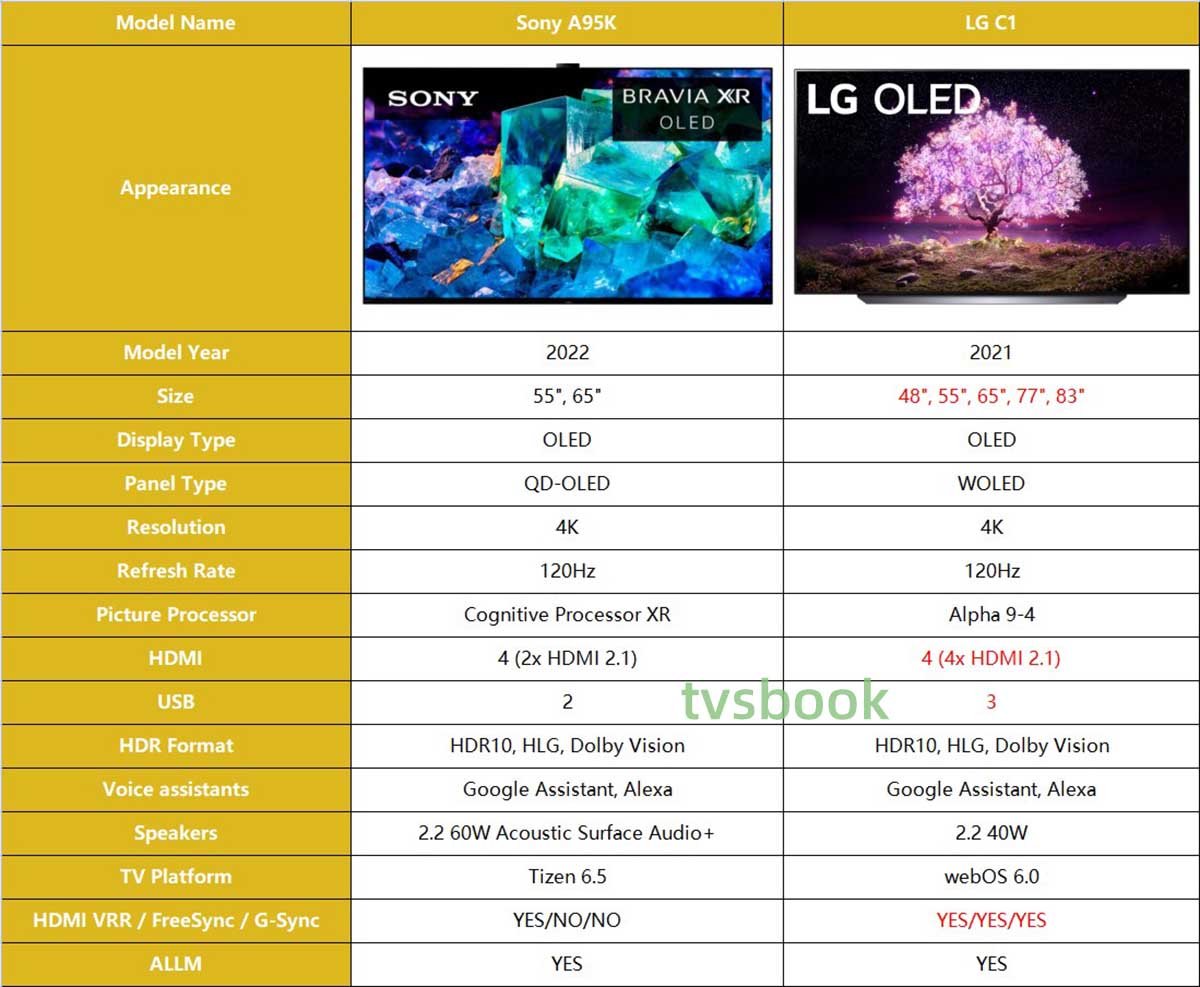 Sony A95K QD OLED TV Quick Review​
The A95K's near-perfect contrast ratio provides deep blacks that make it excel in the dark. At the same time, it has excellent brightness to resist glare in bright rooms. It also offers HDMI 2.1 bandwidth, VSR, and ALLM capabilities for gaming users.
PROS
Perfect contrast and black level
Anti-glare capability
High brightness and vibrant colors
Wide viewing angle
CONS
Incomplete game function
Slight color fringing in high-brightness environments
LG C1 OLED TV Quick Review​
The LG C1 OLED TV offers excellent contrast with self-emitting pixels that provide deep blacks in dark scenes without haloing. In addition to amazing picture quality, C1 has excellent response time and supports Free Sync, G-Sync, VRR, and other gaming features.
PROS
Excellent contrast and deep blacks
Wide viewing angle
Fast response time
Outstanding gaming performance
CONS
Not bright enough to combat particularly bright rooms
Sony A95K vs LG C1: Picture Quality​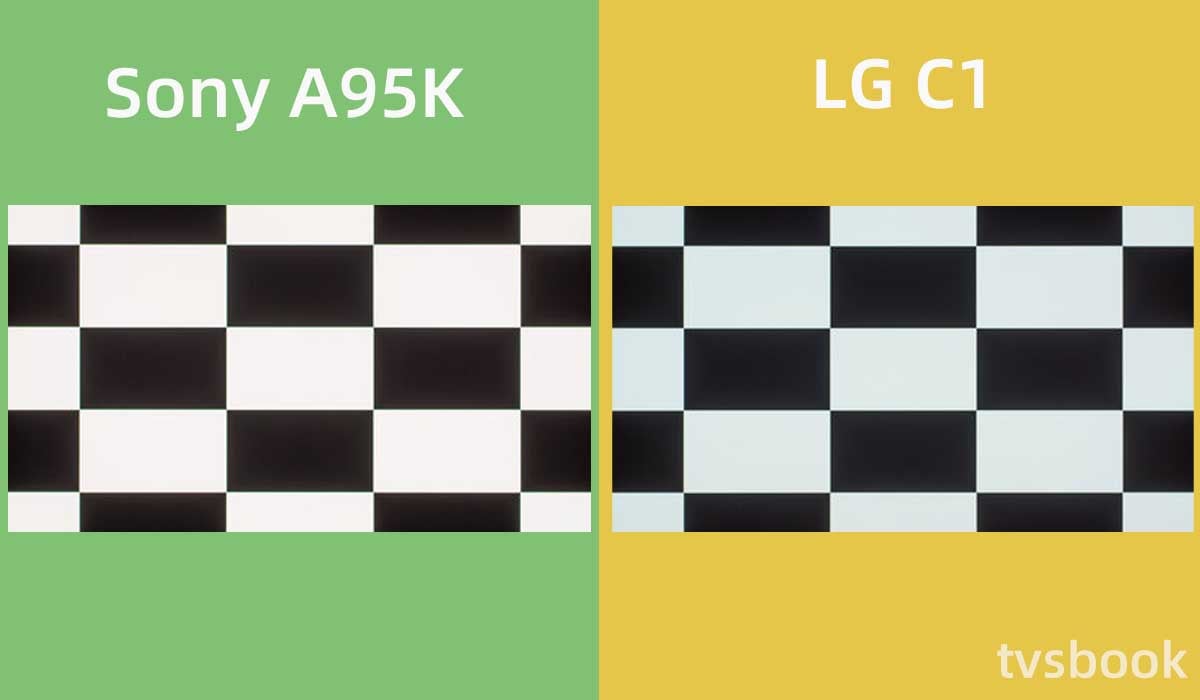 The QD OLED panel used in the Sony A95K delivers satisfying results, combining the advantages of quantum dot and OLED technologies. In addition to the perfect contrast from the self-emitting OLED panel we know so well, the Quantum Dot filter enables the A95K to achieve high peak brightness and rich colors. It can deliver higher brightness than regular OLED TVs and render vibrant and accurate image colors at the same time.
As with another QD OLED (Samsung S95B), the panel's unique sub-pixel structure causes colored edge lines to appear on the edges of the text. However, if you don't use it as a monitor or watch the TV too close, you won't notice this minor issue.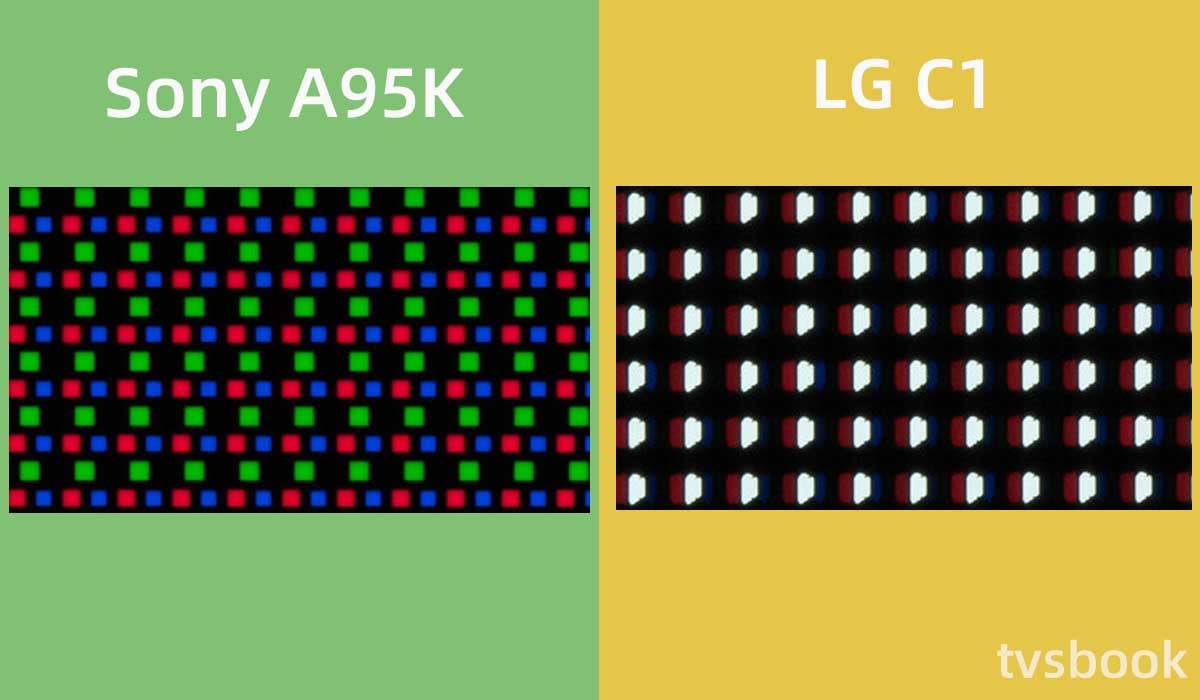 Naturally, LG C1 OLED also features the high contrast ratio that OLED TVs have, and it provides perfect black levels that render accurate details in dark scenes without halos.
The LG C1's peak brightness performance is good, but the automatic brightness limiter (ABL) makes the image darker in larger bright scenes. The C1's HDR brightness is not as good as the Sony A95K, which uses a QD OLED panel, but overall performance is OK. Its brightness struggles to combat glare in very bright rooms.
Sony A95K vs LG C1: Design​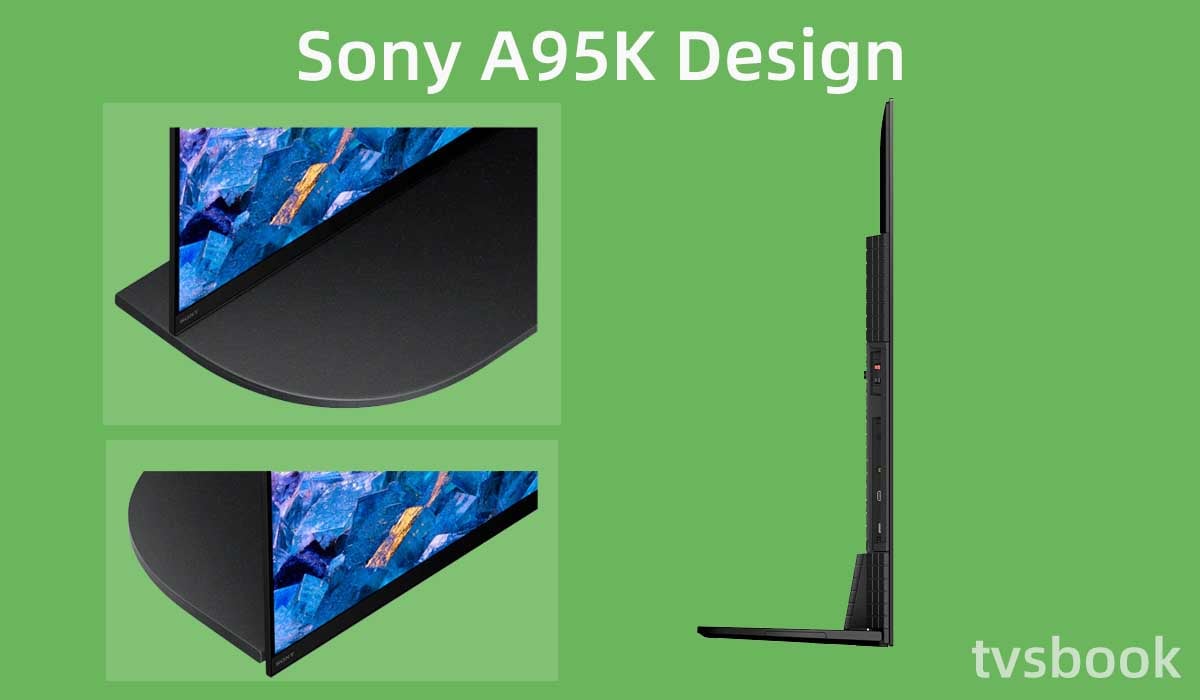 Sony A95K is a stylish-looking TV with a unique design that makes it look different from other TVs. It features a very thin black bezel to ensure you are not easily distracted while watching the TV.
The A95K's unique stand has a modern TV design feel, and you can choose from two different mounting options. With the stand to the rear, you get a full standing screen on the table from the front, which will tilt 3 degrees like the rear. Alternatively, you can flip the stand to the front so that the screen can be placed closer to the wall. Of course, because of the extremely low position of the TV, you will have difficulty setting up the soundbar in front of it.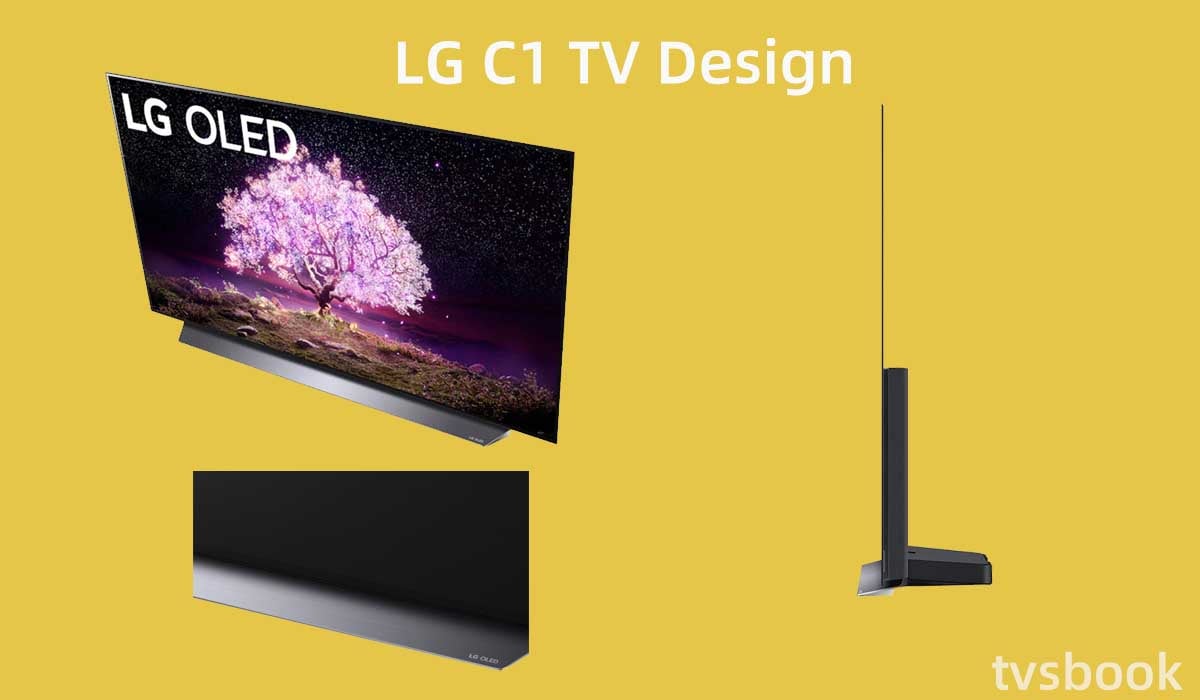 The LG C1 TV has a simple and stylish look with an ultra-thin panel and extremely thin bezel that blends well into your environment. The TV's silver stand looks stylish and can support the TV panel securely. The back of the stand has a slot for cable management. Because the stand is wide, you'll need to place it on a larger tabletop. Or you can use the 300 x 200 mm VESA bracket to mount the TV on a wall.
The Sony A95K has a grid-designed plastic back, and the TV's panel is thin enough that you can wall mount the TV using a 300x300 VESA bracket. Covers for cable management are provided on the back, but accessing the inputs may become difficult when you mount the TV to the wall.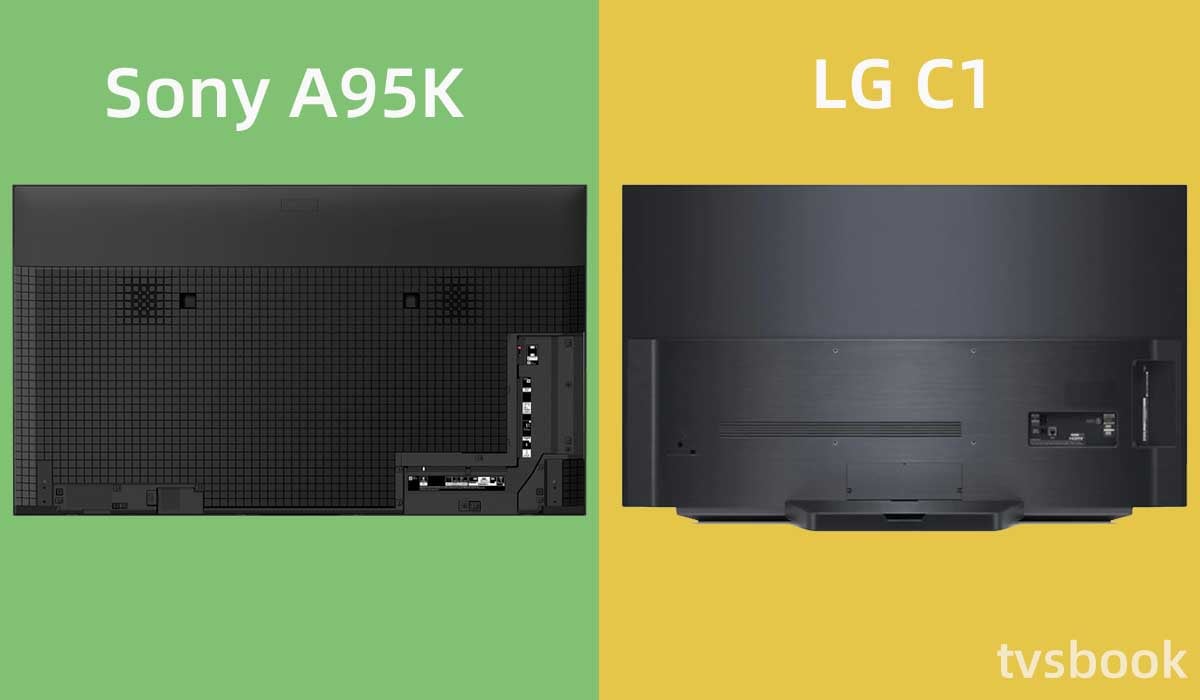 The A95K comes with Sony's Bravia Cam, which you can magnetically attach to the top of the screen for the camera functionality.
Sony A95K vs LG C1: System and Smart Features​
Sony A95K comes with Google TV, which is an upgrade from Android TV to provide a friendly and smooth user interface. It offers personalized content recommendations and you can also customize the homepage layout. Google Store offers a large number of apps and streaming services for download.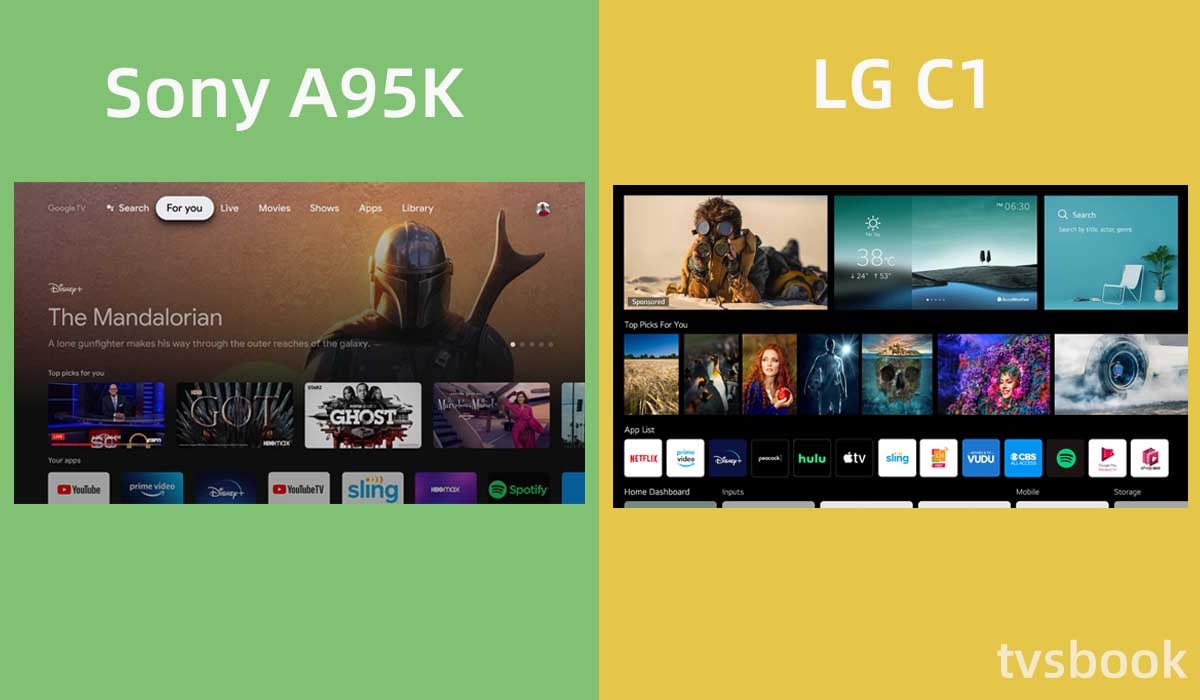 LG C1 uses the new webOS 6.0 with a redesigned user interface based on the previous version, which is simpler and smoother. The new interface offers multi-line recommendations for applications or content, making it easier for users to access. LG's App Store offers most of the apps you need. For gamers, LG's Game Optimizer facilitates easy access to various game settings.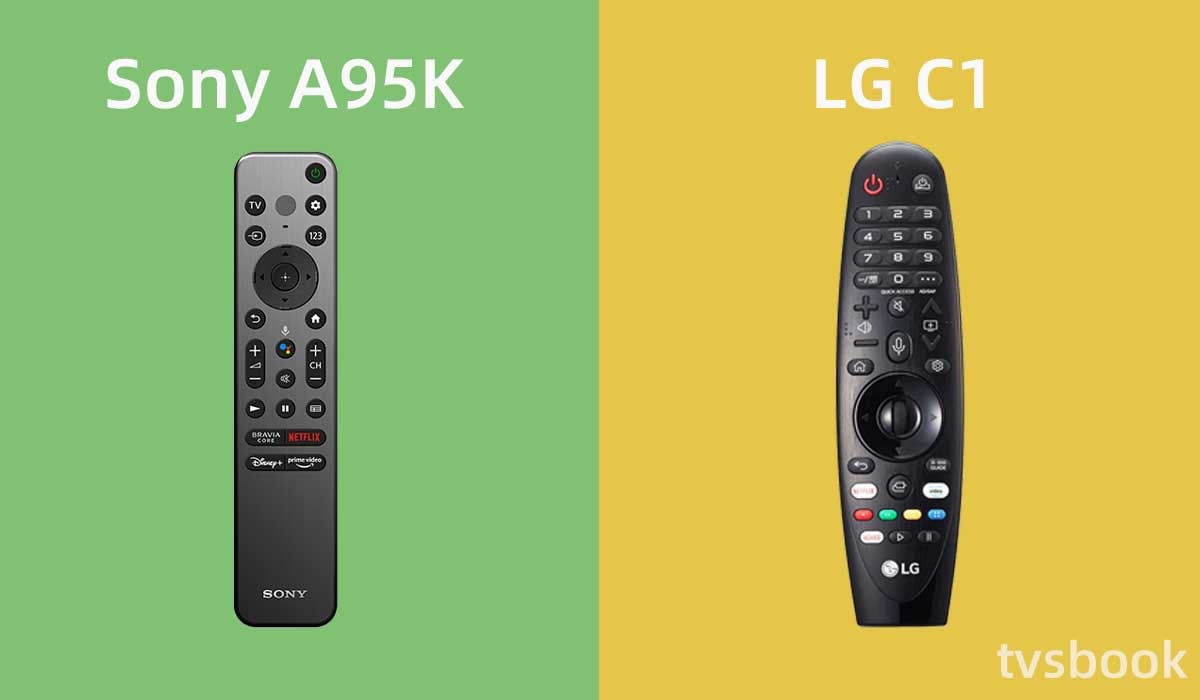 The Sony A95K comes with a silver remote control that is as premium as it gets, with a sensor on the back that illuminates the buttons in the dark. You can use the voice search function to find your favorite content, and the microphone on the remote can help you open apps or switch inputs, etc.
LG C1's Magic Remote has a unique design with a scroll wheel design and an on-screen display of a motion control cursor for easy navigation through menus. The remote control is equipped with a numeric keypad and is therefore large in size. The voice assistant can help you open applications, search for content, and more.
Sony A95K vs LG C1: Inputs​
The Sony A95K supports common resolutions including up to 4K 120Hz, and two of the four HDMI ports support HDMI 2.1 bandwidth. It supports variable refresh rate (VRR) and automatic low latency mode (ALLM), but Dolby Vision on the A95K only supports 4K 60Hz. If you don't need to connect multiple next-gen consoles at the same time, this TV's gaming performance, image quality, and motion processing are more than enough to provide a satisfying gaming experience.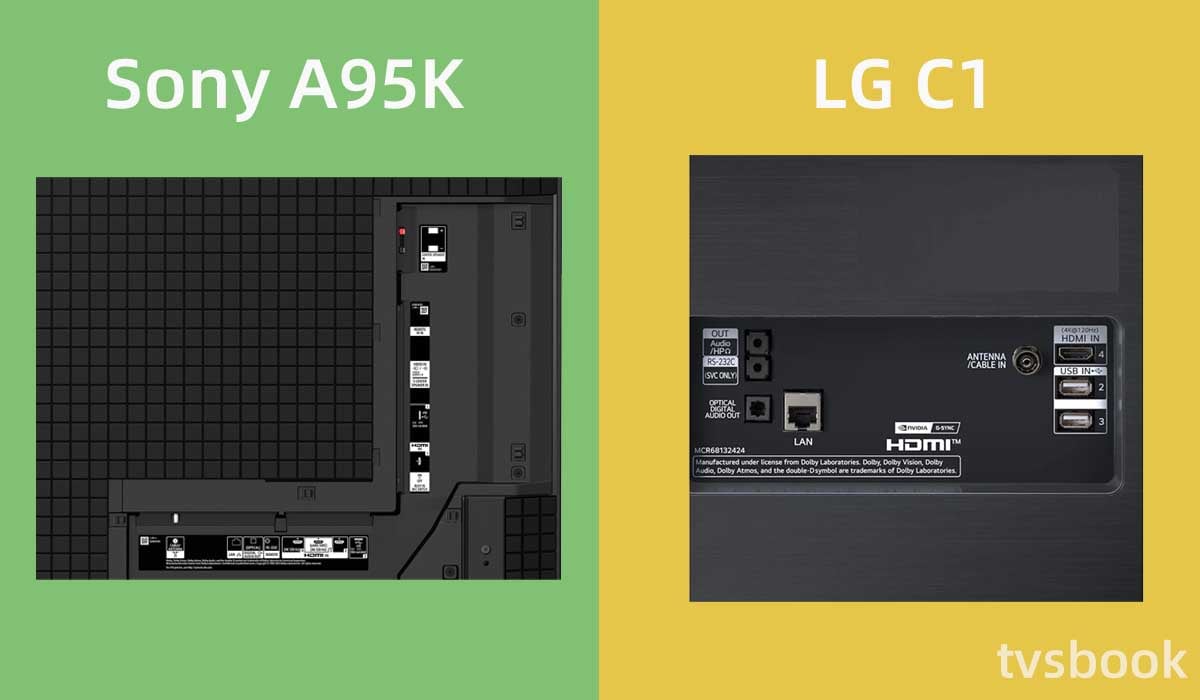 The LG C1's low latency time will excite gamers. It has four HDMI 2.1 ports and supports VNR, FreeSync, G-Sync, and ALLM gaming features for a great gaming experience.
Sony A95K vs LG C1: Summary​
Both Sony A95K and LG C1 are among the best OLED TVs. The Sony A95K has a higher price tag, but the picture quality and performance it presents are definitely worth it. QD OLED lives up to its reputation, delivering high contrast and brightness while presenting unparalleled color representation. It also offers good gaming capabilities.
That said, considering the price and the picture quality experience as observed by the naked eye, the LG C1 is probably more cost-effective. As an OLED TV, the LG C1 delivers excellent overall performance. Whether you're watching movies or playing games, it delivers satisfying results.