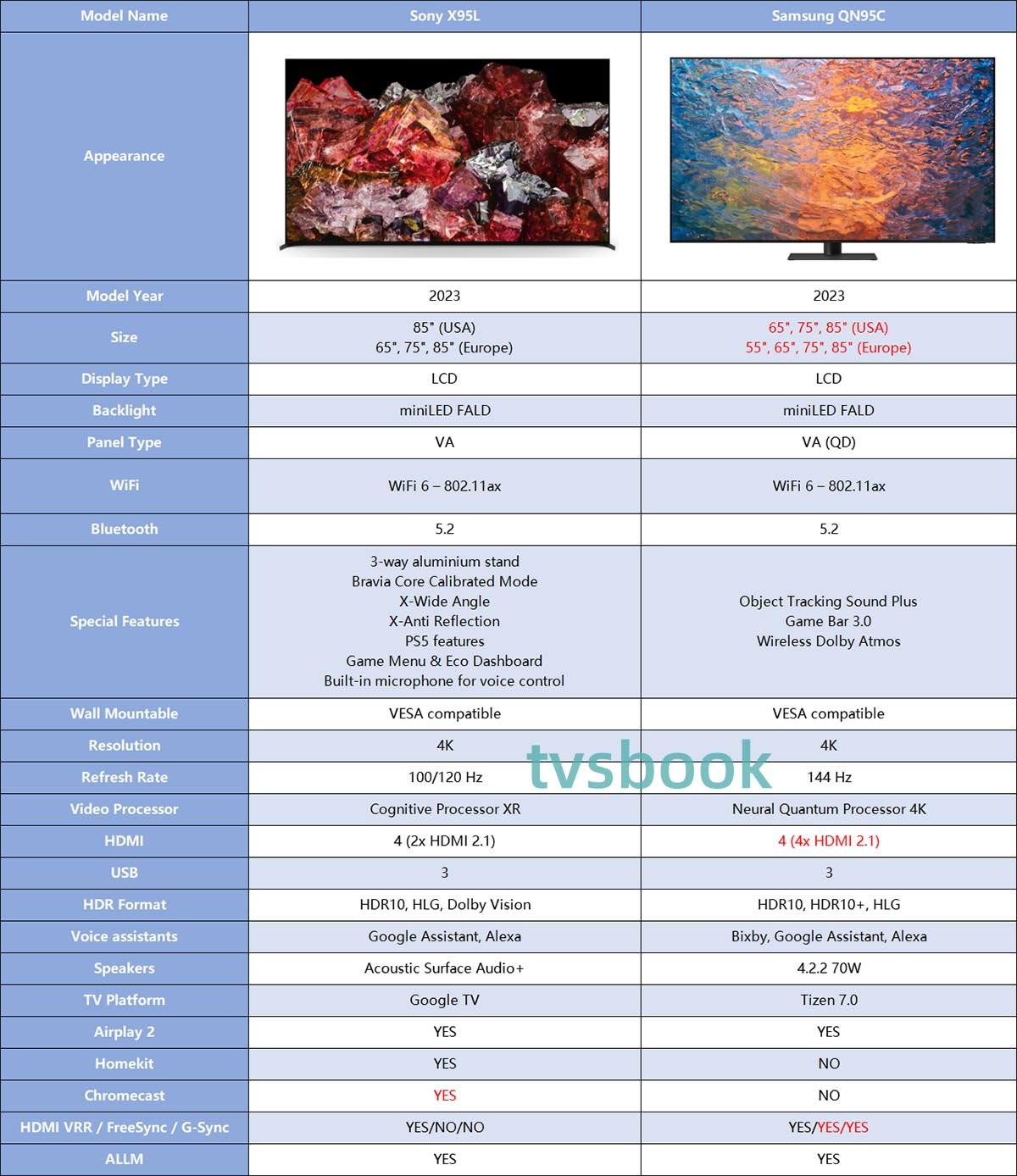 This article will compare Sony X95L vs Samsung QN95C TVs.
Sony X95L is Sony's mini LED TV series launched in 2023, compared to the previous LCD products to make more performance upgrades. (For more information see
Sony 2023 BRAVIA XR TV
)The Samsung QN95C Neo QLED is the company's top 4K QLED TV for 2023, and it also makes a lot of upgrades.
Sony X95L VS Samsung QN95C: Picture Quality​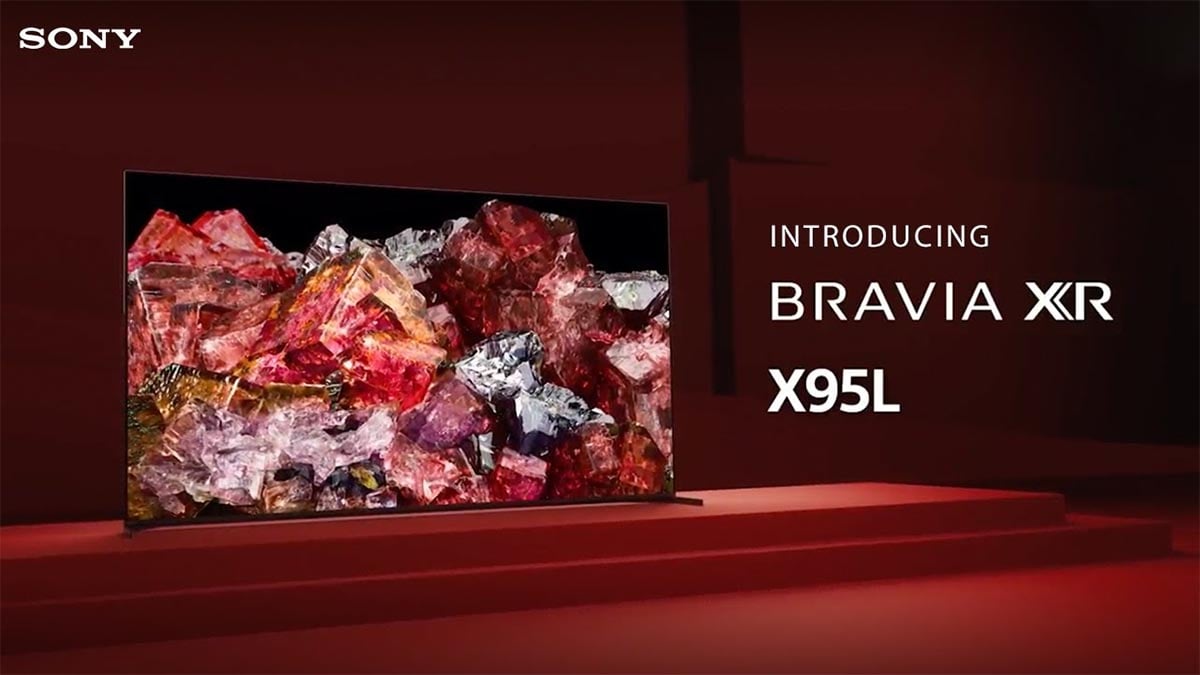 The Sony X95L is a major upgrade from last year's Sony X95K model, with an updated version of the processor and add brightness.
The Sony X95L is still supported by
Cognitive Processor XR
, but with an upgrade from the original. The new processor allows better control of the backlight to improve the brightness of the panel.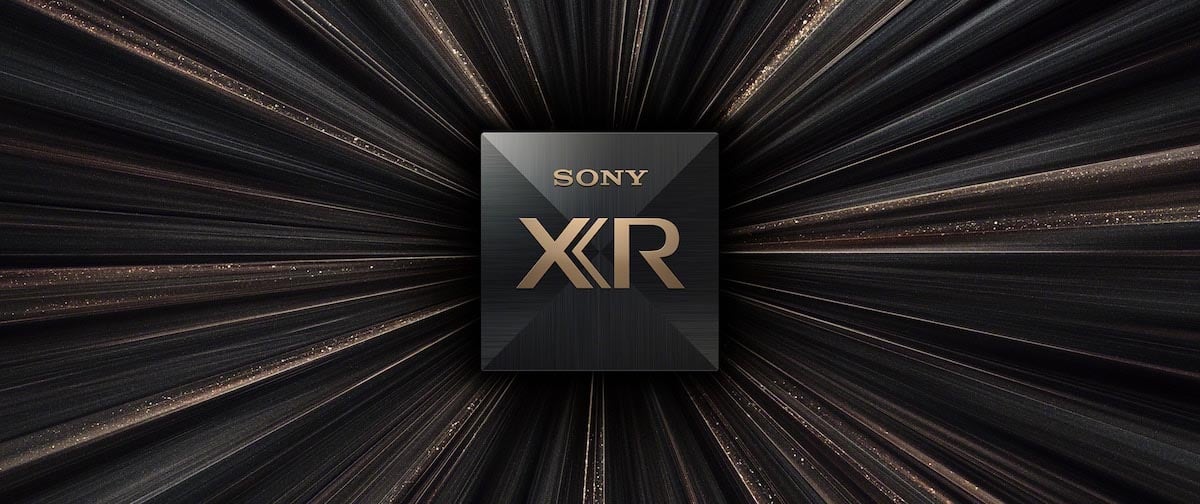 The new processor features a new
XR Backlight Master Drive
algorithm that can drive more dimming areas to improve contrast and reduce flooding.
The new
XR Clear Image
algorithm helps achieve better noise reduction, improves the resolution of the video, and brings sharper motion processing.
The Samsung QN95C is Samsung's Neo QLED 4K TV series, a technology that features a mini-LED backlight and an additional quantum dot layer on the panel. With 14-bit processing and better dimming, the QN95C will deliver higher brightness and precise control of grayscale for more accurate detail.

The Samsung QN95C is equipped with
Neural Quantum Processor 4K
, which combines AI to upgrade content to 4K resolution for better viewing. The Auto HDR Remastering feature can add HDR10+ high dynamic range dynamics to standard dynamic range images.
Sony X95L VS Samsung QN95C: Design​

The Sony Bravia X95L Mini LED TV is beautifully designed, with the sides of the screen wrapped by a titanium silver bezel, making it appear to be a bezel-less design from the front. The stand has a slimmer design and you can install the legs in the desired position.
The back of the TV features the same checkerboard design as the older model, and Sony offers a removable panel for hiding the port inputs.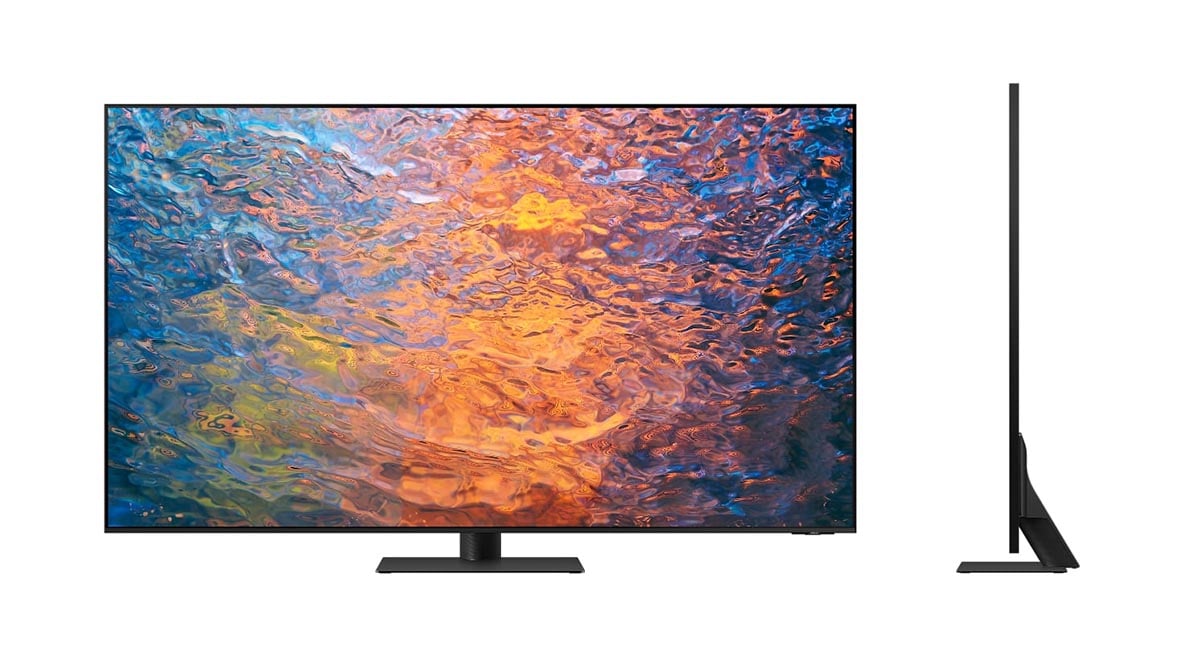 The Samsung QN95C has an attractive bezel-less design with a new slim power panel resulting in a thinner panel. the QN95C does not feature a One Connect box but instead has all inputs located on the back of the panel.
The QN95C comes with Samsung's solar cell remote control, which extends the battery life of the remote by collecting ambient light.
Sony X95L VS Samsung QN95C: System​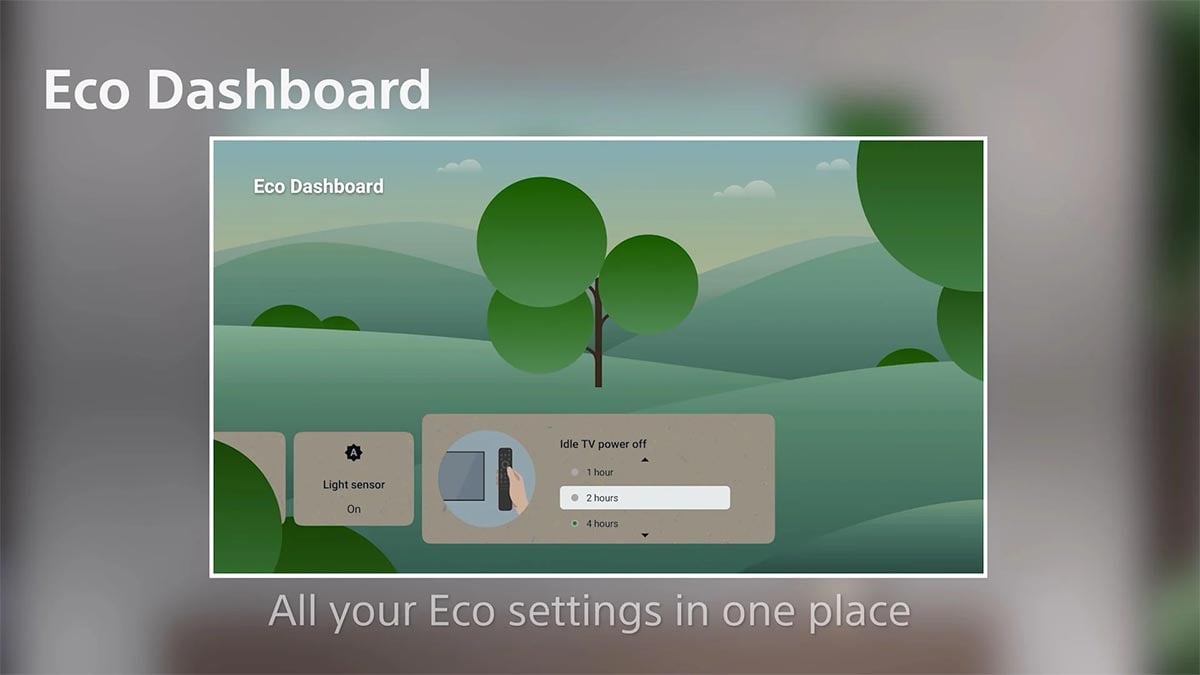 Sony Bravia X95L continues to use the Google TV Smart platform, and you can sign in to your Google account to get personalized recommendations. The new version adds some new features, such as Game Menu to easily adjust specific game options. There is also a new menu called Eco Dashboard that allows users to turn on or off energy-saving mode through a dashboard where all energy-saving settings can be accessed more quickly and easily.
You can download a wide range of apps and streaming services from the Google Play store. x95L supports Airplay 2 and Chromecast, so you can cast content from your mobile device to watch on your TV.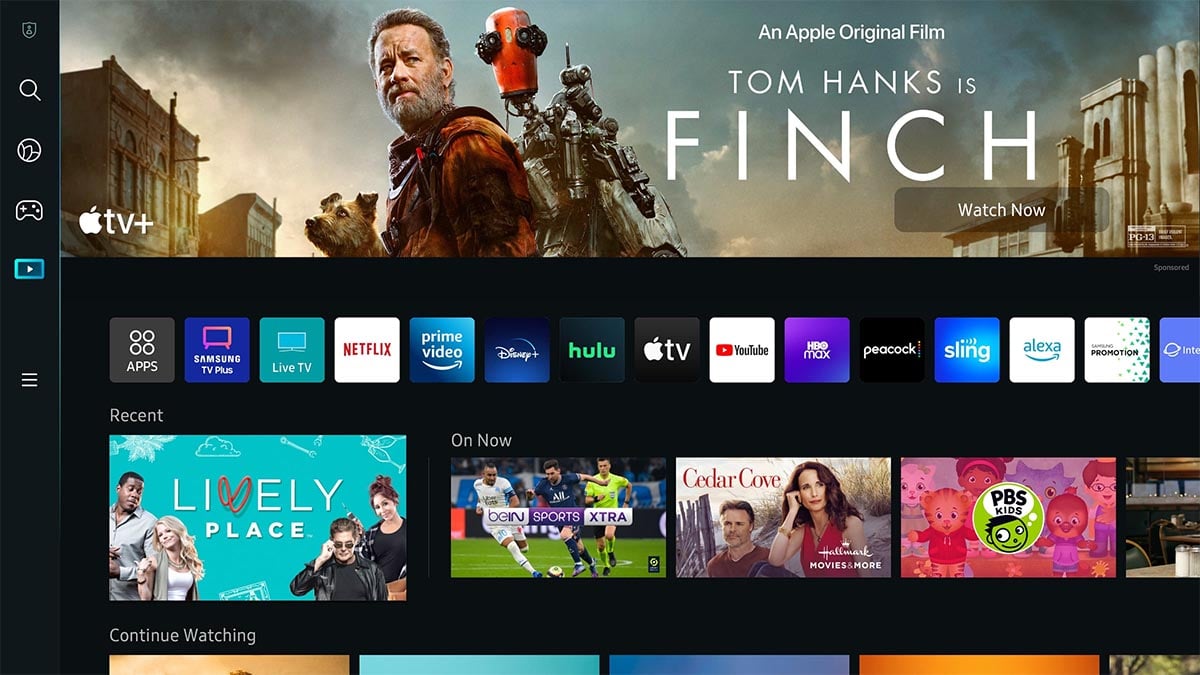 Samsung QN95C is powered by Tizen smart system and the new Smart Hub interface is not much changed compared to the previous one. You can download a large number of apps from Samsung's app store, but you need to register a Samsung account first.
The TV has a Game Hub, which centralizes cloud gaming options from Xbox, Nvidia GeForce NOW, Amazon Luna, Utomik, and more.
Sony X95L VS Samsung QN95C: Game Features​
Sony X95L has four HDMI ports, two of which are HDMI 2.1, and they support 4K 120Hz gaming and VRR, so you can get a good gaming experience. In addition, it supports auto HDR tone mapping for PS5, making it the perfect partner for PS5. Sony's new Game Center menu allows you to adjust the screen size, raise the black tones, etc. to upgrade your gaming experience.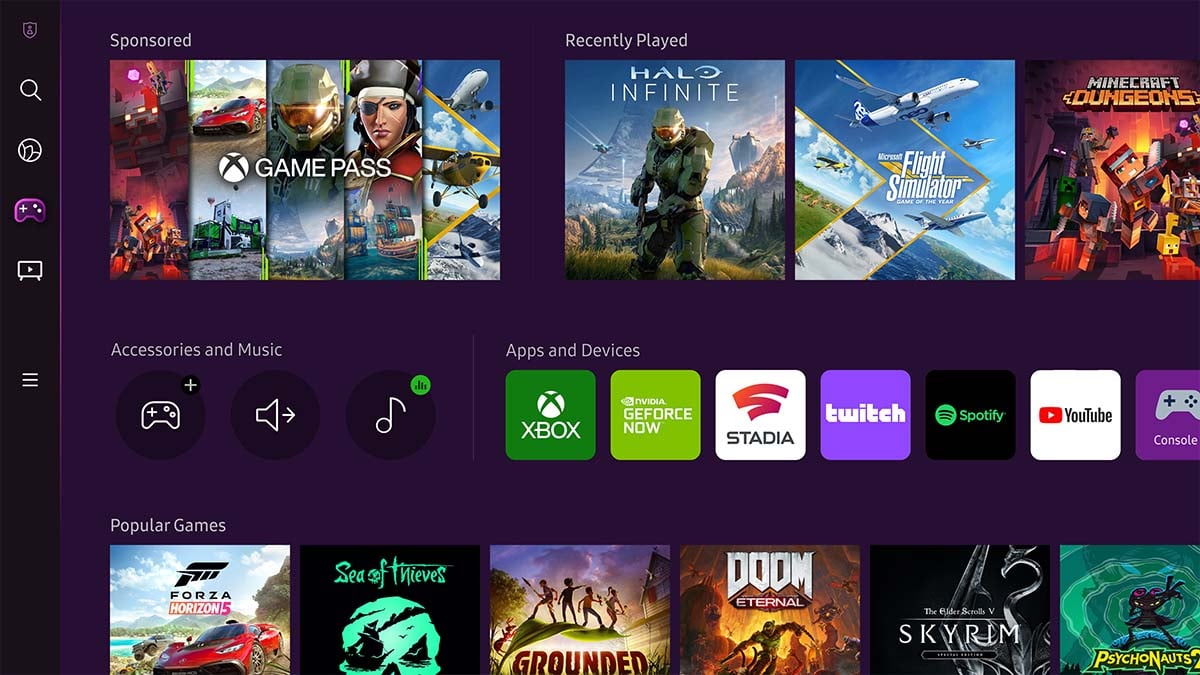 The Samsung QN95C features a 144Hz maximum refresh rate, higher than the 120Hz of regular TVs. the TV supports HDMI 2.1 on all four HDMI ports, so it can meet the needs of users with multiple high-bandwidth devices. It has AMD FreeSync and Variable Refresh Rate (VSR) and is very responsive.