Dan McCulloch, general manager of Microsoft Xbox Live, announced in a personal tweet that he would leave Microsoft from now on, and said he was "highly looking forward to the upcoming new business", saying that "a new destination will be announced soon."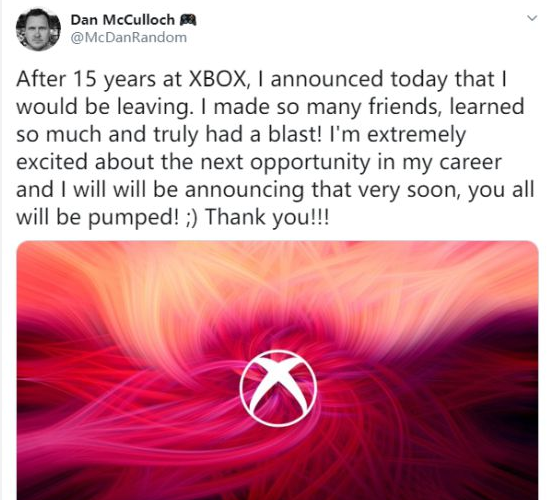 Dan McCulloch is a senior veteran employee who has worked at Microsoft for 15 years. According to Dan McCulloch user information on LinkedIn, he first joined Microsoft as a project manager in 2005 and joined the Xbox team in 2007, mainly responsible for Kinect related Core business. After 2009, Dan McCulloch was promoted to senior project manager, responsible for all first-party games related to Kinect, managing the hardware, platform, XBOX LIVE, Microsoft Game Studio, public relations, marketing, and third-party team connections of the Kinect program.
In 2011, he was promoted to group business manager; 16 years later, he was promoted to the head of Microsoft's Xbox mixed reality department. After briefly holding this position, he was transferred to 2017 as the general manager of the Xbox partner and has been serving since.
In addition to the Xbox department, Dan McCulloch also participated in the business of Microsoft HoloLens Studio HoloLens in 14-17, responsible for the first-party HoloLens experience. Why did he leave Microsofy? What do do you think of it?