How is the Emotn N1 projector review?​
Today, we're going to check out a home projector, the Emotn N1. This is a Netflix-licensed portable home projector with 1080p resolution, priced at $399 on Amazon. Now, let's go ahead and dive in and see what this is all about.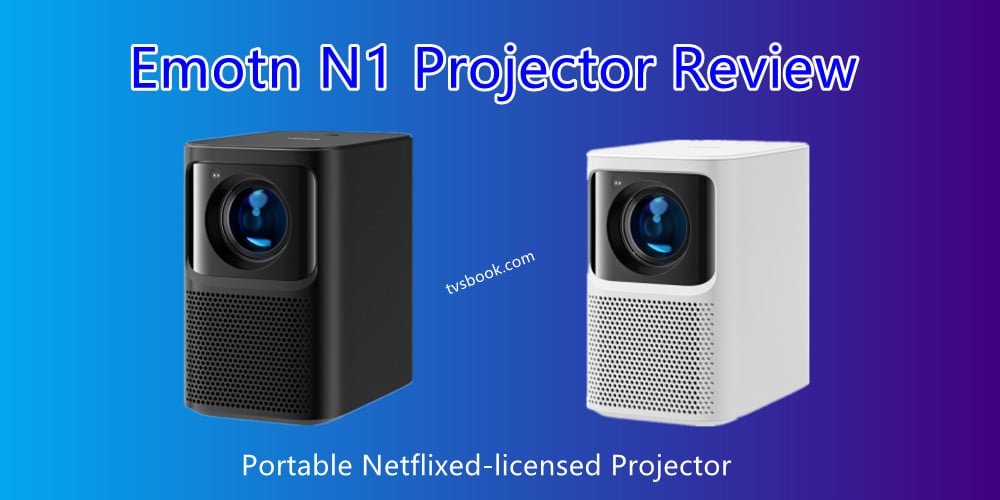 Emotn N1 Projector Specs​
First of all, let's go over the specs of the Emotn N1. You can see it comes in both white and black color versions. It is Netflix officially licensed as well, and then you also have 500 lumens HDR 10 plus, and it is 1080p. There are two dual Adobe audio speakers, both with 5 watts. They also have Keystone auto, Keystone correction, and autofocus, so it just makes you set up really really nice, and this goes all the way up to 120 inches as well. All the ports are here, including usb2.0 port, HDMI port, DC-IN port, and LAN port for the internet.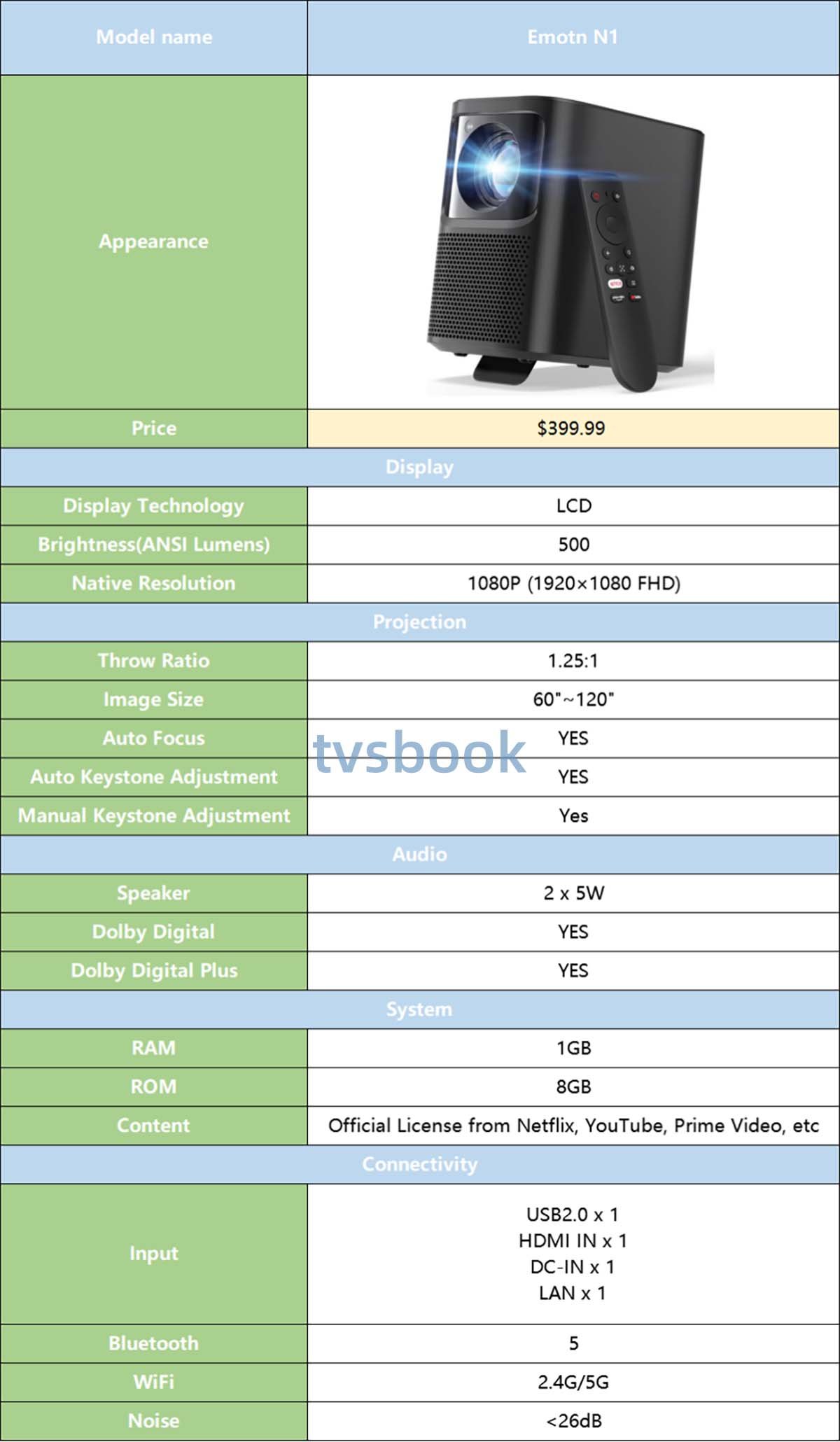 Emotn N1 Projector Unboxing​
In the Box you actually get the controller, which didn't come with any battery, so you're gonna have to put your own batteries.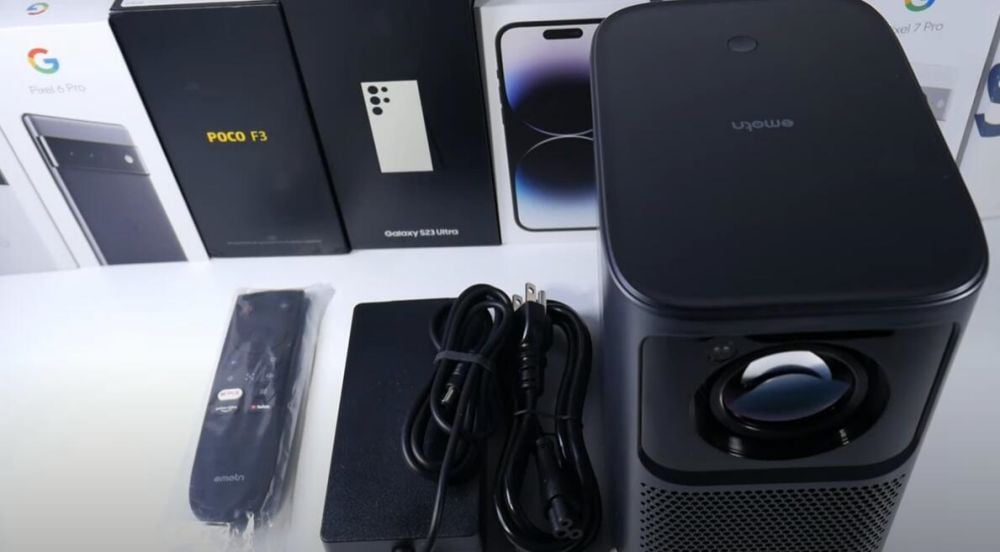 Their pretty nice controller is very standard when it comes to you. There are buttons, cables, power brick, and the Emotn N1 projector itself. It is very nice that was my first impression.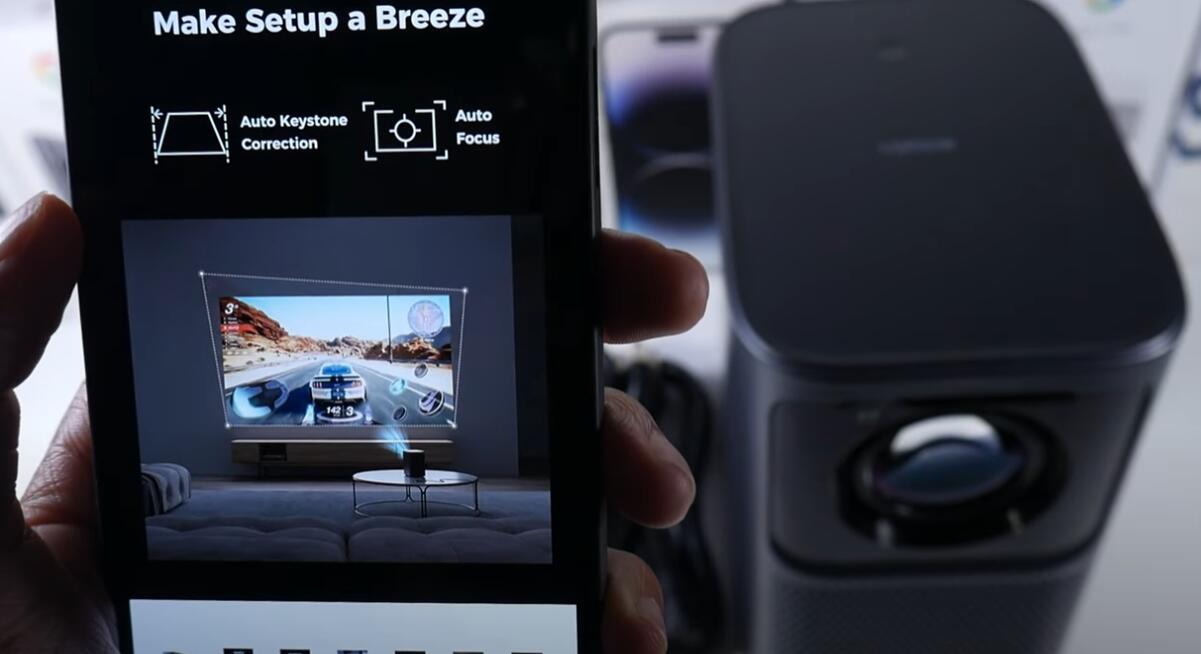 It's a lovely and pretty projector for sure. When we turn it to the back, we actually do have our ports our DC port and then we have a USB, HDMI, internet, and then a lane out port. You also have down here you know if you want to screw it in as well.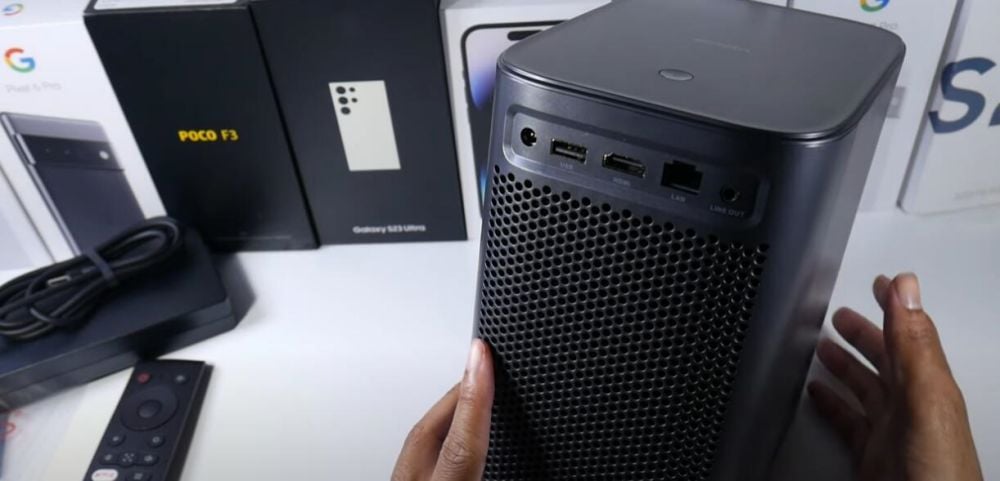 Emotn N1 Projector Set-Up​
As you all know, we do have the projector set up. And the first thing that I noticed is that the auto-focusing on this thing is just perfect when you set it up. It just gets the picture extremely clear and you don't have to do any of you know with the Keystone. Manually adjusted it to get it to look right literally just put it on my tripod, and put it against the wall, and it just focused and tilted itself correctly, so that was very impressive. That was really cool and it just makes a whole setup super fast.
Not only that, but the overall OS of this projector is pretty smooth they have a built-in App Store on here as well, which I thought was pretty cool. If you want to download the application straight to this, the whole setup process was very cool and it was extremely easy. So unlike some projectors where its sort of you know takes a little bit, this was just superfluid, so it's not glitchy or anything like that.
Screencast Feature​
Overall, the setup process is like this typically I like to do screencasts on my phones. We're going to go ahead and do the screencast with the S23 ultra, so the screencast is pretty easily so for the S23 ultra. we're just going to go ahead and turn on Samsung desktop support and everything just works extremely fluidly with this. And you're going to go ahead and turn that on setting it up and boom. It's just a super quick and smooth experience. We're now running Samsung desktop support on the projector, the image quality here is pretty good. The picture is very clear. As I said, it does run in 1080P and the overall experience has been pretty clean. These speakers sound pretty good, they are very good depth good bass quality, and much better cameras of course.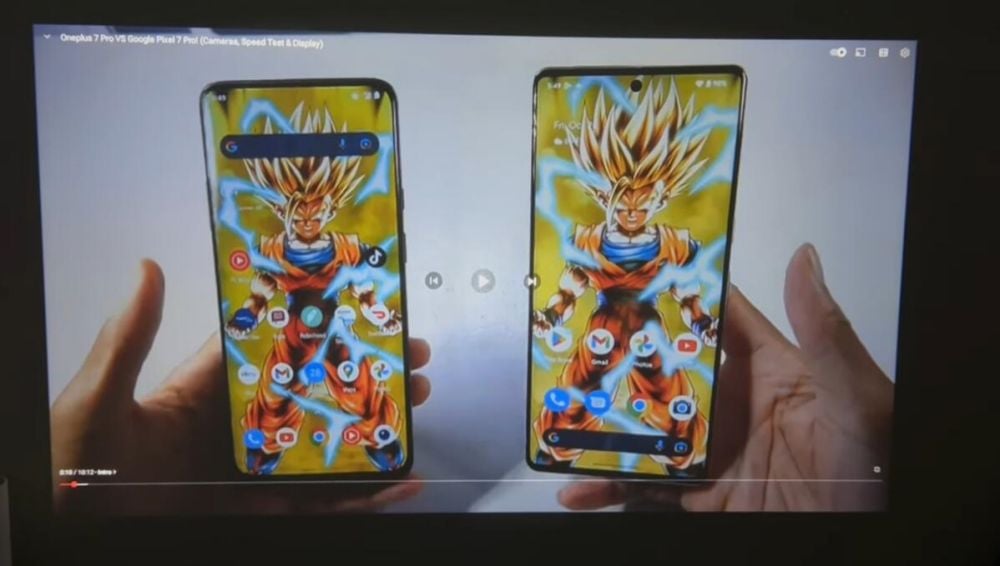 Smoothy Operation​
This Emotn N1 projector is very smooth, and everything is just super accurate I'm absolutely loving the picture quality. It does not have to adjust the mess with the Keystone, it's just super smooth. Just watch videos on the projector and the speakers are really nice and I'll actually want to go ahead and just show you guys the experience. I turn the volume up and down to hear the effect, and it really hit.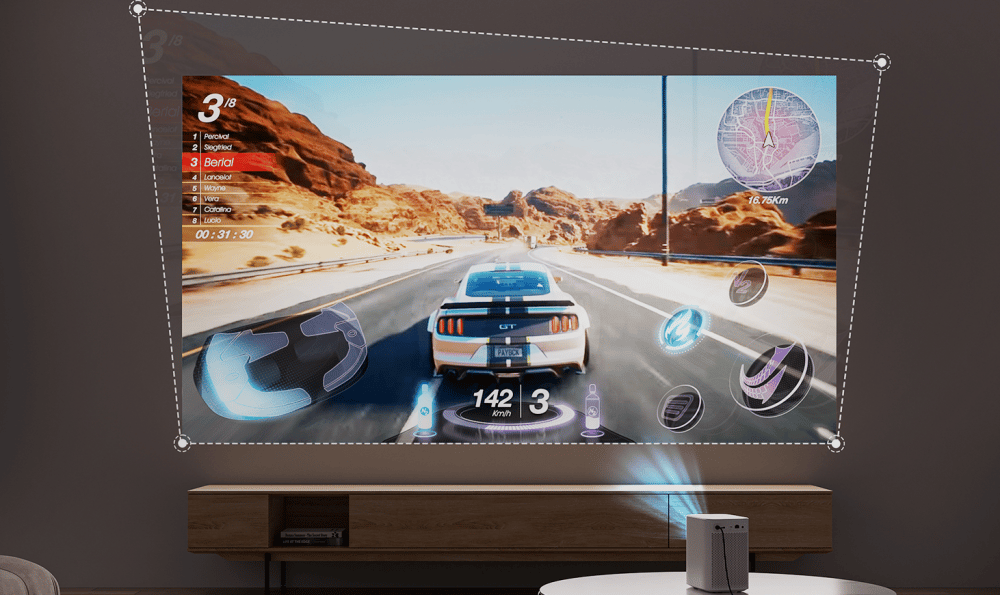 Officially Licensed Netflix Projector​
Emotn N1 projector is an officially licensed Netflix projector, so it plays Netflix extremely smoothly. The whole experience was just very fluid, and very smooth to watch videos, and the sound quality is great with these speakers. Overall, this just gives it a great advantage over a lot of speakers which you have to Port Netflix onto and you're not able to actually keep the application, because Netflix will block it and stuff like that if it's not officially licensed. So with this speaker, you do have the advantage of having that built-in straight from the application.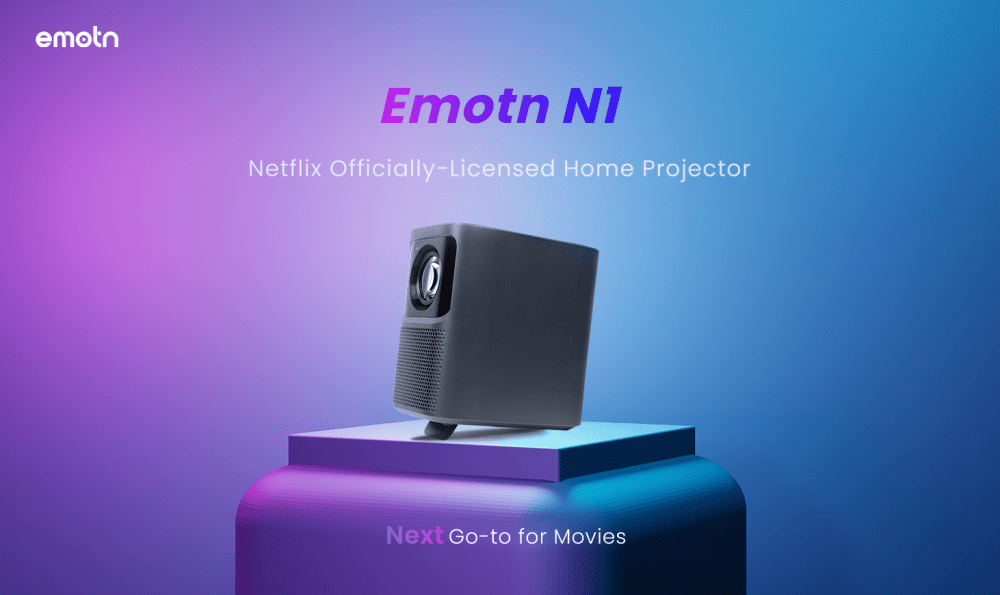 Noise​
There's also one thing that I wanted to mention is that Emotn N1 is way quieter than most projectors. Other cheaper ones, typically they kind of sound like you're running a little vacuum, but this one was way quieter, especially considering its size. So I was actually pretty impressed with that. Overall, it's just really nice, so like I said you're definitely getting what you pay for.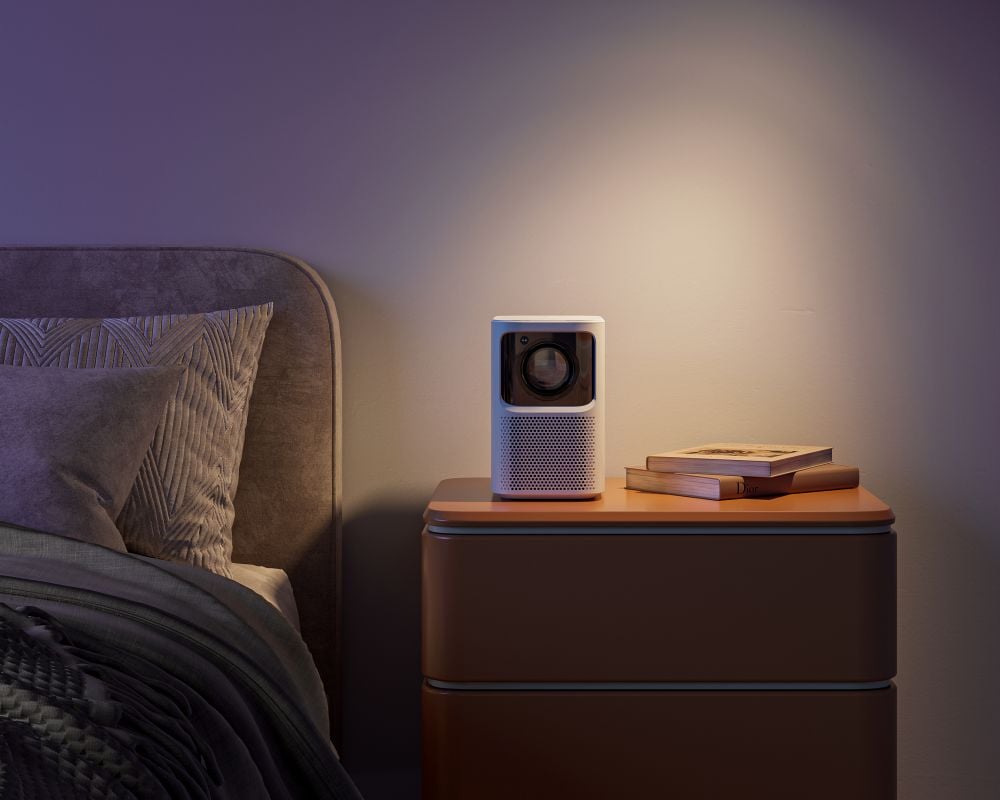 Emotn N1 Projector Review Summary​
Emotn N1 is a high-quality projector with great software, good colors, and a clear image. It has automatic adjusting and automatic Keystone functions and works really nicely. I guess the only thing that I really wanted on this projector was probably some buttons on the projector itself. But other than that, the software everything usually connects to Wi-Fi easy to connect to my devices. I had a really nice experience with this thing. Make your comments here and let me know what you think about this portable projector.