Dangbei recently launched a brand new 4K laser projector, the
Dangbei Mars Pro
, priced at $1799. Also positioned as a projector for building home cinema, the
Epson Home Cinema 4010 projector
is more expensive than Dangbei Mars Pro, priced at $1999.99. So who is the better home theater projector anyway? Let's see when Epson 4010 Projector vs Dangbei Mars Pro, which is more worth buying.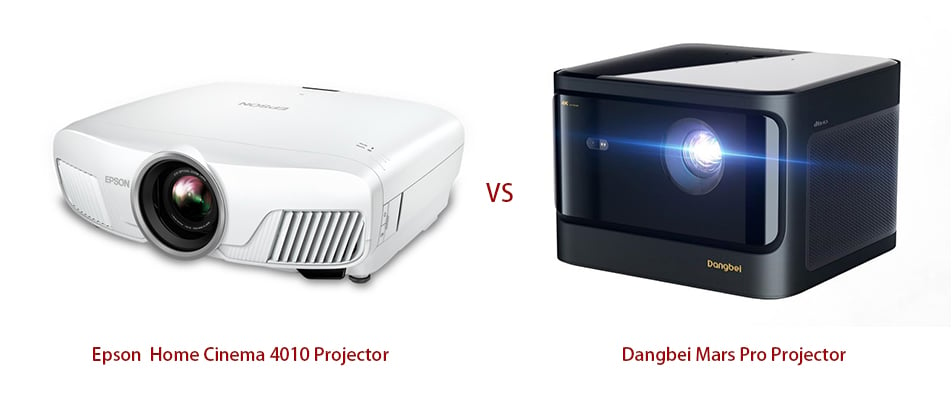 Model name
Epson Home Cinema 4010
Dangbei Mars Pro Projector
Price
1999.91

$1,799

Display Technology
3LCD
DLP
Dispaly chip
/
0.47" UHD DMD
CPU
/
MT9652(MT9669)
Light Source
/

Laser(ALPD)

Brightness
2400ANSI Lumens

3200ANSI Lumens

Native Resolution
4K (NOT Native)

3840 x 2160 (4K)

Throw Ratio
1.35:1 - 2.84:1
1.27:1
Speaker
NO

2*10W

Focus
Manual

Auto

Keystone Correction
Vertical: ±30 degrees (Manual)

Auto

Light Source Life
/
>20000H
RAM
/

4GB

ROM
/

128GB

System
/
Android TV 9.0
Bluetooth
NO

Bluetooth 5.0

WIFI
NO

2.4G/5G

HDR
NO

YES

Motion Compensation
/
YES
3D
YES
YES
4K
YES
YES
Noise
31 dB / 20 dB (Eco)
<24dB
Auto obstacle avoidance
NO

YES

Interface
HDMI*2
USB *3
LAN *1
Computer/D-sub 15 pin*1
RS-232c*1
Trigger out 12 V DC*1
HDMI IN*2
USB 2.0*2
3.5mm Earphone*1
SPDIF out*1
RJ45*1
DC-In*1
1. Epson 4010 Projector vs Dangbei Mars Pro: Appearance

​

Epson 4010 projector follows the consistent style of Epson projectors, with a white flat brick design as a whole. Right in front of the projector is the projector light machine, around the light machine are the cooling holes, and behind the projector are various interfaces.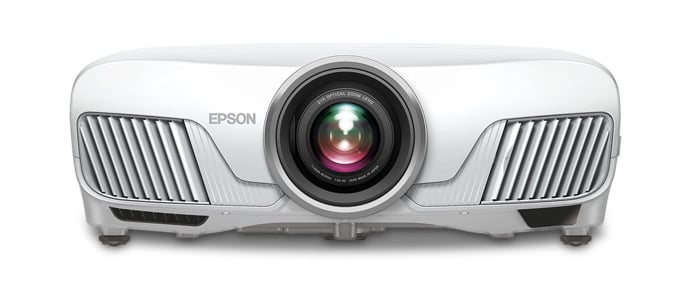 Dangbei Mars Pro is different from traditional projectors in appearance. The body is a black cube design full of technology as a whole. Dangbei and 4K are recognizably marked on the front to show the highlight of the projector, and the top is a transparent glass, clear and bright. Like the Epson 4010, the connectivity ports are behind the projector.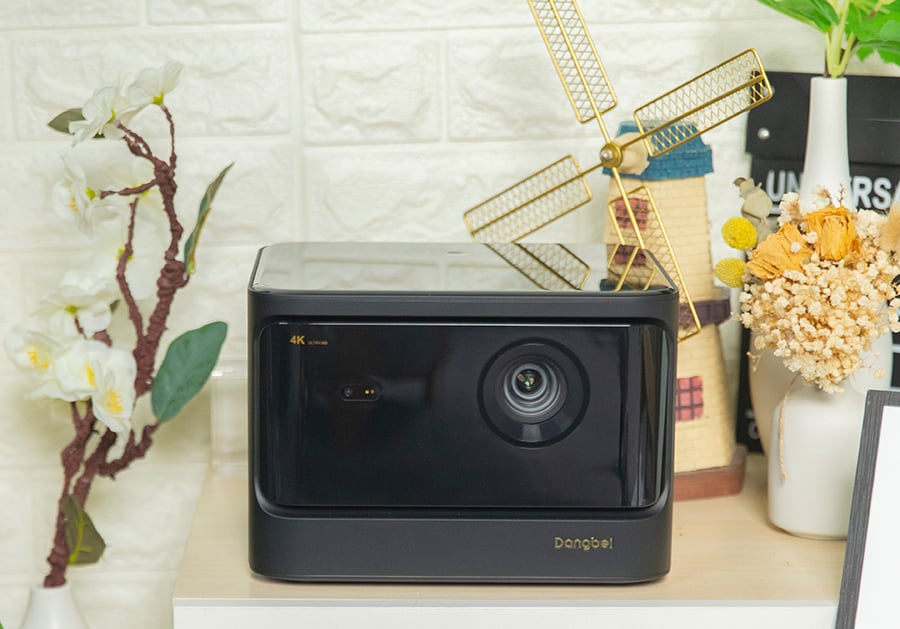 In general, as a new product, the Dangbei Mars Pro projector seems to be more in line with the aesthetics of modern young people. After all, no one can say no to tech-savvy home decor.
2. Epson 4010 Projector vs Dangbei Mars Pro: Image

​

For users who want to enjoy a cinema movie viewing experience at home, the projector's picture quality is the most important factor in making a choice. The Epson 4010 is marked with 4K resolution, but if you look closely at the stats, it's actually not native 4K. The official website states that it has 4K Enhancement (1920 x 1080 x 2), or Max Resolution of 4096 x 2160. In other words, Epson supports up to 4K, but not native 4K resolution.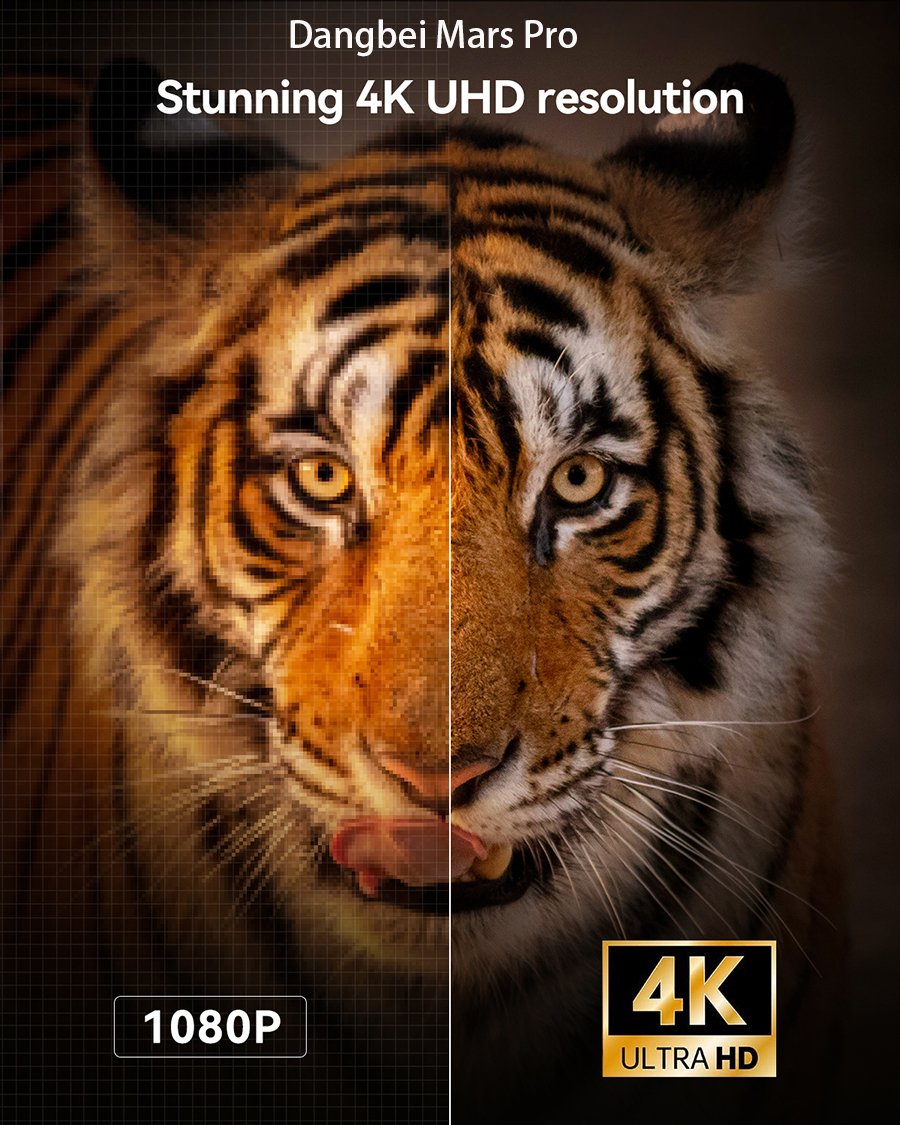 4K with 2400ANSI lumens, the picture quality of Epson 4010 is not bad, but compared with the true 4K+3200ANSI lumens of Dangbei Mars Pro, the brightness and clarity of the Epson 4010 projector are inferior. Not only that, Dangbei Mars Pro has an ALPD laser light source, which is the most popular and advanced light source in the projector market, making much brighter images for users.
3. Epson 4010 Projector vs Dangbei Mars Pro: Audio

​

The sound effect is another factor that is most worth considering when looking for a home cinema projector. The Epson 4010, advertised as a home theater projector, doesn't have built-in speakers and Bluetooth connectivity, which shocked many users. Therefore, Epson 4010 needs to be connected to external speakers with an HDMI cable. If you have good speakers, paired with an Epson 4010 projector, it's a good choice, although it's a hassle.

Compared with Epson 4010, Dangbei Mars Pro has two built-in 10W speakers, and plus Dolby sound, you can enjoy the cinema-level sound without any external speaker equipment. Not only that, Dangbei Mars Pro supports Bluetooth 5.0 connection, it is very stable and fast when connecting multimedia devices.
4. Epson 4010 Projector vs Dangbei Mars Pro: Intelligent Function

​

As a home theater projector, the smart and personalized design is even more surprising. Although the old-fashioned Epson 4010 projector claims to create a home theater, its function is too single. For example, the Epson 4010 does not support Bluetooth and WIfi connectivity, nor does it have HDR and motion compensation. It only has manual focus and Keystone Correction. These functions are very backward in the age of intelligence.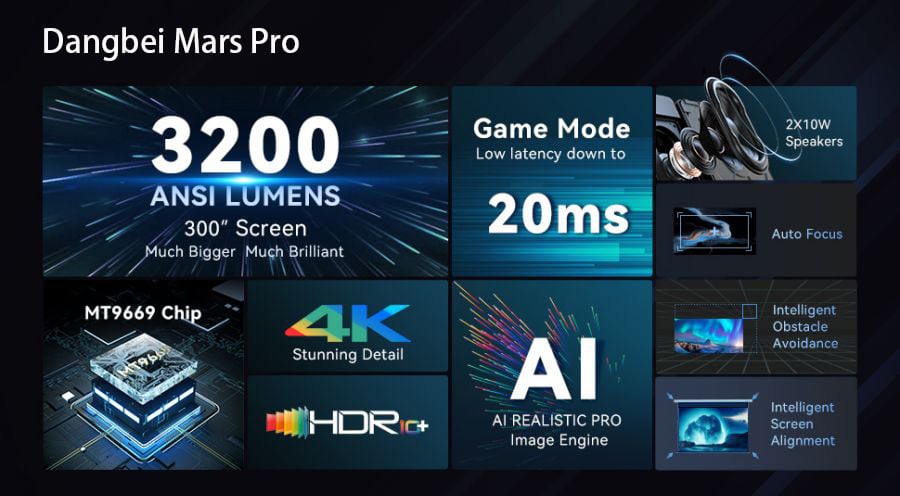 On the contrary, Dangbei Mars Pro not only supports wired and wireless connections at the same time, autofocus and automatic correction, but also automatically recognizes obstacles when correcting the screen. Moreover, it can also automatically sense that If someone walks past the lens while the projector is working, the light will automatically turn off to avoid projecting to people.
5. Summary

​

Overall, a home theater projector can bring infinite joy to the family and provide more options for family reunion and entertainment. It is even more important to choose a stylish and practical projector that is smart and convenient.

Through the above comparison, we can find that the Epson 4010 projector has a relatively simple function, while the Dangbei projector is more in line with the entertainment needs of modern families.

After all, our life is inseparable from streaming media services, and the configuration of Dangbei

4G ROM+128G RAM

allows us to download more apps freely. There is no doubt that the

Dangbei Mars Pro

wins this comparison of Epson 4010 Projector vs Dangbei Mars Pro with a cheaper price and more powerful smart features.
Last edited: