Xiaomi Mi TV is one of the most cost-effective smart TVs on the market. Equipped with Android system, it offers AI-based smart features and streaming content. Downloading apps on Xiaomi TV is essential to get more streaming services. In this article, we will introduce the most comprehensive tutorials to download apps on Xiaomi Mi TV.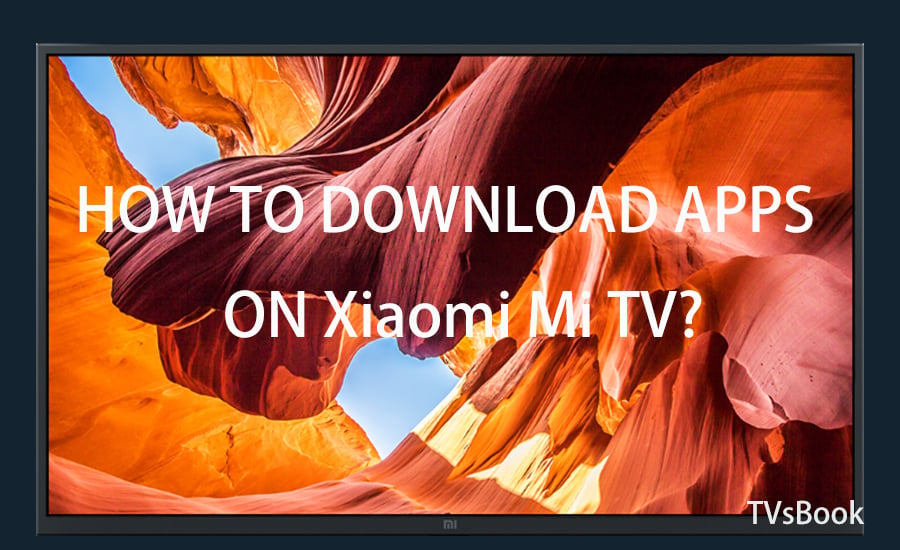 How to Download Apps on Xiaomi Mi TV?​
In fact, it's very easy to get streaming apps in your Smart TV, and Xiaomi Smart TV is no exception. As long as your Smart TV is connected to the available Internet. Because the best feature of Smart TV is that you can choose streaming platforms and services according to your personal preferences. By downloading diverse streaming apps, you can get a wide variety of home entertainment services, such as movies, music, sports games, etc.
Download Apps on Mi TV from GooglePlay Store​
Xiaomi Smart TV with Android has a built-in Google Play Store. You can get the most comprehensive and secure apps here. Follow the steps below to get a quick way to download apps on Xiaomi Smart TV through Google App Store.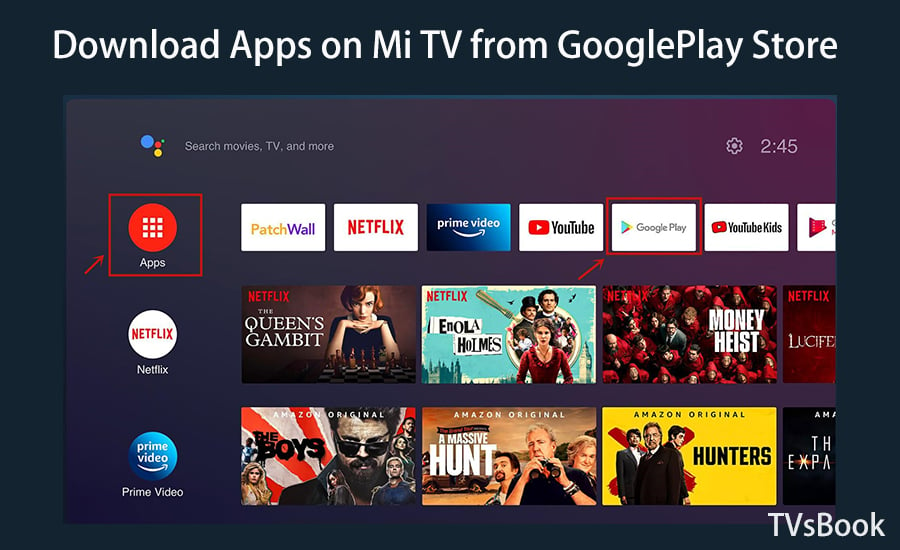 1. On the home screen of Xiaomi TV, navigate to
Apps
.
2. Scroll to find
GooglePlay
, and click to open it.
3. Type the name of the app you are looking for on the search bar.
4. Choose the app on the result list and download it.
5. Once complete, it will show on your Xiaomi Mi TV screen.
How to Sideload Apps on Xiaomi Mi TV?​
If you can't find your favorite apps in the Google Apps Store, the Emotn Store side-loaded on Xiaomi TV can solve the problem for you. It is a free store with apps from all over the world, and with Emotn Store, you can freely download software on Xiaomi TV.
1. Allow Installation from Unknown Resources​
Google requires a license to install applications from external sources. In order to sideload apps on Xiaomi TV, you need to enable Allow installation of unknown sources.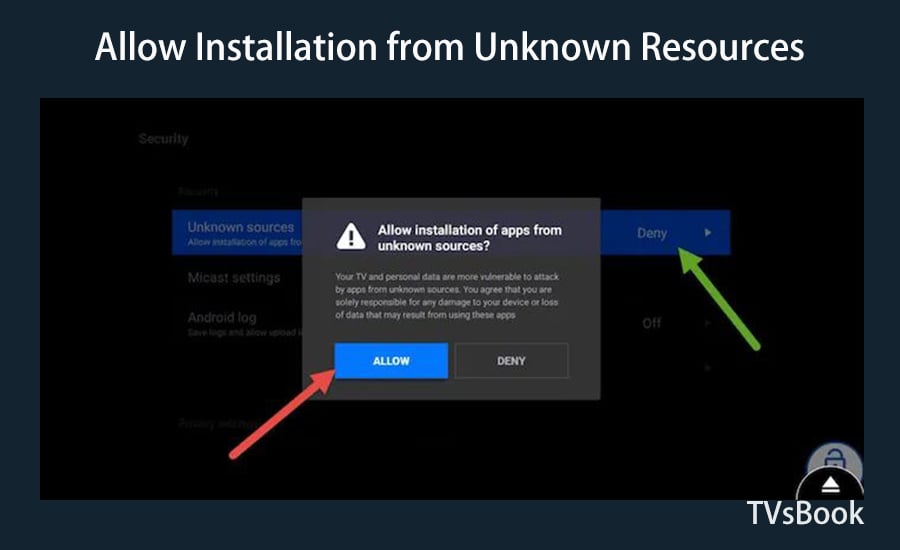 1. On the main page of Xiaomi TV, navigate to
Settings > Security
on your Mi TV.
2. Scroll and find the "
Unknown Sources
" option, then click it and select
Allow
.
Now your TV is allowed to get application sources from outside. Continue reading to go to the next step to install the app.
2. Sideload APK on Xiaomi Mi TV​
When you unlock your Mi TV, you can install the third-party app on it.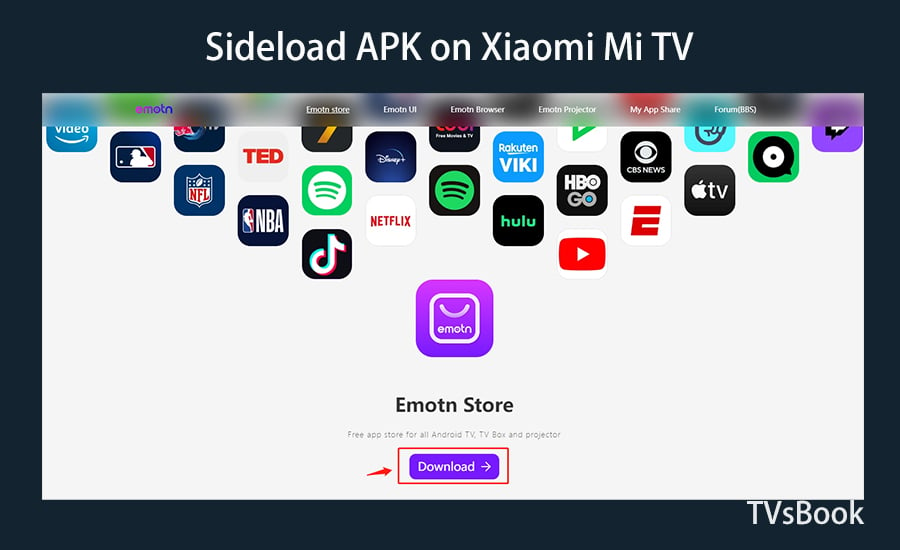 1. Download the
Emotn Store
apk and copy it to a USB drive.
2. Unplug the USB from your computer system and plug it into your TV's USB port.
3. Once plugged in, your mi TV will recognize the USB and open the file application.
4. Find the
Emotn Store apk
file, click on it and select
Install
. The installation process will begin.
5. Finally, you can go to the home screen and find the Emotn Store app there.
3. Download Apps From Emotn Store​
Emotn Store is an app store program with countless apps, where you can search for your favorite software and download it.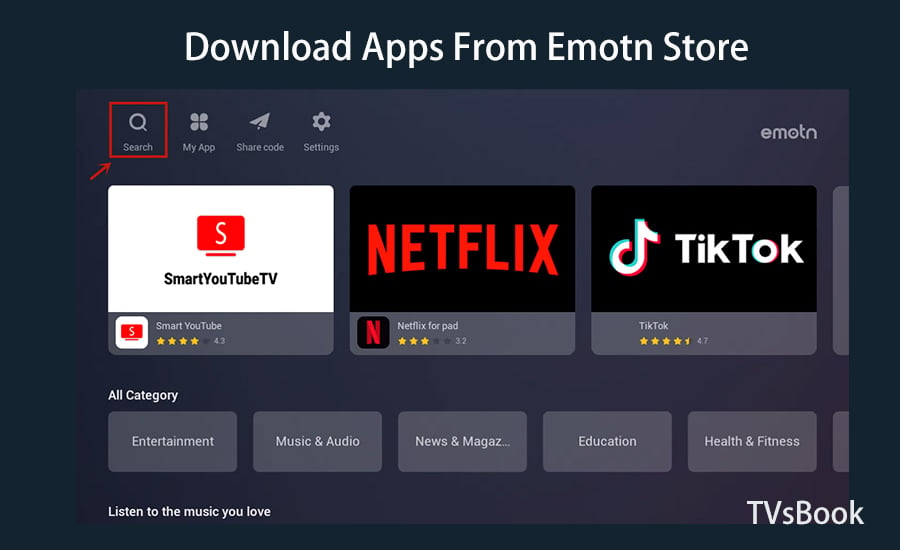 1. In Xiaomi TV, navigate to the app list, find Emotn Store, click and open it.
2. Enter the name of your favorite app in the search bar, then click Download.
3. Once the installation is complete, the app will appear on the main page of your Xiaomi TV.
4. If you have Emotn Share code, you can also enter the share code and download apps directly. Know more about
How to download APP with share code in Emotn Store
here.
These are methods on how to download the app on Xiaomi Mi Smart TV. The most common way is to get the app in the GooglePlay store. If your Xiaomi TV doesn't have Google Store, you can sideload Emotn Store to get more free apps.