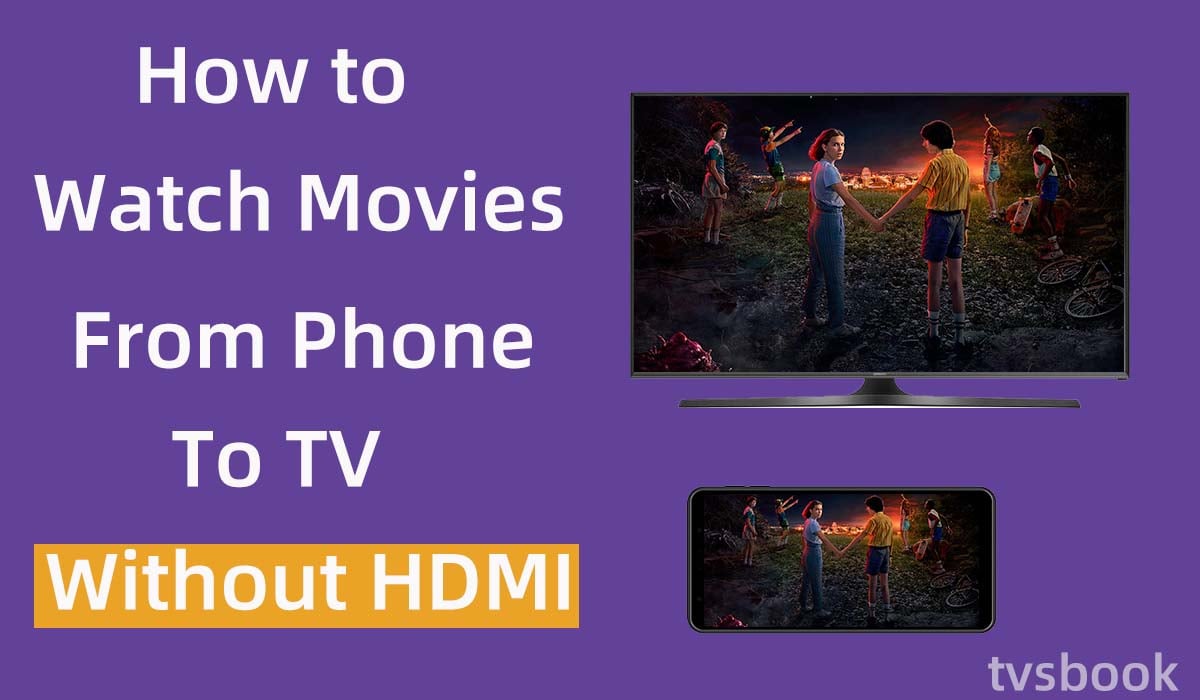 This article will show you how to watch movies from phone to TV without HDMI.
Smartphones provide easy access to a wide variety of content. Many people use their smartphones to watch movies, but despite the increasing size of cell phone screens, they have a limited screen. Cell phones cannot get the same size and picture quality as TVs, so many people like connecting their phones to TVs for a better experience. It's easy to connect your phone with an HDMI cable, but if you don't like to do that, you can also watch movies from your phone to TV without HDMI by using the methods in this article.
How to watch movies from phone to TV without HDMI?​
Google Chromecast​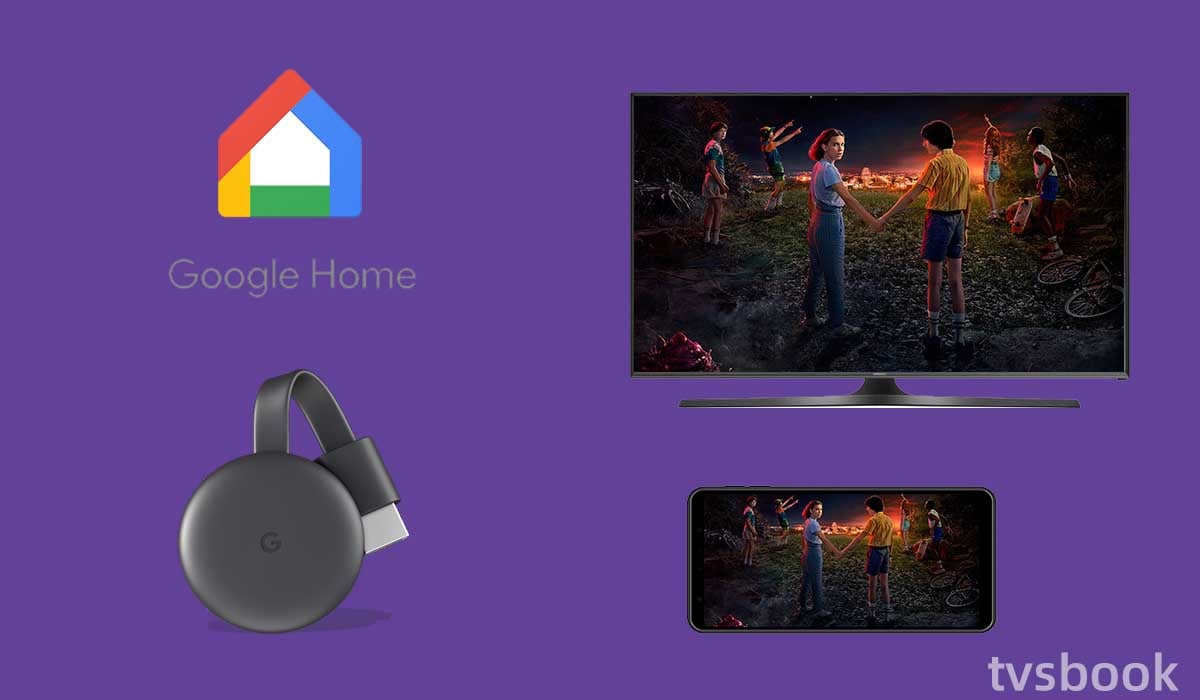 If you don't have a smart
TV
, Chromecast is a fantastic alternative. The Chromecast app enables secure phone-to-TV connection. All you have to do is use the HDMI port on the TV to connect a cable to both your phone and television.
You can utilize your phone and apps while watching a movie with Chromecast in addition to watching your favorite mobile movies on a TV.
You can watch movies from phone to TV with Google Chromecast by following the steps below.
1. Connect the Chromecast to the TV via HDMI.
You can buy an HDMI adaptor that works with the port on your television if it is an older model television without an HDMI port.
2. Search for the Google Home App in the Play Store on your mobile device, then download it. After downloading, open the app and follow the on-screen directions to connect to your phone's WiFi network.
3. The cast icon can be found on the phone's display. It typically appears in the screen's top right or lower right corner. When you see the icon, tap it. Locate your device on the list of available Chromecast devices and click it. The media ought to be playing on your enormous television set by this point.
You can link your phone to your TV and watch material there if your TV is equipped with Google Chromecast functionality or if you have the necessary adapter. However, not every app on your phone may be compatible with Chromecast. A few of the supported apps are Google Photos, Netflix, HBO Max, and others.
To connect, confirm that your phone and smart/Chromecast TV are using the same Wi-Fi network. Select the device you want to cast to once the network is established and the status is verified. Not all apps offer the ability to cast. The screen mirroring technique is advised for such apps.
USB Cable​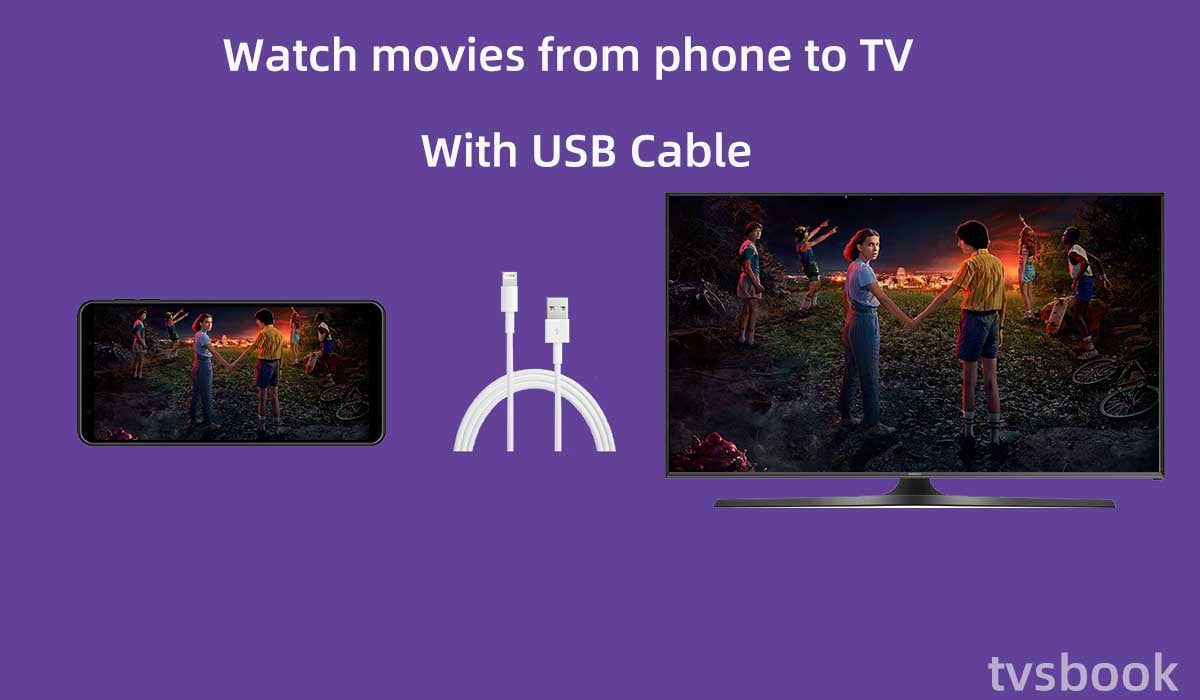 Most phone charging cables have USB connectors, so they may be quickly connected to laptop power adapters. However, not every TV has a USB port. It will be simple to transfer your phone files to the large screen if your TV has one.
By using a USB cord to link your phone and TV, you are essentially moving files from your phone to open or play on your television. If you don't have the appropriate connector and cable, your TV won't receive or duplicate the phone's display. Therefore, using this technique to view your own videos and pictures is great.
1. Connect your phone to the TV with the USB cable.
2. Use the TV remote control to access the source option.
3. Select the USB input you are connected to.
4. Select the USB option that allows file sharing between your phone and TV.
5. Now the TV can read the video or picture files on your phone.
Screencasting​
You can cast movies from your phone or tablet to watch them on your TV. Many well-known streaming services, like Netflix and Hulu, allow for screen casting. The "cast screen" feature is absent from a lot of other applications, though. In these circumstances, screen mirroring works.
You can use your Smart TV's built-in casting app, or you can cast with devices like Roku streaming devices and Google Chromecast.
Screen Mirroring​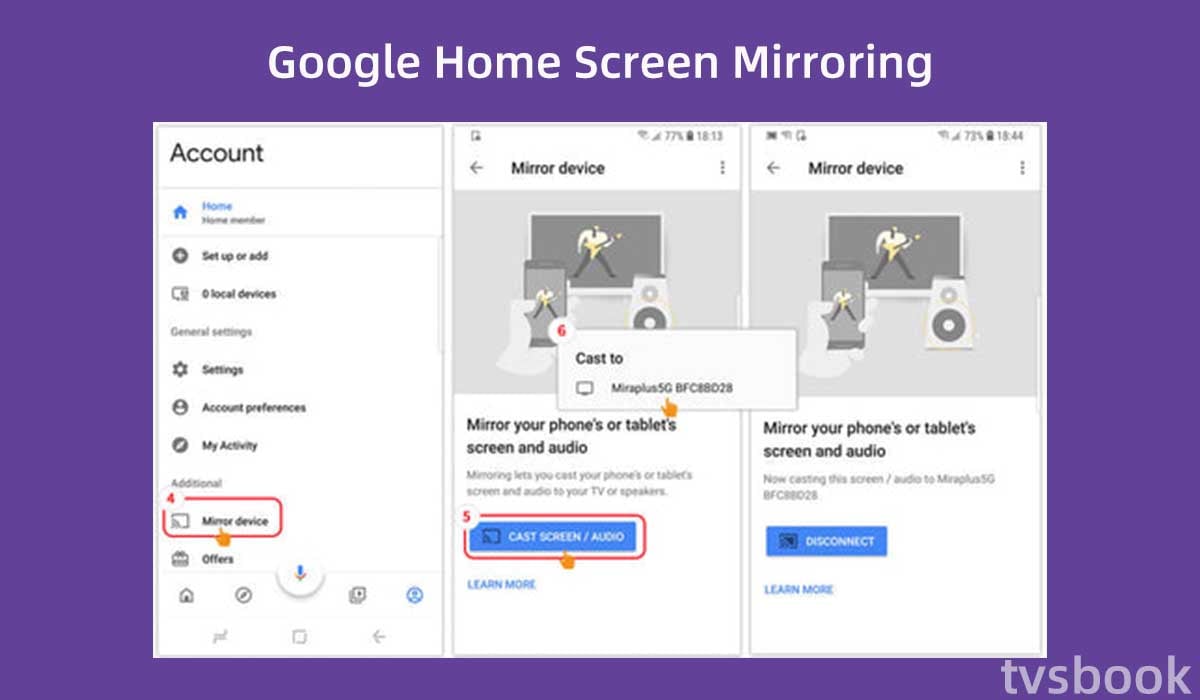 As mentioned above, many applications do not have a screencasting function, and this is where screen mirroring is more appropriate for you. You can reproduce or mirror your phone's display on your TV via screen mirroring.
Screen mirroring has a problem in that it completely mirrors the actions of your phone. For instance, if your phone screen dims when it is plugged into your TV, both screens would dim. Your phone's screen should be set to stay awake while it is linked to your TV in order to prevent similar problems. However, this would deplete your phone's battery.
You cannot use your phone for any other reason when it is linked to your TV if you are mirroring it.
Android always supports screen mirroring, you can follow the steps below to mirror your phone screen to Android TV.
1. Download and install Google Home on your phone.(Many Android mobile devices may already have Google Home built in)
2. Open Google Home app and go to Account.
3. Select Mirror Phone/Device.
4. Click Cast Audio/Screen
A proprietary app for screen sharing may be available on some smartphones. For instance, Samsung's Smart View function enables you to share content from and to your mobile device while also allowing you to connect your Samsung smartphone to your TV.
Airplay​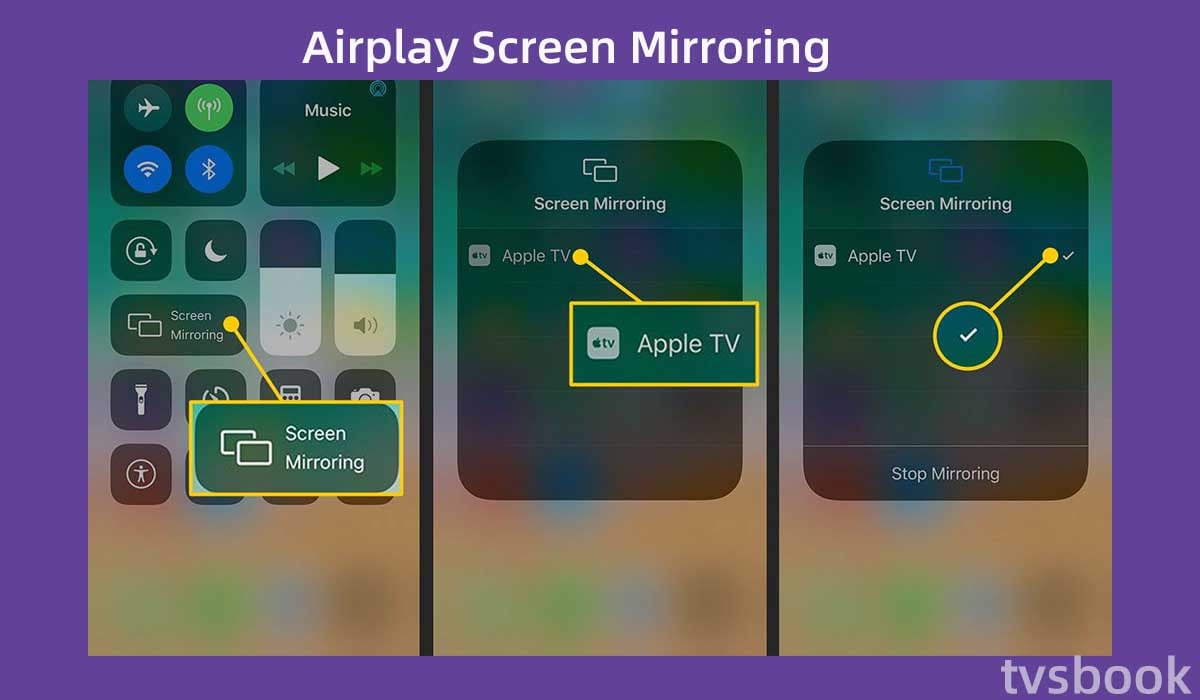 If you are using an IOS device, you can use Apple's proprietary technology AirPlay to cast movies to your TV. In addition to Apple TV, many smart TVs now support AirPlay 2. You can check if your TV is included.
1. Connect your iPhone and your Airplay-enabled TV to the same WiFi network. (See
how to connect tv to wifi without remote
)
2. Select the "Airplay" icon in the drop-down screen of your phone. (Or tap the AirPlay button while watching a video in the app)
3. Select the TV you want to screen-mirror in the pop-up menu.
4. Your TV may display a code. Enter it in the box on your phone screen and tap OK.
5. Now you are mirroring the video to your TV via AirPlay.
Miracast​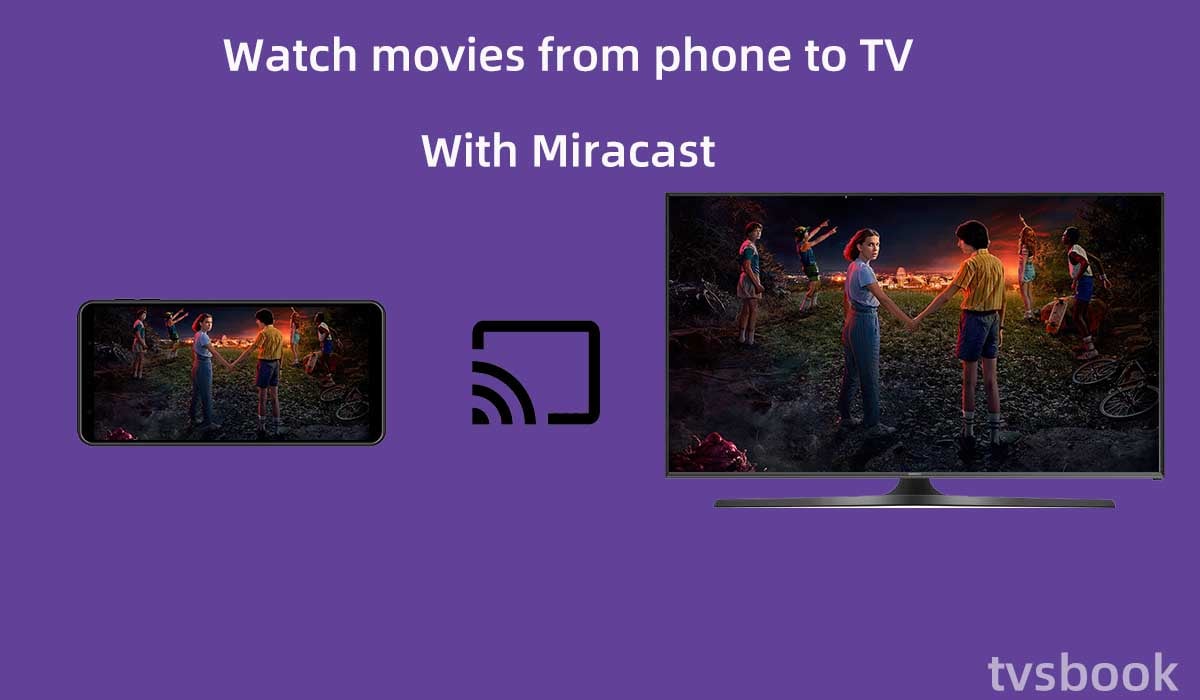 If you want to know how to watch movies from phone to TV wirelessly, you should try Miracast. A smartphone, PC, or tablet can wirelessly display or mirror its screen to a TV using the Miracast standard without using actual HDMI cables.
Miracast is technically "screen mirroring" and does not have "casting" capabilities. That means that while your TV is displaying content on your phone, you can't switch between streams and display another interface on your phone.
Follow these steps on your Android device (Apple devices should use Airplay above)
1. Open Settings on your phone.
2. Select Connected Devices.
3. Click Connection Preferences.
4. Tap on Cast.
5. Find your TV and tap Pair.
Mobile High-Definition Link (MHL)​
MHL is a wired technology that allows you to connect your smartphone and other mobile devices to your TVs, projectors, and audio receivers. It is essentially an HDMI adaptation for mobile devices.
To use this connection, your phone needs to have a micro USB port, but most smartphones today use Type-C USB ports, so you can use a USB Type-C to micro USB adapter/connector for MHL.
Connect the phone's micro USB port and the TV's HDMI port with an MHL cable to establish a connection.
DLNA​
Your smart TV should support DLNA (Digital Living Network Alliance) streaming protocol, which streams video or music from your phone to your TV. So you can watch movies from phone to tv without hdmi.
But this protocol does not support DRM (Digital Rights Management) applications like Netflix.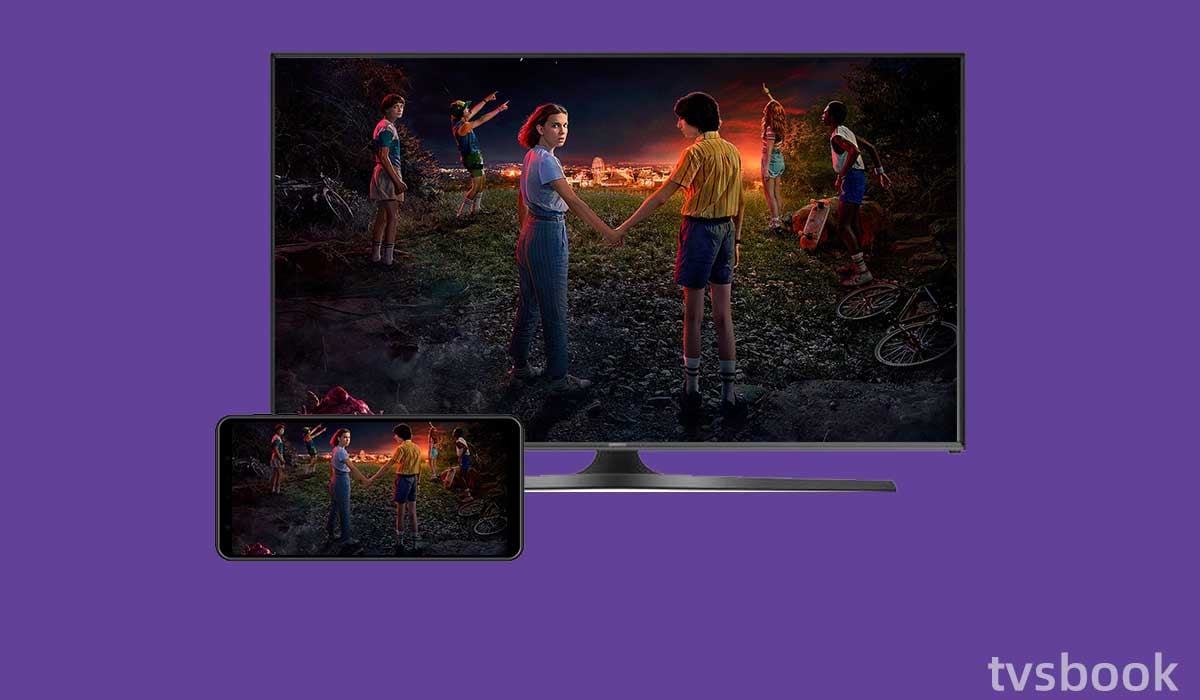 FAQs​
How to watch movies from phone to TV with USB?​
If your TV has a USB port, you can watch movies from phone to TV with USB.
1. Connect your phone and TV with a USB cable.
2. Use the Source button on the remote control or on the on-screen menu to select USB as the input source.
Can I Watch Movies From My Phone To TV With Bluetooth?​
Yes, you can connect your phone to your TV via Bluetooth to watch movies on the big screen. However, you should be aware that this option is somewhat outdated and quite slow.
Other methods of connecting your phone to your TV are thought to be faster and more reliable.
Conclusion​
Now you know how to watch movies from phone to TV without HDMI. You can find the right method for you through this article. If you have questions about the above operation, feel free to discuss with me in this thread.