This year, many companies have been affected by the Covid-19 epidemic, causing a lot of losses,
such as Disney
, because of the closure of theme parks and the postponement of many movies, according to foreign media statistics, the daily
loss of up to 30 million dollars.
But while most companies have been adversely affected by the outbreak, not all, such as nintendo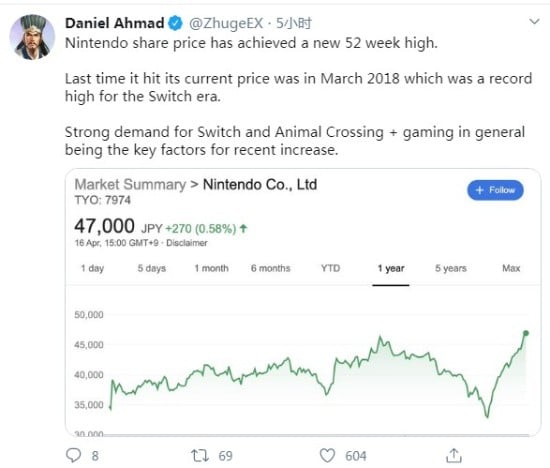 Recently, Niko Partners analyst ZhugeEX Shared some news that nintendo co. 's stock has hit a new record this year after rising in recent days.
Nintendo's share price is now close to the peak it reached in March 2018.
The reason is also simple and clear. When people are affected by the epidemic and have to hide at home, it is natural to do something to kill time, and video games are one of the best choices.
Now that demand for nintendo's NS and many games is soaring around the world, it is only natural that nintendo's share price should rise.