Samsung QN95B launched in 2022, is being claimed as the best Samsung TV yet. The same 9 series QN95A, launched in 2021, is its former model. So what has been upgraded when Samsung QN95B VS QN95A? Here is a side-by-side comparison chart, let's see what's new in the 2022 model Samsung QN95B.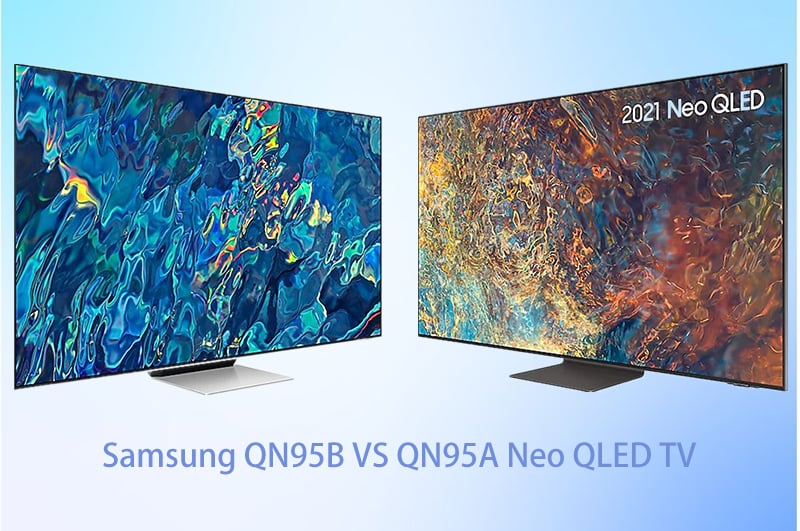 1. Samsung QN95B VS QN95A Appearance​
The QN95A and QN95B are pretty much the best models of large TVs at hiding themselves. Both of these TVs have ultra-thin bodies. The frame around their screens is actually just the thinnest strip of silver metal or black gold, making it almost invisible when you look at the TV. That's right, the difference between them is that the 2021 QN95A has a black frame and the 2022 QN95B has a silver frame. From their exterior pictures you can see that they have similar base styles, both are very stable and sturdy brackets mounted in the center, with only slight differences in shape.
It's worth noting that the QN95B rear panel is as flat as the front panel and has a smaller rear panel compared to last year's equivalent model, making it a better choice for easier wall mounting. In terms of size, the Samsung S95B adds a larger 85-inch model to the 2021 model. Good news if that's what you want.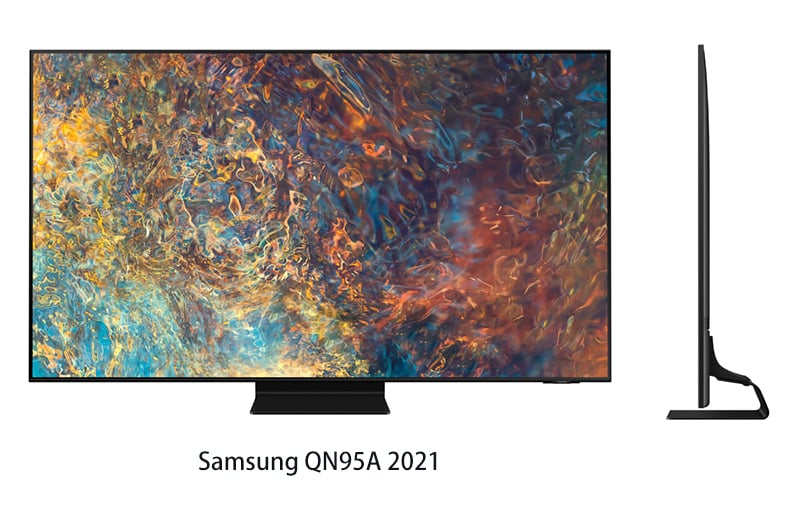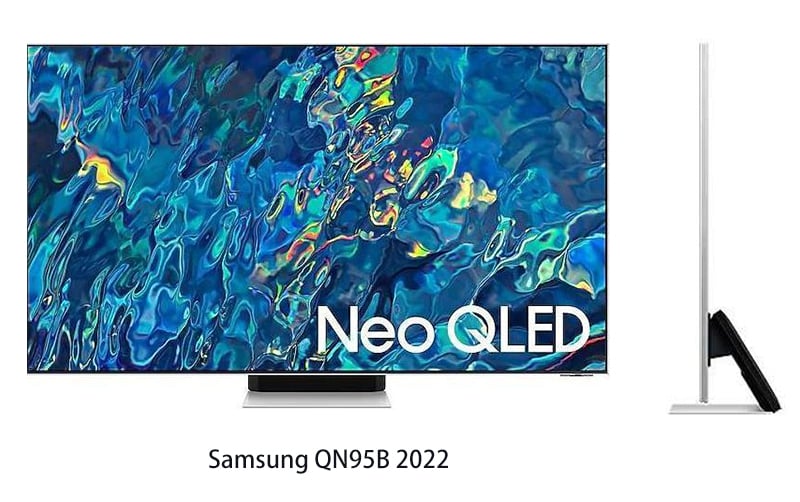 2. Samsung QN95B VS QN95A Audio​
Samsung QN95B and QN95A have a significant change in sound. This is because the 2021 QN95A does not support Dolby Atmos, while there are improvements in the 2022 model.
The 2022 QN95B combines Samsung's object tracking sound with the new Dolby Atmos support to great effect. Importing a Dolby Atmos track for the QN95B has improved the clarity and scale of the TV sound. All in all, the QN95B sound is crisp, clear and detailed. When paired with the best bar speakers for Samsung TVs, you will get the best surround sound system. In terms of Bluetooth connectivity, the Samsung S95B has been upgraded from Bluetooth 4.2 in the 2021 model to the latest Bluetooth 5.2, which is also technological advancement.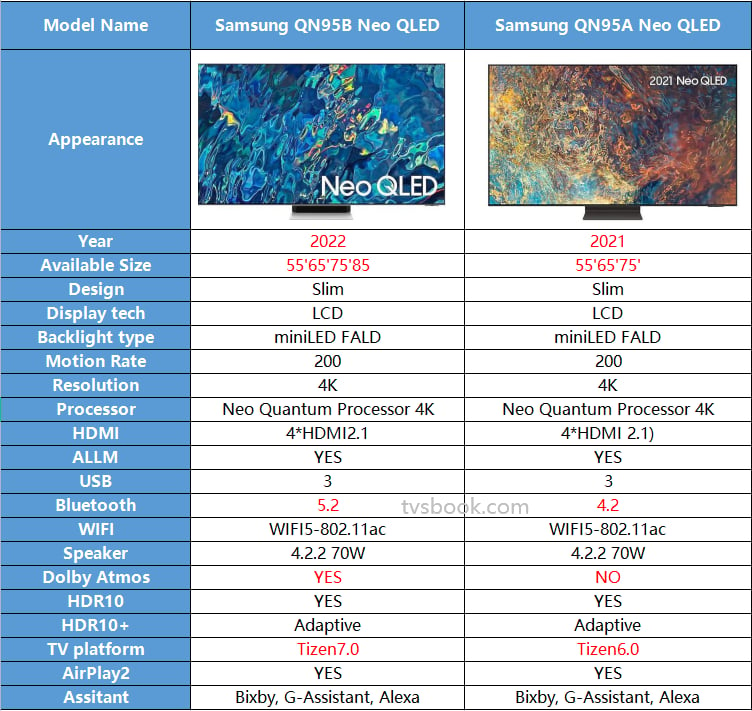 3. Samsung QN95B VS QN95A TV Platform​
Both QN95B and QN95A are based on Samsung's Tizen engine( see
WebOS vs. Android TV vs. Tizen OS
). However, the 2022 model will be Tizen 7.0 and the 2021 model will be Tizen 6.0. Both QN95B and QN95A have a new smart system and interface. But the QN95B completely changes the layout of the system, and for beginners, it switches to a full-screen home page instead of just an icon or two superimposed at the bottom of the image. You can't change the running order of the content shelf that Samsung provides, and the relationship between the image and sound adjustment menus and the smart menu sometimes becomes very difficult to understand.
For more information, refer to
Samsung TV Forum
.
Last edited: